We discuss the following topics in this blog:
What is Fibre to the X?
What are the different types of FTTx?
FTTx Network Design?
FTTx Deployment, Monitoring & Maintenance
What is FTTH: Fibre to the Home?
What the difference between FTTx vs FTTH?
How is STL transforming FTTH & FTTx? Real-Life Applications & more.
In addition to these topics, we shall also be answering the following FAQs:
What is FTTx?
What are three types of FTTx split architectures?
What is FTTH?
How does FTTH work?
Why is 5G faster than fibre?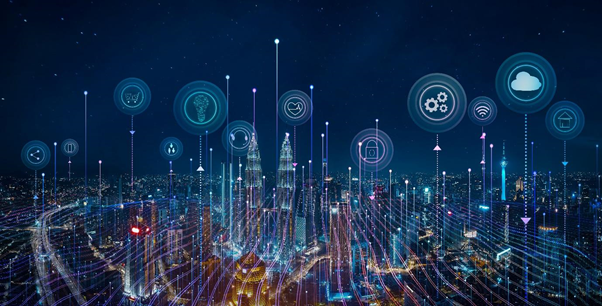 Overview
We all agree that the years 2020 and 2021 have been as challenging as they have been disruptive. Life as we know it has been altered dramatically and the significance of staying always connected has been restated spectacularly.
The newer use cases like work from home, online education, telemedicine, and surging video consumption all point towards one thing: seamless connectivity is now non-negotiable. What then is the answer to the ever-growing need for this continuous and seamless connectivity? The answer is Fibre to the X (FTTx). As the world continues to battle with the pandemic and endeavours to keep up with rapid modernisation, FTTx has emerged as one of the most impactful ways of delivering this seamless connectivity.
What is Fibre to the X (FTTx)?
Fibre to the X is a collective term that is used to describe various types of broadband network architectures, depending on wherever they terminate. The 'X' in 'FTTx' represents a particular object. It could be a home, a cabinet or any end-user premise. Resultantly, FTTx could be Fibre to the Home (FTTH), Fibre to the Building (FTTB), Fibre to the Premises (FTTP) and Fibre to the Curb (FTTC). FTTx is used to drive next-generation access by a significant upgrade to the broadband available by making a step-change in the speed and quality of the service.
Fibre to the X (FTTx) network architecture finds its use in Last-mile connectivity. The network is spread out from the end-user premise to the carrier network edge. It can deliver faster and better connectivity to homes and enterprises around the world.
FTTx has many benefits related to speed and capacity and that is the reason legacy copper-based networks are being replaced with Fibre to the X (FTTx). Other advantages include higher transmission rates and lower energy consumption. Fibre to the X network takes fibre closer to the end-user. This helps in leveraging the latest construction, connection and transmission techniques.
With the development of cloud computing, smart cities and 5G, requirements for higher bandwidth and network speed have increased. Fibre to the X offers a low-latency, high-bandwidth fibre network that can fulfil all these requirements. In addition, it also helps in achieving high capacity and consistent connectivity. It also helps in providing long-distance signal transmission, a lightweight form factor, and immunity against electromagnetic interference.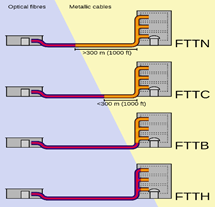 What are the different types of FTTx and FTTx Network Design?
Fibre to the X architecture can be categorised into two broad groups – Fibre to the Premises (FTTP) and Fibre to the Cabinet (FTTC). These could be further divided into multiple sub-groups.
Fibre to the Premises (FTTP)
In this type of architecture, optical fibre runs in an optical distribution network (ODN). It is usually from the central office to the subscriber premises.
FTTP may be categorized based on the endpoint of the fibre:
Fibre to the Home (FTTH)
In this type of network architecture, fibre reaches directly to the living space. Most of the times, it is used for home broadband setup. The fibre network is spread from central offices to the living spaces. The optic fibre cables terminate at the boundary of the living space. This way individual homes, as well as offices both, can utilise the network more efficiently. FTTH network structures could be home run, active star networks and passive optical networks (PON). At present, it is one of the fastest-growing applications worldwide.
FTTH – Home Run – This architecture uses a fibre running from the central office (CO) directly to the home/customers. This is primarily used in some of the small setups like gated communities with 2 fibres; one digital for Internet and VoIP, the other for analogue CATV. This is also known as a point-to-point or P2P network.

FTTH – Active Star
This type of network leverages fibre from the central office to a local active node carrying multiplexed signals. These signals are then distributed to all the customers. It contains a multi-fibre cable leading from the central office to a local network switch.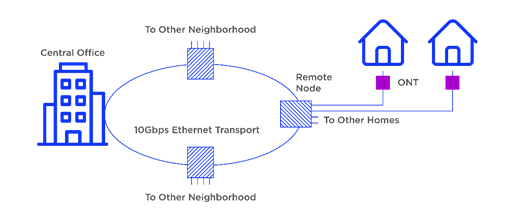 FTTH – PON
This architecture comprises a Passive Optical Network (PON). Multiple customers can share the same connection, without the need to involve any active components (i.e., components that transform or generate light through an optical-electrical-optical conversion). A PON Splitter is required for this type of architecture. A PON splitter's directionality can be described as bi-directional. It can send signals downstream from the central office, sent as a broadcast to users. Finally, users can also send signals upstream. These can then be combined into one fibre to communicate with the central office again. The PON splitter cuts the cost of the links significantly by sharing.

Fibre to the Antenna (FTTA)
This network architecture uses optical fibre cable to distribute signals from a baseband unit to a Remote Radio Head (RRH) near the top of a cell tower, referred to as "fronthaul" in 5G.
Fibre to the Node (FTTN)
In this network architecture, the optical fibre ends at a street cabinet. FTTN deployment features optical fibre that terminates at a node. This node is located just a few miles from the customer. From the node fibre spans in branches to the end-user.

Fibre to the Building (FTTB)
This architecture is used for fibre to the building or fibre to the base deployments. In this type of network, the optical cable ends directly at the building. An FTTB setup is often used to connect apartment blocks or other large buildings. Service providers bring a fibre cable to a node within a building's communication room. From there, they can leverage existing wiring to provide network connectivity to each office or apartment within the overall building. This very closely resembles an FTTH despite still featuring a node architecture.
FTTx Deployment, Monitoring & Maintenance
In the telecom sector, optical fibre cable is a more reliable transmission medium. Optical fibre cable has been serving its purpose well for a long time, but there does exist a noticeable flaw in it. The flaw is that optical fibre cable is susceptible to unexpected breakdowns that require mobilization and rapid and efficient repairs. The FTTH network problems require immediate access to fix them.
How is Fibre to the X Deployed?
Customer requirements in the telecom sector are growing at a faster pace. Demanding not only better optical connectivity but also stringent KPIs to address the FTTH network problems. The diagram below discusses industry-standard KPIs required to resolve scaled FTTH network requirements.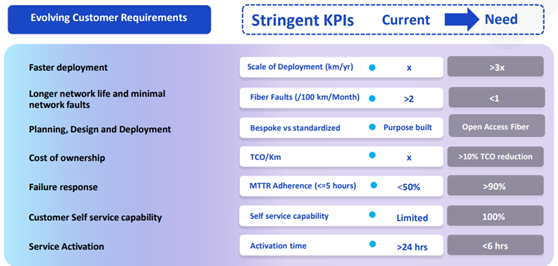 Fibre to the X Monitoring and Maintenance
Planning should go into Fibre to the X (FTTx) maintenance and operations and contracts should be arranged properly to make sure appropriate levels of manpower are available when called upon. Here are some planning guidelines:
Engineers and technicians must have experience and be well acquainted with underground fibre laying, knowledge of aerial duct, and cable network systems. This all is required for nest practices and workflow studies.
It is also important to liaison with local authorities and carefully plan the installation of the FTTx network as will result in safe and efficient operations. It is also important to have power supply services from local authorities.
In the area where fibre has to be deployed, there must be complete safety. Some steps to be taken in this direction include the use of caution signboards, a copy of the local authority's permission letter, and properly organised traffic signals.
Complete air and oxygen tests should be carried out before entry inside the manhole. Technicians must use proper ventilation if necessary. Technicians and labour working underground on the FTTx project are required to have in operation gas warning equipment that continuously monitors levels such as toxic, flammable, oxygen, and carbon dioxide.
In case of detection of flammable gas, the local Fire Service must be contacted immediately. Before starting the work on all existing electrical cables, technicians should inspect for the possibility of damage and exposed conductors.
What is FTTH: Fibre to the Home?
FTTH is the fibre that reaches the fibre-optic access solutions designed for residential setups. In this network, optic fibre is directly connected to individual homes or multitenant buildings. FTTH includes both PONs and PTP Ethernet-based solutions. Fibre-to-the-node (FTTN) solutions are not included in the FTTH segment. These are instead tracked according to the technology used in the last mile connectivity (typically VDSL). FTTH is an efficient and cost-effective substitute for existing copper infrastructure. This technology is efficient enough to provide much higher bandwidth to consumers and enterprises. FTTH allows for high-bandwidth services to be made available to consumers. It also leaves room bandwidth room for the future demands that new services will pose.
FTTH finds its use primarily in SFU – single-family unit, which provides a relatively small number of ports. For example, POTS, RF (18dBmV) and 10/100/1000 BASE-T. Active and Passive are the two methods in which the optical fibre method can be implemented. At present, the maximum deployment of FTTH is done in the passive method.
This method uses two typical technologies – Passive Optical Ethernet Network (EPON) and Passive Optical Networks with Gigabit capability (GPON). Connecting homes directly to the fibre optic cable lead to huge bandwidth improvements for consumers.
Existing fibre optic technology can provide bidirectional transmission speeds as high as 100 megabits per second. Constant enhancements in fibre optic related equipment increase the bandwidth available and there is no need to change the fibre.
What is the difference between FTTX vs FTTH?
Fibre to the X (FTTx) refers to all types of fibre infrastructure including FTTH, FTTP, FTTC, and FTTN, while FTTH refers to fibre-to-the-home and is synonymous with FTTP. One thing common in both is a fibre optic cable running directly from the Internet Service Provider (ISP) to a home or business location.
How is STL Transforming the FTTX & FTTH? Real-Life Applications and More!
STL is leveraging the mix of digitization, automation, and process orchestration to tackle the inefficiencies in FTTX and FTTH. As a leading provider of Optical fibre cable and Fibre Optic solutions in the world. Our optic fibre solutions serve a wide range of applications, catering to all your requirements. Best suited to your network is our lower bend loss optical fibre which enables high network performance along with greatly reduced installation costs. We offer a range of solutions suitable for FTTx and 5G applications such as Non-Zero Dispersion Shifted Single Mode Fibre (NZDSF for short) and 200um and 250um Bend Insensitive Single Mode Fibre.
StellarTM The installer's fibre happens to be the first G.657.A2 macro-bend insensitive fibre in the world that has compatibility with legacy networks that contain G.652D and G.657.A1. StellarTM Fibre is used in Core, Access and Metro – nearly all sections of a data communication network.
STL's BOW-LITETM series of Optical Fibre products exceed the ITU-T G.657 recommendation and are industry-leading bend-insensitive single-mode fibres that are suitable for FTTx applications and high fibre density cable designs.
STL has in its repertoire different varieties of G.652.D and G.657.A1 type Optical Fibre. These can accommodate enhanced dispersion, geometry, attenuation, and macro-bend loss properties. All this allows for superior performance in metro-city, long-haul, CATV networks, access, and other such wide application areas.
In terms of suitability by application area:
Long-haul and metropolitan networks – Non-Zero dispersion-shifted single-mode Optical fibre complying with ITU-T G.655 recommendations
Long-haul only – DOF-LITE (LEA)
Metropolitan only – DOF-LITE (METRO).
With STL, flexible gigabit broadband can be enabled with pFTTx, which achieves this by virtualising the last-mile network. pFTTx is a micro-service oriented, SDN-NFV, cloud-based network solution that elevates radically, the business model of the network service provider. By abstracting software from the hardware layer, virtual networks with open interfaces can be built. The benefit of this is the drastic reduction in time to market for digital services. It also helps by setting edge computing in motion. It accomplishes this by re-architecting central offices and disaggregating broadband networks. An ONF complaint reference platform SEBA (Software enabled broadband access) has been implemented while deploying this into the production network. What this does is serve as a benchmark for the customers, industry, and community. Ultimately, this is helping accelerate the adoption of programmable FTTx or PODS.
FAQs
What is FTTx?
The term FTTx is used for all types of fibre infrastructure including Fibre-to-the-Home (FTTH), Fibre-to-the-Premises (FTTP), Fibre-to-the-Curb (FTTC), and Fibre-to-the-Node (FTTN). FTTH stands for Fibre-to-the-Home and is essentially the same as FTTP (Fibre-to-the-Premises).
What are three types of FTTx split architectures?
The three main types of FTTx network architectures are Home Run, Active Star networks and Passive Optical Networks (PON).
What is FTTH?
FTTH is the fibre-optic access solution that is designed for residential deployments. In FTTH networks, optical fibre is directly connected to individual homes or multitenant buildings.
How Does FTTH work?
Fibre to the Home (FTTH) primarily is the use of fibre optic cable for delivering broadband internet connection from a central point directly to the home. In this network, optical fibre is used for providing "Last Mile" connectivity displacing DSLs or coaxial wires with lower bandwidth capacities.
Why is 5G faster than fibre?
Fibre optic is the backbone of the 5G network. It connects to the various cell sites. This enhances bandwidth and speed as reliance on 5G increases. At present, it is the final mile of the broadband connection that causes the bottlenecking, but with 5G, that final mile isn't a weak point like it was before.