We discuss the following topics in this blog:
How Promises are Delivered at STL?
The need was for a digital platform by the customer.
A digital marketplace that unifies sellers across different sectors
In addition to these topics, we shall also be answering the following FAQs:
What is WiFi?
What is Open RAN?
How Promises are Delivered at STL?
Glory comes to those who persevere but most importantly to those who can pull out all stops, collaborate, strategize and reach a common goal amid a global pandemic. When times are tough, you swim against the tide. No matter what, promises made to customers cannot be twiddled with. No wonder Don Miguel Ruiz put it down as one of the sacred Four Agreements – "Be impeccable with your word." For this team from NSW, these promises made to the customer kept them going. They worked together to prove why #promisesdelivered is one of our core values.
The Customer
One of Japan's largest e-commerce players is venturing into telecommunications. The need was for a digital platform that can make it easier for them to sell solutions such as "vRAN as a Service" or "Cloud as a Service" within a complex ecosystem comprising multiple vendors and partners.
What was the Solution?
A digital marketplace unifies sellers across different sectors and enables a unique synergy between them to create an innovative offering. The customer will get the advantage of a one-stop-shop platform and the flexibility to offer cross-product, cross-bundled discounts and other loyalty benefits apart from being able to sell products and services directly.
For example, once the 5G spectrum auction opens up, vRAN could be sold as a complete package – a single platform where you can buy hardware and completely disaggregated software that's compliant with the hardware. Needless to say, to support such a robust platform, the architecture has to be equally resilient. Built on a robust cloud-native, web-scale enabled platform, Marketplace also includes analytics that will give the customer important insights to make quick business decisions.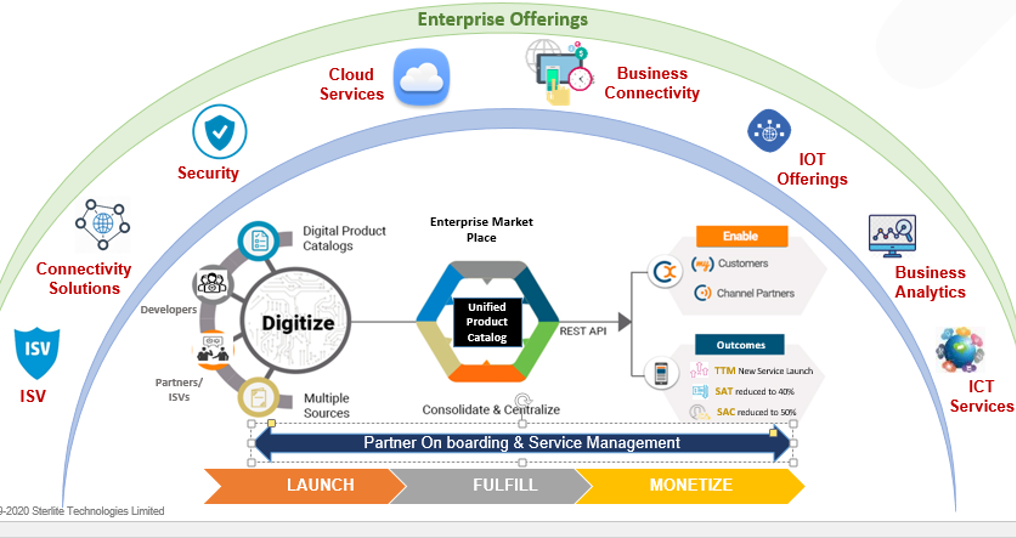 Our Heroes
To meet the unique demands and considering times of crisis, people from multiple teams in STL came together to deliver this project. Working 24 x 7, many nights spilling over into days, the team did not stop until the timelines were met. This solution was delivered in just 2 weeks, amid strict lockdown measures.
Upon delivery, the customer was highly appreciative of the team's efforts and particularly the very robust solution architecture that'll enable them to work with multiple vendors and partners and make it easier to sell 5G-based solutions such as vRAN as a Service or Cloud as a Service.
If not for collaboration from teams across STL, the project would have taken many months to complete. A true testament to the spirit of collaboration and workmanship.
FAQs
What is WiFi?
Put simply, WiFi is a technology that uses radio waves to create a wireless network through which devices like mobile phones, computers, printers, etc., connect to the internet. A wireless router is needed to establish a WiFi hotspot that people in its vicinity may use to access internet services. You're sure to have encountered such a WiFi hotspot in houses, offices, restaurants, etc.
To get a little more technical, WiFi works by enabling a Wireless Local Area Network or WLAN that allows devices connected to it to exchange signals with the internet via a router. The frequencies of these signals are either 2.4 GHz or 5 GHz bandwidths. These frequencies are much higher than those transmitted to or by radios, mobile phones, and televisions since WiFi signals need to carry significantly higher amounts of data. The networking standards are variants of 802.11, of which there are several (802.11a, 802.11b, 801.11g, etc.).
What is Open RAN?
From a deployment standpoint, we have Non-Standalone Mode(NSA), Dynamic Spectrum Sharing(DSS), and Standalone Mode (SA). The initial deployments of 5G NR are based on NSA standards, meaning the existing 4G LTE network will operate on the control plane, and 5G NR will be introduced to the user plane.
This particular standard was introduced by 3GPP, keeping in mind the industry's push to faster 5G services rollout while utilizing the existing 4G LTE infrastructure currently in place. On the other hand, operators are also implementing Dynamic Spectrum Sharing (DSS) to accelerate the deployment cycle, which will reduce costs and improve spectrum utilization. In this standard, the same spectrum is shared between the 5G NR and 4G LTE, multiplexing over time per user demands. Lastly, we have the Standalone Mode (SA), which moves towards a complete 5G-based network where both signaling and the information transfer are driven by a 5G cell.