In recent years, the category of linked medical devices has expanded to encompass Internet of Things (IoT) gadgets and a wider range of health monitoring. Healthcare professionals are looking into newer technology that will enable them to control this growth while enhancing patient outcomes, cutting costs, and gratifying patients' growing demand for easy access to their own medical records.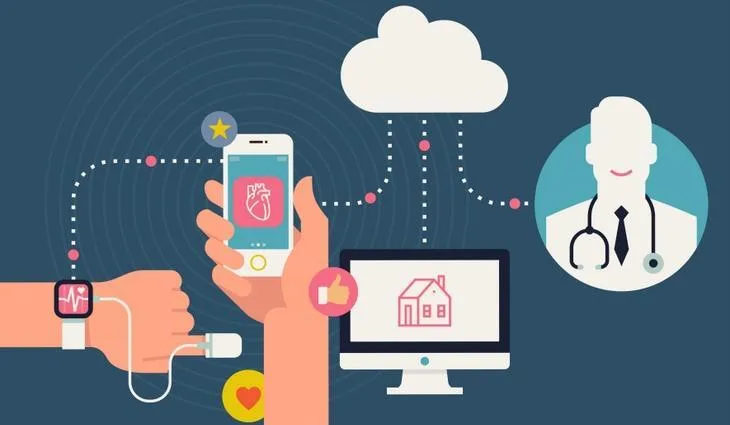 Image Credit : telemedicine.arizona.edu – Connected Healthcare
RAN services can ensure better connectivity to meet all priorities at once.This will greatly improve productivity while also enabling clinicians to employ AI and machine learning more effectively for identifying, managing, and preventing disease disorders that are frequently predictable in advance.
Connectivity in healthcare
Network connectivity is an important component of health IT systems. As enterprises continue to integrate linked medical devices and other IT technologies into their digital environments, dependable networks are needed to allow doctors to interface with information more rapidly, allowing them to spend more time talking with patients.
Connected medical devices extend beyond the smartphones and tablets used by doctors to access EHRs and administrative applications. In recent years, connected medical devices have expanded to incorporate Internet of Things (IoT) devices and a broader range of health monitoring.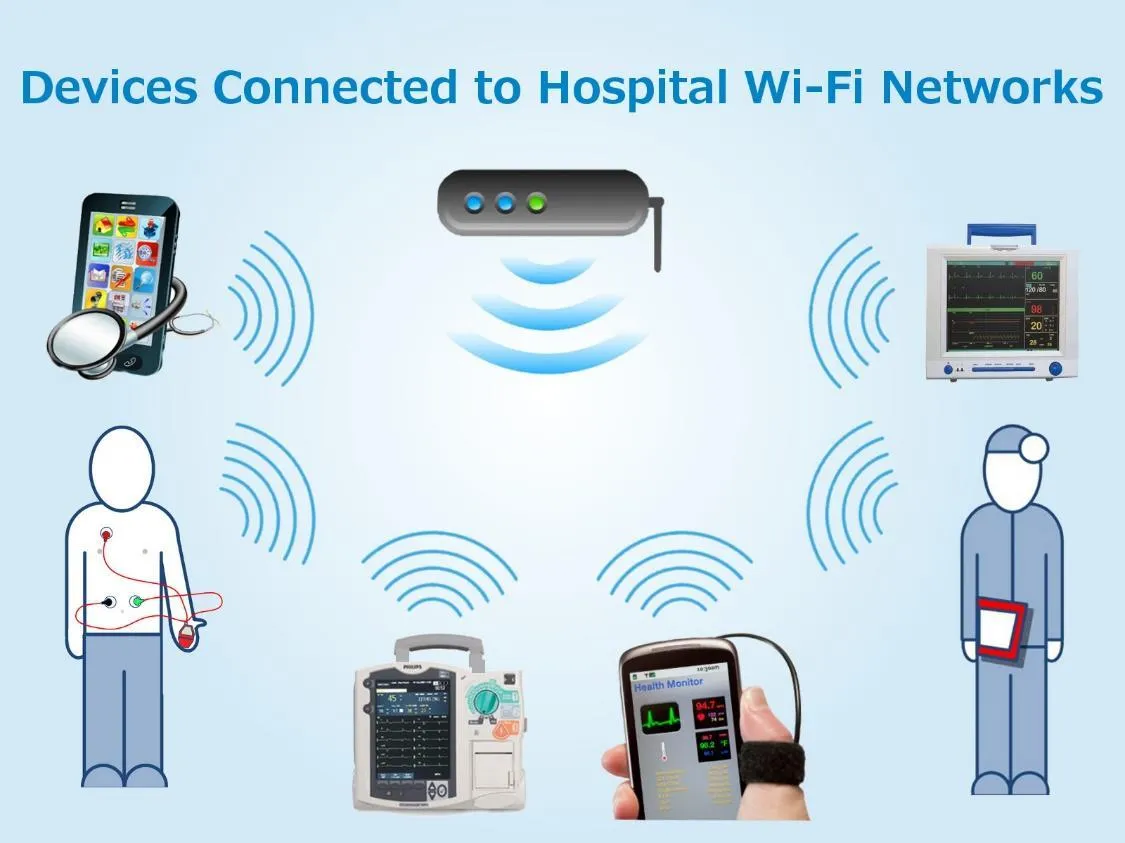 Image Credit : wi-fi.org – Connected Devices in Healthcare
All of these devices are continually connecting with the network and will not function effectively unless they have stable and dynamic network access.
They also use linked technologies to learn how to navigate their stay, such as when the cafeteria is open or to check their email to stay in touch with family and friends. A dependable network must be operational at all times.
Networks must be of the greatest quality, fit for telecommunications companies, and capable of handling everything from sensor data to 3D medical imaging files.
A comprehensive RAN Services network architecture may comprise the following components:
Wired or wireless access can connect people, sensors, machines, video monitors, and distant devices safely and reliably.
Cloud computing provides the ultralow latency required for important machine communications such as remote and robotic surgery.
Software that allots space as and when it's required, whether to support data transfers for processing analytics, medical imaging files, or genetic sequencing
Data processing and analytics tools like machine learning and artificial intelligence can produce insights for improved prognosis, therapies, and outcomes.
Radio Access Network
Radio access networks (RANs) are components of a communications system that connect cellular wireless capable (e.g., 4G LTE, 5G) devices to a public and/or private mobile core network over an existing network backbone.
To connect to the core network, cell phones, and other devices broadcast and receive radio signals from the RAN network's radio transceivers.
How does a Radio Access Network work?
Modern RAN Services networks use radio transceivers to link devices to the internet at a high level. A public mobile network's RAN base stations are linked by fiber optic cables, microwaves, or other technologies, and they combine signals before sending them to the public mobile core network. Backhaul is a common term to describe this.
The most recent RANs frequently have a controller that regulates cellular device capacity and coverage using software-defined networking (SDN). These signals can be handled and delivered at the speed and volume required to enable 5G and next-generation technologies by utilizing software and network function virtualization (NFV). Future modern RANs must make use of independent control, data, and management planes.
This separation enables greater privacy and security and capabilities like network slicing, which will be essential for reliable 5G wireless communication.
RAN Services enable network slicing, which allows mobile network operators (MNOs) and healthcare companies employing private LTE or private 5G to assign capacity to individual enterprise sites when splitting usage inside a public mobile network.
Once prepared for enterprise environments, it also allows elements of a private LTE / 5G wireless network to serve individual device groups and applications, such as autonomous vehicles or long-distance IoT-based logistics in a private LTE / 5G network.
The basic function of RAN architecture is to use radio waves to link devices to other areas of a network. These signals are sent into the mobile core network and distributed by a RAN controller in current RANs.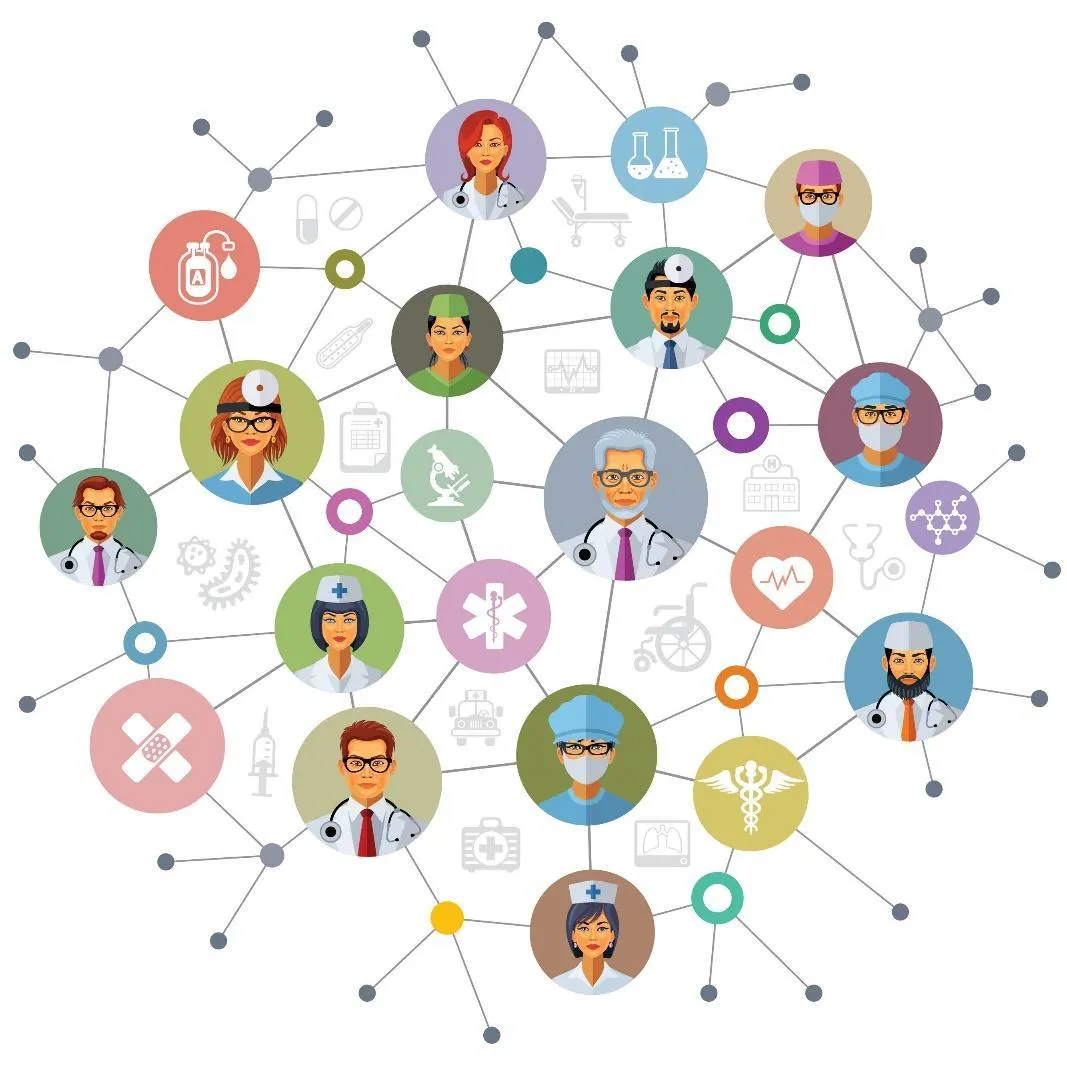 Image Credit : hopkinsmedicine.org – Healthcare Community Connectivity
Better healthcare connectivity with Radio Access Networks
RAN Services provide LTE and 5G with "deterministic" wireless performance, which implies they can provide ultra-reliable connectivity.
Private LTE and 5G networks, when made available within the healthcare industry via the appropriate design and deployment framework, provide the improved performance required by enterprise organizations such as warehousing, healthcare, manufacturing, and many others. In addition, healthcare businesses require high reliability, tight security, wide coverage, and big capacity that only LTE and 5G wireless connectivity can provide.
Use cases for private mobile networks include college and university campuses, hospital clinics, mining sites, warehouses, factories, transportation facilities (railroads, shipping ports, airports), and public venues (stadiums, hotels, amusement parks, government facilities), all of which have IoT and mobile infrastructure that must have mission-critical wireless connectivity.
• To track the health of patients and the efficiency of the facilities, hospitals use a variety of connected devices.
• Patient monitors, CT scanners, and blood pressure monitors are some of these health-tracking tools. The LTE or 5G Radio Access Network (RAN) devices receive data from the patient's health and building monitoring devices.
• The data is forwarded to the 5G or LTE packet cores running on the edge servers by the 5G or LTE radios in the hospitals.
• The IoT Edge runtime on edge servers can preprocess data before transferring it for further analysis.
• The IoT Hub in the cloud ingests data rapidly and securely and transmits it to Machine Learning.
• Machine Learning incorporates new data to improve the model.
• Data is fed into the network, which can monitor patient health over time or treatment efficacy across multiple hospitals.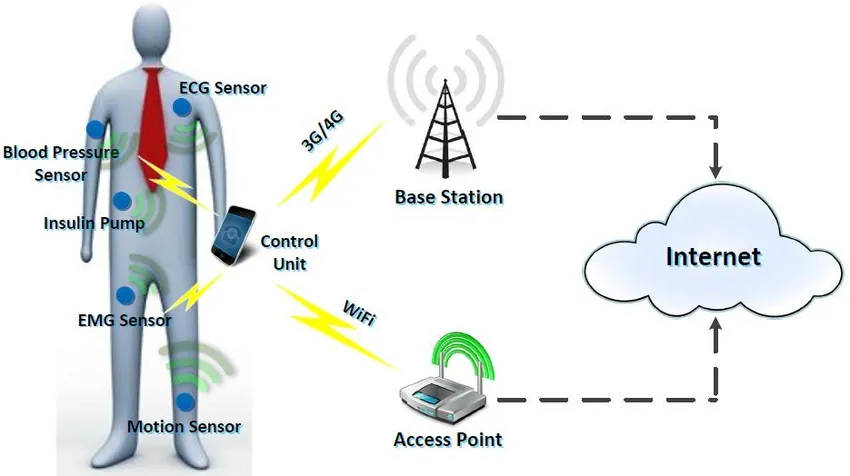 Image Credit : researchgate.net – Wireless Body Sensor Network Architecture
Better connectivity benefitting healthcare
A flexible network is required to connect devices between doctors and patients, and full interoperability is necessary, given the range of legacy systems and services. In the case of video and streaming, the ability to manage massive amounts of data necessitates dependability as well as near-zero latency. Because patient data is inherently sensitive, it goes without saying that security is critical. Cyber threats can have disastrous consequences for patients and organizations, prompting IT directors to investigate deploying private cellular networks and Wi-Fi to build the most secure solution available. Within a facility, a network of sensors can be used to improve operations and assist medical staff in a variety of ways.
For instance, IoT devices that are configured to send warnings if a reading is recorded that is abnormal could be used to keep track of each patient's condition. This is especially crucial at major hospitals, where there are more patients for personnel to keep track of than ever due to quarantine circumstances and where remote monitoring is crucial to reducing disease transmission.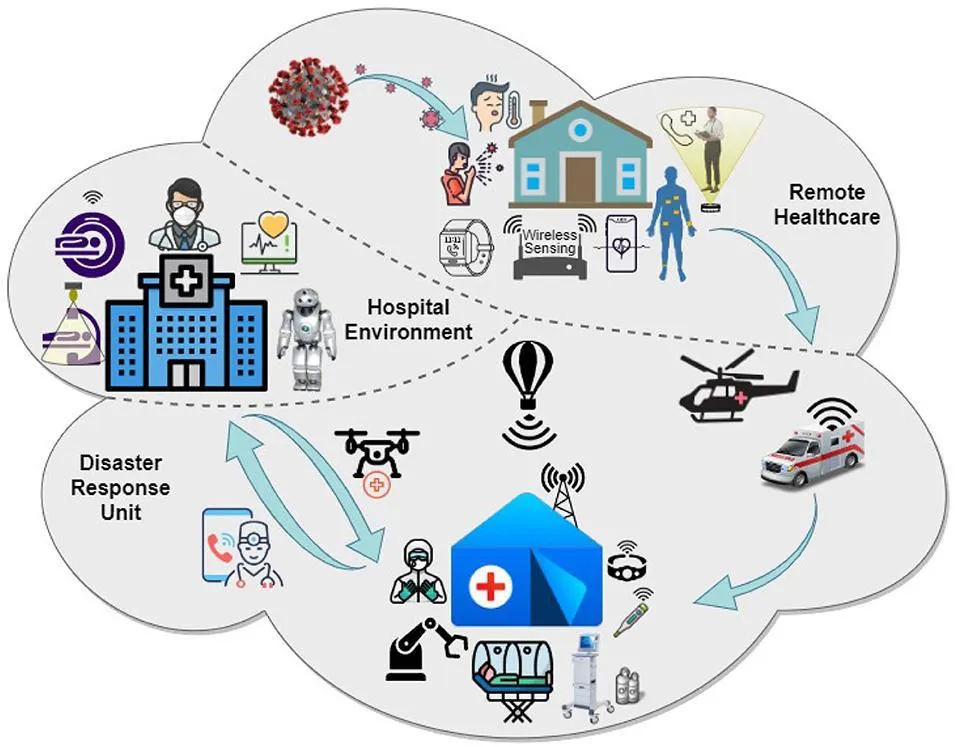 Image Credit : frontiersin.org – Better Connectivity in Healthcare
In order to better support hospital workers, administrative procedures could be automated and streamlined. For instance, by automatically recording the number of beds available in each department or by directly providing test findings to doctors.
Telehealth solutions can also help medical professionals by allowing them to contact patients who live in rural locations or have limited mobility on a regular basis. Video conference technology could be used to conduct consultations, dispense medications, and treat patients by leading them through physiotherapy exercises. This paradigm enables healthcare workers to deliver treatment in a manner that accommodates a wide range of lifestyles, thereby building relationships with patients.
Conclusion
IoT networks play a crucial role in providing remote monitoring and diagnostics. These types of applications will become more widespread in the future as the industry attempts to provide and maintain a high quality of patient care through the use of new technology. Private networks give the protection and flexibility required to accommodate new applications, allowing the healthcare industry to innovate and provide superior care.
The radio access network (RAN) connects all cellular devices to the mobile network, including mobile phones, mobile broadband routers, and other SIM-enabled devices such as tablets, smartwatches, and IoT sensors and actuators.
Healthcare advancements are becoming more closely related to technological innovation as a result of shifting patient needs and expectations. The greatest solutions will continue to be sought after by healthcare providers in order to support projects and deliver top-notch care. More use cases that depend on excellent connectivity for success will emerge as technologies like the IoT and 5G become more accessible.