The Netflix CEO said Optic Fibers have become like electricity spreading across the world 100 years back, and now optic fibers are on the same path. Our honorable PM Narendra Modi has high regard for optical fibers, and his statement, "Infrastructure is not only about building Highways but also Information Highways! The way forward lies in developing wide-scale optical fiber networks across India," clearly stamps the fact that fiber deployment is critical for realizing the dream of Digital India.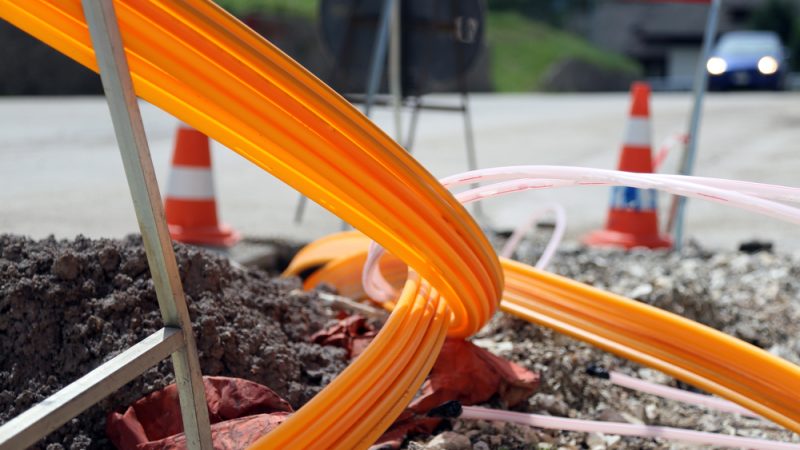 Need for Accelerated Fiber Deployment- Is Fiber Automation the game changer?
The global optical fiber market is expected to reach $89.91 billion in 2022, from $66.54 billion in 2021 at a CAGR of 35.1%. Furthermore, the market is expected to grow at a CAGR of 26.1%, reaching a value of $227.54 billion in 2026. This clearly states that there is a huge need for optical fibers in every country, and the fiber rollout pace must match this requirement. But are the current legacy fiber deployment methods adequate for achieving the daily targets of OFC laying?
In India, the existing fiber deployment speed is 350 km per day which is not matching the Prime Minister's vision of bringing broadband connectivity to every village in India in 1000 days. To achieve the target, the fiber rollout speed has to increase by 3.6 folds and reach OFC laying of 1251 km per day. However, if we continue to follow legacy ways of fiber deployment, it becomes almost impossible to increase the laying speeds drastically.
On the other hand, if we take Greenfield deployment (USA) carried out by STL, fiber automation has become a game changer in boosting the speed of fiber rollout by many times. STL has used their in-house developed LEAD 3600, an integrated approach for hyperscale-Fiber deployment through automation and best deployment practices. So, let's discuss the current fiber deployment challenges and how fiber automation can accelerate the fiber rollout so that we can power emerging technologies like 5G, IoT, Data centers, and cloud services with reliable high-speed Access & backhaul network.
Fiber deployment challenges
The major challenges that can hamper the fiber rollout speed include:
Planning dilemmas
The major obstacle in optical fiber deployment is the delays that occur during the planning stage of the entire fiber rollout process. In this phase, the planning team has to build the fiber deployment layout using the static infrastructure data to a large extent. But, as the urban areas have infrastructure projects happening day in and day out, the plan has altered frequently when it's executed on the field, which can lead to a lot of delays in fiber deployment. Planning is a significant challenge during fiber rollout. Automation and real-time infrastructure data can be game changers for optimized planning.
Multiple approvals Required
While building fiber networks, duct and cable laying take up a lot of time and effort. This includes getting approvals from Local Regulatory Authorities such as Municipal Corporations, Traffic Controller Boards, Highway authorities, Local Society, Telephone Departments, Electricity Department, Water & Sewage Departments, etc.
Also, the CSPs must coordinate with the construction firm to dig trenches, place ducts, lay & pull the optical fiber cables, and do other miscellaneous tasks. This requires a lot of communication between CSP, Local Bodies, and construction employees. Moreover, in areas with traffic congestion, it also creates a different route, like one way, affecting daily commuters and leading to a lot of unrest.
Skilled manpower shortage
The employee numbers involved in fiber rollout and maintenance tend to decrease by upto 60% every seven years due to retirement. Obviously, these retired employees will be replaced by younger staff. However, this will reduce the number of employees with skill sets and experience. Therefore, to combat this, a navigation-based assisting system and modern equipment as a part of fiber automation must be deployed to make unskilled staff manage their tasks more effectively.
Fiber deployment Barriers
Environmental hurdles are another major contributing factor that delays fiber rollout significantly. Rural areas usually have varied geography when compared to urban areas. Also, the fiber laying ground has different compositions that may include big rocks. Contingency plans may not be prepared in areas like mountains and other terrains that are frequently affected by inclement weather. This can significantly reduce the speed of fiber deployment and increase costs.
Different fiber automation methods for accelerating fiber rollout
Now that we have understood the different fiber deployment challenges, suitable measure has to be taken to tackle them and accelerate fiber rollout. Fiber automation and best practices seem to be the best ways to speed up the process of fiber deployment by many notches. Here are some proven fiber automation strategies followed by top CSPs to lay optical fibers at a faster rate.
Advanced Computing Techniques
We can utilize advanced computing technologies like LiDAR (Light Detection and Ranging), AI, Machine Learning, Cloud, GPS, etc., to create fiber rollout plans. These tools automatically generate the layout by capturing geo coordinates and filtering the possible fiber layout site, including ducts, trenches, underground, overhead, etc. These advanced automated techniques will help reduce the fiber deployment planning time in geographical areas. Also, this tool will pinpoint and filter out geo surfaces used for building ducts & trenches to create optimal fiber routing. This will minimize the cost & time of field survey tasks during the planning stage of the fiber deployment.
Optimized trench construction techniques
Usually, trenching in urban environments is very complicated and involves high material cost, effort, and time. To combat this, significant effort has been made in the research and development of better construction techniques. Among them, micro trenching has become very popular and evolved more than other methods. Micro trenching refers to a process of civil works that utilize narrow & low depth trenching with the help of customized machines suitable for urban environments. The benefits of micro trenching vs. normal trenching include.
Faster speed of fiber rollout
The cost of getting permission from concerned authorities significantly reduces
Materials costs are also considerably saved as manual work is reduced
The best perk of using this technique is the drastic increase in the meters of fiber deployed on a daily basis. Construction staff operating conventional 'dig and backfill' methods usually achieve 100 meters per day of fiber deployment in dense urban locations. However, the micro-trenching team can achieve 200 and 250 meters per day. Usually, the deployment is limited to 200m due to traffic management protocols. With labor cost alone reaching 50% of the fiber deployment budget, a 40% reduction in rollout time could reduce the Capex by at least 20% overall.
This is a useful fiber automation technique where staff uses a robot to lay the optic fiber cables eliminating manual tugging of the optical fiber cable. A small robot digs a mechanical hole in the underground, tugging the fiber-optic cables to its target point while technicians only supervise. At the corner, another robot suspended like a cable car, replaces the final drop wire from the exit pole to the client premises. This can significantly accelerate the fiber rollout and also reduce manual effort. Even a less experienced and less skilled workforce can manage the tasks in such an environment.
Fiber Deployment staff training through AR/VR
Modern VR technology offers life-like features that enable effective practical training to learn complicated skills. VR headsets build an audio-visual experience and can be paired with sensors and other tools to simulate a real-world experience. This approach can be used to train inexperienced fiber deployment staff and make them field-ready within a short period.
Conclusion
Automation has become an integral part of every process, and fiber rollout is no exception. As more and more companies are on the path of digital transformation, the need for sophisticated and reliable data networks has become compulsory. Hence, the demand for optical fiber networks has skyrocketed. Fiber automation will not only increase the fiber rollout speed but also eliminate a lot of human errors, which could otherwise lead to inefficient fiber rollout and higher repair costs. Fiber automation is the need of the hour, and the above techniques will definitely accelerate the process of fiber rollout by many folds.