Key findings from the Digital Leadership Roundtable on "Building an ecosystem to capitalise on the XaaS economy by harnessing 5G and cloud."
The speakers were: Saikat Mitra, COO, Network Software, STL; Ravi Shankar, Head of Product, Network Software, STL; Amresh Nandan, VP Analyst, Gartner; Shoaib Khan, CTIO, Cable & Wireless; Aditee Rele, Director, ISV Solutions & Strategic Partnerships, Microsoft, and Jegadeeshkumar Damodaram, SVP – IT Strategy & Architecture, Smartfren.
If we take a step back and look at what is happening around us, there is this convergence of digital and virtual worlds. While application innovation, cloud computing, and infinite scale really get the attention, the core of all this is innovative networks or innovation that is happening in the network layout. This includes network latency, network throughput, increased optimisation and reduced costs.
With this kind of innovation, there is a lot of potential to transform every segment of the industry going forward. If we look at Agritech, there are startups that are planning to use drones to change the way farmers manage their crops, upload their crop data, and analyse the same. There are an infinite number of use cases possible because of the innovation in network infrastructure, from OTT in media and entertainment to digital setup in the manufacturing industry.
But is the transformation in networks really needed? A large number of use cases, like building Edge, for example, have been possible on 4G. There are requirements from enterprises and specific industry verticals that can be better addressed by 5G than by 4G. Of course, as an enterprise, they should see where to implement 5G or 4G or fiber. So, investment in 5G is not just for the sake of moving to the next generation of technology. A mix of technologies is the way forward .
With this, the way telcos perceive network forces has changed significantly. This perception change is attributed to:
Trillion dollar investment expected to happen across 5G networks.
Increased pressure in terms of reducing costs.
Telcos are looking at developing specific industry scenarios and moving away from being a traditional network solutions provider only.
Changes are hard and each change brings a new set of obstacles with them, and the same can be seen in the challenges faced by telcos as a part of network transformation.
Considering the large volume of data generated, there is no well defined way to capture it. There is all kinds of data coming in structured data, unstructured data, social data, Data coming in from devices, mines, etc. How do we bring all this together and yet extract information out of it?
The data is siloed and stored in different elements. It is difficult to build actionable insights and we are not able to get end to end visibility.
The velocity at which this data arrives means telcos are the largest holders of data at high speed. Everything is going via the network, so how do we get this storage to life.
The Need for Data Modernisation Capabilities
We can say that there is this entire variety of data that we need to build information out of. For this, data modernisation capabilities are needed. Data needs to be ingested, stored, run analytics on, and finally reported out of it. To make this happen, cloud native capabilities, advanced services, infinite scale, infinite compute, and infinite storage can be used. A platform is needed where payment for the entire infrastructure is not needed but payment only for the compute that is running on the cloud environment is needed.
The next step is to look at the analytics. Really solid prescriptive and diagnostic analytics have been gathered from structured and unstructured data. But it is essentially about what has happened and why, based on past data. Now, we want to use the capabilities of AI to predict what will happen and what actions should be taken.
Microsoft is essentially trying to address these challenges for telcos with its Microsoft Cloud Platform.
What does it take to build an intelligent telecom network?
Building intelligent telecommunications to gather actionable insights requires addressing the following areas, which are of paramount importance:
Empowering the telco workforce- Empowering is way beyond communication and collaboration. It is about sharing information and data securely not just with employees but also with vendors, customers, and suppliers because no telecom company is a silo company. They have to work with an entire ecosystem to bring their systems to life.
Streamline operations and business support systems – How do we build, use the power of the cloud and build cloud native solutions for the OSS and BSS systems so that there is no barrier to scale.
Deploy and optimize next-gen networks – Network efficiency should be at the core of what is being done. Work is needed on how to increase throughput, reduce latency, ensure scalability, and ensure reliability.
Transform Customer Experience – How this is taken to customers and how they will respond to the same. So, there are two kinds of customers from the point of view of telcos. One is the consumers, who are absolutely unforgiving in terms of network speed. The second set includes enterprises.
Accelerate Innovation and Growth – Looking at all the possible use cases of 5G.
Building an Ecosystem
There are a large number of partners to build an XaaS ecosystem. So, how does a customer service provider (CSP) select one? For this, the 5 nine principle comes into the picture.
When we look at the likes of Microsoft and Amazon, traditionally they are providing IT services, and within IT services we look at reliability of 4 nines.
Telcos require, and regulators even mandate 5 nine reliability. So, when choosing a cloud provider or a hosting provider telcos demand the 5 nine capabilities to be delivered. This is where distinctions are made with respect to which firm to go with.
In the last 4 years, the need to embrace cloud computing has been realized and operators need to leverage the infrastructure built. With 5G, there has been a paradigm shift and business support systems with the ability to monetize the services that an operator would like to offer are needed.
So, on one hand is the monetization capability, and on the other is the typical retail experience we have with 5G coming in where there is a service based architecture. There will be a migration from the existing architecture to the service based architecture. During this kind of transformation, the operators will need a platform to monetize the traditional charging and billing services. Sterlite's BSS platform with one single stack is able to provide this kind of convergence for the transformation from 4G to 5G and support a single stack for public and private clouds. The BSS also needs to evolve to support a hybrid kind of model as the transformation is taking place.
A lot of things, particularly run on intelligent clouds, and Microsoft and a lot of other service providers are crossing into the territory of CSPs in some areas. It becomes challenging to come up with different solutions to match the requirements of the operators.
As discussed, 5G is not relevant for every use case. A lot has been done on the existing technology. The way to respond to this challenge is by specifically focusing on why a certain kind of solution is built on the cloud. Every solution must be triangulated into :
a. Throughput requirements
B. Massive connectivity
c. Low latency
When a triangle is built out of these three, it is seen whether there is a need to build a specific customized infrastructure provision or not.
All the different use cases show the potential of the cloud and emphasize the need to have an XaaS ecosystem.
The need is one thing, and convincing telcos of the same is another. It was a challenge about five or six years ago. But the realization of the need to move to the cloud and innovate for the massive data that is being generated so that it is not lost has changed that. Hence, the focus today is on how to move to the cloud, get the best out of it, and move forward from there. One thing that happened three to four years ago was that technology became easy to adopt with kubernetes coming into the picture,containerization, and microservices becoming clear.
The easy adoption of technology presented a choice for vendors like Sterlite to embrace and adopt practices that hyperscalers had already built. It meant that the same BSS that was being put in the private cloud could also be put in the public cloud.
Enterprises have a lot of needs from a software perspective. The BSS was seen as a way to monetize the experience. But now when we look at it in such a way that we have a solution, a lot of partners and workload available. There is a need for someone who can stitch all of this together.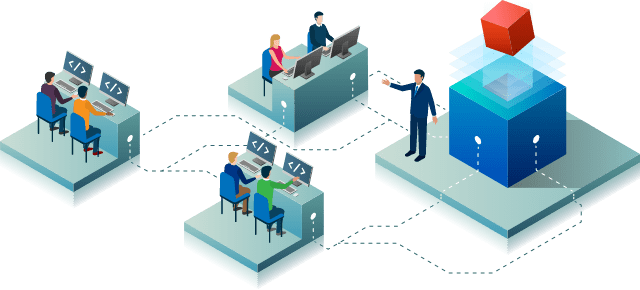 Think of a private network as a service for an enterprise which is going to stitch this whole solution together with VPN, IP VPN, and load balancing with the billing systems behind the scenes.
One thing 5G has made more prominent is putting enterprise into the primary focus area. There is a need to have solutions that can work together. The best place to stitch them together is the public cloud. The agility that the public cloud brings allows us to stitch services together.
In this direction Sterlite as a software company has been good at stitching together solutions and at the same time following best industry practices. It is putting the CI/CD framework on the customer's side as they have software solutions coming in from other partners that need to be stitched together.
Conclusion
Enterprises are now asking for things that they were not asking for earlier, like containerisation as a service, APIs, etc., and telcos are building ecosystems to provide these kinds of services. No one thought that telcos would provide these kinds of services. Thus 5G, public cloud and enterprise together have built a momentum that is expected to last the next 3-4 years.
FAQ
Considering the large number of acquisitions by cloud service providers, is there a possibility in the future of cloud service providers becoming telcos?
The purpose behind every acquisition is to understand what really high throughput and low latency mean, as cloud service providers are software providers and have very little exposure to the same. If they have to deliver the right kind of cloud services with the right kind of SLAs, they need to have this knowledge.
Telcos don't only bring network services, they bring a lot to the table. Telcos like Airtel and Vodafone want to become cloud providers not on their own but by riding on top of platforms like Azure.
You have the connectivity, you have the cloud platform, and everything comes together and builds the intelligence into the edge nodes, so you have a full package. More than any of the hyperscalers becoming telcos, telcos can become cloud service providers.
But telcos will not look to step into the cloud service space because it requires their own talent, requires their own maintenance. Telcos' focus is more on network services and services related to them.
It is more of a collaboration. This collaboration is what brings about a unique service.