With data consumption on the rise, cloud adoption accelerating, and technology demand soaring higher than ever before – Indian corporations are investing in massive leaps forward to meet an estimated 6 million square feet of required data center services development over the next three years. As a result, now more than ever, we're seeing just how essential robust data center infrastructure truly is!
Limitations imposed as a result of the shutdown disrupted normal operations. However, this black swan occurrence significantly accelerated the country's widespread embrace of digital technologies. The government's push and ambition toward a digital economy gained momentum as the financial, educational, and retail sectors were all mandated to become digital.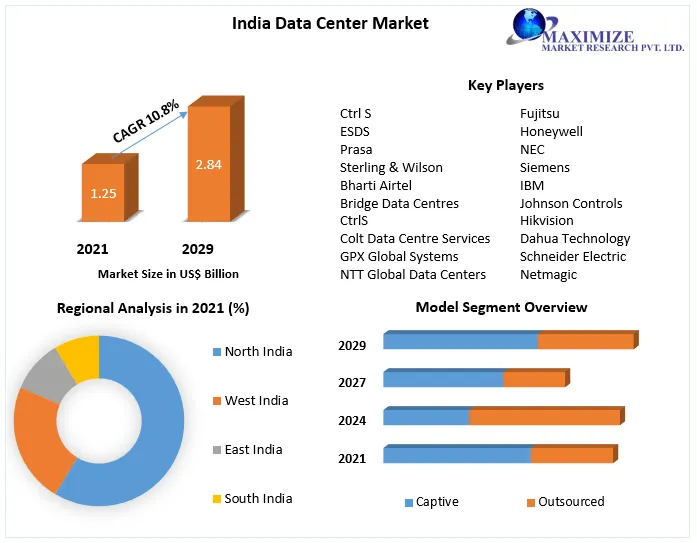 Image Credit : maximizemarketresearch.com – Indian data center market
Several Indian businesses have embarked on digital transformation initiatives, increasing demand for data and internet bandwidth across the country. These developments are driven by the growth of social media, the proliferation of smart devices, the localization of data, the rising popularity of cloud services, and the efforts of these businesses.
The value of the India data center market is expected to increase from $4.35 billion in 2021 to $10.09 billion by 2027 at a compound annual growth rate (CAGR) of 15.07% throughout 2022-2027.
The Popularity of hybrid models
The rise in individual use of social media, online gaming, and streaming apps has ensured the permanence of the hybrid work model. This calls for more sophisticated hardware, faster networks, better data storage options, and increased data center services.
As a result of the rising demand for data center services, there is a need for both land and electricity in many areas, forcing operators to seek out other markets with more flexibility. During the first half of 2022, the United States market absorbed 1,087 MW, which was more than 95% of total consumption in 2021.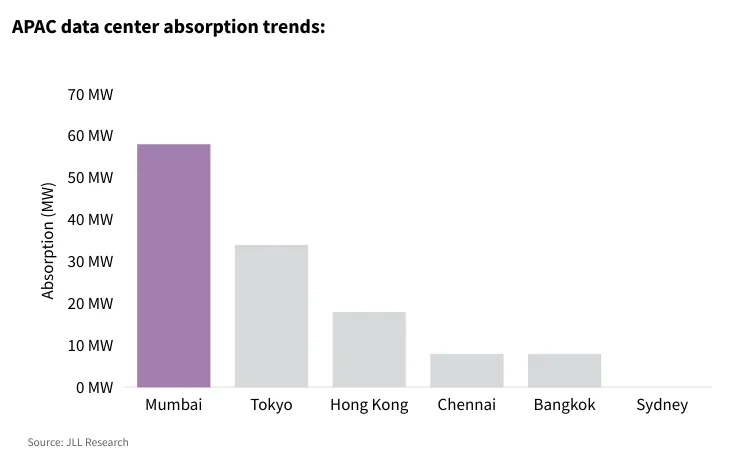 Image Credit : www.us.jll.com – Data center trends
Government initiatives
CRISIL, the rating agency, predicts that by 2025, India's data center capacity will have doubled to between 1,700 and 1,800 MW. An estimated 870 MW is the current capacity in the nation. The director of CRISIL estimates that between 2023 and 2025, India will add between 890 and 900 MW of capacity.
Similarly, the government is ramping up its digital activities to improve the environment for data center services. An important goal of data localization is to keep 75% of data inside the nation.
The Ministry of Electronics and Information Technology (MEITY) saw potential in the industry. So it developed a strategy for data centers in 2020, elevating them to a higher "infrastructure status" as roadways, rails, and electricity. This policy aims to streamline the approval procedure for data center services. For example, getting a data center up and running in the nation might take as many as 40 approvals.
The Ministry of Economy, Industry, Trade and Energy (MEITY) has announced that cloud data centers will get SEZ designation. In addition, the government would offer free land, water, and power so businesses could set up shop with little hassle.
Data center services may benefit from tax breaks in states like Maharashtra, Karnataka, and Uttar Pradesh, as well as energy subsidies and discounts on land costs.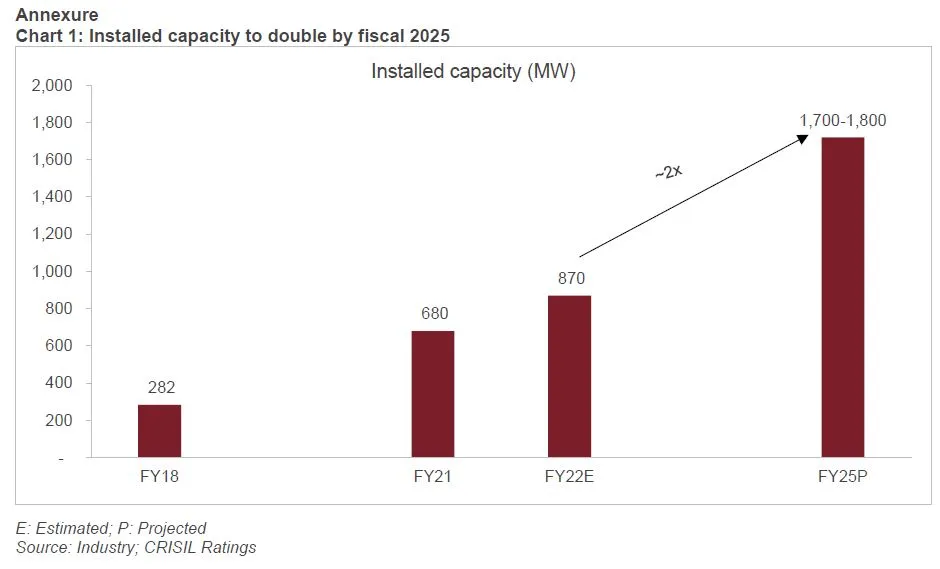 Image Credit : crisil.com – Installed capacity
India has seen a dramatic increase in the use of digital payments, IoT, and smart gadgets across India. Due to the country's technologically sophisticated young, data centers will be in high demand as the country's increasing reliance on digital gadgets generates enormous amounts of data. Additionally, the Indian government has recommended including data center services alongside railroads, power plants, and roadways as examples of vital infrastructure to safeguard its citizens' personal information better. As a result, many companies are jumping on the opportunity because of the government's encouragement to construct data centers.
However, a further boost to data center demands in India may come from the final outlines and timetables for adopting the Data Protection Bill and the Data Centre Policy, as well as the widespread adoption of 5G services.
Although many safeguards exist, the new industry is still vulnerable to technology threats, including social engineering, cyber attacks, data theft, and leaks. Further, new vulnerabilities may emerge as the industry develops in India.
Rising internet penetration boosts data center growth
In 2018, India had 560 million internet members, making it the world's second-largest market for digital consumers behind China. In addition, India has more than 1.1 billion mobile phone subscribers; Indians have downloaded over 12 billion applications, and Indians use an average of 8.3 GB of data per month, which is far more than the 5.49 GB used by China mobile users, a more developed digital economy. This research demonstrates India's rising dependence on data centers and the country's potential for additional digital growth.
Some of the most important variables for Internet penetration include close vicinity to fiber landing posts and a steady, stable power supply. Most foreign and domestic investments are thus focused on metropolitan areas like Bangalore, Chennai, Mumbai, and Hyderabad.
Nonetheless, electricity dependability has improved recently, particularly in a few strategically located states. Moreover, the local government is encouraging data center development by, for example, making lucrative land options available with ample power and encouraging sustainable energy use because of the positive effects this could have on the local economy and the likelihood of investment.
Scope of the Indian data center market
Increased digitization due to COVID-19, government efforts, AI, IoT, and big data has attracted considerable investment from local and foreign companies, including hyperscale operators, in the Indian data center sector.
Major investors in the Indian market include Bharti Airtel, Amazon Web Services, Colt Data Centre Services, NTT Global Data Centres, ST Telemedia Global Data Centres India, CtrlS, and Yotta Infrastructure, among others, and the year 2021 saw the launch of 16 new projects/expansions in the country.
More and more hyperscale providers like Amazon Web Services (AWS), Google Cloud, and Microsoft are investing in the Indian sector as well. Cloud regions are located in Maharashtra and Delhi for Google, and in 2021, Microsoft constructed a data center in Maharashtra after signing an MoU with the government of Telangana. In addition to its current data center in Maharashtra, AWS is establishing a second in Telangana.
AdaniConneX, Ascendas India Trust, Digital Realty & Brookfield Infrastructure, Equinix, and EverYondr are just a few of the new players in India's data center market that are either already operational or planning to do so in the near future.
The Digital India program, the reclassification of data centers as infrastructure assets, and the proposed new data localization legislation are just a few of the steps the Indian government is taking to digitalize the economy, all of which will propel the data center business in India.
India has also committed to producing 175 GW of sustainable power by the end of 2022, with a goal of 100 GW coming from solar power alone. To reduce its use of fossil fuels, it also intends to increase its generating capacity to 450 GW of renewable power by 2030.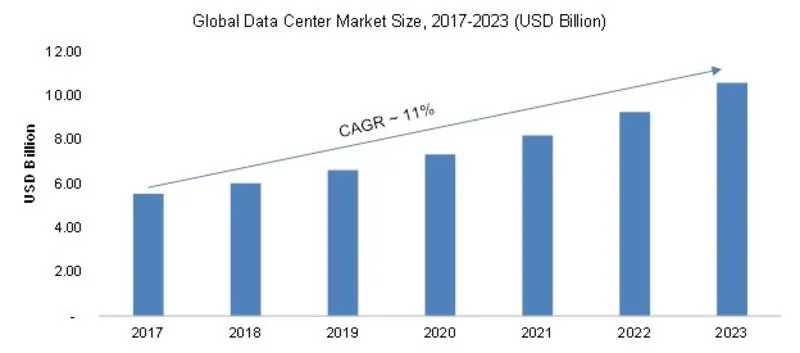 Image Credit : analyticsindiamag.com – Global data center market size
Environmental impact
Although data centers are a vital part of India's digital revolution, they have an environmental effect that shouldn't be addressed. Energy management in data centers may result in significant costs. Therefore, using renewable energy sources in data centers is something that environmentalists have long pushed for.
Since India's data center sector is still maturing, it has more room to adapt to new market conditions and incorporate environmentally friendly innovations. Additionally, the nation may strengthen its standing as a worldwide leader in environmentally responsible data centers.
Colocation of data center services
Cost-effectiveness and efficiency: A data center's construction is a lengthy and costly process that is slowed down significantly by bureaucratic red tape. Since companies often need more capacity quickly, renting from a colocation provider is often the quickest and most cost-effective option.
Skilled administration: Few companies can guarantee a data center's constant, reliable operation. Colocation service providers already know how to maintain and secure the facilities.
Adherence to regulations: Providers of data centers are often already certified by relevant bodies, providing peace of mind to businesses that need to prepare ahead for contingencies such as adopting novel business models or digital services. Colocation providers further facilitate disaster recovery by distributing data centers across many sites.
Conclusion
As the Indian economy soars, data center services look to assume an even more important role in powering India's growth. With 5G and IoT looming on the horizon, digital connectivity is becoming ever-more essential for businesses & citizens – propelling a rising demand for reliable data center solutions. By striking up smart policies that prioritize the development & utilization of Data Centres, India can position itself as one of tomorrow's significant powerhouses in this rapidly growing industry!