Gender equality is fundamental to reducing poverty, promoting sustainable development, and building good governance. Gender equality is a key UN Sustainable Development Goal (SDG) that drives traction across a broad range of other sustainable development verticals. Therefore, to build inclusive and resilient communities, a holistic and supportive ecosystem capable of promoting the growth and development of women is essential. But the focus of any intervention needs to also strike at the root of social stigmas. It should alter perceptions about women and their aspirations while addressing real challenges on the ground that could be driving a wedge in promoting equality.
Women empowerment programs as a key to embracing equity
Through women empowerment programs, communities need to be educated on the importance of educating the girl child as well as made aware of taboos about careers for women. Women need to be equipped with the necessary skills and resources to emerge as confident and ambitious agents of change. Such efforts through women empowerment programs in India have even helped women secure sustainable livelihoods through production units where they are trained in aspects like advanced handicrafts and other such arts.
For such programs to make a real change, they need to address equity from a multidimensional lens. It could be:
Building a strong foundation through interpersonal skills and vocational training for younger age-groups
Promoting entrepreneurial spirit at the grassroots by organising self-help groups (SHGs) around regular known activities like cooking, agriculture, and animal husbandry
Improving earning potential as well as bringing to fruition these efforts by providing market access and micro-financing linkages.
Such empowered women become not only role models for young girls in their villages but also a bastion of support for their communities with economic self-dependence, digital literacy, and industry-focused skills.
These programs not only deliver successfully along the aspirations of multiple UN SDGs but also the UN Women Empowerment Principles as well as several national missions. However, the success of a complex and multifaceted undertaking like this is only possible with solid collaborations between governments, not-for-profits and communities. Now, while women empowerment programs are important, gender equality is a theme that should be woven across all community impact programs for driving sustainable change.
Jeewan Jyoti skilling rural women
STL has been dedicated to empowering women in rural areas since 2008. Our Jeewan Jyoti women empowerment program began with just 95 students from 20 villages but has since grown to empower thousands of women. It serves as a platform for women to pursue their dreams and drive change within their communities.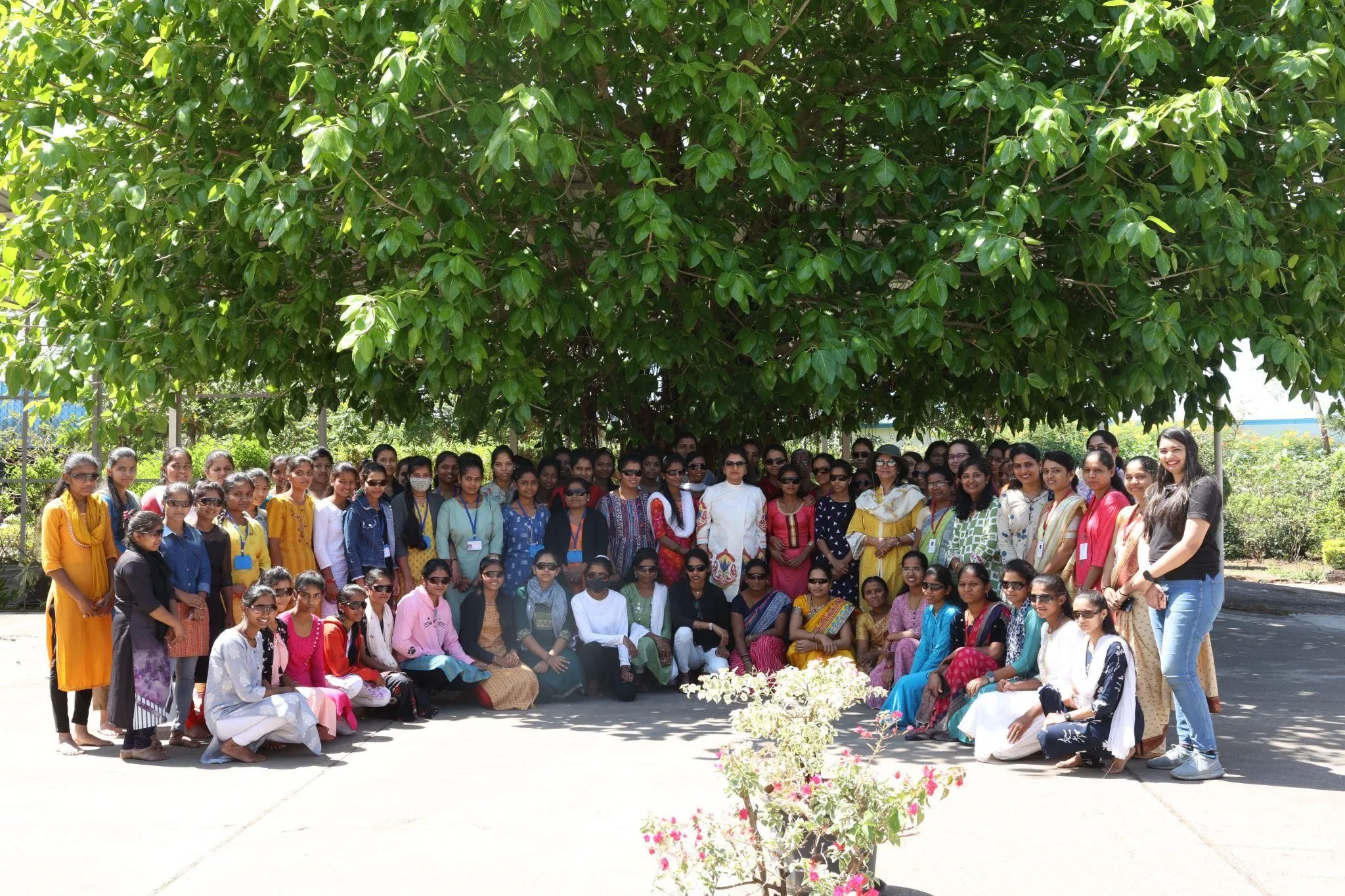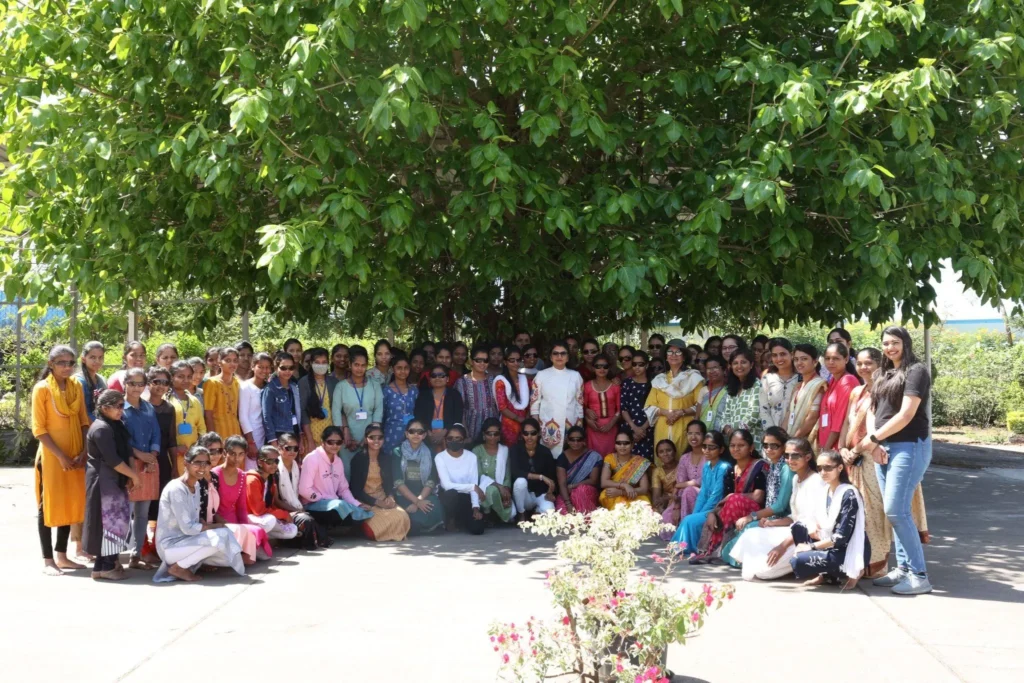 From 2014, we began empowering rural women in Ambavane, Velhe (Pune, Maharashtra), with a range of vocational skills, including computers, tailoring, fashion designing, nursing, and beauty culture. These skills have successfully opened doors to financial independence and prosperity for these women.
The Jeewan Jyoti Empowerment Institute is a very special place for women. It provides a comprehensive range of services that help women in rural areas overcome many challenges they face. By offering vocational training, entrepreneurship support, and access to markets, Jeewan Jyoti helps break the cycle of poverty and dependency, empowering women to become true agents of change in their communities.
We have touched 20,000 lives across 100 villages, resulting in over Rs 19 million in micro-financing linkages for financial empowerment. However, our journey is far from over.
Women imbibing beautiful art of block printing
Block printing, an age-old artistic tradition rooted in Rajasthan, has been cherished and honed over countless generations. Utilising natural hues, this captivating art form has gained immense recognition in the region. Its rich legacy dates back to the 12th century when it received esteemed support from the reigning monarchs. Even to this day, block printing remains a prevalent practice, adorning cotton fabrics with its timeless allure.


The technique of block printing involves the transfer of intricate and artistic designs carved onto handcrafted wooden blocks onto fabric or paper. These designs draw inspiration from the natural world, encompassing elements such as birds, animals, and popular motifs found across different cultures.
We absolutely applaud the incredible art of block printing on fabric. We have partnered with the Rangsutra Foundation to set up the production unit and impart training to women in this specialised technique.
Our talented women artisans in Jeewan Jyoti take original block print designs and deftly transfer them onto high-quality cotton. However, it's important to note that the block printing process is far from simple. From meticulously carving each wooden block to preparing the fabric, mixing the dyes, and applying the final touches, each and every step requires a tremendous amount of artistry, skill, and patience. It is only through the masterful execution of each of these tasks that we are able to produce our stunning block-printed fabrics.


Once the printing process on the fabric is complete, the block print is left to dry before the cloth is enveloped in newspaper and subjected to steaming. In the case of discharge printing, the cloth is washed afterwards to remove any residual gum Arabic and is then dried and ironed, completing the preparation. At Jeewan Jyoti, our proficient women block printers skillfully utilise a combination of overlapping blocks to achieve intricate designs.
Recently, we have skilled many women in block printing techniques. These blocks have primarily been sourced from Jaipur. Women are now creating beautiful, intricate designs on fabrics with these blocks.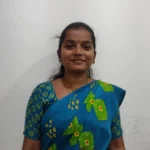 One of the beneficiaries of this program Purnima Santoshi from Tambhad village, near Pune, says, "My husband was the sole bread earner of the family. When he became jobless during the lockdown in 2020, we were in a distressed situation. I then heard about Jeewan Jyoti Institute from Gram Panchayat. I joined the Institute in 2020 and enrolled myself for the stitching and tailoring program. After a few months, the institute started training women in block printing techniques, and I enrolled for that as I wanted to elevate my skills to the next level, and I knew that block printing is a very niche segment. The trainers were very supportive, and they made great efforts in training us from scratch. Now I am completely trained in this technique and am highly confident that I can work independently, start my own business and support my family financially."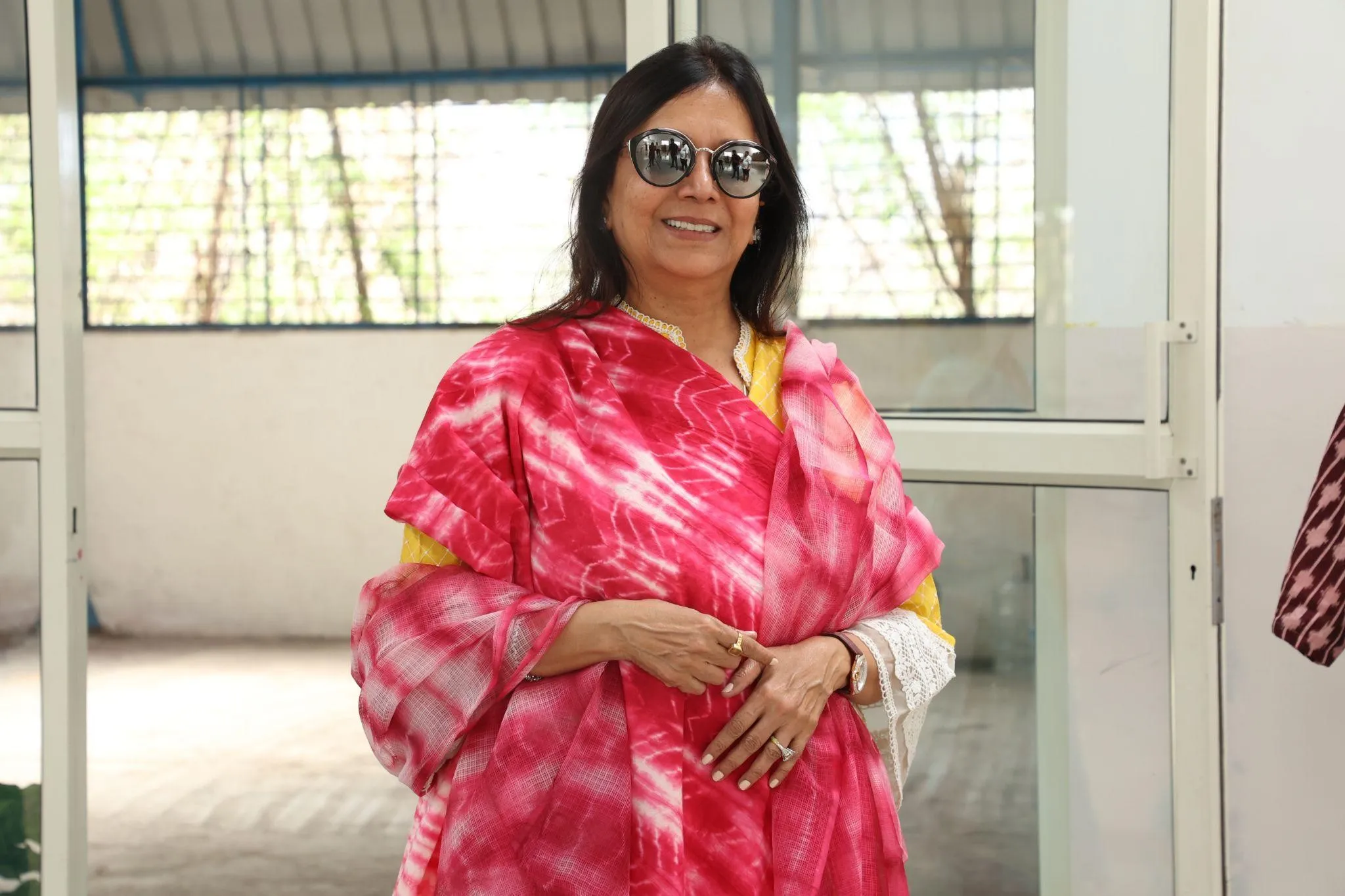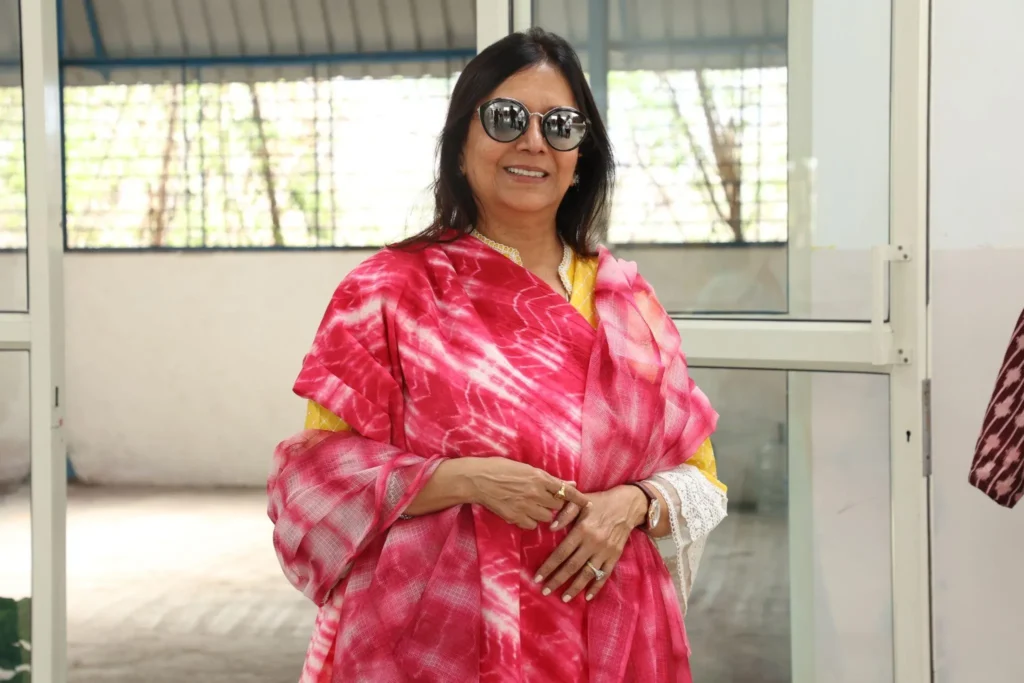 Mrs. Jyoti Agarwal adorns beautiful work of block printing done by women at Jeewan Jyoti
There are many other women like Purnima who have received proper training in block printing and are now skilled block printing artisans. They are leveraging this skill to work for NGOs or just to start their own business.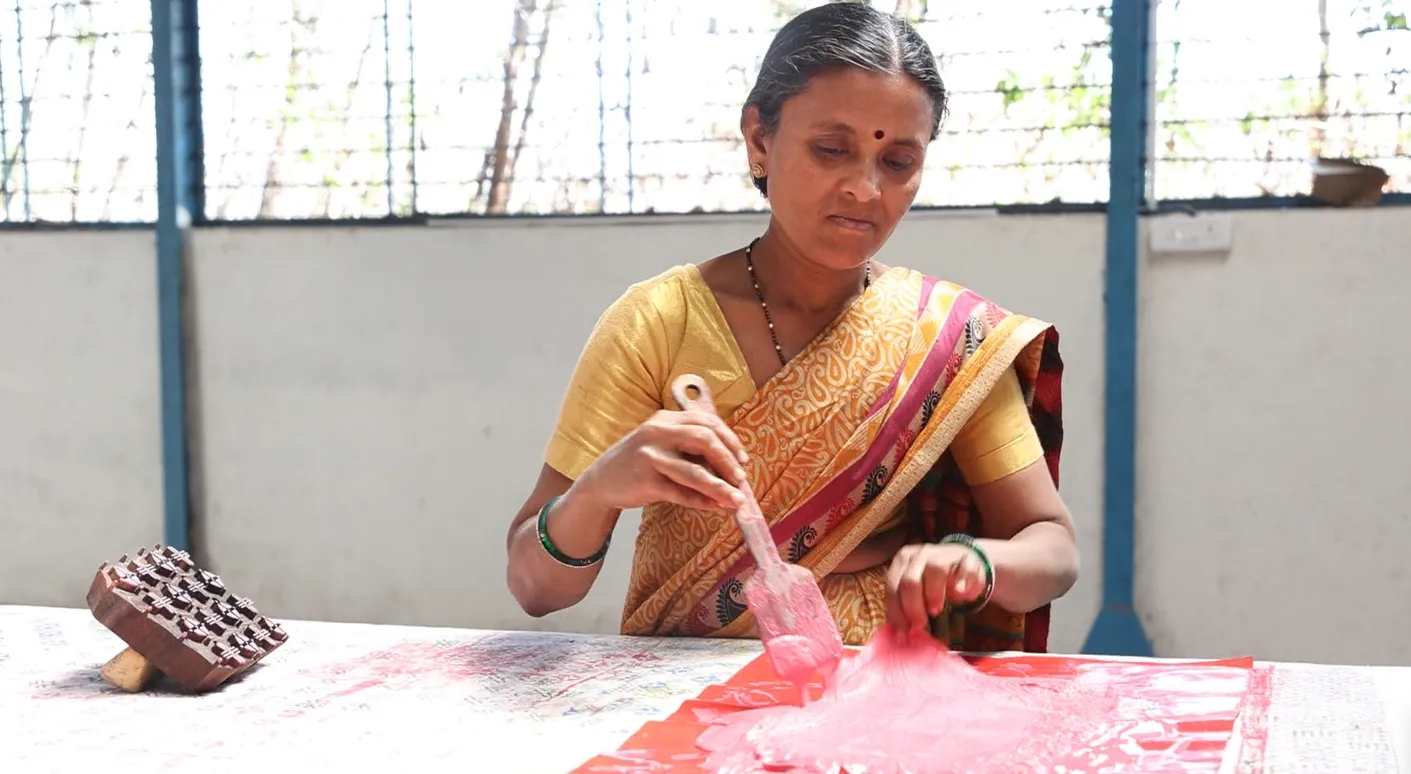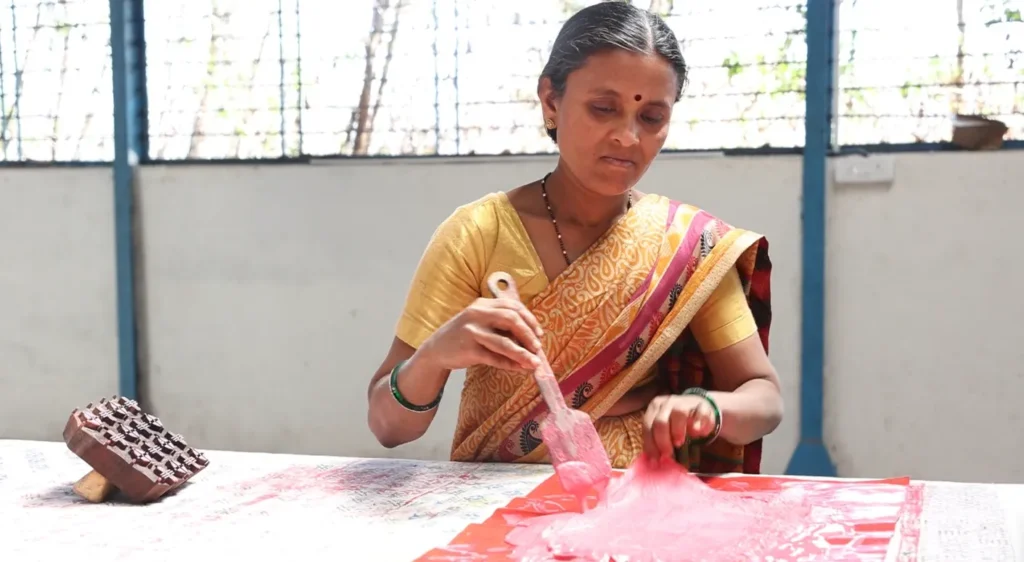 We have given much thought to concerns of environmental sustainability, and therefore natural dyes are predominantly used during the block printing process. The training institute also gives importance to matters related to recycling, waste management and fair-trade practices at work.
Our goal extends beyond the upliftment of artisanal communities residing in rural regions. We are also dedicated to the upliftment of underprivileged groups, including hand block printers, wood carvers, fabric dyers, embroidery artisans, and colour mixing specialists.
Right from its inception in Jeewan Jyoti, Rangsutra has valued and followed ethical labour practices, was passionate about uplifting artisanal communities and used eco-friendly dyes. Their commitment to the above still continues.
As a business, we understand the importance of responsible practices that help communities progress. We strive to connect those who may feel isolated, encourage sustainability, and provide valuable services to communities. By partnering with organisations, we have developed programs that strive towards women empowerment and make a positive impact on society.