5G and Wi-Fi-6 working in tandem is the most trending tech news spreading like wildfire across the digital world. As the number of internet users has skyrocketed like never before. Currently, around 5.03 billion people will be using the internet in 2022, and the numbers will increase further with the 5G network becoming more prominent worldwide. To make internet connectivity faster, more secure, and more efficient, especially for businesses, upgrading to Wi-Fi6 might be the best way forward.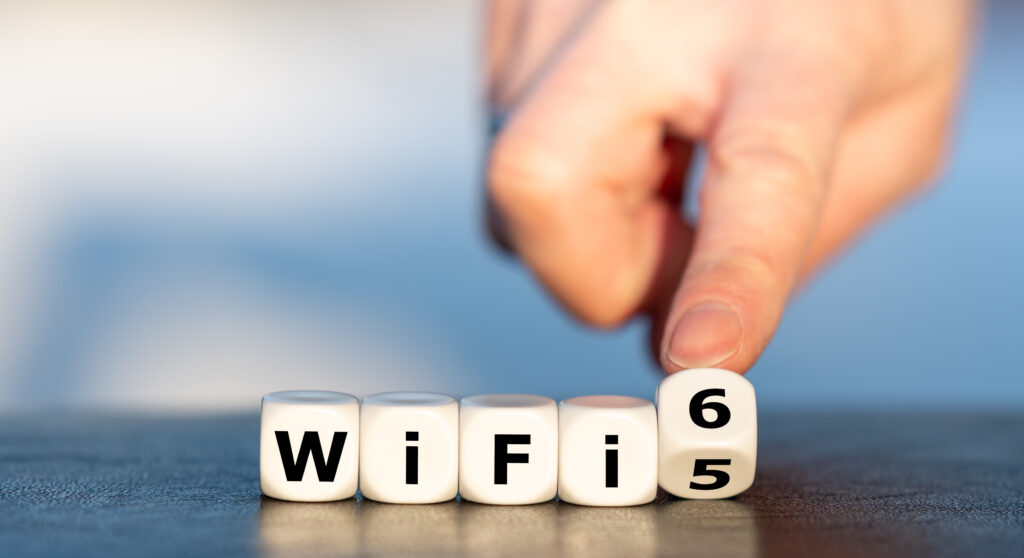 Wi-Fi 6- Deserving Successor of Wi-Fi-5

Wi-Fi 6 (also referred to as 802.11ax) brings with it faster data transfer speeds, lesser bandwidth congestion, better battery life, and many more when compared to Wi-Fi 5 (802.11ac) technology. When you integrate this technology with optical fiber connectivity, whoopie! You get internet connectivity that has low latency and absolutely no buffering. The global market size of Wi-Fi 6 is estimated at $11.5 billion in 2022 and is expected to reach $26.2 billion by 2027, at a CAGR of 17.9%. Let's discuss 10 reasons why you must switch to Wi-Fi 6 today.

Market opportunities for Wi-Fi-6

What Is Wi-Fi 6?
Wi-Fi 6 was launched in 2019 as the latest version of Wi-Fi technology. It is designed to deliver speeds which is 3 times faster than Wi-Fi 5. Moreover, this improved speed is maintained even when numerous devices operate under one network by connecting multiple users simultaneously rather than in a sequence. Therefore, this technology can be a great ally to the rollout of optical fiber and make 5G wireless networks operate at maximum efficiency.
The improvements made to Wi-Fi-6 from Wi-Fi 5 include:
Upgraded multi-user, multiple input, multiple outputs (MU-MIMO) that can connect two times more devices to access point radios for communication
The latest OFDMA (orthogonal frequency division multiple access) enables a single transmission to deliver data to many devices simultaneously.
Features of Wi-Fi 6
Some of the key features that make Wi-Fi 6 the most preferred technology for internet connectivity among businesses and home users are:
Orthogonal frequency division multiple access (OFDMA) sharing of the communication channels
Multi-user, multiple input, multiple outputs (MU-MIMO) enabled APs (access points) to run more devices via boosted downlink data transfer.
Target Wake Time or TWT mechanism to reduce power usage on customer devices
Enhance Open and WPA3 for better security & compliance on networks
Internet of Things mode for IoT sensors that utilize less bandwidth and power
Numerous technical features make Wi-Fi 6 better adapted to manage multiple mobile devices simultaneously without reducing performance. This has become crucial since most of the workforce is either working remotely or following hybrid work patterns across the globe after the pandemic. Most people nowadays have a workstation, smartphones, and other accessories that run on the internet. In advanced manufacturing or warehousing sectors, the use of scanners, sensors, scanners, and other devices has skyrocketed due to the automation deployed at every stage of the operation to reduce human errors.
Furthermore, voice-over-internet protocol (VoIP) calling systems and real-time video communication have also become more prominent. Expanded AP capacity installed in Wi-Fi 6 devices will be very handy to enable all such internet-dependent activities. It ensures stable usage for all devices across the company, and users will not experience any interruptions, lag, or stuck audio or video communications.
The best perk of Wi-Fi 6 adoption is faster data transmission rates for upload and download. About 9.6 Gbps is the maximum speed you may not get in real-world scenarios due to signal drops. Still, Wi-Fi 6 offers speeds up to three times faster than any prior Wi-Fi iteration. Wi-Fi 6 also boosts the bandwidth from the nominal 80 MHz to as high as 160 MHz, broadening the channel width for data to travel into and out of the router, and enabling much easier connection sharing.
Wi-Fi 6 can operate many more devices than its previous counterpart, Wi-Fi 5. This feature is essential as most businesses are using smart devices in many areas of their operations, requiring internet usage like never before. Wi-Fi-6 is literally built for managing crowded networks. Compared to Wi-Fi 5, it can assist 4 more devices due to the presence of OFDMA and MU-MIMO.
Wi-Fi 6 has incorporated the Target Wake Time (TWT) feature that reduces power consumption for Wi-Fi networks. This is vital since most IoT devices these days are dependent on batteries and placed in remote places where getting external power resources is challenging. Devices connected through a Wi-Fi 6 router can conserve power when they are not in work mode.
Wi-Fi 6 provides options such as beamforming, which transfers Wi-Fi signals directly to the end user instead of a broad spectrum. Most Wi-Fi 6 devices can also manage WPA3 encryption, which is the latest Wi-Fi security protocol. In addition, it offers a strong password protection system and 256-bit encryption algorithms to stop any form of hacking or cyber-attacks.
Ideal for 4K/8K UHD streaming
Streaming 4K or 8K resolution videos requires an uninterrupted high-speed internet connection. Streaming an HD video puts a lot of loads on the network in households or offices with a dozen to thousands of users at a time. Therefore, Wi-Fi-6 is built with a combination of ultra-fast processors, boosted memory, and a large number of radio streams to play multiple high-definition videos simultaneously without the lagging, buffering, or other interruptions experienced in the previous Wi-Fi iterations.
Any device supported by Wi-Fi 6 technology will get all the latest connectivity features in one place. On the other hand, some Wi-Fi 6 devices with elevated capabilities go further than the basic features that are Wi-Fi Alliance certified. These products support the 6GHz wireless spectrum, help build faster connections, and have lower latencies than earlier Wi-Fi iterations.
Wi-Fi 6 has been designed in such a way that certain devices can be put to "sleep" using settings when they are not in use. These sleeping connections free up bandwidth, allowing other active devices to run at full tilt. However, most IoT devices lack the battery capacity enjoyed by other personal devices. Hence, they depend on Wi-Fi 6's more efficient power utilization, as they utilize fixed scheduled communications with the help of TWT (Target Wake Time). This helps IoT and mobile devices improve their battery life by waking up at different intervals to receive buffered data.
8X8 spatial streams for continuous usage
With respect to access points, wireless providers are sending both 4 4 and 8×8 products. This specification indicated the number of spatial streams, which is a vital building block to achieving overall Wi-Fi LAN performance. Due to size and power limitations, numerous smaller wireless devices may not be able to support 2×2. But with a Wi-Fi 6 router having the ability to support 8×8 spatial streams, one can run more machines at once and attain better efficiency. This increase in the maximum spatial stream of Wi-Fi 6 is a deciding factor that defines overall cell performance.
As more and more devices are designed to operate on Wi-Fi 6, upgrading this router will future-proof your office and home network. By doing this, you don't have to worry about upgrading your Wi-Fi router for many years to come.
Conclusion
Wi-Fi 6 is a worthy successor to Wi-Fi 5, and the ten reasons discussed above stamp its authority as the next big thing in the internet connectivity world, along with 5G. After the optical fiber rollout is completed around the globe to deploy 5G, Wi-Fi 6 will act as the catalyst to take internet connectivity to unbelievable levels, making our future buffer free.