Implementing managed solutions for your business streamlines core operations and unlocks the growth potential of your organization. In today's business landscape, data serves as the brain, while infrastructure acts as the heart of a company. Effective management and coordination of both are essential for seamless functioning and success.
Data centers play a crucial role in supporting computer systems, housing extensive storage arrays, and facilitating essential company operations. They provide the necessary infrastructure to ensure high-performance storage capabilities, low network latency, and optimized wide area network (WAN) connectivity. Additionally, data centers are responsible for implementing legacy interfaces, allowing seamless integration with existing systems and applications. By delivering these technical functionalities, data centers enable businesses to effectively manage and process vast amounts of data, ensuring efficient operations and optimal performance.
When you decide to integrate managed data centre and IT infrastructure services, you will benefit from comprehensive security, reduced downtime, and ample cost-savings. The standard features of the service providers will enable resilience, practicality, and flexibility in business operations.
In this article, you will get a clear insight into the efficacy of managed data centres and IT infrastructure services.
What is a managed data center?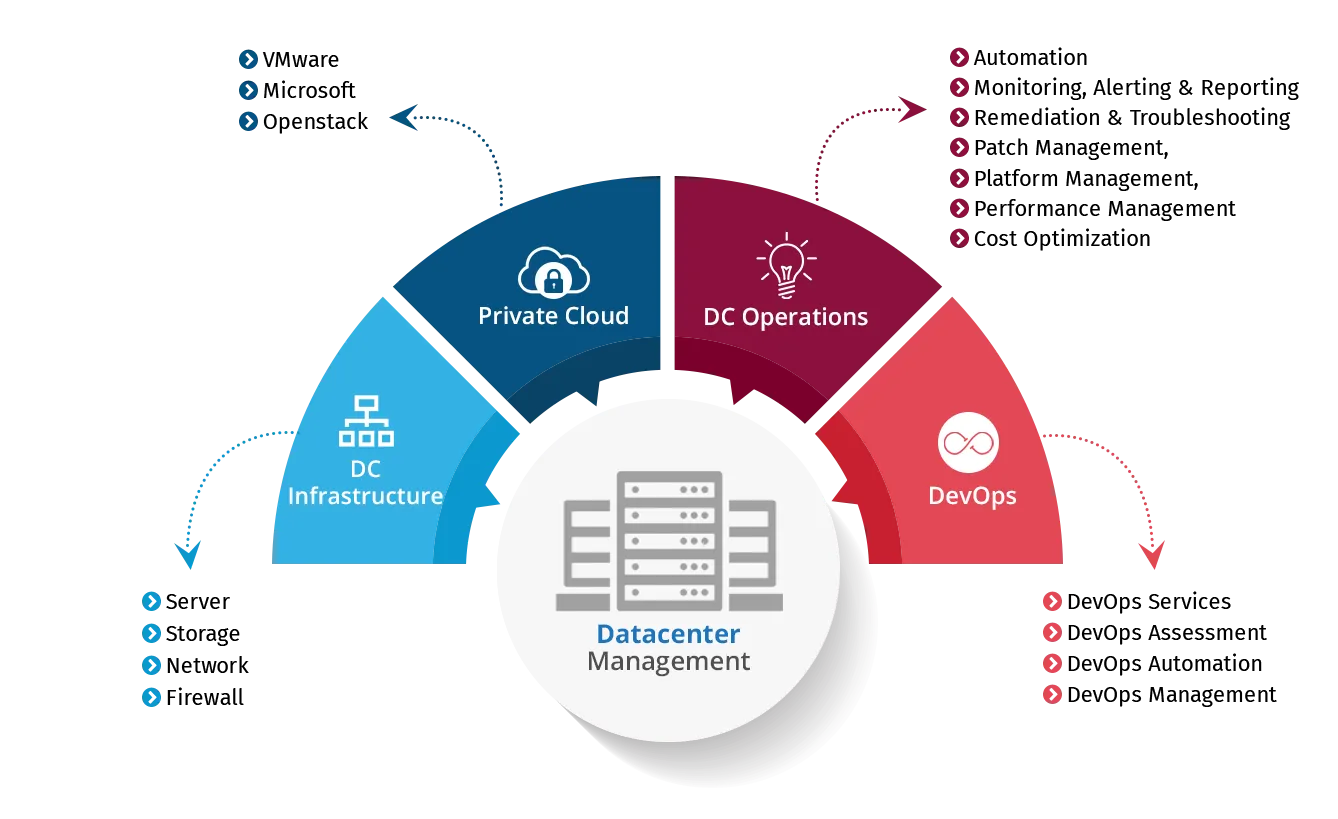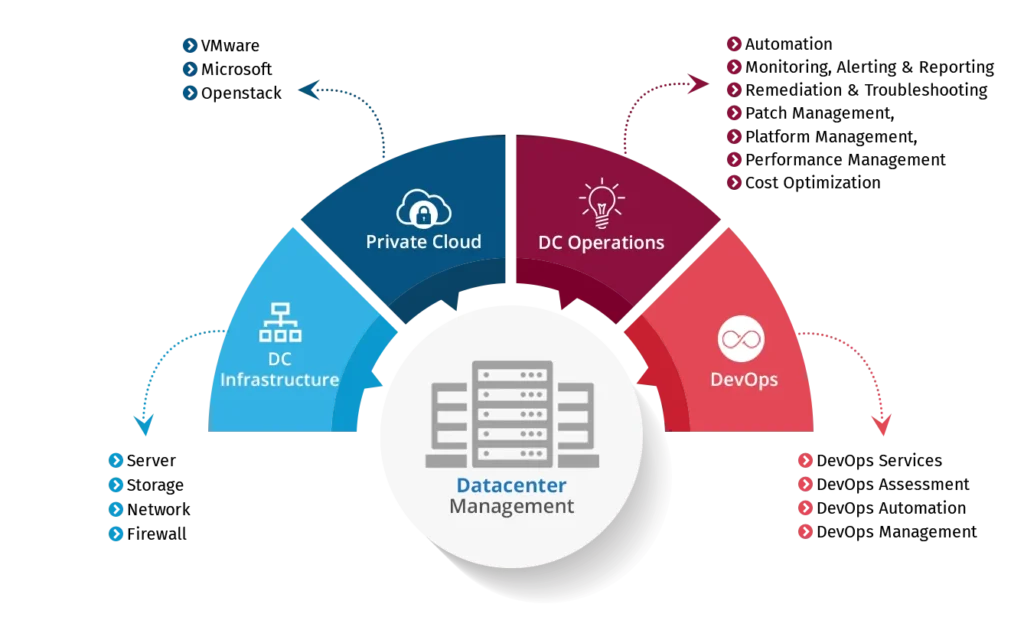 Figure 1: Data Centre Management Services
Image Source: hashroot.com
A managed data centre gets deployed, monitored, and managed through an external service provider. A partially managed data centre enables organisations to get some administrative control over the service or infrastructure of it. On the other hand, a fully managed data centre is responsible for handling the entire back-end administration.
As per the SLA (Service Level Agreement), a managed data centre service provider is responsible for providing you with the following:
Maintenance of all network and hardware services and equipment
Installation, patching, and upgradation of OS and other system-level software
Data centre infrastructure redundancy and fault tolerance in case of disasters
Data centre backup maintenance solutions.
What is a managed IT infrastructure?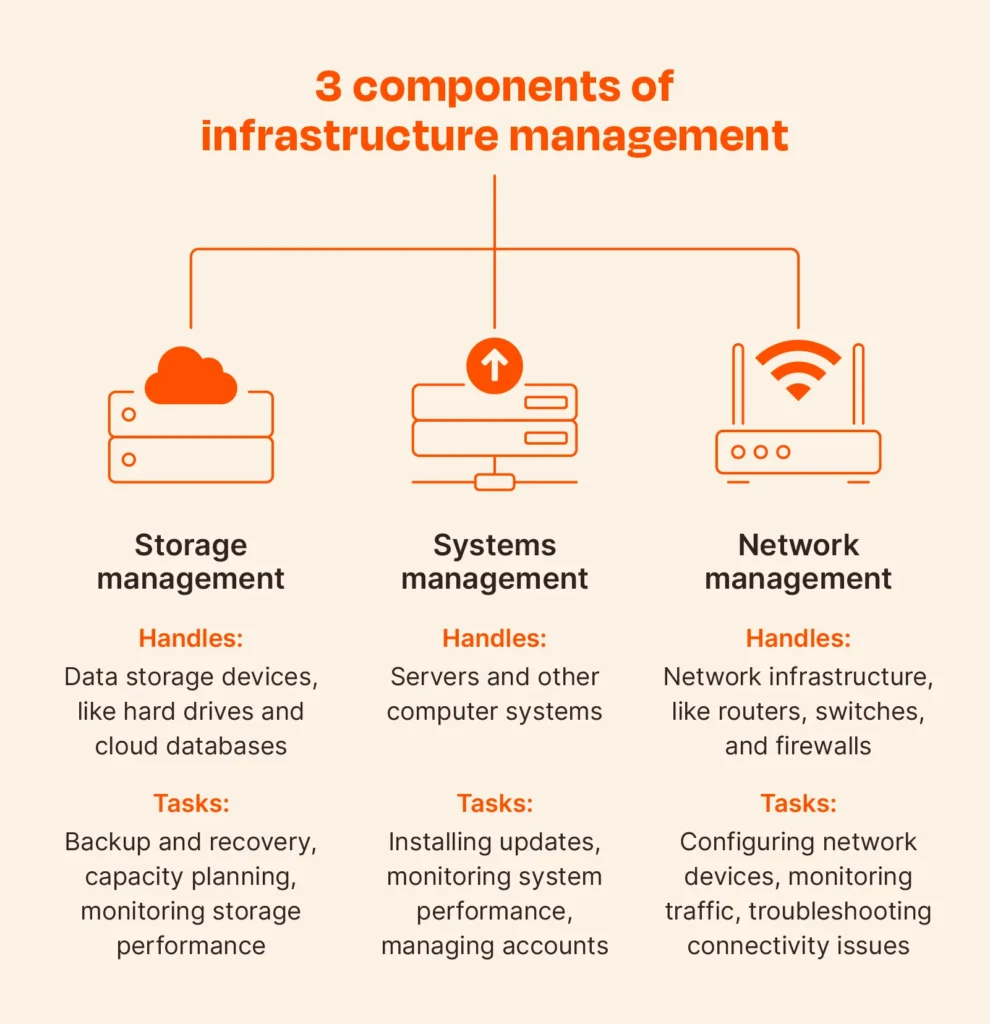 Figure 2: Components of Managed IT Infrastructure
Source: zapier.com
The diagram illustrates the three key components of infrastructure management.
Monitoring and Performance Management:
This component focuses on the monitoring and assessment of the infrastructure's performance and health. It involves tracking various metrics and parameters to ensure optimal operation. Monitoring tools and techniques are used to collect data on network performance, server status, resource utilisation, and other relevant factors. By analysing this information, infrastructure managers can identify potential issues, troubleshoot problems, and optimize performance.
Configuration Management:
Configuration management involves managing and controlling the configurations of various components within the infrastructure. It includes tasks such as maintaining an inventory of hardware and software assets, tracking changes, and ensuring proper configuration of network devices, servers, and other infrastructure elements. Configuration management aims to establish consistency, control, and adherence to standards across the infrastructure to minimise errors and vulnerabilities.
Incident and Problem Management:
This component focuses on handling incidents and resolving problems that arise within the infrastructure. Incident management involves promptly addressing and resolving any disruptions, outages, or issues that impact the normal functioning of the infrastructure. Problem management, on the other hand, aims to identify the root causes of recurring incidents and implement long-term solutions to prevent their recurrence. These processes often involve collaboration with IT support teams, service desk personnel, and other stakeholders.
Overall, the diagram represents the interplay between monitoring and performance management, configuration management, and incident and problem management in the context of infrastructure management. These components work together to ensure the smooth operation, stability, and reliability of the underlying infrastructure in an organization.
Managed IT infrastructure service encompasses the proactive management and administration of technology, data, and information. This comprehensive service offering includes the management of networking, data storage, cloud-based services, security, and other vital components as depicted in the diagram.
By leveraging the three key components of infrastructure management – hardware, software, and people – the service ensures efficient and effective management of IT resources. It involves monitoring and maintaining hardware devices, optimizing software systems, and overseeing the personnel responsible for handling business operations.
Through this integrated approach, managed IT infrastructure services enable organizations to streamline their IT operations, enhance system performance, ensure data security, and leverage the full potential of their technology investments.
With the help of a managed service providerfor infrastructure management, you can minimise downtime, maintain productivity for the business, implement lifecycle management, deal with network and connectivity issues, seek device maintenance, and monitor mobile devices.
Some of the specific benefits you get upon hiring a managed IT infrastructure service provider include the following:
Immediate response to the IT-related crisis
Proactive management of networks and devices in an adaptable and agile manner
Monitor the service performance and detect when the service fails to meet necessary standards
Streamline the daily operations and functions associated with the business
Reduce the downtime by implementing faster repairs
Contribute towards increased business performance and customer satisfaction.
Services Offered by a Managed Service Provider for Data Centre and IT Infrastructure Operations
Hiring a managed service provider for both data centre and IT infrastructure management is the one-stop solution for ensuring all-round business efficiency. Here are some of the services associated with both of these sectors for you to understand their potential and efficacy in the dedicated areas.
Services Offered with Managed Data Centre
Some of the services of a managed data centre are:
Businesses that operate with private cloud or hybrid cloud solutions will need regular maintenance services. The service providers will assign experts to ensure smooth operations and prevent any possible cause for downtime. They will look after the power and cooling systems to determine if they are working correctly. If not, they will initiate repair solutions to fix the vulnerabilities.
The experts assigned by the managed data centre will look after the backup and restoration needs of your business. They will create a strong backup system that will be updated as per business needs or KPIs. Depending on your preferences, the backups will be stored adequately. The managed data centers will encrypt all of the restoration points and maintain a duplicate backup within the storage as an alternative in case the original backup fails to restore.
Managed data centres help you with proper disaster planning. It is important because a lot of core business operations, such as managing logistics or processing payments, depend solely on the computing capacity of the system. So, at times when the system experiences failure or a cyberattack, the core functions will immediately come to a halt. Therefore, managed service providers start proper planning in advance to ensure that your technology and the overall system continue to function even when a disaster strikes.
Integrating System Upgrades
The managed data centre service provider will look after improving the existing network solutions, software hosting, and other hardware and software solutions with timely upgrades. From server racks to operating systems, the managed data centre service provider will look after them, enhancing their efficacy over time and enabling businesses to experience sustainable growth.
Services Offered with Managed IT Infrastructure
Upon availing of managed IT infrastructure, you will be handing over the management of core internal and back-end operations to the team of domain experts. Some of the services they particularly offer with their managed IT infrastructure are:
Develop Operational Excellence
With a managed IT infrastructure, you will be able to break down all of the operational silos within your organisation. Following that, the professionals will optimise the hardware, networks, and software to ensure the efficiency of the entire IT infrastructure. Additionally, MSPs have the capability to scale IT operations on demand, ensuring smooth and uninterrupted business operations even during peak traffic periods.
Promote Business Continuity
The managed IT infrastructure experts will do regular health checks on your system to determine any operational flaws. Following that, the team will be on 24/7 watch to pick up any possible loophole or gap in the workflow to ensure no downtime. With business continuity services, the team will look after detecting any potential cyber incidents and acting upon them as soon as possible. Hence, this will help your business avoid financial losses.
Enable Proficient Network Operations
A managed service provider handling your IT infrastructure will offer enterprise-wide network solutions to help your business maximise its performance with enhanced security and high uptime. Vendor lock-in won't be an issue anymore with the adoption of managed IT infrastructure services.
Safeguarding the Critical Systems
MSPs will implement next-generation firewalls alongside advanced solutions for preventing intrusions. Moreover, they will also provide you with monitoring tools, backup, data encryption, security settings, and other such measures to protect the IT infrastructure against all data breaches or disruptions.
Conclusion
So, this is a clear understanding of how managed services are offering feasibility in terms of handling their data centre and IT infrastructure operations. Every aspect of these services will help your business run more flexibly. With an MSP, you will only be paying for the services you avail, which is again a cost-saving approach.
So, if you want to outsource your data centre and IT infrastructure management needs to a third-party provider, STL Tech is at your service!
FAQs
What is a managed data centre service?
The data centre managed service offers you support towards optimising the data centre, cloud, and IT infrastructure. It is upon you to hand over control to professionals to partially or fully manage your data centre through their platform.
What are the usual services offered upon hiring an MSP?
When you hire an MSP for all-round business management, including data centre and IT infrastructure operations, some of the usual services they offer are:
●     Network testing & monitoring
●     Providing you with a data storage facility
●     Enhancing bandwidth and connectivity
●     Overseeing risk mitigation and network security
●     Provide web hosting support
●     Suggest and integrate software patches
●     Support network virtualisation and provisioning
What are the benefits of businesses adopting managed services?
Businesses need to adopt managed services to redirect their focus towards core business operations rather than getting entangled in the complexities of troubleshooting technology or IT issues.