The manufacturing sector is a crucial pillar of our economy, and technological advancements constantly drive its expansion. Technology plays a vital role in ensuring seamless operations and achieving optimal productivity in this dynamic landscape. As manufacturing companies strive to embrace the latest innovations, they face unique challenges that require expert solutions.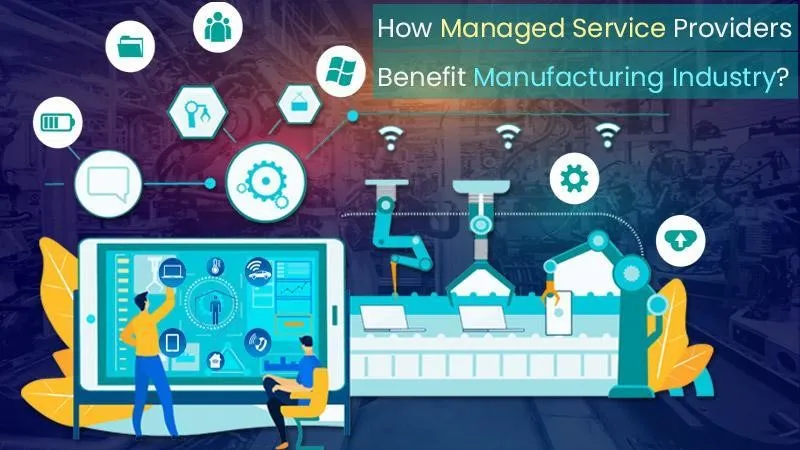 Fig. 1: How Managed Services Benefit the Manufacturing Industry
Image Credit: veritis.com
Enter managed service providers (MSPs), the unsung heroes of the manufacturing world. These technical wizards offer a comprehensive array of specialized services designed to transform the industry. From streamlining project management and sourcing to orchestrating logistics with finesse, MSPs optimize manufacturing processes and enable businesses to make well-informed decisions that drive success.
What are Managed Services in the manufacturing industry?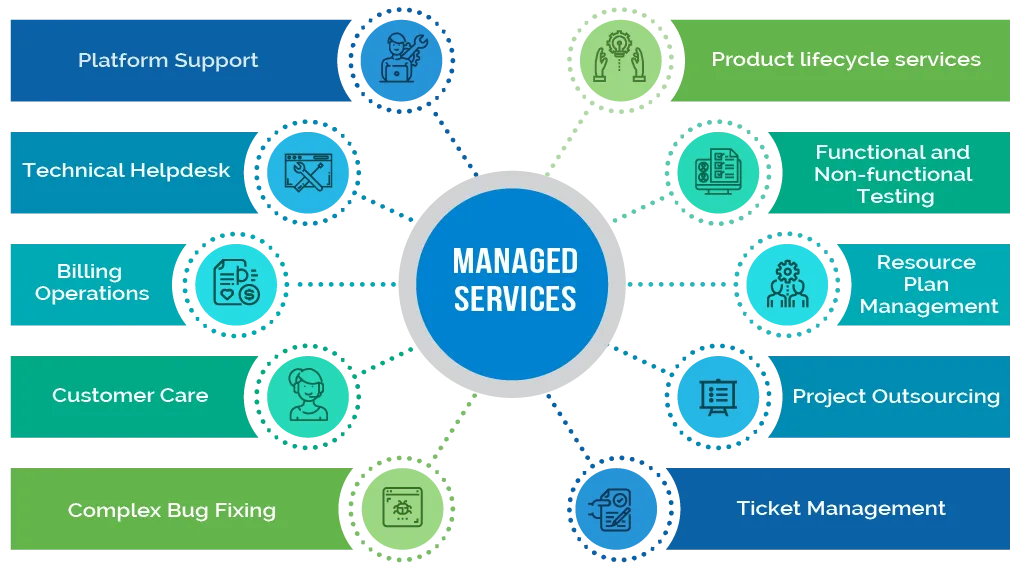 Fig 2: Types of Managed Services
Image Credit: adepttalent.com
In the ever-evolving manufacturing industry, where technology reigns supreme, managed services are the secret sauce behind operational excellence. These specialized services provided by managed service providers (MSPs) propel manufacturing businesses to new heights of efficiency, productivity, and competitiveness. From streamlining project management and logistics to optimizing inventory and embracing cutting-edge technologies, MSPs are the manufacturing industry's trusted partners.
They bring expertise in cybersecurity, infrastructure management, and employee training to ensure smooth operations in this digital era. With MSPs by their side, manufacturers can focus on their core strengths while unleashing the full potential of technology to revolutionize their processes. Embrace the power of managed services in manufacturing and experience a transformative journey toward success in a fiercely competitive world.
Advantages of Managed Services in the Manufacturing Industry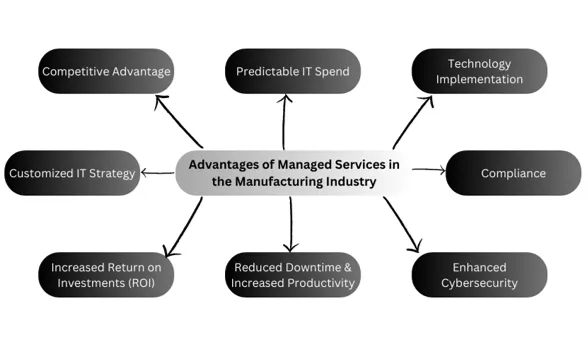 Fig. 3: Managed Services in Manufacturing Industry: Advantages
Image Credit: Made on Canva
Predictable IT Spend
MSPs assist manufacturing clients in managing and predicting IT spending effectively. By assessing technology needs and associated risks, MSPs recommend appropriate solutions that align with business goals while optimizing costs. Their expertise in technology trends and developments enables them to provide invaluable guidance for technology shifts and identify potential risks and issues.
Technology Implementation
Manufacturers strive to strike a balance between innovation and execution. MSPs help them leverage cutting-edge technologies, such as robotics, 3D printing, and artificial intelligence systems, to bring products to market faster and more efficiently. MSPs provide tailored consulting services, technical support, and expert advice on technology solutions, ensuring manufacturers stay up-to-date with the latest advancements.
Compliance
Manufacturing is a highly regulated industry, and MSPs ensure manufacturers meet all necessary regulatory requirements. By automating processes, integrating technologies, and providing guidance on safety, health, and environmental issues, MSPs help manufacturers maintain compliance with regulations imposed by agencies like the Environmental Protection Agency (EPA) and the Food and Drug Administration (FDA).
Enhanced Cybersecurity
With the increasing threat of cyberattacks, MSPs play a crucial role in safeguarding manufacturers' sensitive data and critical systems. MSPs implement robust cybersecurity measures, including communication technologies, cloud computing services, and the industrial Internet of Things (IIoT), to protect against data breaches and ensure the security of manufacturing operations.
Reduced Downtime and Increased Productivity
Downtime can result in significant losses for manufacturers. MSPs proactively monitor systems, diagnose issues, and provide 24/7 support, minimizing downtime and maximizing productivity. MSPs ensure efficient operations and prevent disruptions by offering services like machinery and equipment repair, preventive maintenance, and diagnostics.
Increased Return on Investment (ROI)
MSPs provide access to a pool of qualified IT professionals who minimize manufacturing risks and ensure optimal returns on digital transformation investments. Their expertise and premium services enable manufacturers to maximize the benefits derived from technology implementations.
Customized IT Strategy
Each manufacturing company has unique requirements and pain points. MSPs analyze business operations objectively and develop customized IT strategies that enhance efficiency and productivity. This tailored approach enables manufacturers to optimize their IT infrastructure and align it with their specific business goals.
Competitive Advantage
Managed services level the playing field for small manufacturing companies by providing access to technical expertise and resources they may not otherwise afford. This competitive advantage allows them to stay ahead in the industry and thrive in a highly competitive market.
Some Facts and Statistics Regarding Managed Services and Manufacturing Industry
Conclusion
Managed services are becoming crucial in manufacturing, supporting companies in navigating technological developments and achieving operational excellence. Managed service providers (MSPs) revolutionize manufacturing processes and push businesses to new heights of efficiency and competitiveness with their expertise in cybersecurity, infrastructure management, and staff training. Using managed services to their full potential opens up limitless opportunities where efficiency meets technology. By collaborating with MSPs like STL and embracing the transformative journey toward manufacturing excellence, you may stay ahead in this intensely competitive industry.
FAQs
1. What are some problems or challenges MSPs have faced in recent years?
●      MSPs face mounting challenges due to the increasing complexity of IT infrastructure, cloud adoption, and security threats.
●      They must navigate new regulatory requirements and meet growing customer demands.
●      The scarcity of available IT talent further adds to the challenges faced by MSPs in meeting the increasing demand for their services.
2. Exactly what services do Managed Service Providers provide?
A managed service provider (MSP) offers ongoing support and active management of various services, including network, application, infrastructure, and security. These services can be provided at the customer's location, the MSP's data center, or a third-party data center.
3. How do MSPs deal with skill shortages in IT manufacturing industries?
The daily operations of your business can overwhelm your internal IT team, preventing them from effectively managing IT resources and making strategic decisions. In these situations, an MSP can alleviate the burden by taking on these responsibilities. This lets your in-house team concentrate on other essential tasks, saving time and reducing costs.
4. How important is ESG for manufacturing industries?
For several key reasons, ESG (Environmental, Social, and Governance) factors are increasingly important for manufacturing industries. Buyers demand transparency and environmental data; regulatory fines and government monitoring are on the rise; boardroom executives face pressure to make sustainable investments; and the labor force is changing. Manufacturers must embrace technology to implement ESG initiatives effectively. ESG is crucial for manufacturers to meet customer expectations, comply with regulations, attract talent, and drive long-term sustainability.