Preface: Devi Nair is part of the Sales Centre of Excellence at STL. When we asked her about the experience and friendship of her mother, Sindhu Nair, and Sunita Rohit, Devi was excited to share so many stories! Sindhu and Sunita are veterans of STL. This a brief account of their time at STL, seen through Devi's eyes.
One of the things I heard the most growing up was, "how does your mom manage everything?" I didn't know how to respond to that because she made it all look so easy that I never noticed anything special about being a working mom. Whereas here I am, barely making it as a "single, working from home woman".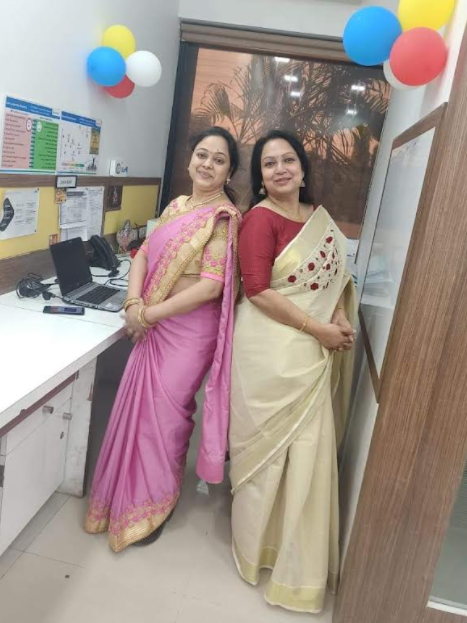 My mom, Sindhu Nair, has been a part of the STL family since 1995. She met Sunita aunty (Sunita Rohit) during their interview. Both joined on consecutive days as a part of the Lab team and became the first female employees of Silvassa. Although they both drifted out to separate departments, with Sunita aunty in Quality and mom in Production Planning, their strong and healthy friendship has endured to this day. Even their lunch box is synchronized till date; if mom brings rice, Sunita aunty would bring chapattis (Indian bread) and vice versa. They treat each other with Gujju-Mallu combo dishes. (For our novice readers, Gujju-Mallu refers to a combination of food from the great states of Gujarat and Kerala)
They could be competitive when it comes to cultural activities but at the end of the day they are happy for the winner. Their friendship has inspired not just me but many other young female colleagues to support and build an equitable workplace rooted in inclusion and a feeling of belonging.
One of the things that mom told me while describing the STL family is still engraved in my mind. It was about the extent to which the company and the HR team would go to make their employee's life easier. We used to live in Daman, which is around 40 kilometers away from Silvassa. HR team took the initiative and arranged vehicles for the ladies, including mom, Shobhana Desai and Mita Rana, who lived in Vapi (around 30Kms away). All of these wonderful ladies are still a part of the STL family.
When mom started her journey with STL, there weren't many female leaders for guidance but now I am proud to say that Sindhu & Sunita are guiding many young female leaders to come forward and shine. I would also like to give a huge shout out to all the male leaders like Mr. Venkatesh Murthy and Mr. Mahesh Deshpande just to name a few, who never let the thought of differentiation enter their mind and made their female colleagues feel equal in every possible way.