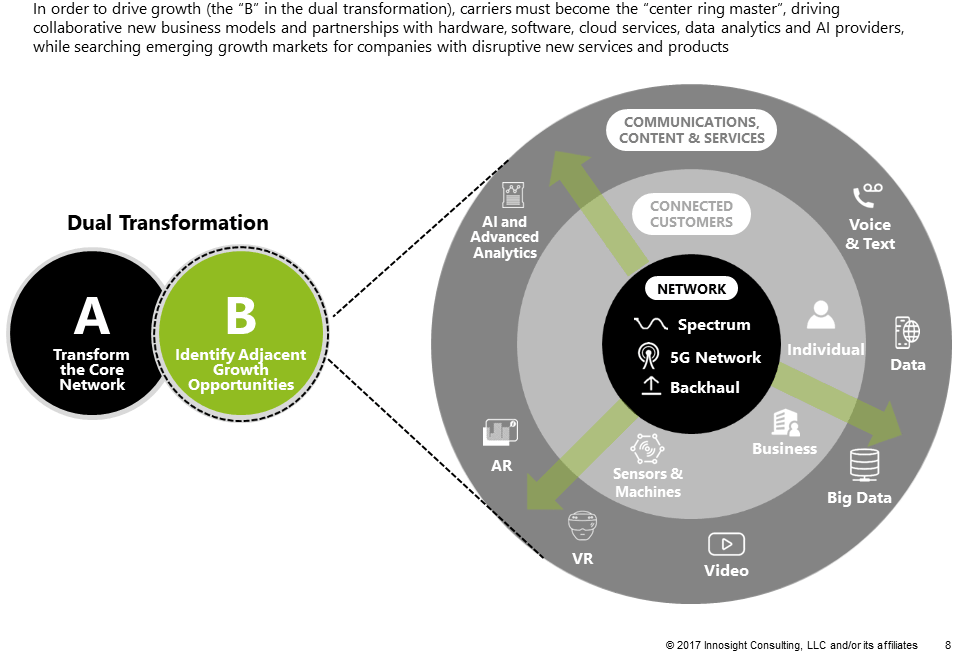 As the telecommunication industry thrives in a new reality, it faces new possibilities with new opportunities on the horizon. The level of uncertainty in the telecommunications sector is rising as a result of quick changes in technology, regulations, and consumer demand. But for those in the sector that embrace innovation, rethink their network service capabilities, and spur development, the prospects are larger than ever. In the current changing scenario with newer 5G and IoT technologies, we will look into the strategic responses that telcos should consider while optimally addressing their challenges and converting them into digital transformation opportunities.
Let's learn about the telecommunication industry.
The telecommunication industry has been primarily responsible for providing services for communicating over a distance. This sector comprises cable companies, telephone companies, ISPs (internet service providers), and satellite companies. Most industry players focus on high-resolution audio and video, data services, and increased connectivity.
In today's world, most forms of communication are via broadband connections through modems. Companies offering Voice over Internet Protocol (VoIP) services are a new addition to the telecommunications industry. The telecommunications sector has consisted of a handful of national and regional operators in the past.
Carriers have skillfully transitioned from circuit-switched to IPs, from narrowband to broadband, and, most importantly, from landline to primarily wireless last-mile connectivity through new technological advancements (such as fiber optics, IPs, processing speeds, etc.).
Since the early 2000s, the industry has seen rapid innovation and deregulation. The telecommunications sector has evolved into a much more decentralized market from just a few key players.
Wireless communications is a rapidly growing sector within the telecom industry. Today, more and more computing methods and communications have shifted to cloud-based technology and mobile devices.
Top digital transformation trends in the Telcos
Artificial Intelligence
AI tools used in virtual assistants and chatbots allow data processing and analysis in massive amounts to provide effective services and increase profits.
5G Network
While earlier cellular technology generations concentrated on guaranteeing connectivity, 5G takes connectivity to the next level by providing connected experiences to customers via the cloud. Cloud technologies are utilized by 5G networks, which are virtualized and software-driven. Additionally, it enhances digital experiences through the use of machine learning-enabled automation. 5G networks are extensively used in education, healthcare, and transportation settings due to their superfast data transfer and low latency. Telecom will continue to bring 5G to the masses in new ways.
Internet of Things
The Internet of Things (IoT) ecosystem is made up of web-enabled smart devices that employ embedded systems, such as processors, sensors, and communication hardware, to gather, communicate, and act on the data they get from their surroundings. The Internet of Things is being used in the telecom sector to drive digital transformation. It increases the need for fast and reliable connections as internet-connected devices become more popular. It also makes it easy for telecom providers to remotely monitor the various communications bases.
Robotic Process Automation
RPA uses software robots to carry out repetitive and structured business processes like data entry, report generation, price tracking, back-office tasks, and customer support. It enables ease and agility for employees to focus on essential functions while leaving rote tasks to automated technologies. RPA is noninvasive and may be easily used to accelerate digital transformation. It is also ideal for automating processes that rely on antiquated platforms that lack virtual desktop infrastructure (VDI), database access, or APIs.
Big Data
The big data movement aims to extract information and turn it into a competitive advantage. Data extracted from IoT devices provides a map of device interconnectivity, identifying the times when the network will be heavily used and then taking additional actions to reduce congestion. It also aids in identifying the clients having trouble paying their bills, focusing on improving payment recovery and determining the source of the issue to stop customer turnover.
Cloud Computing
Cloud computing refers to the on-demand provision of computer system resources, particularly storage (cloud storage) and processing power, without direct user involvement. 5G technology-powered cloud computing will accelerate real-time data streaming. Since 5G cloud computing will enable uninterrupted storage and streaming, in real-time, thereby increasing productivity to a substantial degree, 5G service providers need more from the cloud to improve business agility. This will help onboard new apps and deploy and operate new services swiftly.
Cyber Security
Telcos need to embed security in the enterprise IT architecture. By investing in proper cyber security measures and creating "digital trust" among stakeholders, telecom operators have the chance to turn this difficulty of a cyber threat into a competitive position. To meet the needs for cyber security, telecom organizations must create a strong "Cyber Resilience" structure that is enduring, self-improving, adaptable, and extensible. They can employ top solutions involving cloud access security brokers, risk and compliance, and encryption.
The current state of competition among telcos
Telecommunication is the most competitive and fastest-growing market, facing dynamic competition. This has led to a battle among companies to produce more reliable or economical products in domestic and international markets.
With the rise of globalization, telecom operators are entrusted with providing the best customer service. Furthermore, the market is also expected to accelerate due to new service launches and continuous mergers and acquisitions. This has further intensified competition due to which telecom service providers face intense pressure for telecom performance.
The telecommunication market consists of primarily the residential and commercial segments. Out of these, the residential segment controls up to 61.8% of the market. However, the commercial segment also expects growth at a much faster CAGR due to increasing internet penetration and the rising adoption of mobile devices. Many telecom firms integrate emerging technologies such as AI and IoT into their services to capitalize on the growing market.
Predicting the future of telcos
Today's telecommunications industry is driven by rapid technological and regulatory changes and evolving customer demands. We at STL believe that every telecommunications industry participant must embark on the journey of dual transformation, which is customer-centric.
The first transformation will allow for the redesigning of the business of the core network. This will offer a trustworthy system with maximum resilience that offers customized, carrier-grade services.
The next transformation will include the creation of specialized growth engines by telcos. They need to deliver customized network services by leveraging the restructured core business.
5G wireless technologies have potential capabilities and will play a crucial role in shaping the future of telecom. Enterprises and companies will enter an era of accelerated innovation, growth, and collaboration and growth, enabled by 5G deployments and telco solutions. Our top predictions have been:
5G and fiberization
Multi-access networks
Standardization in deployment practices
Smarter, programmable networks
Algorithmic network design
Edge computing.
While the business models and technical advancements for new generation telcos are unpredictable, they have undergone transformational periods to thrive again. Collaboration among various telcos in a thriving ecosystem has been the key to success. Partnerships within the ecosystem maximize value by providing additional value with 5G connections.
The digital shift makes telco services more valuable for consumers and businesses. They have managed to get higher prices to invest in new services and network expansion, either organically or through opportunities. Telecom companies are managing large projects, from expanding 5G services to enabling more cloud services.
5G depends heavily on fiberisation, and we need to connect more towers with fiber. The fiberisation of mobile towers in India is only one-third of what is crucial for the successful rollout of next-gen telecom services. According to the GSMA, 5G is expected to generate $700 billion in economic value. Programmable networks enable us to move beyond the physical constraints, thus reducing operational costs and establishing new business models.
By 2027, KBV Research predicts that the Global Multi-access Edge Computing market size will reach $16.7 billion, growing at a 39.1% CAGR during the forecast period 2021-2027. Multi-access edge computing (MEC) is gaining popularity in industries such as IT and telecom, manufacturing, transportation, logistics, and data centers because of the need for faster decision-making and the generation of more data.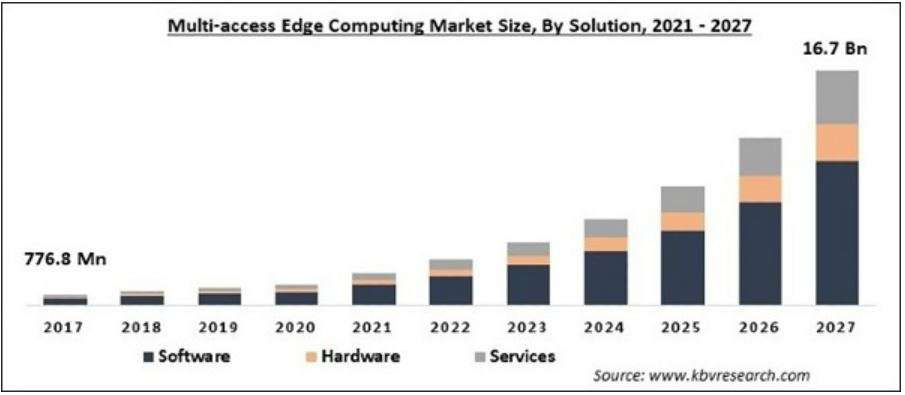 What should be the strategy for the future of telcos?
The telecommunications sector is currently in a transformational state due to changing customer demands and the inception of multiple disruptive technologies. The increasing competition has led telecom operators to explore new competitive strategies to gain the upper hand in the market. Thus, if telcos wish to survive in the long run, they must devise an effective competitive positioning strategy.
Specify market boundaries
Telecommunication companies must build a positioning strategy and specify their market boundaries. This will help protect their share of market revenue and also help evaluate their position in the telecom market.
Provide a valuable customer experience
Telecom operators need to identify plans and benefits that most appeal to customers. They can then decide on improvising them using customer mapping and creating differentiators.
Multiple customer segments product mapping
There has been a consequential shift in the revenue streams for telcos from value-added and voice services to data services. So, they need to quickly address changes in customer demand to secure the target market.
Identify untapped segments
Telecom companies can work on recognizing and working on unexplored segments that have potential. They need an excellent competitive strategy for marketing positioning backed by growth prospects and high revenue.