In the past few years, the banking sector has advanced in adapting to the digital landscape, which demands that it excel with modern technologies.
Consequently, with the digitization of the world, IT banking services have become widespread. Hence, the need for financial institutions to strengthen their IT infrastructure has increased in the past few years to cope with the competition in the digital arena. And managed service providers are making it possible!
The professional MSPs will take optimal measures for the bank to handle its core operations with minimal downtime and security hassles. The demanding pace is well-attended with technological advancements through managed service providers.
In this article, you will learn about the five major reasons why banks are in need of managed services. If you are a banking institution considering the integration of managed services, make sure to read this article in its entirety.
What is the role of a managed service provider for your financial business?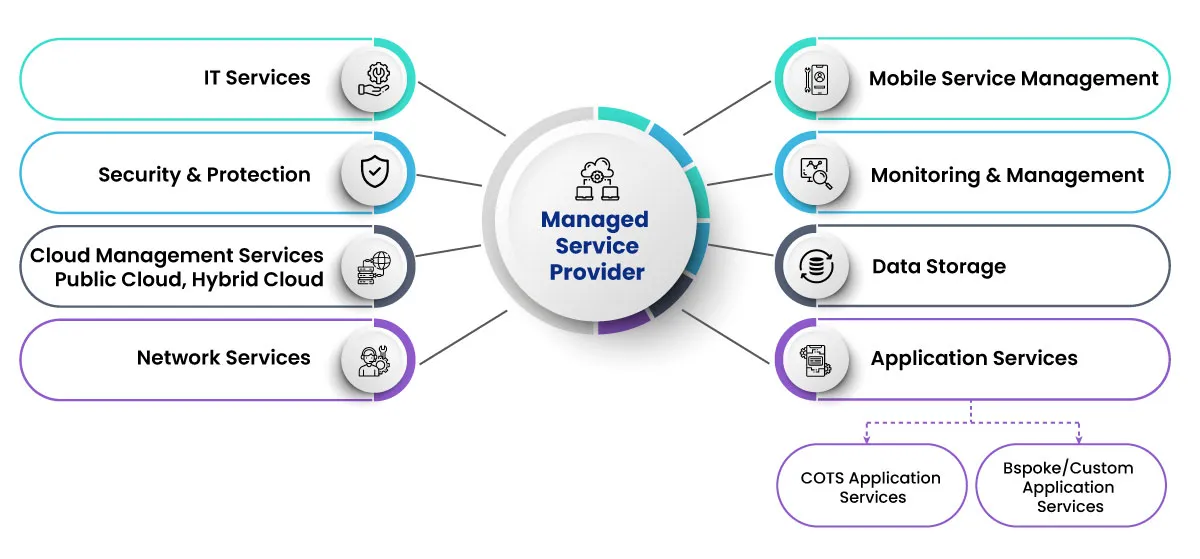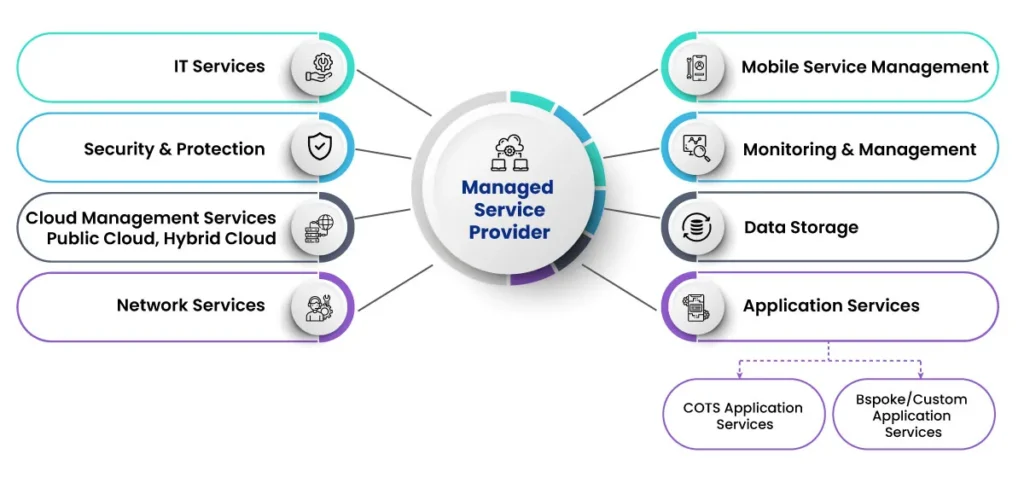 Figure 1: Role of the managed service provider
Image Source: jadeglobal.com
Before we head out to explain why you need to switch to a managed service provider for your banking business operations, take some time to understand the role of an MSP.
In the BFSI (Banking, Financial Services, and Insurance) segment,  managed service providers (MSPs) play a crucial role in ensuring a seamless workflow for financial institutions. Here are some key approaches that MSPs take to cater specifically to the needs of the BFSI industry:
Collaborating with your team: MSPs work closely with your organization to understand and align with your core business objectives in the banking and financial sectors.
Tailored service architecture: They develop a service architecture that is customized to your internal talent and legacy IT infrastructure. This includes mitigating risks associated with business system operations, controlling costs, and introducing new working methodologies to enhance customer service.
Cloud Migration: MSPs play a crucial role in supporting banks with strategic cloud migration. They provide guidance and expertise in moving banking operations to the cloud, enabling institutions to leverage the benefits of cloud computing such as scalability, flexibility, and cost-efficiency. By transitioning to the cloud, banks can optimize their infrastructure, enhance data security, and improve accessibility to services for both customers and employees.
Leveraging AI/ML: MSPs assist banks in harnessing the potential of artificial intelligence (AI) and machine learning (ML) technologies. They help integrate AI/ML capabilities into various functions, such as fraud detection, risk assessment, customer service, and process automation. By leveraging AI/ML, banks can gain valuable insights from large volumes of data, streamline operations, make data-driven decisions, and enhance the overall customer experience.
Addressing poorly performing financial systems: MSPs identify underperforming financial systems within your organization and implement remedial measures to promote agility and high-end performance. This ensures smooth and efficient operations within the BFSI sector.
Adoption of the latest technologies: MSPs focus on future-proofing your business by adopting the latest technologies that are relevant to the BFSI industry. This helps your financial institution stay ahead of market disruptions and meet the evolving demands of customers.
Infrastructure scalability: MSPs enable your business to grow across the infrastructure, allowing your core operations to thrive and improve performance. They also assist in meeting compliance demands and adapting to regulatory changes within the BFSI sector.
By implementing these specialized approaches, MSPs cater specifically to the unique requirements and challenges faced by banking and financial institutions, ensuring optimal performance, compliance, and customer satisfaction.
5 Reasons for Banks to Collaborate with a Managed Service Provider
Here are five compelling reasons why banks should consider collaborating with a managed service provider (MSP) for their IT operations, taking into account automation, open APIs, AI/ML utilization, changing reforms, cloud migration, and security:
MSPs support the BFSI sector by offering IT management services and facilitating the adoption of open APIs: They assist banks in implementing open API frameworks, integrating APIs into existing systems, and ensuring reliability and security. With MSPs specializing in BFSI and open APIs, banks can drive digital transformation and deliver enhanced value to customers.
Enhanced Security and Compliance: By partnering with an MSP, banks can leverage their expertise and security resources to safeguard their systems from cyberattacks. MSPs stay up-to-date with the latest cybersecurity trends, ensuring a higher level of protection for the bank's processes. This allows banks to reallocate valuable working hours to focus on core business functionalities while saving time and money on training and educating an in-house IT team.
Cost-Effectiveness and Efficiency: Building, training, and managing an entire IT department can be financially burdensome for banks. MSPs offer a cost-effective solution by handling IT necessities, eliminating the need to invest in equipment and hire additional staff. By outsourcing to an established MSP, banks can benefit from optimized cost savings and remain competitive in the industry.
Operational Flexibility and Scalability: Managed services provide banks with the flexibility to scale their operations up or down based on evolving needs and changing IT trends. MSPs offer immediate IT support to accommodate rapid scaling requirements without the need for hiring and training new employees. This allows seamless integration of new services into banking applications, ensuring minimal downtime.
Streamlined Vendor Management: Financial institutions often collaborate with multiple IT vendors to streamline their business offerings. By partnering with an MSP, banks can offload the complex task of managing vendors. MSPs handle technical conversations and negotiate with vendors, ensuring optimal pricing for hardware and software needed for banking applications. This streamlines vendor management and frees up resources for core business activities.
Proactive Operational Management: Managed services provide banks with peace of mind, knowing that a team of skilled IT experts is proactively managing their core operating systems. MSPs optimize and review system efficiency, identifying potential issues before they disrupt operational workflows. With 24/7 proactive management, MSPs ensure seamless operations and business continuity, enabling faster delivery of banking applications and services to customers.
By collaborating with an MSP, banks can leverage automation, open APIs, and AI/ML technologies, navigate changing reforms, embrace cloud migration, enhance security measures, and streamline their IT operations to stay competitive in the rapidly evolving banking industry.
Conclusion
Ultimately, a bank or financial institution is always concerned about running business operations smoothly and profitably to deliver an outstanding customer experience. Therefore, hiring managed services is the best decision for banks or financial service providers. Check out more at STL Tech.
FAQs
Can managed services help banks predict spending?
Setting up IT systems and infrastructure involves a substantial financial investment, making it difficult to anticipate operating expenses as your bank or financial institution expands. However, by outsourcing IT operations and management to a third-party service provider, you can consolidate all expenses into a single operational expenditure (OPEX). The MSPs will calculate the repairs, hardware issues, maintenance, and other such expenses and help you predict your overall operational budget.
Are MSPs qualified enough to handle critical IT services?
MSPs are well-equipped to handle critical IT services and ensure the smooth functioning of your bank. They strive to provide top-notch IT management services for various industries, employing skilled professionals from different domains who are dedicated to satisfying clients and enhancing business productivity.

When partnering with an MSP for your bank, you can have confidence in their ability to onboard expert professionals who possess practical experience and the necessary qualifications to manage your operational workflows effectively. Additionally, MSPs often establish service level agreements (SLAs) and key performance indicators (KPIs) to ensure that their services meet or exceed the agreed-upon standards, further emphasizing their commitment to delivering high-quality IT support.
Why choose a managed service provider?
Hiring a managed service provider is beneficial because you have to pay only for the services you need or use to manage your IT operations. Thus, you can manage the budget and allocate money only to critical areas.