A vast majority of people are unaware that today's world of technology would not exist without data centers. The data center industry is seeing exponential expansion as a result of the widespread adoption of cloud computing and artificial intelligence (AI). Hyperscale and edge computing are boosting investor demand in the sector, with the worldwide colocation data center market expected to expand by 11.3% between 2021 and 2026.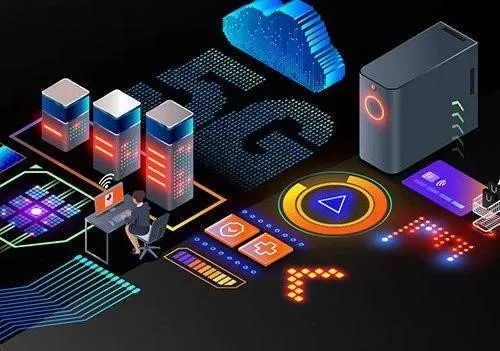 Fig. 1: Edge Data Centers
Image Credit: https://www.akcp.com/blog/what-is-an-edge-data-center-all-you-need-to-know/
In 2023, we will see a variety of alterations to keep these data centers up to date with the evolving technological scene. In the coming year, their power, scalability, and sustainability will increase, as will infrastructure solutions to support these developments. This article outlines the three most important data center trends and the three most significant data center challenges to anticipate in 2023.
Top 3 Emerging Developments in Data Center Industry in 2023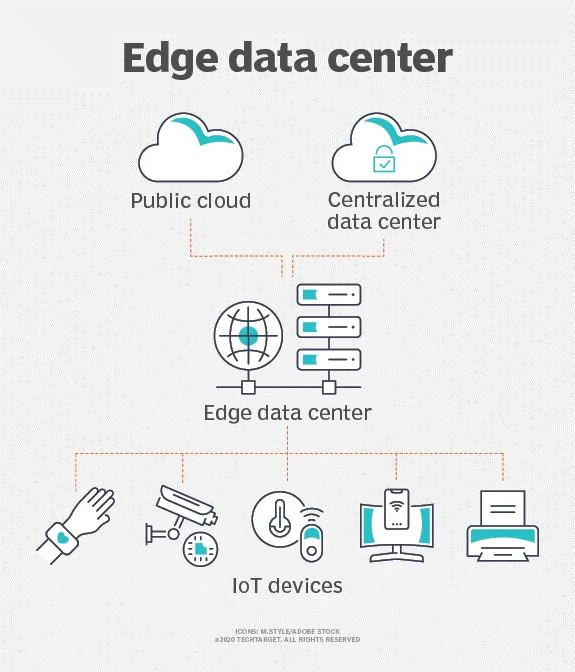 Fig. 2: What is an Edge Data Center
Image Credit: TechTarget
1. Long-Term Planning
In 2022, data centers faced major roadblocks due to problems in the supply chain. If these issues weren't dealt with properly, they threatened to slow down growth. Big companies, which had to delay their growth plans, are now ready to roll these out in 2023, as long as supply chain problems are mostly fixed.
This could lead to a renewed focus on long-term planning. With things back on track, there would be a rising need for fibre optic infrastructure. This is vital to supporting the expansion and modernization of data centers. In short, fixing supply chain issues is key to ensuring the future growth of data centers.
2. Assistance for Emerging Technologies
Data centers are transforming into vital catalysts for the emergence of breakthrough technologies like artificial intelligence (AI), machine learning (ML), the Internet of Things (IoT), and 5G. As the need for these technologies rises, data centers must be equipped with cutting-edge computational and storage facilities.
Characteristics such as high-speed, low-latency data processing and uninterrupted connectivity are becoming mandatory in contemporary data centers to support these tech trends adequately. Furthermore, as the data influx from these technologies is massive, the ability to handle and store big data is becoming increasingly vital.
3. Sustainability
Hyperscale data centers, often as large as football stadiums, require substantial energy that could necessitate the construction of an entire dedicated solar farm. This raises challenges in maintaining a consistent power supply during periods of diminished power generation.
In essence, the journey towards sustainable data centers is challenging, yet 2023 holds promise for illuminating the path towards a greener future. As part of this progressive shift, we are witnessing concerted efforts to shrink data center carbon footprints. For instance, the introduction of new lines of reduced-footprint cabling is making a noteworthy difference. These cables, being smaller in size, require less packaging and facilitate greater shipping efficiency. Although seemingly small, such advancements are critical steps in the right direction, paving the way for an environmentally friendly, sustainable future for data centers.
Top 3 Challenges for Data Centers
The worldwide edge data center market, valued at $8.27 billion in 2022, is expected to increase at an 18% annual rate through 2030, driven by technologies such as artificial intelligence, IoT, AR/VR, streaming services, Industry 4.0, and 5G.
To address this market need, important network edge participants—traditional telecom providers, cloud service providers, and data center colocation providers—must overcome three fundamental hurdles when constructing an edge data center ecosystem.
1) Putting together a multi-access edge framework
This strategy will necessitate converting telco providers' legacy infrastructure from proprietary hardware to systems based on standard IT server hardware and open-source software.
Solid agreements, alliances, and collaborations between telcos, colocation providers, and hyperscalers will also be required to explain who constructs, owns, and runs these convergent edge data centers for this new complex ecosystem.
2) Meeting the specific needs of edge data centers
Because network edge data centers often lack on-site IT professionals, they will demand remote troubleshooting and monitoring to operate applications that are mission-critical without outages or service interruptions. Higher rack densities are also required for network edge data centers, which may necessitate liquid cooling. Furthermore, they will necessitate higher degrees of protection for access control and cybersecurity.
3) Reducing environmental impact
The main difficulty in reporting on a large number of dispersed network edge data centers is that they are installed in a wide range of locations and environments. Furthermore, organizations must select the appropriate measurements, frameworks, and standards to serve as guidelines for environmental impact reporting.
Conclusion
Keeping up with the expansion of data-intensive and ultra-low latency applications necessitates data centers' speed, reliability, and connectivity. Local edge data centers must be deployed at various network edge locations to enable the digital transformation of the telco cloud and traditional IT.
An organization must understand how to solve sustainability concerns through monitoring tips, how to select energy-efficient IT infrastructure solutions, and how to connect to a partner ecosystem. These measures not only promote sustainability but also improve network performance and resiliency.
FAQs
What is an edge data center?
An edge data center is a small data center positioned near the network's edge. It offers the same devices as traditional data centers but with a smaller footprint. These devices can get cached material and cloud computing resources from edge data centers.
Why are edge data centers important for 5G?
Edge computing will enable 5G to meet its latency and bandwidth claims. Because data packets will not have to travel far to a centralized point, apps such as IoT, cloud gaming, and augmented reality, which all have high bandwidth requirements and low latency, should be able to provide a satisfactory experience to 5G customers. To realize the full potential of 5G, make sure there are enough edge data centers nearby.
What is the current stance on data center sustainability in terms of energy efficiency, PUE, and environmental impact?
The discourse surrounding data center sustainability is increasingly focused on energy efficiency and measures to reduce power usage effectiveness (PUE) below 1. Efforts are being made to address climate legislation and promote self-regulatory measures, which in turn are driving technological advancements and the adoption of alternative sources of electricity. These developments aim to establish a more transparent and standardized approach to sustainability in data centers.

Several noteworthy initiatives have emerged in this domain. For instance, the Inflation Reduction Act has been introduced, extending tax credits specifically for renewable energy sources. Additionally, the Securities and Exchange Commission (SEC) has proposed new disclosure rules related to climate for public companies. These legislative and regulatory actions reflect the growing importance of addressing environmental concerns and encouraging sustainable practices within the data center industry.

Companies that take early action to enhance their energy and water usage efficiency are poised to reap benefits. As leading firms and investors continue to prioritize environmental consequences, the ability to demonstrate a commitment to sustainability becomes increasingly valuable. However, the conversation surrounding data center sustainability remains ongoing and evolving, with no definitive conclusions yet reached.