Software-as-a-Service, or SaaS applications refer to a set of services where you can use the software in the cloud without installing it. It has an ever-growing market and may continue to rise exponentially with advancements in cloud technologies. According to Gartner, the SaaS market may grow by 21.7 percent by 2022. Read on to understand all about SaaS-based applications.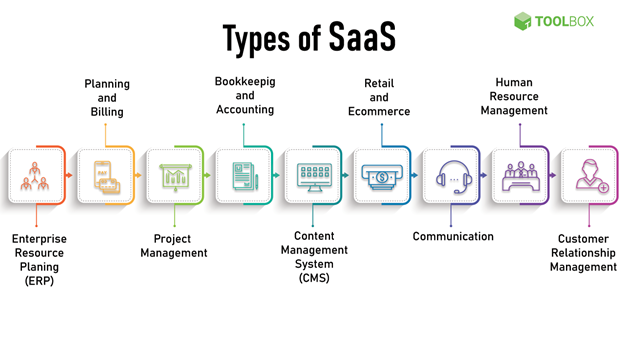 Source: Types SaaS Services
Characteristics of SaaS as an Application
SaaS-based applications don't require on-premise installations. You only have to pay a fee periodically according to their requirements; this is their primary characteristic. But SaaS applications also provide much more, as mentioned below:
Multi-tenant Mode
SaaS applications can have multiple users with one subscription. That means you can give credentials to your employees so they can access the software from their devices.
Automated Provisioning
Automation becomes more efficient because SaaS software runs on high-quality cloud infrastructure. So you can deploy the services for your employees automatically, speeding up the process.
Easy Customization
SaaS platforms enable customers to customize the software. Depending on the SaaS platform, some customizations may be free, while you may have to pay for others.
Subscription-Based Billing
The SaaS service is subscription-based. As a result, you can use the service for a monthly or annual fee; this can significantly reduce the upfront cost associated with on-premise software.
Data Security
A multiple-tenant system requires robust security through data encryption and an efficient key management framework.
Application Security
Applications will have security features, including protection from OWASP/SAN-identified vulnerabilities, access management, identity management, multi-factor authentication, etc.
Advantages Of SaaS
The advantages of a SaaS-based application include:
Flexible payments
Because of the subscription model, your payments have become more flexible. You can choose your features for each payment cycle and pay accordingly.
Scalable usage
You can upgrade your subscription as needed. For example, initially, you might only need 1,000 user accounts. Then, as your company grows, you may need more users to upgrade to, say, 10,000 user access.
Automatic updates
You don't have to worry about updates for a SaaS application. Everything happens in the background on the cloud without your intervention.
Accessibility and persistence
Your employers can access the SaaS-based application on the go; SaaS applications embrace the concept of remote work. Users can log in to the app from anywhere in the world.
Customization
SaaS applications offer many customization options, including integration with other SaaS-based applications. For example, you can automate specific tasks in your application and find another SaaS vendor that provides this service. You will then be given a customized workflow.
Challenges of SaaS
Despite the advantages, there remain some challenges for SaaS implementation:
Security: The safety of the data solely lies with the vendor. So your data protection depends on the rigor with which the SaaS provider has implemented security principles.
Difficulty switching vendors: If you have been using SaaS apps for a long time, there will be a lot of data on the vendor's cloud. This situation makes it challenging to migrate to a different vendor.
Customers lose control over versioning: You may not like the updated version of the vendor software; however, you can either accept it or switch vendors.
Issues beyond customer control: Several issues, like the failure of vendor infrastructure or a mistake on the vendor's part, can cause damage to your services.
Applications of Saas (Software-As-A-Service)
Here are some SaaS application examples:
Salesforce: A top American firm that provides SaaS services for helping your sales team. Their software allows you to manage customer relationships and sales teams and provides a single platform to handle leads and prospects.
Zoom: This cloud platform enables users to communicate via webstream, video calls, etc. Their features include chats and screen sharing.
Google Applications: Besides the famous search engine, Google provides a whole suite of applications empowering and simplify your workflow. Its products can help you with word processing, presentations, collaboration, and many more.
Slack: You can communicate efficiently with your whole team with this SaaS application. Slack can provide features for appropriate collaboration with your team if emails are tedious and chatting apps are informal.
Hubspot: This free CRM provider also provides other services for accelerating sales, including social media marketing and content management. Its software can even integrate with Gmail and Outlook.
Shopify: For an eCommerce business, this online platform fulfills all its content management needs. Its features include SEO tools and multiple payment gateway integrations.M
SAP Concur: This platform will automatically help you manage your travel expenses. Initially an independent SaaS platform, the owners sold Concur to SAP in 2014 for around 8 billion USD.
Conclusion
SaaS apps provide cloud-based solutions for accessing software; you don't have to spend time, energy, and money to set up on-premise applications. With a periodic fee, you will get a platform for all your needs without worrying about the maintenance process. Its features include customizability, accessibility, payment flexibility, etc.However, you must also understand the challenges of implementing a SaaS solution, including a lack of control over versioning and security. Still, switching to SaaS business solutions will ensure you spend valuable time on business processes and not maintaining your applications.
Q1. Why should users switch to SaaS?
Reasons for switching to a SaaS platform include the following:
Less responsibility: You won't have to worry about maintaining and securing the applications. The vendor will manage the updates and patches.
Cost Prediction: Maintenance and support can incur unpredicted expenses with on-premise applications. The subscription model ensures you can always predict the cost.
Scalability: You can upgrade your subscription based on the requirements. As the company grows, you may need more features, and you can switch to a higher-tier subscription.
Customizability: SaaS platforms provide various customizable options that can change the appearance or workflow.
Q2. How do I know if SaaS is right for my business?
To know if SaaS is right for your business, consider the following points:
Does your business need better cost prediction?
Do you want less responsibility?
Is a remote-work necessary for your employees?
Are you reluctant to pay upfront fees for on-premise software?
Do you want the software to be scalable?
If you answered any of the above questions with "yes," it may be time to switch to a SaaS platform.
Q3. What is the difference between SaaS and IaaS?
SaaS means software-as-a-service, and IaaS means infrastructure-as-a-service; their differences are below:
You don't have to worry about maintaining the software in SaaS; you only get the infrastructure in an IaaS, and you need to manage any software installed on the infrastructure.
SaaS provides less control; you can have more control over the processes in an IaaS.
SaaS provides application security by default; you need to set up the security of applications on IaaS.
Q4. What areas of a business can I implement SaaS tools in?
You can implement SaaS tools in all areas of business that use a digital system. That includes:
CRM or Customer Relation Management, where you track the customers, their interests, and potential sales
Sales Management, where you handle the leads and potential customers
In marketing, you spread the word about your business and manage processes like email marketing and social media marketing.
Content Management, where you collect, manage, design, and publish information related to your business.