We discuss the following topics in this blog:
What is an Enterprise Marketplace?
How does an Enterprise marketplace work?
Need of Enterprise Marketplaces for Businesses
Prerequisites to Launch an Enterprise Marketplace
Enterprise Marketplace Revenue Models
Use Cases and Applications of Enterprise Marketplace.
Benefits of Enterprise Marketplaces for Telecom Businesses.
Gartners' Guidance for Enterprise Marketplace
STL's Digital Enterprise Marketplace for Telcos
In addition to these topics, we shall also be answering the following FAQs:
What is the NFX marketplace scorecard?
What are B2B marketplaces?
What are different types of marketplaces?
What are the three main types of online marketplaces?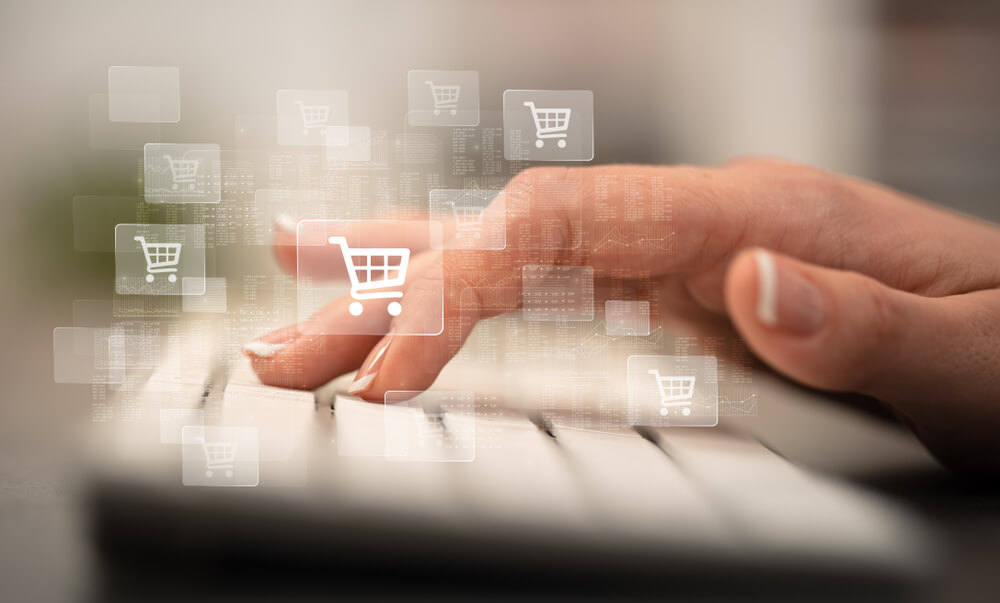 The digital marketplace or enterprise marketplace has emerged as an effective platform for both buyers and sellers to come together and transact over products and services. It plays a vital role in the alliance of product and service providers with potential customers. Owing to this, it has become the need of the hour for every business to embody digital business models to create better revenues. This demands engagement with ecosystem partners and the need for application leaders for digital commerce to comprehend their technical and operational necessities to create and manage enterprise marketplaces.
What is an Enterprise Marketplace?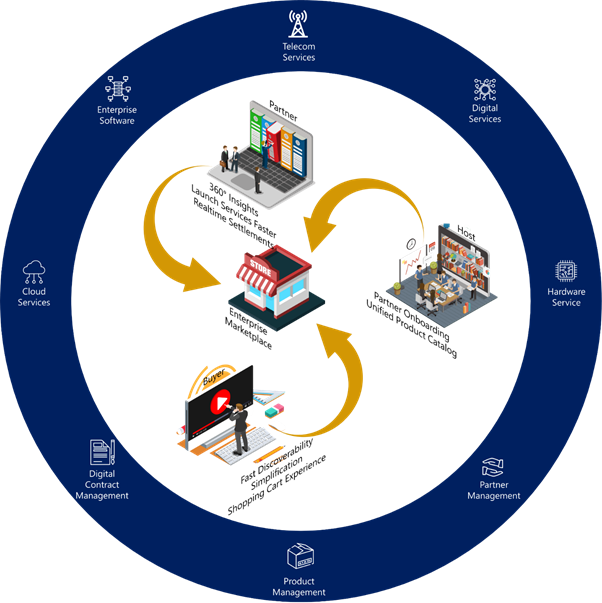 Enterprise Marketplace is an online platform managed by manufacturers that allow third-party sellers to list their products and services and transact with buyers. These digital channels invite sellers to sell directly to their end consumers.
Enterprise marketplaces have become the priority for an extensive range of retailers and brands in recent times owing to their ability to enhance the engagement for both buyers and sellers and ensure efficiency in the process of goods and services transactions as well as the supply chain. No brand or seller looking forward to capitalizing on the increasing growth in consumer eCommerce can stay unaffected by the scope of the enterprise marketplace in ensuring improved financial results for their organization. The prospects of new and enhanced revenue sources are responsible for this digital channel becoming one of the most sought-after platforms not just among retailers and manufacturers but also distributors and group purchasing organizations. Even buyers have not been able to resist the swiftness, scope, and speed of this platform. That's why enterprise marketplaces witnessed a growth that was more than double the rate of overall eCommerce in 2020.
How does an Enterprise Marketplace Work?
Enterprise marketplaces work by matching customers looking for a product or a service to the seller or provider of that product or service. The concept of bringing buyers and sellers on a common digital platform works favorably for the benefit of customers, sellers as well as owners. The curated customer base enjoys the agility and the easy access ensured by the platform, the sellers get to drive higher sales and revenues, and the marketplace owner ends up making profits in the form of commission on each sale. Some of the biggest examples of such marketplaces with huge inventories are Amazon and Alibaba. These big names speak a lot in terms of how popular and common enterprise marketplaces have become in the present eCommerce scenario.
The owners of the enterprise marketplace do not own any inventory that is being sold through their platform. Therefore, they do not need to invest in the stock management of the marketplace. The onus of the operational side of the business is left to the vendors while the owner focuses mainly on the promotional aspect – creating a brand for their marketplace to drive more traffic and convert the site views into sales. However, it is the responsibility of the owners to make sure that the vendors are observing the quality rules and guidelines. Some marketplace owners go a step ahead with regard to this responsibility and provide cutting-edge solutions for inventory management.
Need of Enterprise Marketplaces for Businesses
Enterprise marketplaces have become and are becoming more and more popular among businesses for the several benefits they have to offer. According to the Gartner report, "By 2023, organizations that have operated enterprise marketplaces for more than one year will see at least a 10% increase in net digital revenue."
Besides the apparent benefits such as a highly engaging direct shopping experience resulting in greater revenues, businesses need enterprise marketplaces to enjoy several other advantages. Some of these include:
Enterprise marketplaces give businesses an opportunity to expand their customer base and facilitate the procurement of new clients easier for them. Even small brands that are usually unheard of by the common purchasers can get access to a wide spectrum of potential customers through these effective digital platforms.
Brands can make enterprise marketplaces a medium through which they can assess where they stand in terms of competition, customer reviews, pricing, and brand awareness. A keyword search presents the products of all the brands in front of the customers giving an advantage of competition to brands.
Enterprise marketplaces provide customers the ease of access to the products of different brands, some of which the customers would never visit through individual web stores. Moreover, the frequent site visits and purchases through a common platform infuse a sense of trust and security in the minds of the customers.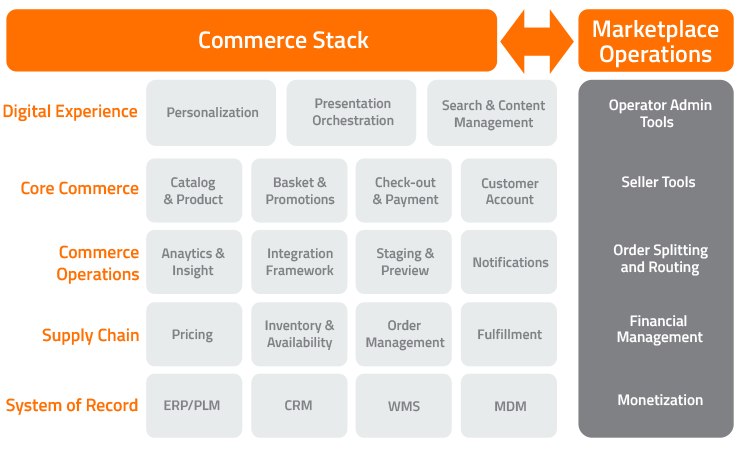 Prerequisites to Launch an Enterprise Marketplace
The basic requirements for launching an enterprise marketplace for a business is obviously knowing the answers to questions such as 'Why?' and 'How?'. A business needs to be aware of the niche, the monetization strategy, and the target customers. Most importantly, a business should be willing to invest time, money, and efforts for the successful launch of an enterprise marketplace.
The prerequisites required to launch an enterprise marketplace are:
Defining the functionality of the marketplace in terms of products, carts, security options, payment methods, search features, wish lists, admin panel, etc.
Selecting the development platform according to the budget, time, and plans to expand in the future.
Choosing the development team or the software provider for a successful launch and to ensure the maximum value for sellers and customers. For the maximum convenience of all the stakeholders, choosing a customized software development provider is the best option.
Selecting suitable tools to manage the marketplace platform. Some of these tools are Google Analytics and Salesforce.
Opting for a proper methodology
Enterprise Marketplace Revenue Models
Even though the enterprise marketplace is highly lucrative, there are several complexities and challenges that need to be taken into account while building a marketplace. Besides the target audience and the operational processes, an important factor that needs to be considered while planning enterprise marketplace digital strategies is the revenue model. A business can choose different types of revenue models in the initial stages of defining its niche and target groups.
Subscription / Membership
This revenue model is commonly used for B2B marketplaces. A few or all of the users in this model need to pay a fee in order to access the marketplace.
This revenue model is the most beneficial for the providers as they pay for the bid of the customer who leaves a request on the platform. So, the provider only has to pay after the lead has gotten in touch with them.
This revenue model is also beneficial for the providers as they pay to the marketplace only after a customer makes a purchase from them. Generally, the paid commission is 10-30% for each transaction.
With this revenue model, the provider has to pay a flat fee to list a product or service on the marketplace.
This revenue model is similar to the paid premium services where the basic services are free. In this model, the provider suggests paid premium services to the customers.
Advertising & Featured Listing
This revenue model allows the providers to provide a free listing on the marketplace.
Use Cases and Applications of Enterprise Marketplace
Let's take a look at some of the successful examples of enterprise marketplace.
eCrater- It is an online marketplace and a free web store builder. It offers customization features for the owners, and people can buy and sell anything through this digital marketplace platform.
Facebook marketplace- It is a free platform where people can find information such as customer reviews. However, it can't be used to sell products.
Craigslist- It is a free classified advertising site where people can list advertisements for jobs, housing, services, etc.
Amazon marketplace- It allows the marketplace selling and purchasing of different products and services. It offers an unlimited number of product listings and charges a monthly listing and commission fee.
Poshmark- It is a social online eCommerce site. It allows customers to buy fashion items such as clothing items, accessories, footwear, etc. The providers can offer to sell both new and used items through this digital marketplace platform.
eBay- It is a B2C and P2P marketplace that charges commission on every sale and advertising.
Etsy- It is an online marketplace that allows providers to sell varied kinds of handicrafts and vintage goods. It charges the sellers a fee for each listing and sale.
Benefits of Enterprise Marketplaces for Telecom Businesses
With the enterprise marketplace catering to the extensive needs of businesses through digital technologies, there has been a growth in the expectations of the customers. This has led to the exponential transformation of several sectors, including the telecom sector, in recent years.
The fast development of cloud Models/Platforms and the eventual shift in customer behaviors have provided telecom businesses the right opportunity to take a plunge into new verticals in order to build fresh business models and revenue streams. The enterprise marketplace eliminates the need for software built on by enabling a platform for accessing the required software. This enterprise marketplace platform allows telcos to enjoy several advantages by:
helping to cater to dynamic customer needs by bringing service providers, customers, and partners on the same platform.
ensuring real-time engagement with vendors
facilitating faster IT & business transformation of Communication Service Providers or CSPs
helping to reduce the high cost of shifting to open based architecture
lowering risks
Confirming compliance with Open Digital Architecture (ODA ) and Open API standards
Gartners' Guidance for Enterprise Marketplace
According to Gartner's December 2019 report, 11 Imperatives When Building an Enterprise Marketplace, enterprise marketplaces can be defined as:
"Enterprise marketplaces are online marketplaces operated by traditional organizations that invite third-party sellers to sell directly to end customers. This contributes to improved engagement for buyers and sellers, better efficiency in the buying/selling processes and supply chain, and better financial results for the organization, with increased and new revenue sources."
Gartner is an information technology (IT) research and consultancy company that provides important research for the technology market. These reports provide several inputs to help businesses stay ahead of business and technology trends. The various research reports published by Gartner are considered to be highly helpful in the light of the fast-changing digital world. In this scenario, the insights provided by Gartner's report can help to understand enterprise marketplaces better.
In its latest report, 'Expand CSPs' Monetization with 5G, AI, Edge Compute', Gartner has provided insights about the future of work trends and has focused on optimizing talent outcomes by taking advantage of digital acceleration trends impelled by the pandemic. It has also recognized STL as a key enabler in the enhanced partner ecosystem support in the digital marketplace. STL, an industry-leading integrator of digital networks, has also been highlighted as a key 'BSS vendor offering 5G charging function (CHF) for developing and promoting new pricing levels for monetization'.
STL's Digital Enterprise Marketplace for Telcos
STL helps telcos to become future-ready by connecting customers with the latest digital applications that help to ensure a better user experience. STL's enterprise for Telcos, powered by STL Digital Enterprise Marketplace, has provided an effective enterprise marketplace platform solution for the CSPs to help them explore untapped and under-banked markets like the xTelco enterprise marketplace ecosystem.
STL dEnterprise helps to bridge the gap between CSPs, customers, and partners and ensures better collaboration and sharing. dEnterprise blends the positive aspects of multiple vendors, partners, and customers from different verticals by bringing them together on a common platform in order to cater to the range of innovative use cases of enterprise customers. Click here to learn more about STL dEnterprise.
STL was recently honored at the TMForum Digital Transformation World Series, 2021. It won 'Best Use of Open Digital Framework, (ODF)' for its 5G Digital Marketplace catalyst project. The other highly reputed participants in this project were Amazon Web Services, Cognizant, ServiceNow, Subex, Colt Technology Services, and Verizon.
FAQs
What is the NFX marketplace scorecard?
The NFX marketplace scorecard is a system that is used to score a marketplace. Since all the marketplaces are different from each other, it becomes very difficult for businesses to understand which marketplace to choose for investment. This is where the NFX marketplace scorecard is useful. Based on the scores, businesses can identify and assess the profitability and potential of different marketplaces. A marketplace is as good as its score in this case. This scorecard also provides other information about marketplaces, such as the growth prospects and associated costs. Any business can use this scorecard to communicate their business to NFX by clicking on this link.
What are B2B marketplaces?
A B2B marketplace is a digital platform that allows companies to interact with other companies to conduct business. This products and services marketplace facilitates the extension of distribution channels and helps businesses to get on with new partners. It also allows the providers to sell in bulk quantities. B2B marketplaces are managed by third parties wherein the operators are responsible for the automation of processes, investment in customer experience, and ensuring transparency in transactions. The importance and potential of B2B marketplaces can be assessed from this statement by Gartner – "By 2023, at least 70% of the enterprise marketplaces launched will serve B2B transactions."
What are different types of marketplaces?
A marketplace is a platform where buyers and sellers come together to purchase and sell respectively. These marketplaces can be divided into offline and online marketplaces.
An offline marketplace is a physical location where buyers and sellers transact in products and services face to face. Every kind of tradable goods and service are allowed to be transacted in an offline market. These are the original form of marketplaces that have been around for thousands of years. Some examples of offline marketplaces are flea markets, crafts, and art shows, farmers' markets, etc. Online marketplaces, on the other hand, are digital platforms like an app or a marketplace website that allows the providers to sell a range of products and services to the buyers.
What are the three main types of online marketplaces?
Online marketplaces can be divided into three major categories. They are:
B2C marketplace- This type of marketplace directly serves businesses and customers and does not allow the interference of any third party during the transactions of goods and services. A few examples of this kind of marketplace are eBay, AliExpress, eBid, App Store, Google Play, Bonanza, etc.
B2B marketplace- This type of marketplace is managed by a third party and allows businesses to interact with other businesses. A few examples of B2B marketplace are Amazon, Labelcorner, Made-in-China, Alibaba, Rakuten, Global Source, eWorldTrade, etc.
P2P marketplace- This type of marketplace allows customers to sell products and services to each other. A few examples of P2P marketplace are Etsy, Uber, Airbnb, Upwork, Postmates, etc.