For the last decade, the focus of technology-using industries has been the aggregation of various component systems or sub-systems that collaborate to deliver a whole functionality.
Companies are increasingly utilizing system integration as they recognize the value and profit that it can provide. Rather than purchasing an off-the-shelf solution, system integration can increase employee productivity and ensure seamless data connectivity, allowing you to analyze your business processes better.
In this article, we'll talk about system integration solutions and methods of system integration. Next, we will talk about system integration challenges and solutions for expanding businesses that want ERP and CRM integration to reduce operational costs, increase productivity, and drive toward growth and prosperity.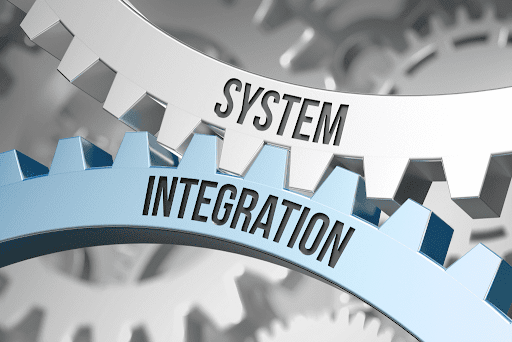 System Integration
What is system integration?
System integration is the process of integrating software and hardware modules into a single cohesive infrastructure, allowing all components to function as a whole. System integration is the process of taking separate working systems, often from different vendors, and making them work together as one.
An integrated ERP system is a great solution for businesses that are slowed down by working with different, independently functioning software and lose a lot of time due to re-entering data into each of the tools. If you want to be successful, you must increase your company's productivity and improve its workflow. Integrating systems is an excellent way to achieve these objectives; however, the development process can be lengthy and complex.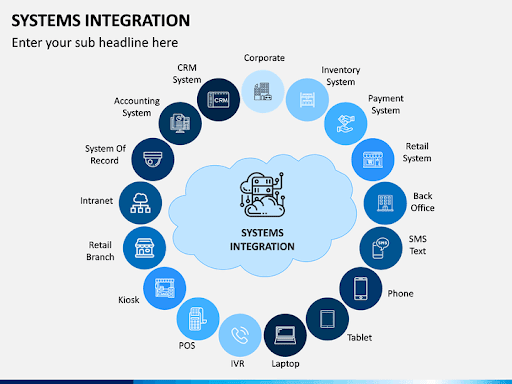 All Components Functioning as a Whole
The goal of this dynamic integration is typically to have the company's various IT systems communicate with one another in the background. This is done to save effort and time spent on manually sharing information with other departments and components of the organization, including upper management. As a result, the organization will benefit from increased information flow speeds and lower operational costs due to system integration.
Furthermore, system integration types link the organization to third-party stakeholders such as suppliers, customers, and shareholders. System integration enables customers to track finished goods inventory, suppliers to track raw material levels, and shareholders to view the company's position at a glance in real-time via a dashboard.
All of these requirements can be easily met by utilizing system integration provided by a reputable systems integrator. The following are some applications of system integration:
Productivity is increased:
Integration of CRM with the ERP system enables centralized control over daily processes, increasing the overall workflow's efficiency. Employees can use all the apps and data they need from a single point of entry, allowing a company to complete more work in less time.
More precise and reliable data:
Data is updated simultaneously across all system components, keeping all departments on the same page.
Decisions are made faster:
Data is no longer dispersed across disparate storage systems. As a result, you don't have to manually download and export it to the centralized repository to perform analytics.
Instead, by taking a holistic view of all information, you can extract useful business insights and make better decisions with integral ERP faster.
Cost-effectiveness:
ERP integration software is frequently less expensive than replacing all disjointed parts with a new single system, not to mention the difficult process of establishing a new computing infrastructure.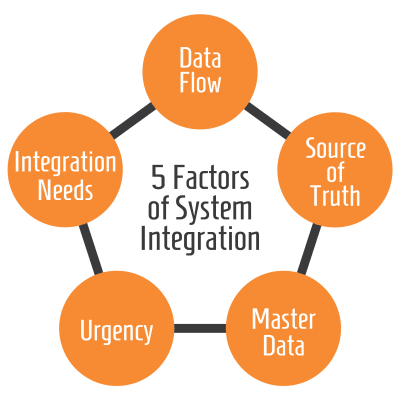 System Integration and Factors Responsible
How does system integration work?
A software system integrator will ensure that data flows seamlessly between all components by breaking down the work of software system integration into the following steps: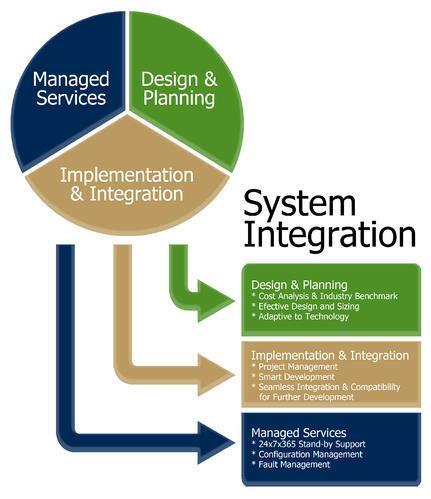 How System Integration Works
Gathering of Requirements:
Every CRM system integration process begins with an assessment of the systems to be integrated and the development of a feasible strategy.
The company team must understand exactly what it requires from an ERP integrator and, therefore, your integrated system. What goals does it hope to achieve by connecting these systems? What tasks might it require in the future? With this list, chosen ERP system integrators can tell you which parts are feasible and which will be difficult or impossible. Furthermore, they will be able to ensure that your employees will find the software simple to use.
Carry Out an Investigation:
After you complete a list of all your requirements, the company will analyze them to determine their operational usefulness. It enables your chosen IT systems integrator to connect their vision of the system with yours, and a successful collaboration will assist them in meeting all of your requirements.
Create an Architecture Design Summary:
Before your systems integrator begins working on the sub-system, they must eliminate the risks. This is one of the crucial system integration steps. They accomplish this by creating a plan for how multiple components will work together, often using blueprints or data flow diagrams to help you visualize the process.
Implementation Strategy:
A physical equivalent is now being developed based on architectural design. If all of the preceding steps were completed meticulously and with a close working relationship, your system integration would be successful without losing valuable data. There may be bugs that need to be worked out, so it's not a good idea to go live across all your systems simultaneously. Going live during quieter times prevents you from causing too many headaches at once.
Implementation:
You are ready to go live once all bugs have been fixed, your system has been tested, and you have verified that everything works as expected. Your employees can now begin using and enjoying their new software, though it may take some time for them to become acquainted with it.
Support and Upkeep:
Having integrated system solutions designed rather than purchasing an off-the-shelf product ensures that your IT integrator company creates a product that works flawlessly even after it is released. If a feature is missing or you are having difficulty using the product, it can be modified for you. You can also notify your systems integrator that you discovered a bug, and they will assist you in resolving it.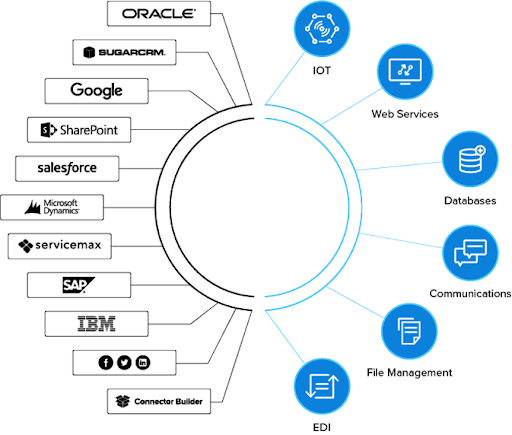 Systems Integration in a Company
What Are the Different Types of System Integrations?
Integration administrations with service integrator companies can be classified into three types based on their use zone and type of use:
Enterprise Application Integration (EAI)
Data Integration (DI)
Electronic Documents Integration/Exchange (EDI)
Enterprise Applications Integration (EAI)
The task of integrating the databases and workflows associated with business applications to ensure that the information is used consistently and that changes to core business data made by one application are correctly reflected in others is known as enterprise application integration (EAI).
Enterprise System Integration is the integrated system based on it. It is an interaction that communicates with various administrations, gathers information, and then continues with additional means based on the desired activity or work process. With uncovered assistance, the cycle can be started.
EAI provides a methodology for these disparate applications to share data and workflows to reduce manual steps and errors while providing better insight into organizational data. As an organization grows and technology advances, this becomes increasingly important.
Data Integration (DI)
Data Integration (DI) Large companies and enterprises frequently maintain separate departmental databases to store data specific to the department. Although such data separations improve manageability and security, performing cross-departmental analysis on these datasets becomes impossible.
Data integration provides a mechanism for combining data from various departments into a single query-able schema.
You require information system integration technology when you need to merge your administrations into one main issue of access. For the most part, there are numerous information sources (or data sets) that must be accessed from a single location.
Electronic Documents Integration (EDI)
The computer-to-computer exchange of business data in standard formats is known as electronic data interchange (EDI).
EDI (Electronic Document Integration and Interchange) is a common form of business-to-business interaction. Its capabilities include paperless reporting, trading, and electronic regulations. EDI organizes information according to a predefined format agreed upon by both parties, allowing for an automated computer transaction that requires no human intervention or rekeying on either end. The information contained in an EDI transaction set is largely the same as that found on a traditional printed document.
Why do you need system integration in your business?
For example, a business could use one general application for accounting and another for inventory. As time passes, it will require an app to manage all sales, marketing, and excellent customer service.
However, as businesses expand their business functions, they may become disoriented when dealing with these incredibly disjointed tools that cannot share data or collaborate.
Employees frequently waste valuable time entering the same or related data into different systems as they switch from one to another because each software solution operates independently.
What was once inexpensive at the start of your company now appears to be costly as your employees spend the majority of their time maintaining multiple systems. In such a case, it is best to reconsider the approach and strategy to be used. This is where integrators of systems technology come into play. IT system integration services are the best approach for reducing the operational costs required for your company's growth and prosperity.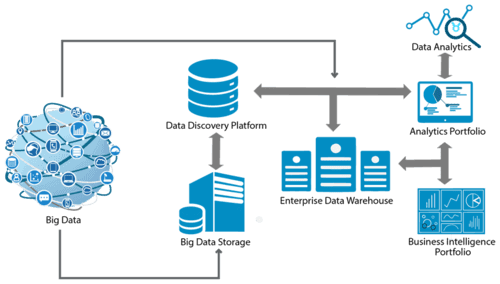 Functioning of System Integration
Technically, a system integration system can provide the following advantages to your company:
Provide a single version of the truth for Data management:
An integrated ERP solution allows data to be updated simultaneously across all system components. As a result, all departments will have access to the most recent version of data and will be on the same page.
Make Data-driven decisions possible:
You no longer need to manually download and export data to use in your departments because data is no longer stored in silos like it used to. As a result of the integrated system software, performing data analytics is much easier and faster. Having a complete picture of all the information available can assist you in gaining valuable insights for your business and making the right decisions more quickly.
Enhance Performance:
Because IT systems integrators enable business organizations to streamline and manage all daily processes, overall workflow efficiency can be significantly increased. In addition, because of the integration between systems, employees will be able to get more work done in less time. This is because they can easily access all of the company's data that is spread across various apps whenever they need it from a single point of entry.
Cost-saving:
Typically, the cost of system integration with a system integration tool is less than the cost of replacing all of the separate tools with a new single system. Not to mention the complexity of the new IT environment's implementation process.
Here are some methods for System Integration
An IT system integrator will explain to you the following methods for system integration:
Point-to-point integration
Point-to-point integration or connection is not system integration in its purest form. Despite the fact that the system functions as a whole, the complexity of the functions that can be performed is limited in this case. These system integration systems usually handle one business function at a time. They are most suitable for a 1:1 relationship, i.e., one system to another. The more systems that are involved, the more connections there are, and thus a point-to-point systems integration becomes unmanageable.
Vertical Integration
The structure that is formed distinguishes vertical system integration from other types of system integration. Each sub-system is linked to the others based on how closely they are related to the function performed.
As a result, the structure is "silo-like," in which the bottom function is the most basic and the rest becomes more complex progressively. This system integration model is relatively simple and involves a small number of systems; however, it can be rigid. Adding any new functionality means creating its own "silo," which makes long-term management difficult.
Star Integration
Star integration is simply a collection of point-to-point system integrations. In other words, a star connection is created by connecting a larger number of simple connections. The greater the number of sub-systems connected, the more points at the beginning and subsequent lines.
Furthermore, when this system integration method connects each system to the remaining sub-systems, the series of connections may at best resemble a star polyhedron or a plate of spaghetti (also known as spaghetti integration).
In other words, if a company approaches system integration this way, the ideal IT infrastructure quickly becomes cluttered and difficult to map. Because, as one might expect, this provides more significant functionality compared to a single point-to-point connection.
Horizontal Integration
Horizontal integration is accomplished by employing a single specialized sub-system as a common user interface layer that connects all other sub-systems.
In other words, the number of connections required for system integration is reduced because the sub-systems are linked indirectly rather than directly through the main system. If there are five sub-systems, there will only be five connections. As a result, the main advantage of this method is the reduced number of connections required to maintain functionality, which saves time, effort, and money spent on system development.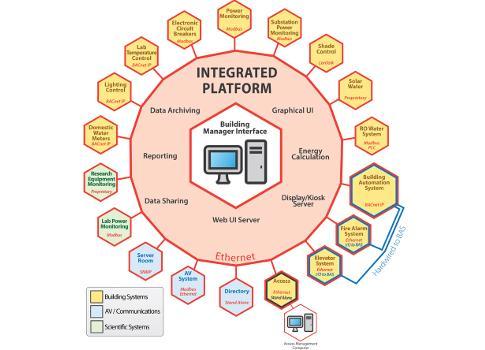 An Integrated Platform
Used Cases for System Integration
The following are the most common types of integrated systems, depending on the various business needs:
Legacy Systems Integration
Many companies continue to rely on obsolete software for critical business processes. However, because legacy apps are deeply integrated into the daily business workflow, removing or replacing them with the latest technology is difficult. Rather than doing so, it may be much easier to modernize the old system by establishing a communication channel with more up-to-date information systems and technological solutions.
Connecting a legacy system integration (accounting) on-premises to a data warehouse for advanced analytics or a modern SaaS CRM solution, for example.
Enterprise Application Integration
Enterprise application integration allows organizations to streamline their front- and back-office processes, which can boost business growth. Thus, the overall goal of enterprise app integration is to combine various sub-systems within a single business environment. While accumulating large amounts of data separately, these applications typically do not share convergence points. EAI (Enterprise Application Integration) unifies all functions into a single business chain while automating the process of real-time data exchange between different applications.
An ecosystem for a company's accounting, inventory management, human resources, CRM systems, and ERP integration (enterprise resource planning) systems, for example, can be created with the help of ERP integration services and/or ERP CRM integration.
Integration of Third-Party Systems
This type of integration is used to expand the current capabilities and functionalities of the company's existing system. If a company wants new features but cannot afford custom software development or lacks the patience to build them from scratch, it should consider integrating third-party tools with the help of solution integrators.
Connecting an existing application to an online payment gateway (such as PayPal, Stripe, Credit Card Payments, and so on), social media marketing (e.g., Twitter, Facebook), Salesforce CRM integration, and so on.
The main goal of a system integrator company is always the same, regardless of the situation. It is about integrating various types of independent parts into a network. The solutions integrator will then investigate existing technologies and architecture models that can significantly impact integration.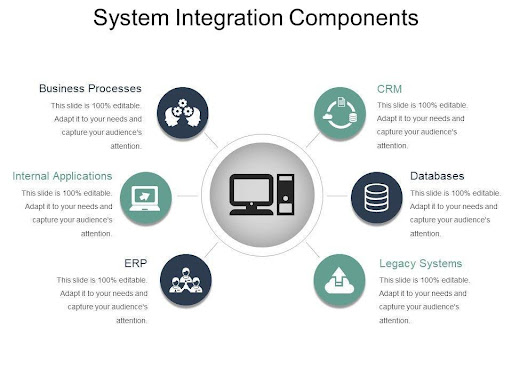 Different Components of System Integration
Challenges Faced in System Integration
For system integrator companies, the system integration process presents numerous challenges. Thorough preparation is required for successful system integration. Even relatively simple projects can become difficult and complicated at times.
These activities necessitate expertise, so service integrators always develop a detailed plan with a step-by-step checklist to ensure success. Let's look into the most important challenges of system integration:
Examining test environments
When it comes to software development, testing and optimization are never-ending processes. A sandbox enables a company to test, optimize, and identify potential problems before they spiral out of control. Examining test environments (sandbox) and obtaining separate access data for each.
Each website should include a "testing sandbox"—a location where we can easily test the entire system's operation (e.g., make a test payment or connect a test payment card).
Examining API Documentation of Products
Systems integrators that are ill-prepared for API integration may face roadblocks that drive up costs while delivering only incremental results. Examining products' API documentation enables service integrators to understand how the API data works, what protocols it employs, and what possibilities it provides (e.g., if it will notify itself when it performs an action or repeat the action in case of an error).
Large Scale Testing
System integration services always perform complex testing before the system goes live to eliminate potential errors. Making and following a checklist is one of the critical system integration challenges because it is easy to overlook various details. Testing various scenarios is an excellent way to check for every possible situation and improve work quality.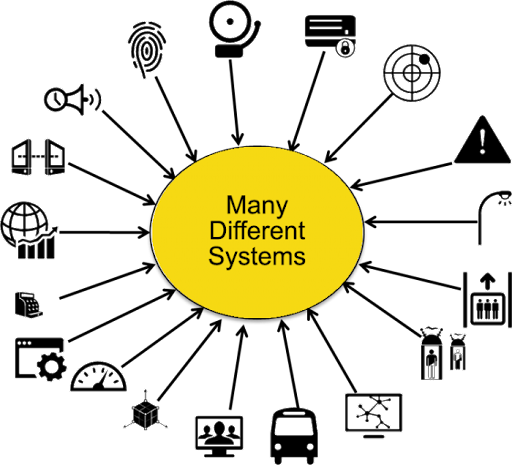 Different Systems Integrating
FAQs
Q1. What is meant by system integration?
System integration means the process of connecting various sub-systems (components) into a single, larger system that functions as one. System integration is commonly defined in the context of software solutions as the process of connecting various IT systems, services, and/or software to enable them to work functionally together.
The primary reason for organizations to use system integration is to improve productivity and quality of operations by speeding up information flows and lowering operational costs. However, system integration is used to connect not only an organization's internal systems but also third-party partners with whom the organization works.
Q2. What is system integration, with example?
A system integrator's ("SI") role is implementing, planning, coordinating, scheduling, testing, improving, and occasionally maintaining information technology systems. SI integrated enterprises include Deloitte, IBM, Accenture, TCS, and others. These system integrator companies deliver large IT projects (for example, ERP projects) while attempting to manage the numerous suppliers involved. However, in terms of system integration, the role of the systems integrator is limited to enabling data integrations between the end customer's various existing systems as defined in the project scope.
Q3. What are the types of system integration?
Point-To-Point Integration:
A point-to-point integration connects one system to another so that they can work together. Many cloud-based applications support point-to-point integrations.
Vertical Integration:
This involves using a small number of systems (more than two) to create simple integrations that only address a single function.
Star Integration:
This allows for more functionality; for example, connecting ten systems using this method will require 45 separate integrations. Every time one system is changed, nine connections may need to be re-done, adding to the challenges in system integration.
Horizontal Integration:
This method allows each sub-system to communicate via a single interface with all other sub-systems connected to the common interface layer. Each sub-system can be changed or replaced without affecting the interfaces of other systems.
Q4. What is the purpose of system integration?
In layman's terms, system integration aims to connect various system components to create a functional, interwoven system that connects all applications on a single data integration platform.
Using integration platforms for your company, a systems integrator lays the groundwork for future success and growth. It also offers numerous advantages, but only when used in conjunction with a successful system plan.
On the other hand, creating a successful system integration plan necessitates a basic understanding of the various system integration methods. Understanding the different methods can also help you understand the potential benefits.