One thing they say about recognition is that it is the greatest motivator. At STL, recognitions make us doubly energetic and motivated to drive our greater purpose of transforming billions of lives through digital networks. In 2020, we won recognitions for our Network Software solutions from the best in the business.
This power-packed suite of cloud-native and SaaS solutions goes beyond the traditional OSS/BSS realm. The solutions not only digitize the customer or partner journey with utmost efficiency, but also revolutionize monetization by unlocking new business models. Below are few recognitions that galore for Network Software portfolio:
STL was recognised as one of the eighteen Representative Vendors listed in Gartner's 2020 Market Guide for CSP Business Support System Solutions. The full-suite BSS solution is Open, Cloud Native, elastic and based on webscale proven architecture following CNCF (Cloud Native Computing Foundation) best practices providing E2E solutions to CSPs while offering consulting, integration, transformation and managed services.
dTelco solution won the OSS/BSS Transformation Excellence award at the 8th Global Telecoms (GLOTEL) Awards organised by Telecoms.com, a world-renowned telecommunications media publication. The solution shuns the traditional siloed telco model for a customer-centric, agile, data-driven model, and enables Telcos to enable digital lifestyle by partnering with other content and service providers through a single touch point. It creates new opportunities for telcos and monetize their assets, presence and customer reach to sell anything, anywhere, anytime.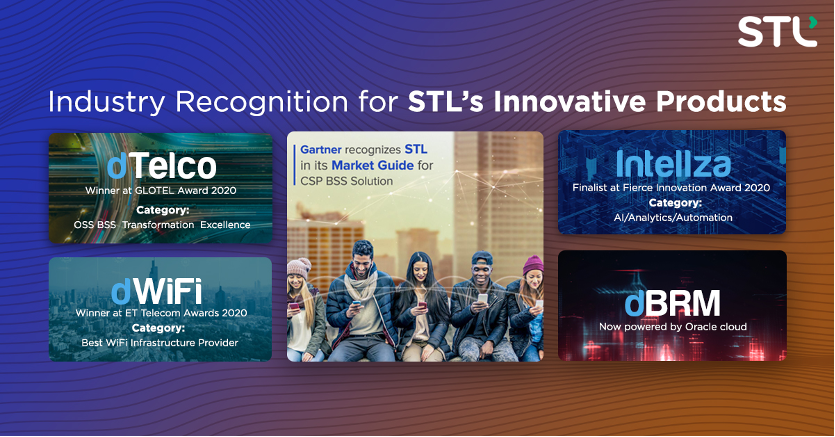 Intellza was recently shortlisted as a finalist in the Fierce Innovation Award 2020. This scalable data powerhouse solution offers unified data storage, integrated analytics and intelligent search abilities for enhanced user experience and meaningful insights. This AI-powered business insights and data analytics solution empowers telcos to bring deep personalisation, assess the performance of newly launched products, gauge customers' expectations and help introduce relevant products with minimal risks, opening up new revenue streams.
dWiFi was recently recognised at Economic Times Digital Telco Virtual Summit. A vendor-agnostic solution, dWiFi helps enterprises decongest network traffic and effortlessly manage multiple connections even in the most congested locations. With an open, app-based architecture, this web-scale platform helps in improving spectral efficiency, offering bundled plans, exploring umpteen monetisation opportunities and delivering high-quality user experience.
dBRM, a next generation BSS platform recently achieved Powered by Oracle Cloud status and is now available in the Oracle Cloud Marketplace. The solution enables faster deployments with zero touch and automatic roll back. This application helps monetize any service, any market, and any devices to offer innovative service bundles and apply real time incentives across all lines of business.
Digitizing all customer, partner and telco journeys, and building new revenue models and product templates for different verticals powered by 5G, iOT and eSIM technologies have been at the core of STL strategy on the enterprise software front. STL is excited that our path-breaking network software solutions are providing hyper-personalized digital experiences, while reducing the operational costs to become a leading digital lifestyle provider.