Outlay on data centers and cloud infrastructure increased by more than 30% last year as the transition to the cloud accelerated during the pandemic. However, as the demand for data center services grows, so will their capacities. In only five years, data centers will appear and operate significantly different than they do today.

Fig 1: Predicted main trends in the data center facilities of the future
Image credit: blog.huawei.com

With that in mind, let's take a look at how these next-generation data centers will look, how their capabilities will alter, and what these changes will entail for the end user.
Next-generation data centers
Next-generation data center services feature hybrid infrastructures, software-defined environments, cognitive computing, and evolving technology to satisfy the demands of data expansion and management. They are software-defined, with intelligent software controlling them rather than IT employees who must manually conduct procedures. They also offer physical and cloud environments, addressing traditional data storage requirements while simultaneously creating cloud technologies. Next-generation data center technology aims to integrate disparate environments and offer data, networking, and compute resources to satisfy demand, with data and infrastructure scattered over diverse environments and geographical areas. The terms virtual data center and software-defined data center are interchangeable.
The following are some of the most important needs for a next-generation data center:
Automation: Rather than requiring constant human management, data centers must have procedures that can run autonomously.
Interconnection: Data management cannot be categorized, especially as businesses increasingly employ both physical and cloud environments.
Flexibility: A data center's architecture must change to manage applications, workloads, and machines and operate procedures as effectively as possible.
Business focus: Data centers must deliver real-time solutions and rapid reactions to enterprises that rely on them.
Support: Next-generation data centers must have a solid infrastructure that maintains and secures data while also providing a hybrid environment (physical, virtual, and cloud).
Loose coupling: If the pieces in a data center are overly interdependent or tightly coupled, they can be prone to large-scale failure if one application or machine fails. Loose coupling provides greater flexibility and scalability.
Some of these traits appear to contradict one another. Data centers must not only keep up with the increasing demand for larger and better data storage, but they must also successfully manage data – a difficult undertaking as data is spread even further across geographic boundaries and into different cloud environments. Data center managers face difficulty concentrating data for simpler management and security while also growing it across several environments: the organization-flexibility paradox.
How will the next-generation data center evolve?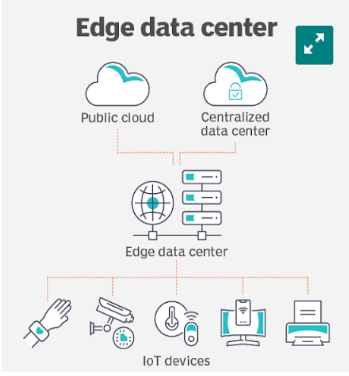 Fig 2: Edge data centers
Image credit: techtarget.com

1. Shift to edge data centers
Hyper-scale data centers will replace traditional cloud data centers focused on critical task processing and long-term data storage. These data centers will not only be small, but they will also be on-site or near enterprises. Edge data centers are small facilities near customers that supply cached material, cloud computing resources, and hardware to end users.
They typically connect to larger central or numerous data centers. Edge computing allows enterprises to minimize latency and deliver speedier services by processing data and services near the end user.
Because so many businesses are physically unable to relocate closer to data centers, data centers will be forced to relocate closer to them. These edge data centers will provide the resources needed to handle critical information in real-time, allowing businesses to run smoothly. Many IaaS providers, such as AWS, are establishing edge centers to deliver seamless cloud services to various businesses.
2. Robotics and physical automation for better data center management
Automation and robotics lessen loads of manual maintenance by simplifying workflow. It will give resources more diligently. As a result, less manual engagement will make operations more disaster-proof and less expensive.
Data center security patrol robots are now in production and will most likely be commonplace over the next five years. Autonomous Security Robots (ASR) will undertake security jobs with vigilance. FANUC Robotics has been producing compact, intelligent, and quicker robotics.
3. Environmentally friendly data centers
Next-generation data centers are automated with minimum manual intervention and are energy efficient. The transmission of data in next-generation data centers consumes a significant amount of energy.
There is increasing pressure on data centers to become more environmentally friendly with such a high demand for data. More renewable energy sources, such as solar energy, will be used in next-generation data centers.
In the United States and Europe, data centers recycle center heat into warm water and heating for buildings and houses using community heating or water/air source heating pumps. As a result, next-generation data centers will benefit from lower cooling and heating expenses as well as increased sustainability.
4. Data center as a service (SDDC)
Everything in information technology is virtualized, including operating systems, storage devices, and servers, and everything is given as a service. Next-generation data center virtualization is gaining control of data centers, giving greater flexibility, security, and agility. In addition, this layer provides considerably greater control over physical and virtual resources.
Atlantis USX for storage, VMware NSX for networking, Juniper Firefly for security, and VMware OS for the data center are some robust platforms that govern new parts of the next-generation data center.
5. Control of a multi-layer data center
Each data center houses a diverse set of systems. Similarly, the control layer must be greatly varied. To achieve increased scalability, data centers are now prepared to control numerous important elements, including waste and cooling/heating systems. Furthermore, the DCOS layer has significantly improved infrastructure due to its implementation into every critical part of data centers.
Data center infrastructure reservation
The next-generation data centers will contain tiered management tools that will logically allocate resources based on workloads. This infrastructure will be purchased with an agnostic data center, allowing management to create more effective and valuable cloud outputs. In addition, the data center will become more conceptual, and infrastructure optimization will be able to prevent vendor lockout.
Furthermore, managers can handle increased traffic while optimizing hardware and software. It will be critical in next-generation data centers to provide resources to the management layer smoothly regardless of the type of hardware dispersed, allowing clients to integrate with external technologies seamlessly.
Cabling for the future in data centers
There is no need for point-to-point cabling in next-generation data centers. Next-generation data centers will reduce installation costs by futureproofing their cabling, improving airflow and cooling, lowering energy and maintenance costs, and having fewer resources for finding and correcting data center cabling problems.
Distinction between next-generation and traditional data centers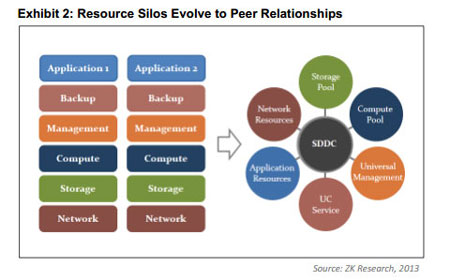 Fig 3: Evolution of traditional data centers into software-based futuristic data centers
Image credit: wikibon.com
In terms of functionality, next-generation and traditional data centers are very similar. Both data centers are designed to support and store a company's data and applications for duties such as file sharing and storage, efficiency programs, data analytics, and e-mail.
Nonetheless, next-generation and classic data centers differ in terms of configuration and performance. As previously said, next-generation data centers employ cutting-edge technology that allows for increased efficiency and performance.
Because of software-controlled management, these advanced data centers do not rely on hardware. Instead, robotics, multi-layered controls, automation, DCOS, SDDC, and other technologies help them.
Benefits of a next-generation data center
Next-generation data center technology will someday be useful in a variety of ways, including:
Flexibility
Because of software-defined technologies, the hardware layer does not limit next-generation data centers; suppliers can design their data centers to meet any need.
Increased security
Data administration is always concerned about security and safety; next-generation data centers offer numerous security enhancements. Managers can regulate entrance with enhanced automation, and data will be protected with a solid infrastructure.
Improved performance
A next-generation data center will deliver exceptional performance thanks to active resource distribution and enhanced efficiency. There isn't much space for error with fewer data centers services systems and interfaces.
Enterprises may have three or more data centers in public or entirely owned cloud infrastructure: an on-site or near-site edge data center, a local area data center, and a regional or national hyperscale data center. These physical locations will all work together to provide a unified cloud infrastructure that will benefit businesses of all sizes.
What does a next-generation data center mean for the user/consumer?
For starters, it implies improved connectivity, speed, reliability, and security for both businesses and consumers. Furthermore, with more extendable cabling that can be used for longer periods of time, next-generation data centers can assist in reducing costs when there are fewer workers, lower heating/cooling costs, and sell extra energy. However, the alterations are more profound.
Edge-based data centers of the future will usher in the age of broad IoT and 5G deployment.
Most of the technology we use every day, from smart home assistants to manufacturing sensors, will rely on a nearby data center (and its supporting data center network) in the near future. Large enterprises, such as hospitals, will be able to use cloud-based computing resources that they could never afford on-site, while smaller businesses will benefit from huge speed gains to unearth real-time insights provided by AI and machine learning algorithms.
In other words, data centers will be the foundation for society's advancement. Almost all technological developments will rely on at least hybrid cloud connectivity, and the growth of data center services will ensure that the current rate of progress can be maintained.
To know more about STL's Data Centers Network Services, click here.
Conclusion
To adapt to the cloud computing development trend, next-generation data centers, virtualized computing, storage, and other resources provide customers with dynamic resource deployment across the network. Cloud platforms rely on equipment and technology such as servers, storage, security, and software to come together to build the infrastructure.
The next-generation data center market is expected to grow by 10% between 2021 and 2030. Vendors now realize that the market wants to move toward a more responsive approach, and the benefits of next-generation data center services are critical for future growth in the data center business. The next-generation data center will be important in ensuring long-term evolution.
FAQs
1. What is a data center?
Data center is a hub that consists of virtual or physical servers that connect either internally or externally through the communication or networking equipment. It is used for storing, accessing or transferring digital information. Each of the servers within a data center has storage space, memory and processor. They offer security, efficiency, scalability and technology to the organizational data.
2. How are next-generation data centers different from traditional data centers?
The next-gen data centers are relying mostly on software technologies. It is because the logic layer embedded to these data centers will have better control over all of the virtual and physical resources. Moreover, the next-gen data centers will also be open for automation of the workflows and will reduce manual efforts. Finally, the implementation of ML concepts for breaking down the acquired data in real-time and adjusting the performance accordingly.
3. What are the needs for a next-generation data center?
There are specific needs for the next-generation data centers to be implemented successfully, which includes:
Implementation of procedures that can run automatically
The architecture of data centers must change to manage the machines, workloads and applications effectively.
Data centers must have a business focus architecture to deliver real-time solutions.
The infrastructure must be solid to secure and maintain data more efficiently.
Loose coupling is important to enhance scalability and flexibility.
4. What are edge data centers and why are they important?
Edge data centers are small and decentralized facilities which will provide computing and storage solutions in locations that's close to the place where data is being used and generated. It becomes a great approach as new applications can be enabled by lowering the latency and increasing the bandwidth.
5. How will next-generation data centers become more environmentally friendly?
As per specified plan of adaptation and growth, the next-generation data centers will soon be utilizing more of solar or other renewable energy resources. Moreover, they are also looking after innovative ways to reduce the usage of water, and capturing heat for converting it into energy.