The data consumption rate has grown exponentially in home, office, and on the move. The covid-19 pandemic that hit everyone in all corners of the world resulted in a significant increase in data traffic overnight. The dynamics of the business world have changed as a result of which the reliance of economic activities on digital infrastructure has reached its zenith. This has accelerated the need for 5G & FTTH network convergence to meet the data demands. The network operators are trying to optimize their investments to achieve maximum returns. In this blog, you shall learn about the impact of 5G & FTTH network convergence on the physical layer of fibre networks. The key topics include,
Data consumption trends
Fibre requirement for 5G roll-out
Fibre requirement for FTTH & P2P
Converged fibre requirements in distribution networks
Implementation challenges of converged fibre
Data consumption trends
When we take a look at the data consumption from the side of the end-user, we can clearly see there is a significant increase in both FTTH network and mobile data traffic. After the Covid-19 pandemic hit the entire world, people had to stay at home due to lockdowns, and work from home was adopted by all companies. This increased data usage, especially in terms of video viewing on YouTube and OTT platforms.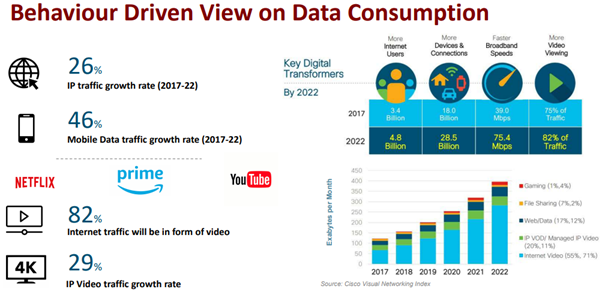 The 4K videos were the preferred quality which increased the traffic by 26%. Most people shopped online for all their daily needs, which increased mobile traffic by 46%. When we observe the data consumption trends from 2017-to 2022, it is clear that data demands will continue to rise, and existing network systems may not be able to cope with the surge. The copper DSL technology is slowly becoming obsolete, and FTTx has become the first choice for next-generation broadband by network operators. But covid-19 pandemic had created a different problem, where network operators were unable to install new FTTH networks due to lockdowns and other restrictions, making them lose out on subscribers. This leads to a very vital question, Are network operators future-ready?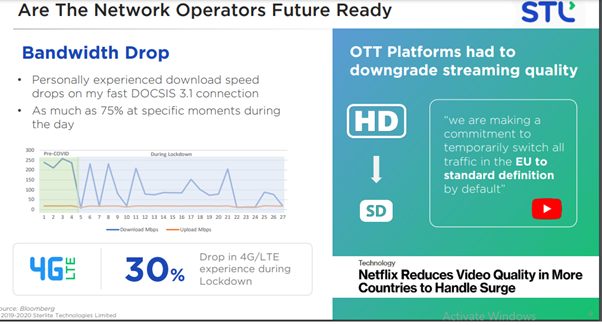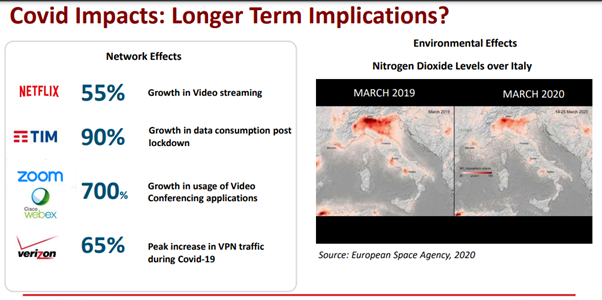 Fibre requirement for 5G roll-out
Is 5G the holy grail? 5G networks offer a host of advantages when compared to 3G and 4G. But, to provide the required bandwidth and successful implementation, small cells are needed to be closer to human hotspots as higher frequency penetration into the building is very bad. To deliver 5G promises, indoor offloading is mandatory. When we look at forecasting small cells in Europe for a full 5G rollout, we need
10x cell towers
3 operators per site in shared microsites
30-60% YoY Growth rate of
urban small cells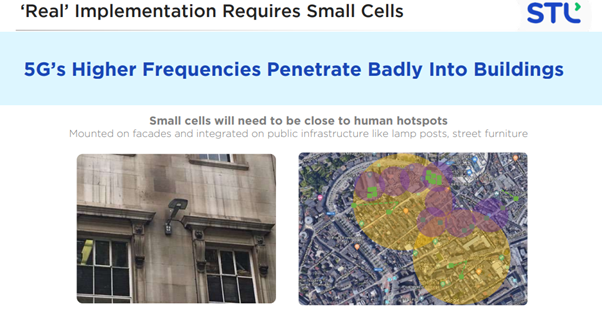 To facilitate the backhaul of small cells, around 6 million small cell sites are required to cover 5G across the EU. Additionally, around 12 million additional fibres are needed, i.e., 6million (small cell sites required to cover 5G across EU) x 2 (fibre per small cell).
5G Advantages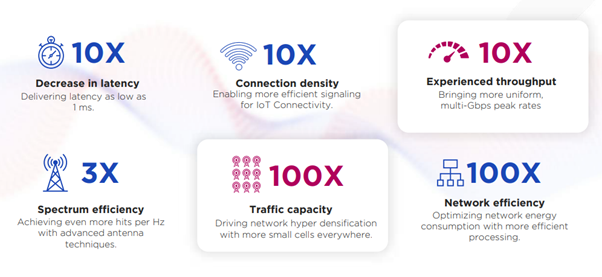 Fibre requirement for FTTH & P2P
FTTH is preferred chiefly in residential areas and P2P industries and other high-traffic areas. The fibre requirements vary at trunk, distribution, and drop regions in the FTTH network for residential spaces. When we assess FTTH requirements based on the EU scenario, 30% of households have an FTTH network connection, and 85% of connections have PON networks. When we take 220M households and 25M SMEs, we need approximately 15M FTTH distribution fibres. On the other hand, P2P distribution fibres required are around 50M to provide high bandwidth infrastructure across metro cities, corporations & enterprises, hospitals, transportation, and educational institutes.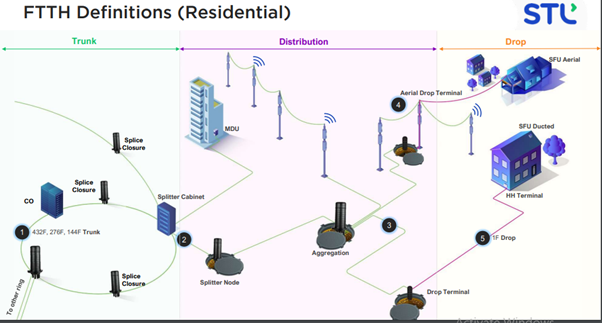 Converged fibre requirements in distribution networks
Distribution networks in both FTTH and P2P have dense fibre requirements when compared to trunk and drop regions. The main factors impacting fibre requirements are:
FTT-5G: Overlaying 5G over FTTH is possible but likely only cost-competitive when infrastructure work is required, and there will be some concerns about latency.
Point to Point: FTTH in a point-to-point architecture will be limited. However, it can hugely lift up the fibre count in the distribution part of the network (not included).
Shared Infrastructure: The trend that network infrastructure becomes a shared utility most times is included in the assumptions.
Suppose we use Fixed Wireless Access (26/60GHz), we can reduce the fibre requirement at the drop region, but still, the fibre requirements in distribution networks will remain more or less the same.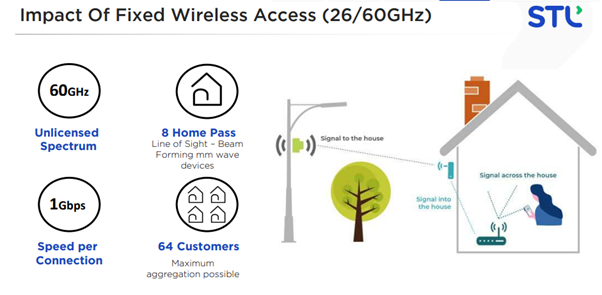 Implementation challenges of converged fibre
The major hurdle in large-scale fibre deployment for distributing networks is civil works which constitute around 80% of costs. The rest 20% of costs include ducts, cables, and other supplementary product installation. Also, there is a need for increased wavelength across the optical spectrum. The newer technologies demand PON networks to work at higher wavelengths. Building both 5G and FTTH networks together in terms of technology and service provider perspective is the only way to make the business flourish in the long run. The best solution for 5G and FTTH convergence is using a high-density cable design (Ribbon or Micro-Sheet) coupled with bend-insensitive fibre (G.657.A2). This will help in increasing the fibre density and reduce optical losses to enhance bandwidth and meet the data transfer needs.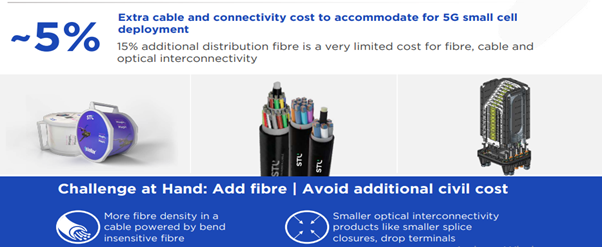 MFD mismatch between legacy fibre G.652.D and typical G.657.A2 can create splice losses due to variations in diameters between both fibres. STL has built a perfect solution by creating a new bend-insensitive fibre called Stellar, which combines both A2 bend-insensitive fibre performance and eliminates MFD mismatch with legacy fibre G.652.D. The combination of Stellar bend-insensitive fibre and new ribbon technologies will help immensely for 5G and FTTH convergence at reduced TCO.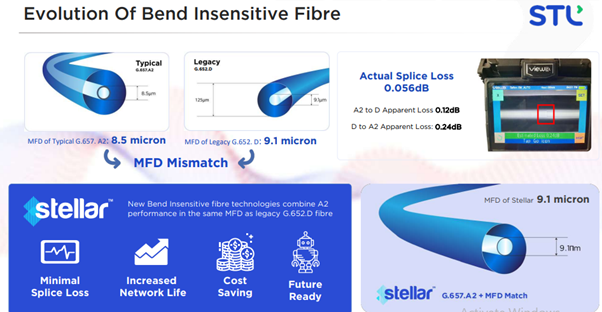 Conclusion
5G & FTTH Network convergence on a large scale requires both increases in fibre density through ribbon technology and replacing legacy fibres with advanced bend-insensitive fibres. The network operators have to be proactive and use a shared infrastructure approach to achieve 5G & FTTH network convergence so that people can enjoy high bandwidth and faster 5G internet for the next few decades.