Managed network services refer to delegating enterprises' networking applications, functions, and services to a managed service provider (MSP) for remote operation, monitoring, and maintenance. By outsourcing Managed Network Services, you can receive round-the-clock, year-round data and voice solutions, allowing you to concentrate on your primary business objectives. In addition, they assist you in expanding to additional locations, upgrading bandwidth, and overseeing your equipment. Essentially, their team becomes an extension of your own.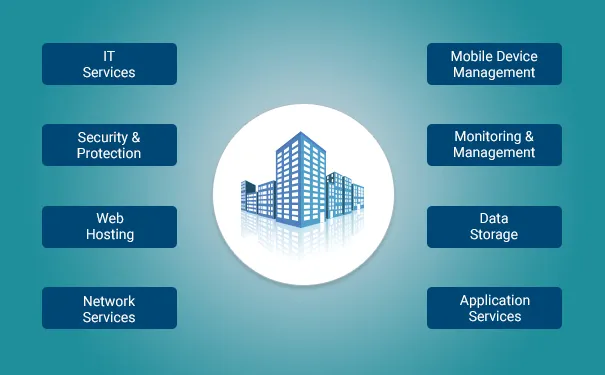 Figure 1: What are Managed Services?
Image source: Aperio
Managed Network Services encompass many network access and transport solutions, including traditional leased lines and modern alternatives like virtual network services and software-defined WAN (SD-WAN) connections.
The concept of managed services revolves around the idea of entrusting the management and operation of various network components to a specialized provider. This allows businesses to offload the responsibilities of network infrastructure maintenance, monitoring, and optimization, enabling them to focus on their core activities.
Under managed network services, service providers take care of tasks such as network design, installation, configuration, security, performance monitoring, troubleshooting, and ongoing maintenance. They ensure that the network remains reliable, secure, and optimized to meet the specific needs of the organization.
What Are The Main Reasons Why Enterprises Depend On Providers Of Managed Network Services?
The continuous expansion of the managed network services market can be primarily attributed to the imperative of digital transformation and the necessity to minimise capital expenditure. The projected growth of the global managed network services market from USD 57.4 billion in 2021 to USD 82.3 billion by 2026 underscores the significance of these factors.
Outsourcing network management to Managed Service Providers (MSPs) helps organizations tackle challenges associated with evolving technologies, the integration of legacy systems, and network expansion. MSPs offer specialized expertise, staying updated with the latest trends and best practices. They assist in implementing and integrating new technologies seamlessly, relieving the burden on in-house teams. MSPs also navigate the complexities of integrating legacy systems with modern networks. Additionally, they provide scalable network infrastructure and global capabilities to support business growth without extensive internal investments. By partnering with MSPs, organizations achieve operational efficiencies, optimize resource utilization, and focus on core operations, ultimately staying competitive in a rapidly evolving technological landscape.
Addressing Skill Gaps in Internal Network Management
Enterprises face challenges in meeting the demand for diverse network management skills and hiring specialised employees, leading them to prioritise strengthening core operations and product development. For instance, medium-sized retail or restaurant chains require skilled network engineers to design and implement SD-WAN solutions. Still, after achieving stability, the focus shifts to maintenance and updates.
Challenges In Resolving Network Problems Within A Setup Involving Multiple Vendors
Managing network issues in a complex multi-vendor setup poses challenges. Integrating various hardware, software, and bandwidth providers requires expertise from different specialists. For instance, troubleshooting performance problems with a retail store's point-of-sale (POS) machine involves tracing packets across multiple devices, networks, and ISPs. Coordinating troubleshooting with multiple vendors can drain the internal IT team's productivity and hinder routine tasks. By utilising managed network services, enterprises benefit from a single point of contact, eliminating the need to manage multiple SLAs. In addition, managed service providers ensure accountability and ownership for all solution components, resolving issues efficiently.
Constrained Geographic Coverage And Restricted Partner Accessibility
For retail chains, restaurants, financial services, and hospitality brands with multiple dispersed locations, relying solely on internal resources for IT/network operations is impractical. Internal engineers cannot travel extensively to address network issues at branch locations. The workload involved in network management often leads enterprises to prioritise their core businesses and opt for managed network service providers. These providers have valuable partnerships with network carriers, hardware OEMs, and software vendors, enabling them to handle large-scale network challenges. Some managed service providers also have a local presence across various states and geographies, offering extensive customer support.
Automation Of Network Operations
Automation plays a vital role in enhancing the efficiency and scalability of software delivery platforms. It minimises errors associated with manual operations and eliminates repetitive tasks. Managed network services incorporate technical domains such as AIOps, IT service management (ITSM), and network performance and diagnostic (NPMD) capabilities. Network operations automation must encompass all these layers to harness the benefits fully. In addition, automation significantly improves service requests related to change and configuration, event processing, and incident management. As a result, it benefits both service providers and IT organisations by delivering efficiencies, higher-quality services, and cost predictability.
The Role of Managed Service Providers (MSPs)
Managed Service Providers (MSPs) are vital in hosting and managing enterprise network services. They operate their own data centers and facilities, ranging from small, specialised providers to large telecommunications companies. MSPs offer managed network services with service-level agreements (SLAs) that outline performance and quality metrics. This ensures transparency and accountability in the partnership between MSPs and their clients.
MSPs leverage their expertise and advanced tools to optimise network infrastructure, ensuring seamless connectivity, high availability, and efficient performance. Their services encompass network security, data backup, monitoring, troubleshooting, design, and performance optimization. By partnering with MSPs, enterprises offload network management, focusing on core objectives. In addition, MSPs provide access to cutting-edge technologies and practices, eliminating the need for expensive infrastructure and specialised in-house teams.
Benefits of Managed Network Services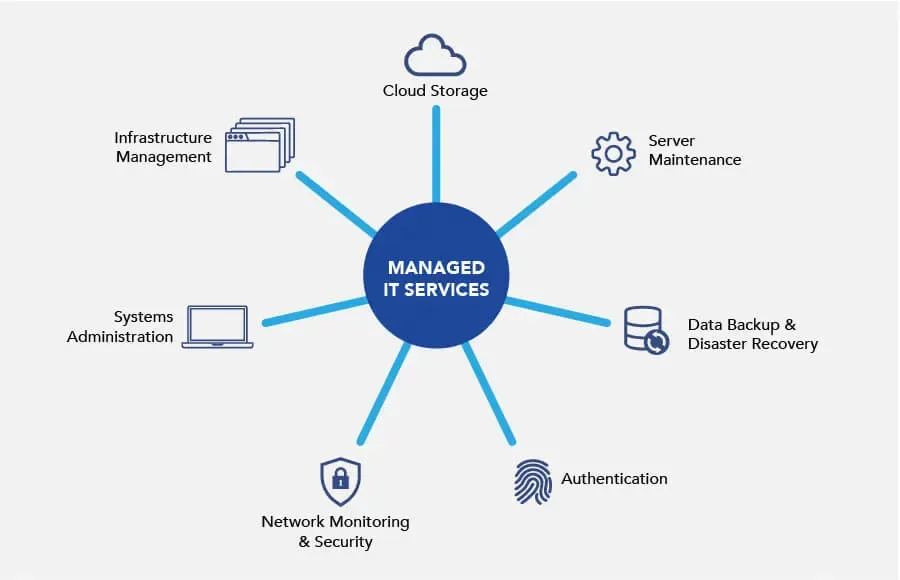 Figure 2: Benefits of Managed Services
Image source: HitachiSolutions
Small and medium-sized businesses rely on MSPs due to limited in-house IT capabilities and staff.
Managed network services provide access to IT and networking expertise without additional hiring.
MSPs handle various enterprise networking tasks, including integration, troubleshooting, technical support, and policy setting.
Companies can explore new technologies with reduced risks and complexity through managed network services.
Utilising MSPs allows existing IT staff to focus on other tasks, resulting in operational efficiency.
By taking a proactive approach, MSPs effectively oversee networks, potentially averting IT disruptions that could impact business operations.
Larger enterprises, organisations, and government agencies hire MSPs to supplement in-house IT staff when facing budget constraints and hiring limitations.
FAQs
1. What are some aspects of quality service delivery and customer experience management in managed network services?
Quality service delivery and customer experience management in managed network services involves several critical aspects. Adhering to service level agreements (SLAs) is paramount to ensuring customer satisfaction, as it demonstrates reliability and a commitment to meeting agreed-upon standards. Automation plays a key role in enhancing service delivery by streamlining operations and improving efficiency.
 
Offering a customer portal that provides real-time information on service requests, incidents, and performance allows customers to have visibility and control over their services. Proactive anomaly detection enables the early identification of network abnormalities, leading to quicker resolutions and minimized service disruptions.
Effective business impact management is crucial in addressing infrastructure issues within the context of their impact on the customer's business. Understanding the significance of these issues and aligning terminology and processes accordingly helps prioritize and address them more effectively.
 
By focusing on these aspects, managed network service providers can deliver quality service, meet customer expectations, and foster positive customer experiences.
2. What are the various types of Managed Services?
●      End user services
●      Infrastructure support
●      On-site services
●      Cloud services
●      Security services
●      Technology support.