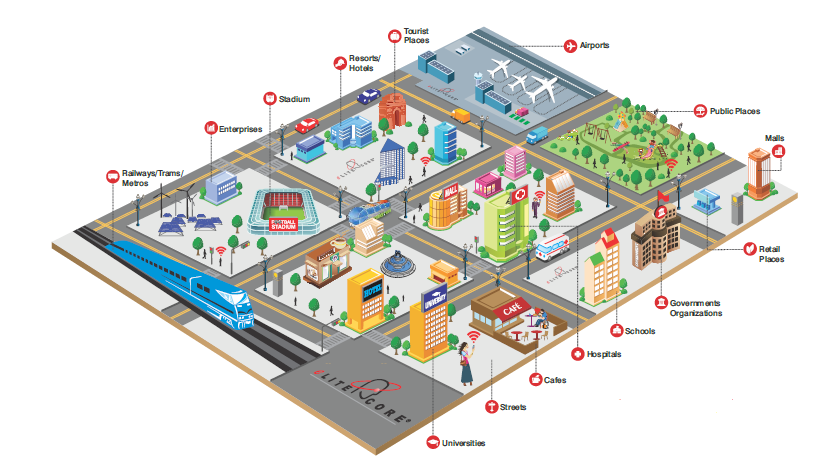 As communication technology is expanding its envelope of opportunities and possibilities, experts believe that Wi-Fi can be the connectivity fabric that can weave the concepts of Smart Cities of tomorrow and drive profitability for the Communications Service Providers and telecom operators. Powered by seamless communication exchange, smart cities are going to be amazing community hubs that will be more sustainable, efficient, and supportive of citizens information needs. The concept of smart communities is based on providing intelligent infrastructure solutions such as broadband, wireless connectivity, so that connected communities can thrive and open a new world of opportunities for the citizens. According to a market research, a city will be classified as a smart city only after it incorporates the feature sets of smart homes, smart buildings, smart energy, smart infrastructure, smart connectivity and security. Smart cities are supposed to provide next generation services that come supported with Information and Communication Technologies (ICT). Not only will the creation of smart cities generate huge value for the cities and their citizens, but great opportunities will also exist for the vendors and partners who help to create and operate these digitally smart cities of the future. However, the basic question which arises is how can partners such as infrastructure providers, technology and services companies, and communication providers gain more from their investments? And, what types of revenues can they generate by helping to create smart cities? This is where Wi-Fi can play a critical role in terms of helping the stakeholders monetize on their efforts.
Smart City and the Importance of Wi-Fi
All projects related to Smart Cities systematically involve the rollout of public Wi-Fi service for nomadic access. The best user experience is achieved through a transparent authentication process and the best practice is an instant access, based on the user's device. Wi-Fi also helps in enhancing user mobility and connectivity across public places. As far as monetization of smart city based applications is concerned, it can be done with the help of Wi-Fi connectivity. End users can be offered real time location based services, advertisements, promotional offers and helps operators with an analytics tool and reporting for effective monitoring on the impact of the services launched and enhance it based on the results. Through Wi-Fi a centralized information repository can be managed thus enabling real time citizen services. In such scenario, consumers will get what they are looking for and thus, it will be a win-win situation for the entire ecosystem.
Smart City Initiatives:
Few of the illustrative smart city programs across the countries are:
| | |
| --- | --- |
| | In China, three of the leading Service Providers have major smart city projects roll out in process. |
| | The United Arab Emirates are building an ambitious smart city from graze – Masdar City in Abu Dhabi aims to be the world's first city powered entirely by renewable energy sources. |
| | Indian Government has announced an ambition of 100 smart cities development across the country. |
| | Free Public Wi-Fi is getting launched at 1000 locations across UK, wherein the wireless networks will be a key ingredient in transforming Oxford to become a Smart City. |
| | Moscow wide Public Wi-Fi can be in place by the year 2018. Wi-Fi could be rolled out across the whole of Moscow in time for the 2018 FIFA World Cup, The project, called City Wi-Fi, is intended to "provide Moscow residents with a viable alternative to a network connection. |
| | Kansas City to Become North America's Largest 'Smart City'. The "Smart City" network is expected to use a public Wi-Fi system that would also be available to residents and visitors for free. |
How Elitecore Can Drive Wi-Fi for Smart Cities
Elitecore's comprehensive, modular and easy-to-deploy Wi-Fi Solution for Connected Smart Cities provides a platform for business and services innovation and enables cities to address the most critical issues of connectivity on-the-go by deploying city-wide Wi-Fi Hotspots, and provide seamless connectivity for Governance and Administration, Tourism, Energy, Recreational activities, Environment, Energy, IT & Communication, Infrastructure and Planning, Education and Healthcare Along with the Smart Solution across varied segments, Elitecore enables city municipalities to launch city-wide Wi-Fi offerings while providing anytime anywhere connectivity and access to smart services for citizen engagement and improved quality of life. Elitecore Wi-Fi Solution for Connected Smart Cities serves as the establishment for delivering next generation innovative services empowering government, businesses and citizens thus enabling a successful strategy to shape up the cities smarter. The transformation to Smart Cities will achieve its edge through an ecosystem that will bring together solution providers like Elitecore, IT enabler, new partners and integrators to unlock the tremendous value that emerges by addressing the complex requirements of the smart city market.
To know more on Elitecore's Solution for Connected Smart City Click here.