As more and more smart devices are coming bundled with intelligent Wi-Fi capabilities, developments in applications such as Wi-Fi Calling is making Carrier Grade Wi-Fi as a keystone to operators success towards ensuring customer retention and increasing in-door network coverage. According to research reports, the global hotspot numbers are expected to grow to more than 340 million – this would roughly translate to about one hotspot for every 20 people on Earth by the end of year 2018. As of today we have one hotspot for every 150 people, so Wi-Fi is surely going to spread its wings and hence experts firmly believe that operators need to future proof their network infrastructure by investing wisely in Wi-Fi today. GSMA on the other hand, has predicted that global carriers will "lose" 85% of mobile data traffic to Wi-Fi networks by the year 2018. In today's scenario end users want Wi-Fi connectivity for faster speeds at cheaper rates, and, with Wi-Fi calling getting actively deployed by a number of carriers, operators must start looking for delivering Wi-Fi calling for their customers as some of them already did.
Wi-Fi Calling Adoption
| | |
| --- | --- |
| | T-Mobile with Apple became the first major carrier to support Wi-Fi Calling with the release of iOS 8. This has clearly set completely new example of how Wi-Fi enabled calling can be provided in a seamless fashion and deliver ease of use to the end consumer |
| | AT&T and Verizon plans to support Wi-Fi calling in mid to late 2015 |
| | Sprint has announced support for Wi-Fi calling on the iPhone along with few android Samsung models |
| | Vodafone UK targets to launch Wi-Fi calling in the mid of year 2015 |
| | Taqua acquired partner Kineto Wireless to drive seamlessly delivery of voice over Wi-Fi and voice over LTE solutions for operators |
| | EE unveiled Wi-Fi calling with support for the Microsoft Lumia 640 |
| | Wi-Fi Calling is moving beyond telcos and as a example – Cablevision has launched "Freewheel" – a low-cost phone service that's based entirely on Wi-Fi connectivity providing data, voice and text on Wi-Fi |
Some of the front runners for global Wi-Fi calling adoption include: A number of operators in India including Airtel, Idea and RJIO are also keenly looking at Wi-Fi as a futuristic technology that can help them in terms of better monetizing their network.
Wi-Fi Calling – The Big Game Changer
As MNOs are continuously looking at how Wi-Fi can be combined with their traditional network infrastructure, Wi-Fi calling is definitely going to be a game changer in terms of reinventing the service provider business models, and help them towards rapidly expanding their coverage capabilities and also help towards customer retention as well. Moving ahead, Wi-Fi calling will have a profound impact on the services expected by residents and multifamily tenants. With the indoor coverage requirement in the residences, MNOs are now forced to deploy smart in-building solutions. In this scenario, Wi-Fi calling is ideally poised to further reduce the CapEx for the operator community.
Advantages of Wi-Fi Calling
HD Voice quality & text services with better indoor coverage
Seamless interworking & voice mobility support between legacy (3G/4G) and Wi-Fi networks
Secured EAP SIM / AKA authentication over 3GPP enabled SWm via 3GPP AAA
Customized policy decisions and supports different charging models
Wi-Fi Calling – A Catalyst for Carrier Wi-Fi Growth with innovative Business cases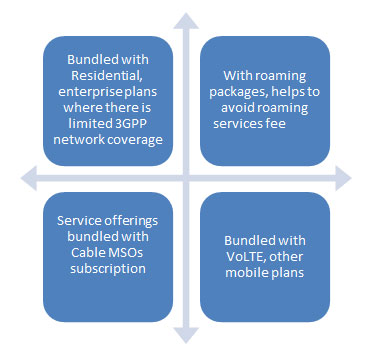 How Elitecore can help operators to enable Wi-Fi calling
Elitecore offers a comprehensive Service Management Platform (SMP) for Wi-Fi that enables MNOs to drive a converged solution for Wi-Fi Calling. The platform includes Converged 3GPP AAA for data and voice services, EAP-SIM / AKA, Non SIM devices authentication. It also helps in policy based information fetching and decision making to derive better QoS for the operator. Its Pre-integration high and vendor interoperability enables faster implementation and roll out of services as well as easily cater to varied policy application between IMS and Wi-Fi. For more information
http://www.elitecore.com/telecompractices/service-provider-wifi.html