We discuss the following topics in this blog:
Telecommunication sector is going through a rapid transformation.
What are the Factors Influencing Business Models?
What are the Benefits of Centralised Product Catalogue?
In addition to these topics, we shall also be answering the following FAQs:
What is WiFi?
What is an Optical Fibre Cable?
Overview
The telecommunication sector is going through a rapid transformation. The reason for this can be attributed to technology development, deeper penetration of mobile handsets in remote areas, cut-throat competition between the communications service providers and digital-savvy customers.
It is therefore very important that the industry which is driving this digital transformation moves even faster to cater to the needs of a changing digital world. Today, customers are at the centre of data-driven digital world. They are now more aware, tech-savvy and demand highly personalised services and better value for money.
What are the Factors Influencing Business Models?
Three major reasons for changing business models:
New opportunities
Competition
Customer expectations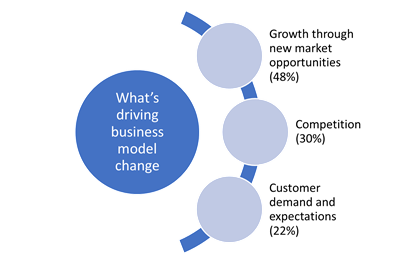 In order to stay relevant today and future-ready for tomorrow, telcos need to be capable to provide good and speedy services, great value for money and an awesome customer experience. Strategies of the past are now obsolete and a "lone wolf" approach will not work anymore. Today, business is all about customer/partner engagement and the service providers need to embrace systems that enable partnerships to provide better value to the customers.
Global Digital BSS Market is expected to rise from its initial estimated value of $2.74 bn in 2018 to an estimated value of $8.82 bn by 2026, registering a CAGR of 15.75%.
Source: Data Bridge Market Research
The road to digital transformation starts from investing in a centralised product catalogue – the soul of the OSS/BSS ecosystem. It provides a complete ecosystem for bundling and cataloguing digital services and products. This is possible due to its architecture where a single master enterprise-wide database within which all the products, their definitions and specifications would be stored. All third party systems probe this centralised database via APIs to gain access to any data that would be required to fulfil any requests.
What are the Benefits of Centralised Product Catalogue?
Agility for Market Readiness: An old adage says that the early bird catches the worm. How fast operators can launch a new plan or provide a counteroffer or product in response to their competitors impacts their growth and their relevance in the market. The product "concept to catalogue" that used to take weeks or even months earlier can now be done in a few hours.
Improved Offerings: It enables providers to create simple homogeneous plans to the most complex heterogeneous ones comprising bundled services, equipment and offers. With a single system to manage the entire portfolio, Digital Service Providers (DSPs) are able to have exclusive propositions for targeting retail and enterprise customers and partners.
New Vistas for Revenue Growth: Businesses are transforming and the "go-it-alone" approach is waning out. The centralised product catalogue presents opportunities to create an entire business ecosystem where multiple partners come together using open architecture to combine their products, services and platforms as a complete package targeting wider customer base. This results in a win-win situation for all to deliver price-effective solutions, boost sales and increase revenue. Such an eco-system also makes them 5G-ready to roll-out IoT-enabled services such as Smart Factory, Fleet Management and so on.
Customer Centricity: It easily integrates with the customer engagement platform to provide a seamless user experience. Customercentricity revolves around people who use the system to create plans and approve it, partners whose products and services are being offered, and customers who buy it.
Operators: It provides intuitive orchestration interfaces to people who create plans. It provides them preview features to see how the plan is approached by the end-customer.
Approvers: It provides a comprehensive view and ease of making changes, if necessary, before approval.
Partners: It provides opportunities to collaborate and spearhead co-creation of innovative services. A centralised catalogue is critical in creating an entire business ecosystem, where all partners can engage with each other for mutual benefit.
End-users: It provides end-users the right to choose and enables a seamless experience across multiple channels. With extensive, well-categorised options available, it is easy for the end-user to choose as per desire and affordability, without bothering about compatibility issues of products and services.
Reduction in OpEx: The legacy architecture of OSS/BSS has resulted in high OpEx considering the number of systems to be maintained, diverse skill-sets required for operation, testing post-integration and also the overall time taken. As per research findings, BSS with unified catalogue has minimised the cost of overall time to market by around 198%.
Operational Efficacy: Different dashboards are available in real-time for monitoring, governing and strategic decision-making based on the personas using the system. This can be used to make services more effective, identify what sells, and prepare strategies based on facts and figures. A digital catalogue also provides total visibility of the entire portfolio in a categorised manner in a single view.
Moving forward, CSPs have to transform into digital service providers and adopt the catalogue-driven approach to ensure customer-centricity. It no longer remains a choice but a compulsion to thrive in the current market and benefit from prospects that await at the threshold of 5G technology.
Are you a Telecom Operator or a CSP looking for Catalogue-driven BSS? Feel free to write to us at hello.dawn@stl.tech
FAQs
What is WiFi?
Put simply, WiFi is a technology that uses radio waves to create a wireless network through which devices like mobile phones, computers, printers, etc., connect to the internet. A wireless router is needed to establish a WiFi hotspot that people in its vicinity may use to access internet services. You're sure to have encountered such a WiFi hotspot in houses, offices, restaurants, etc.
To get a little more technical, WiFi works by enabling a Wireless Local Area Network or WLAN that allows devices connected to it to exchange signals with the internet via a router. The frequencies of these signals are either 2.4 GHz or 5 GHz bandwidths. These frequencies are much higher than those transmitted to or by radios, mobile phones, and televisions since WiFi signals need to carry significantly higher amounts of data. The networking standards are variants of 802.11, of which there are several (802.11a, 802.11b, 801.11g, etc.).

What is an Optical Fibre Cable?
An optical fibre cable is a cable type that has a few to hundreds of optical fibres bundled together within a protective plastic coating. They help carry digital data in the form of light pulses across large distances at faster speeds. For this, they need to be installed or deployed either underground or aerially. Standalone fibres cannot be buried or hanged so fibres are bunched together as cables for the transmission of data.
This is done to protect the fibre from stress, moisture, temperature changes and other externalities. There are three main components of a optical fibre cable, core (It carries the light and is made of pure silicon dioxide (SiO2) with dopants such as germania, phosphorous pentoxide, or alumina to raise the refractive index; Typical glass cores range from as small as 3.7um up to 200um), Cladding (Cladding surrounds the core and has a lower refractive index than the core, it is also made from the same material as the core; 1% refractive index difference is maintained between the core and cladding; Two commonly used diameters are 125µm and 140µm) and Coating (Protective layer that absorbs shocks, physical damage and moisture; The outside diameter of the coating is typically either 250µm or 500µm; Commonly used material for coatings are acrylate,Silicone, carbon, and polyimide).
An optical fibre cable is made up of the following components: Optical fibres – ranging from one to many. Buffer tubes (with different settings), for protection and cushioning of the fibre. Water protection in the tubes – wet or dry. A central strength member (CSM) is the backbone of all cables. Armoured tapes for stranding to bunch the buffer tubes and strength members together. Sheathing or final covering to provide further protection.
The five main reasons that make this technology innovation disruptive are fast communication speed, infinite bandwidth & capacity, low interference, high tensile strength and secure communication. The major usescases of optical fibre cables include intenet connectivity, computer networking, surgery & dentistry, automotive industry, telephony, lighting & decorations, mechanical inspections, cable television, military applications and space.