More companies are resorting to managed security services to get security expertise while reducing the strain on their in-house security personnel. As firms struggle to maintain various complex software systems and advanced corporate networks, the usage of managed services is increasing. One specialized area of enterprise outsourcing is developing and maintaining cyber defenses to safeguard digital assets against ever-changing security threats.
The market for managed security services is expanding due to the growing complexity of current cybersecurity systems, which necessitates the implementation of well-thought-out security policies, incident response plans, and recovery procedures.
In 2021, the managed security services industry was estimated to be worth roughly USD 23.2 billion. The managed security services market is divided by deployment methods such as cloud and on-premise, managed security service providers, and the end-user sector. Managed security service providers (MSSPs) often offer managed security services (MSS) to their customers to manage their information technology (IT) infrastructure.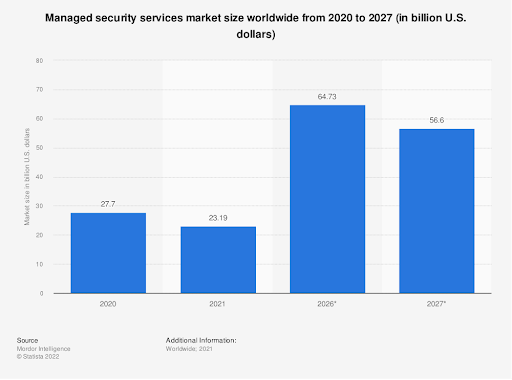 What are managed security services?
Third-party companies provide managed security services to supervise and administer a company's security operations. Managed security service providers (MSSPs) deliver services in-house or remotely, generally through the cloud. MSSPs provide many security services, from infrastructure setup to security management and incident response. Most managed security service providers engage in certain areas, while others outsource an enterprise's information security program entirely.
Organizations opt to collaborate with MSSPs for various reasons, including a lack of in-house security resources or knowledge and the necessity for security management and monitoring outside regular operating hours. In other circumstances, businesses will contract with managed security service providers to undertake security audits.
Why Should You Use Managed Security Services?
Despite growing awareness of the importance of proactive security measures, many businesses continue to postpone implementing concrete security measures until they have incurred a loss due to a data breach. However, as cyber threats grow, companies must address IT security. Managed security service providers are a good choice for organizations that lack security program maturity or simply wish to increase their security capabilities because:
Managed security services provide round-the-clock monitoring 24 hours a day, seven days a week, and 365 days a year. Managing company security in-house rather than outsourcing necessitates a significant investment in staff and technology.
Cyber threats grow at an alarming rate, resulting in one new danger after another. Keeping up with developing risks, addressing threats as they occur, and recovering from events caught too late may all take significant resources without the correct security tools and resources.
Most MSSPs have global operations, and their concentration on threat monitoring gives them a significant edge over firms with the main business function unconnected to security and technology. As a result, MSSPs are experts in early threat detection.
Detecting a breach after the occurrence can be disastrous for firms that handle a large quantity of sensitive information or proprietary data. Managed security solutions are more than simply spot checks; they are ongoing. They can detect disruptions as they occur, thanks to continual monitoring. They even assess the firewall's strength using a blend of manual and automated penetration testing.
MSSPs use powerful analytics for monitoring and administration via near-real-time data correlation across major firewall technologies. They also prevent illegal network access and data theft with network IDPS monitoring, alerting, and support throughout the infrastructure.
One of the significant advantages of managed security services is that there are no false positives. Security professionals daily deal with various cybersecurity warnings generated by multiple security systems installed within their businesses. In rare circumstances, the warnings are useless or require more information to take action. This false-positive raises the likelihood that the real threat will go undetected.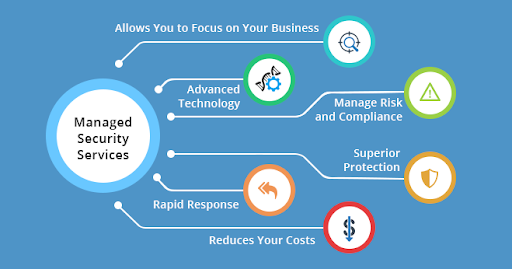 Another major benefit of hiring an MSSP is that these vendors can perform vulnerability and penetration testing, conduct security scans regularly, and handle other security management tasks for the enterprise, freeing up enterprise IT to focus on security program supervision and other operations that advance enterprise goals.
Why Should You Hire a Managed Security Service Provider (MSSP)?
The key advantage of managed security services is the additional security experience and manpower they provide. The ability of MSSPs to handle security operations from off-site locations enables organizations to conduct business as usual with minimal disruption from security efforts. At the same time, the MSSP interface maintains a continuous line of communication and streamlines reporting to the company. In addition, MSSPs keep business IT informed of security concerns, audits, and maintenance status, allowing the hiring company to concentrate on security management rather than administrative responsibilities.
MSSPs now provide a wide range of security services, ranging from full outsourcing of security programs to specialized services that focus on a single component of the enterprise's security, such as data protection, threat monitoring, monitoring network security tools, regulatory compliance, and incident response. Outsourcing security saves businesses money by reducing the need to retain a full-time, on-site IT security team. Many enterprises also turn to managed security service providers (MSSPs) for speedier deployment timelines and increased time-to-value on security expenditures.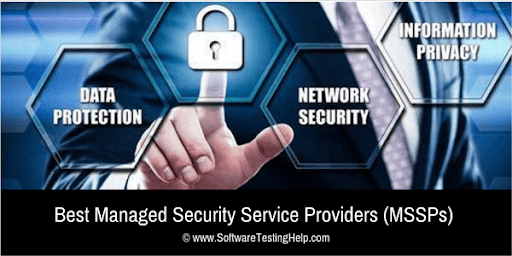 Patch Management
Patch management is one of the most significant approaches to battling malware and other IT security threats. Patch management is another security task that may be readily delegated to a service provider.
Managed security service providers must remain on top of security vulnerabilities, including the most recent patch releases. In addition, they have access to and experience with automated endpoint scanning, patch procurement, and deployment solutions for many vendors.
Furthermore, these service providers recognize the need for change management at every level of the patch management process. They have extensive experience assisting firms in integrating their patch management system with their change management plan.
MSSP Key Trends
Though demand for pure-play MSSP players will increase, one of the crucial trends that will emerge is product-specific managed services from product suppliers rather than pure-play service providers. Besides feature capabilities, managed security services and delivery are essential components of the total security product offering.
Some of the primary reasons for this tendency are that security necessitates specialized knowledge, and management skills are best provided by OEM manufacturers centered on their products. Nevertheless, the pure-play MSSP will continue to provide comprehensive managed security services that handle numerous products, and it will drive and demand more.
Your organization may have operational tools and processes in place, but it might benefit from the assistance of trustworthy security advisers. Managed security services may enhance your security program by providing customized services such as cloud, threat, infrastructure, data, identity, and response management.