We live by our values
Hunger to Learn is one of our core values, something that as STLers we have always held close to our hearts. We do not look at learning as a "one-time process" that begins and ends, but as an everlasting, truly enjoyable journey. No matter if someone is 25-days or 25 years old at STL, we learn and grow alike all along the journey.
Helping STLers create their own learning path
To drive continuous learning and upskilling across STL, we empower STLers to kindle their own fire for learning. Therefore, they self-design their learning journeys and include milestones that resonate with their learning needs. This makes training need identification a fruitful exercise tailored to an individual's unique learning requirements. Simultaneously, we also integrate the recommendations from the leadership and respective managers to enhance the value of a program. As they say, good thoughts and actions never produce bad results. The exercise of identifying training needs helps create a robust and comprehensive Global Learning Catalogue.
What's inside our learning suite?
Our unique Learning Suite aligns an individual's learning requirements with the overall vision of STL. As part of the learning suite, we have programs such as ACT UP, Evolve, Accelerate, Elevate, People First, and the Learning Architecture.
ACT Up provides STL's young talent a golden opportunity to pitch transformational ideas to the organization's leadership. High-potential programs like Evolve and Accelerate help us develop and nurture high-potential talent. To acknowledge the managers who act as a light to help their team members see, we launched People First. As part of this program, an identified group of managers goes through a meticulous learning journey. Upon successful completion of their journey, those managers act as agents to drive meaningful changes across STL. The top Leadership goes through a program called Elevate that brings them world-class learnings that they can directly integrate into their strategies and experiences. The Learning Architecture offers a suite of over 30+ programs cutting across professional and leadership competencies to cater to the learning needs of all employees across STL globally.
Beyond these programs, we cultivate a growth mindset by asking STLers to constantly challenge the status quo, try fast, and fail fast! Our numbers are proof that we walk the talk. We have already crossed a landmark of 40,000 learning hours, 88+ certified STLer managers, 60+ career movements through ACT Up, and 25 Innovation Coaches who closed last year! We also felicitated 35 participants as part of "Accelerate," another 32 participants as part of "Evolve," and 40+ are pursuing Elevate currently!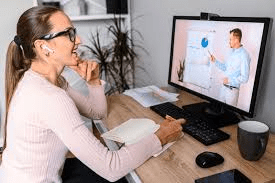 STL Academy: Creating a 5G ready, Digitally aware India
The story of learning at STL remains incomplete without the mention of STL Academy. Founded in 2015, the Academy initially focused on training professionals on fiber deployment capabilities. In no time, the inevitable transition to training people for the future of digital networks happened. In line with its Develop, Train, and Deploy model, STL Academy aspires to position India as a hub for digital talent.
With a proven track record of training more than 100,000 professionals, including 1500+ defense personnel in a short time, the Academy aspires to increase the number by 10x by 2024. Indeed, a target to aspire for! STL Academy added another feather to its cap by signing an MOU with NASSCOM to upskill STLers and mobilize 100,000 youth under the NASSCOM skill project. However, entering the prestigious Guinness Book of World Records twice will always remain a milestone achievement for STL Academy. 5G Empower, a path-breaking initiative by the Academy to train 1 million women on 5G technology, witnessed a record 1,19,000 registrations. STL Academy exceeded expectations yet another time by providing training and certifications to 5868 participants in 24 hours only!
Project Savdhaan: For the greater good of the community
Even during the uncertain times of the pandemic, STL held the torch of learning high. STL Academy came forward to do its bit for the Indian community by launching Project Savdhaan. For this project, the Academy collaborated with the Telangana Academy for Skill and Knowledge (TASK), Infrastructure Equipment Skill Council (IESC), and Telecom Sector Skill Council (TSSC) to conduct an online COVID-19 awareness workshop. The workshop was conducted by medical experts who shared their knowledge with over 100,000 youth on topics like social distancing, community measures for preventing the spread of Coronavirus, social distancing, etc. STL also conducted awareness sessions for the rural population in Dadra and Rakholi, Silvassa, to help them clarify the commonly held misconceptions about COVID.
We are unstoppable, and so is our hunger to learn
We encourage STLers to push their limits continuously and learn, unlearn, and relearn as much as possible. Our tie-ups with renowned e-learning platforms like Udemy and EdX ensure that STLers have 24×7 access to a comprehensive repository of knowledge. A random walk on STL floors anywhere in the world might come as a pleasant surprise. You can always find non-technical folks discussing 5G and fiber-like pros. Thanks to TechWise, our in-built storehouse of snackable e-learning courses, STLers can learn on the go!