We discuss the following topics in this blog:
Complex networking requires competent networks
How can our Secret SLAUCE help?
Parameters of SLAUCE
In addition to these topics, we shall also be answering the following FAQs:
What is WiFi?
What is Open RAN?
Networks Need to Get More Competent
We all know the demand-side pressures on the data networks. Data guzzling use cases are here and are waiting to be scaled en masse. The current crisis has accelerated the adoption process of these new use cases. Now use cases like e-education, telemedicine, virtual workplaces are not mere concepts. Service providers now need to make these use cases available, with top-notch customer experience, almost immediately. This necessitates an evolution in data networks.
According to Cisco, the world is poised to see the following trends
14.6 Bn connected devices by 2022
12X increase in immersive traffic by 2022
82% video-driven traffic
50% of the workload run closer to the user
5+ exabytes of SD traffic by 2022
For Telecom Service Providers, data networks are actually the defining factor for digital leadership. Networks are not about the immediately next technology, but about readiness for an unpredictably bright future.
So, our networks not only need to rise to the occasion, but also need to become future ready. But what defines future readiness when the future is itself so uncertain? Future readiness, is then, defined by the sheer ease and speed with which the network can adapt to newer demands and live up to newer imperatives. But data networks have always been considered as legacy, monolithic creatures. Building networks that have these super powers can be a tough ask!
How Can Our 'Secret SLAUCE' Make This Happen?
SLAUCE is a concept that will tell you, how future ready your data networks are and should be. SLAUCE competent data networks will give the services providers the competitive edge and will unlock scalability and monetization for their data networks. The SLAUCE concept talks about an Ideal End State of Data Networks. We need to imagine the 'ideal' to achieve perfection. In that sense SLAUCE is nothing but – Network Nirvana!!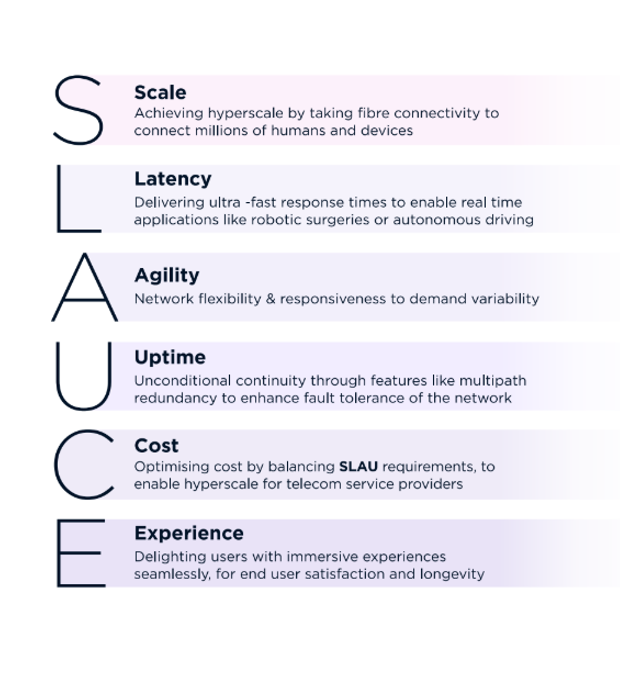 These SLAUCE parameters of Scale, Latency, Agility, Uptime, Cost and Experience are the key to designing and building future ready data networks. Even one of these is not dispensable. Service providers have to optimise all the SLAUCE imperatives to maximise the returns on their networks. This principle of SLAUCE applies to a variety of networks – be it a hyper converged core or programmable access networks or dense FTTx networks, SLAUCE is the one answer of
Is SLAUCE Realistically Achievable?
Yes it is! But great things like SLAUCE do not happen by accident or chance. They have to be achieved by DESIGN. In this case we are talking about NETWORK DESIGN.
STL has a way of designing SLAUCE COMPETENT networks with its unique design philosophy. We will delve deeper into Network Design as a key for SLAUCE in our subsequent blog!
FAQs
What is WiFi?
Put simply, WiFi is a technology that uses radio waves to create a wireless network through which devices like mobile phones, computers, printers, etc., connect to the internet. A wireless router is needed to establish a WiFi hotspot that people in its vicinity may use to access internet services. You're sure to have encountered such a WiFi hotspot in houses, offices, restaurants, etc.
To get a little more technical, WiFi works by enabling a Wireless Local Area Network or WLAN that allows devices connected to it to exchange signals with the internet via a router. The frequencies of these signals are either 2.4 GHz or 5 GHz bandwidths. These frequencies are much higher than those transmitted to or by radios, mobile phones, and televisions since WiFi signals need to carry significantly higher amounts of data. The networking standards are variants of 802.11, of which there are several (802.11a, 802.11b, 801.11g, etc.).
What is Open RAN?
From a deployment standpoint, we have Non-Standalone Mode(NSA), Dynamic Spectrum Sharing(DSS), and Standalone Mode (SA). The initial deployments of 5G NR are based on NSA standards, meaning the existing 4G LTE network will operate on the control plane, and 5G NR will be introduced to the user plane.
This particular standard was introduced by 3GPP, keeping in mind the industry's push to faster 5G services rollout while utilizing the existing 4G LTE infrastructure currently in place. On the other hand, operators are also implementing Dynamic Spectrum Sharing (DSS) to accelerate the deployment cycle, which will reduce costs and improve spectrum utilization. In this standard, the same spectrum is shared between the 5G NR and 4G LTE, multiplexing over time per user demands. Lastly, we have the Standalone Mode (SA), which moves towards a complete 5G based network where both signaling and the information transfer are driven by a 5G cell.