India started providing 5G services in October. While Vi (formerly Vodafone Idea) took a back seat, Reliance Jio and Airtel both announced big plans to lead India's 5G revolution. As a result, India's top two telecom companies have now collectively introduced 5G services in around 50 Indian cities, making the latest wireless technology accessible to everyone. Union Telecom Minister Ashwini Vaishnaw revealed the information during the parliamentary question period. The list of all 50 cities with 5G network services is provided below:
Noida
Delhi
Greater Noida
Siliguri
Gurugram
Bengaluru
Hyderabad
Varanasi
Mumbai
Nagpur
Chennai
Gurugram
Panipat
Guwahati
Patna
Hyderabad
Bengaluru
Faridabad
Kolkata
Chennai
Nathdwara
Pune
All 33-district headquarters of Gujarat
What 5G preparations are Indian operators making?
India's network operators are collaborating with various equipment vendors on government-approved field experiments to examine how 5G networks will function in the real world and to gather experience designing and running them. In order to be ready for the increased traffic loads that 5G radio interfaces will support, they are also improving their network cores.
In 2016, Jio introduced its 4G service, eschewing the 2G and 3G networks provided by competitors Airtel, Vodafone Idea, and BSNL. It now hopes its cutting-edge network architecture will help it become one of the first providers of 5G service. Jio had the essential network and backhaul infrastructure in place, according to strategy head Anshuman Thakur in September 2019. Jio merely needed to invest in spectrum and equipment. Additionally, Jio is the only operator with an all-IP network, which is necessary to introduce 5G services. It has announced that it will expand its agreements for 5G trials to include Huawei, Ericsson, and Nokia in addition to conducting 5G trials with Samsung, the manufacturer of its 4G network.
In order to boost Jio's upgrade, Google said in July 2020 that it would invest 337 billion (or $4.5 billion) in the operator. In a business deal, Google and Jio agreed to collaborate on a budget Android phone with 4G and possibly 5G capabilities.
Jio used indigenous technologies to create its end-to-end 5G solutions from the ground up. Although it hasn't released any information about its 5G solution, it anticipates positioning itself to export 5G systems as fully managed services shortly.
Google also disclosed its intention to make a $1 billion investment in Airtel in the first quarter of 2022, of which $700 million will be used to buy a 1.3% interest in the telecom firm. In its trials, Airtel has stated that it will collaborate with Huawei, ZTE, Ericsson, and Nokia. It has signed agreements with Cisco and Ericsson to accelerate its core network in preparation for 5G service. It has deployed 100 hops of Huawei-provided 5G technology transmission equipment, with its backhaul capacity being increased by a factor of four.
To demonstrate a variety of enterprise-grade use cases employing high-speed and low-latency networks, Airtel recently announced its #5Gforbusiness project. To test 5G-based solutions, Airtel will collaborate with businesses like Apollo Hospitals, Flipkart, and many manufacturing firms. Airtel will use a 5G test spectrum to implement these technologies, which can be used for things like smart factories, smart healthcare, and AR/VR. In addition, both on user sites and at Airtel's cutting-edge 5G facility in Gurgaon, use-case demos will be conducted.
The Department of Telecommunications (DoT) established a group in November 2021 to plan the commercialization and monetization of 5G and the locally created 5G standard. The group gathered opinions on both technologies from stakeholders, such as telecom operators and network providers.

How will 5G help transform India?
There are numerous 5G applications and benefits that can transform India. Some are mentioned below:
Consumers should expect 5G to deliver faster data rates than 4G. For example, Internet speeds on 5G could reach up to 10 Gbps at its maximum, contrary to the 100 Mbps high on 4G.
Remote and rural places across the country will have seamless connectivity owing to 5G technology. As a result, energy, spectrum, and network efficiency will all rise massively.
Additional technological improvements brought on by 5G comprise Virtual Reality (VR), Augmented Reality (AR), and others. These technologies will all significantly impact healthcare, agriculture, education, disaster management, and various other sectors.
The domain of transportation and mobility will also transform drastically, with 5G being introduced. To boost the economic viability of the EV ecosystem, a grid of EVs and charging stations can be built using 5G.
Additionally, the next-generation 5G network will make remote work more effortless. Smart buildings powered by 5G can assist in creating a more relaxed working atmosphere for the staff, boosting productivity and reducing costs for companies.
The next-generation 5G technology will impact the production and distribution of goods. Reduced costs, less downtime, little waste, and improved production are some of the ways 5G is being utilized in the industrial sector. The logistics cost is expected to fall from 13–14% to 5% with the advent of 5G.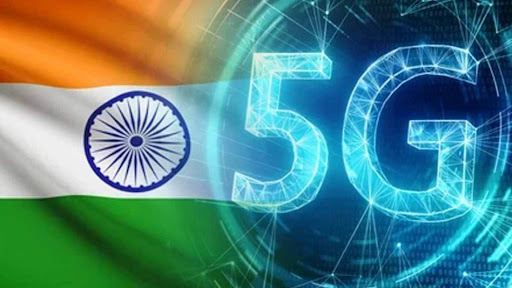 What is the way forward for 5G in India?
5G services have many benefits and prospects, but there are also a few drawbacks. The following are some anticipated challenges and some probable solutions:
Financial Aid: Due to the high cost of 5G technology implementation, both the central government and state governments may need to permit investment flows through public-private partnerships (PPPs) and allow investment funds with low-interest rates. Additionally, the government may need to accept all foreign direct investment in the telecom industry.
Taxation: To help operators pay for the 5G deployment of equipment, the federal and state governments may levy specific levies. Eliminating the tax burden connected with building fibre networks in India will help to lower associated costs and encourage investment.
Prices: The spectrum bands are entirely under government control. Keeping these spectrum designs under control will help keep consumer pricing under control. Pricing must be reasonable and maintained to control the sector's financial strain. For rural connectivity and rural inclusion as well, the pricing must be tenable.
Infrastructure readiness: The fiberization of sites and the required number of towers are far behind the optimum scenario before the launch of 5G. Investments must be made to densify networks by providing fibre, tiny cells, and sharing active infrastructure if they are to be successful. India has a significantly lower fibre kilometre (fkm) per capita compared to other important markets. The Indian government will establish a National Fibre Authority (NFA) to oversee fiberization.

India has a lot of potential for 5G, but approvals and laws supporting 5G infrastructure development must be established and expedited.