China topped the list of Digital Risers for 2021 and was followed by Saudi Arabia and Brazil. When it comes to the two global digital superpowers, China managed to gain considerably in digital competitiveness while the United States lost out over the same period. Digital transformation has made its presence felt, particularly in the Asia-Pacific region, which accounted for a full 50 percent of the global internet user base by 2019.
Digitalization in Asia
McKinsey Global Institute (MGI) mentions that the world was Europeanized in the nineteenth century, Americanized in the twentieth century, and is now Asianized. Rapid digitalization in Asian countries is one of the key contributions to this trend. The internet economy of Southeast Asia hit $100 billion in 2019 and is likely to go up in the future. Google, Temasek, and Bain, in their e-Conomy SEA 2019 report, state that Southeast Asia's digital economy will reach $300 billion by 2025. Moreover, an estimated 70% of the region's new economic value developed over the next decade is set to be based on digitally enabled platforms. Previously this would have meant that the economies of the region shall be vulnerable to domination by major tech groups of the West, especially the ones based in the United States. But today, Asia is embracing digital evolution on its own terms. In fact, some of the largest tech investors and companies are based in the region. Japan's Softbank, China's Alibaba, Baidu, and Tencent, as well as Indonesia's Go-Jek, are offering an expansive range of services, starting from cloud computing, fintech to eCommerce,
Asian nations are exploiting recent advances in big data, cryptography, robotics, and artificial intelligence (AI) to reshape the global economy and alter the way people work and live. The digital revolution is rippling across various industries on the continent, including transportation, manufacturing, banking, and retailing.
eCommerce has been one of the prime digital successes of China in the last decade. This is not only due to the technology itself but also because it supported the creation of tens of millions of small businesses across the nation. The enormous population of China and its ability to collect high amounts of data work to its advantage. Much like telecom companies, internet companies ideally thrive in regions where populations are large. They make a bit of money from a large number of people. As a result, the biggest opportunities for digitalization lie in countries like Indonesia, India, and China. After all, the latter two have the largest populations in the world.
Digitalization during the COVID-19 pandemic
The COVID-19 pandemic caused the global economy to contract by around 4.4%. However, digitalization is one trend that accelerated across the planet during the same time. As nations faced shutdowns of entire industries, school closures, and repeated lockdowns, digital capabilities became more essential than ever. A high level of digitalization was needed for work-from-home, remote schooling, eCommerce, and more.
Stand out Economies
Three economies, South Korea, Singapore, and Hong Kong, showed high levels of existing digitalization and maintained a robust momentum in advancing their digital capabilities. The United Arab Emirates and Taiwan also came under "stand-out economies," which demonstrated institution-led support for innovation during the pandemic. Most of these countries prioritized:
Attracting, training, and retaining digital talent
Increase in the adoption of digital consumer tools
Support for digital entrepreneurial ventures
Making fast terrestrial and mobile broadband internet access possible
Facilitate the export of digital services, media, and goods
Break out economies
Many countries also didn't have much digital infrastructure before the pandemic, but they quickly built it up during the pandemic. China is a key member of this group, as it has witnessed digital evolution much faster than all other economies. This is majorly used in the combination of rapidly increasing innovation and demand in the nation. India and Indonesia also managed to maintain an impressive momentum in digitalization while having pretty large economies. Apart from such large, expansive economies, midsize economies like Bangladesh and Vietnam have all displayed a growth in digital momentum that underlines their potential to digitalize rapidly and foster long-term transformation. These economies prioritized:
Improvement in mobile internet affordability and access
Widespread adoption of mobile internet
Greater investments in digital R&D, digital enterprises, training of digital talent, and use of digital applications for job creation
Strengthening digital regulations and institutional environments
Taking steps to reduce inequities in access to digital tools across geographic boundaries, ethnicity, class, and gender
eCommerce Boom
Asia is in the midst of a historic eCommerce boom, which was boosted by the COVID-19 pandemic and its lasting impact on the global economy. The number of online shoppers in Southeast Asia has increased by 70 million since the beginning of the pandemic. This is almost equal to the entire population of the UK! Also, if you look at the top five countries for growth in eCommerce sales in 2022, three of them are in Southeast Asia.
Global Trade Series – Asia's Digital Economy
Cross-border data flows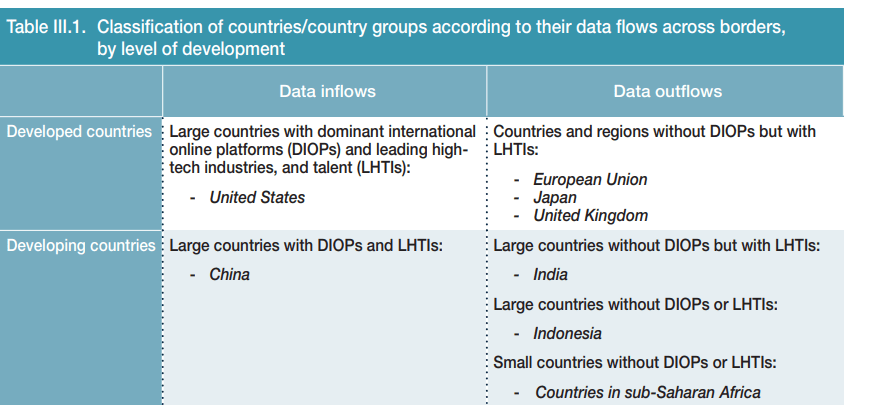 ( https://unctad.org/system/files/official-document/der2021_en.pdf)
Way back in 2002, the United States was the dominant country with regard to cross-border data flows. Those were the early days of the digital boom, and most tech companies were based in America. But the global data order has changed considerably over time. China now accounts for 23% of cross-border data flows, which is nearly twice the share of the US, which ranks a distant second with 12%. The source of the leadership of China lies with the rest of Asia. As data becomes a global superpower, it can control huge quantities of a resource that will be invaluable to its future economic competitiveness. Data from foreign sources provide a huge edge regarding the development of information technologies and artificial intelligence.
The future of retail in Asia-Pacific
Digital Push in Asia
Governments in the eastern part of the world, especially in Asia, are pushing for digital. China, South Korea, India, and Japan are especially making extensive efforts to develop smart economies and smart cities. By 2023, it has been predicted that 75% of organizations globally will have comprehensive digital transformation implementation roadmaps, up from just 27% in 2020. Creating an open, cooperative, and standards-based technology ecosystem within Asia can help speed up the gains that both nations and industries in the region would reap.