We discuss the following topics in this blog:
How did the STL journey start?
Turning a Globetrotter
Stepping into the Digital Era
In addition to these topics, we shall also be answering the following FAQs:
What is WiFi?
What is Open RAN?
Hello, I'm STL! 
I'm STL, aka Sterlite Technologies Ltd. But you can call me 'Stellar'. Well, that's what my friends call me too.  Guess what, this July, I turned 25. My Janmabhoomi is Aurangabad, India, and I was born out of a simple and humble background. Today, my family is spread across 4 locations, mainly Brazil, China, India and Italy with close kin in more than 20 countries. We make advanced optical communication products.
My oldest friends are Telcos with whom I began my journey and we grew together. As I ventured off to new places, I made friends with Cloud Co, Citizen Networks and Large enterprises along the way. You can call us "partners in crime" but we are akin and have the same interest.

So, what makes me a Globetrotter? My sole purpose is to transform lives across communities and build digital networks. The small, steady steps I took with my family, relatives, friends two decades ago have led to an adventure that is built on the foundation of future communication and has a legacy of innovation leading to a journey of transformation.
But How Did it all Start? What Did I go Through? Here's my story!


The Early Days
Alexander Graham Bell invented the telephone over 100 years ago. At first, the telephone lines… Do you really want me to go back so long? Not really, Right? Let's flash forward and I will get straight to where I started. My predecessors started out from making copper cables in 1988. Days when the telephone industry was witnessing rapid change and expansion. Your one-time prime rotary dial telephone was connected on copper cables. There is a high probability that your long-distance phone calls to near and dear ones were enabled by my foregoer.
During the early '90s, When the network world was evolving fast, the Internet was just a concept, Mobile phones were soon to become a reality, A visionary stellar led to my birth in the information era. My father Mr. Anil Agarwal, in 1995 envisioned a dream of connecting millions with a beam of light bound inside a tiny strand of glass. We call it Optical Fibre. Back then only a few had the technology to make such an innovation. My father was helped by a trusted friend, Nokia Cable, to bring me to the ever-evolving technology world. It all began with a small capacity to make 0.04 million kms of fibre annually from a small town in Maharashtra.
My early toddlers' steps mostly remained in India. I travelled to metro cities and helped MSO's and television broadcasting friends. These are the same people who made your Sunday favourite shows "Ramayana" and "Mahabharata" available for entertainment. Thank me later for giving you good weekends. Those days were fun. They helped me understand the meaning of friendships, the meaning of developing connections, with Telcos, and beyond.
How Did I Step Out on a Journey of a Lifetime?
Just when I found my feet and began to stand, there was an advent and commercialization of the Internet in the mid-1990s. The explosive growth of websites all around the world led to increasing the volume of data flowing through telecommunication networks. The demand for data went through the roof during the 4-year span of 1996–2000 and led to the telecom bubble. We called it the Internet Era. I was uniquely positioned to exploit the global opportunity. It was time to find new "partners in crime" outside India. And one fine day of summer of 1996, I found one such friend from Austria.
It feels just like yesterday, memories still fresh in mind, my trip via a giant ship, the excitement, enthusiasm and nervousness I had. My first experience abroad increased my confidence in the fourth generation of the optical communication world. During this span of 4 years, my name started getting around. I had made a new circle of friends. Meanwhile in India, I kept making new pals and hanging out with older ones. The mobile service operators, landline operators & global cable manufacturers utilised my expertise.
I made considerable progress in the next 10 years (2000 – 2010), which was also known as the transformation era. The designing of advanced optical communication systems led me into the fifth and sixth generation world. By then the telecommunication world had seen two severe economic downturns. These never unnerved my journey.
On the contrary, I jet set to transcend 5 continents in the coming 10 years. I was driven by the passion to connect lives and at heart, I was always techy. My innovations were patented and recognized worldwide. I had diversified my offerings and solutions with having full control over the telecom value chain. I made glass preform, fibre, cables and passive connectivity for my folks. Silently, my Stellar family had grown to more than 1000 members in India.
One of the most memorable days of my life was 26th January 2013. The dream of Digital India was initiated by renowned scientist and former president of India Dr A P J Abdul Kalam. In pursuit of achieving his dream, the STL family set up the Center of Excellence, at Aurangabad, a State of the art facility dedicated for advanced research on optical communication. Dr Kalam had graced us for the inauguration. Blessed with his good wishes and guidance it continues to make us the architect of future networks.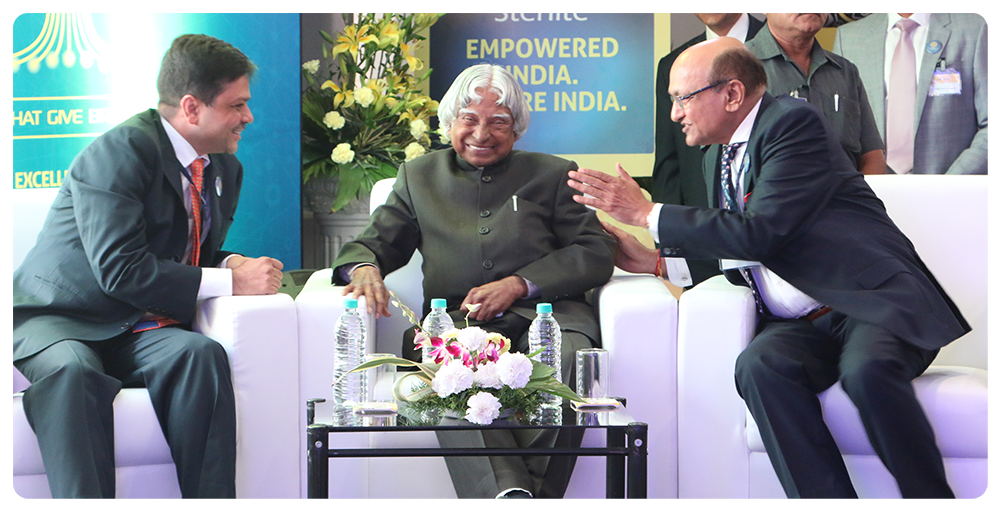 Turning a Globetrotter
In 2010, the teenage STL had finally turned into an adult, I realised I would need to expand my family just not in India but globally as well to become a true Globetrotter. I went far east Asia in search of my kinfolk and formed a partnership in 2012 as a joint venture with Jiangsu Tongguang Fibre Co. Ltd. Back then China had a total annual demand for optical fibre of more than 100 million km. This helped me to make friends with the world's top 3 leading telecom operators. It also added more than 100 members to the STL family from abroad.
By mid-2015, It was no turning back for me. I was an adult with self-confidence with a high-risk appetite. The aspiration to take on the world and the cloud era. This was the phase where I went strong with my smarter fibre expeditions which traversed miles across continents. While doing so we as an STL family had created benchmarks in high-speed data transmission. We believed in connecting people, their thoughts and their ideas by connecting diverse places. You name it and we were there. Invisible yet omnipresent. Let me tell you a few places where I had step foot, made new friends and partners.
In 2015, I had reached the world's toughest terrains in Jammu & Kashmir to enable the network for spectrum (NFS) project. This was the 1st ever time a G652.D fibre, the most advanced, was used for nation-building. My journey here enabled the most advanced technology firm in India, the best construction company, India's first cellular enterprise, finest hospital group, the one which has the largest school of education institutions, all in one. We call them Indian Army. Ahh! The proud feeling when you contribute to your nation's development.
In 2016, I even reached the polar ice caps of the earth. Eyjafjordur Fjord, Iceland did send some shivers down my spine  Along with my local partners, we had pushed our innovative cables to withstand extreme weather conditions, making connectivity possible to one of the remotest parts of the world. 
In 2017, I had voyaged to deep down into the rivers of the Amazonian river forest to improve public security, education and telemedicine. The largest and most biodiverse tract on the globe. Traveling just nearby from there, I had gone to Mexico to enable the metro mainline signaling and telecommunications industry to help people commute better.
Like most youngsters my age, backpacking through Europe has been my favourite part of the journey. With my old-time buddies, like BT, Open Fibre, Telecom Italia, LGI, Orange, etc., I've delivered millions of kms of cables. From 2016-2019, honestly, I always sought reasons to come back often. One such dream destination is London. Did you know, the world's most-watched Olympic till date, delivered for the 1st time in HD, broadcasted from the London Olympic Stadium was helped with my partnership with UK's largest operator.
Yes, STL cables helped you to watch Usain Bolt break records after records. Another similar experience is in Milan. In the San-Siro stadium, one of the highly admired football stadiums and known for the Milan derby, I along with my operator friend in Milan have deployed cables in the stadium communication and data connectivity. Adding to enabling worldwide global sporting events, I have even partnered with an Infrastructure friend. We aid India's racing circuit, the Buddh International F1 track to put in the communication system such as Race control, digital surveillance, timekeeping, media distribution and more. Place where we watched Sebastian Vettel, the world champion drive at the speed of 300 KMPH. 
If you wonder I love travelling only to exotic locations you got it wrong, travelling to rural places is what I love the most. The serene landscape, the smell of the barren land, and honest by heart people make the trip memorable every time. In 2018, I was accompanied by a special pal along my journey. By far the best travel friend I have made. I call him Mr. Mahanet. With him, I had gone to more than a thousand villages of Maharashtra. I am not kidding. One of its kind projects for transformational digital inclusion.  Another such place that is close to my heart is Kakinada where I helped security through the power of IoT.
Phew! Quite a list of countries and places I have traveled to, isn't it? Envy enough, Well here goes the stat, more than 106 countries till date.  Check out my Facebook page and you will find my check-ins and a long list of friends that I have made until now.

Into the Digital Era, Just the beginning
As we usher into the digital era, The industry is poised for quite a digital transformation. Needless to say, this era is unstoppable and there is no escape. The era of IoT, 5G, VR, AR's and more and more smart devices. When I reflect back from where I started I had friends who mainly were operators, citizen networks and large enterprises, reaching the corners and inhabitant paces of the world.
Today when I look forward to 2020, the new decade, I have started making new friends, in the bustling cities of San Francisco, Dublin, Amsterdam and many others in cloud companies such as Amazon's, Facebook, and Microsoft. I know you have enough to thank me by now but let me add to the list. The binge-watch you do with popcorns, your online shopping and your networking portals are enabled by the new partnership we are forming.

On a fine Sunday, Just for fun's sake, I once checked my fibre travel miles. It had gone over to 200 M FKM which is enough on a zip line to take you to the Moon. My cable fibre travel miles are more than 90M FKM which is sufficient to circle 13 times to the equator. Amazing isn't it?
As we go through "The New Normal phase" and I turn 25 years old, I consider the technology world to be my oyster today. While touching billions of lives across the planet, It has given me a great learning experience and at the same time exposure to new challenges. These 25 years of experience has made my family known as a 'Great Fibre and Cable organisation".
I started with 0.04 million kms of Fibre and today can make 50 million kms. Almost 500X capacity increased. This journey was partnered with many people, friends and family members. Thanks to each one of them to where we are today. And to those I have yet to travel with – let's stick with it, as great things might be just around the next location! If you want to partner with me to travel across the globe ping me. Didn't I tell you it will be a roller coaster ride? Let me know how you feel about it. Until then I will say… It's just the beginning.
Adios Amigos!
FAQs
What is WiFi?

Put simply, WiFi is a technology that uses radio waves to create a wireless network through which devices like mobile phones, computers, printers, etc., connect to the internet. A wireless router is needed to establish a WiFi hotspot that people in its vicinity may use to access internet services. You're sure to have encountered such a WiFi hotspot in houses, offices, restaurants, etc.
To get a little more technical, WiFi works by enabling a Wireless Local Area Network or WLAN that allows devices connected to it to exchange signals with the internet via a router. The frequencies of these signals are either 2.4 GHz or 5 GHz bandwidths. These frequencies are much higher than those transmitted to or by radios, mobile phones, and televisions since WiFi signals need to carry significantly higher amounts of data. The networking standards are variants of 802.11, of which there are several (802.11a, 802.11b, 801.11g, etc.).
What is Open RAN?
From a deployment standpoint, we have Non-Standalone Mode(NSA), Dynamic Spectrum Sharing(DSS), and Standalone Mode (SA). The initial deployments of 5G NR are based on NSA standards, meaning the existing 4G LTE network will operate on the control plane, and 5G NR will be introduced to the user plane.
This particular standard was introduced by 3GPP, keeping in mind the industry's push to faster 5G services rollout while utilizing the existing 4G LTE infrastructure currently in place. On the other hand, operators are also implementing Dynamic Spectrum Sharing (DSS) to accelerate the deployment cycle, which will reduce costs and improve spectrum utilization. In this standard, the same spectrum is shared between the 5G NR and 4G LTE, multiplexing overtime per user demands.
Lastly, we have the Standalone Mode (SA), which moves towards a complete 5G based network where both signaling and the information transfer are driven by a 5G cell.