We discuss the following topics in this blog:
Role of technology in combating COVID-19
How smart cities can instrumental in fight against the virus
Initiatives Being Taken by the Government Authorities
In addition to these topics, we shall also be answering the following FAQs:
What is WiFi?
What is Open RAN?
Overview
As more than one-third of the total world population undergoes complete lockdown to fight against coronavirus pandemic, the citizens all over pledge to lead a quarantined life and maintain social distancing. The efforts double up with hopes to tackle the issues such as economic impact and survival to come out of this outbreak in the majority of developed and developing countries.
How can Technology Help COVID-19 Combatants?
Nations all over the world are responding and combating the coronavirus pandemic with an unprecedented deployment of human resources – the intrepid frontline COVID warriors — right from medical practitioners to technicians, paramedics, government officials, police personnel, and volunteers. They act aggressively to ensure sanitisation and availability of groceries and other essentials. With the help of technology, various local agencies and communities are able to track, contact, quarantine, and isolate patients to slow the spread.
Though these frontline warriors are doing their jobs in the best of their capacity, the need of the hour is for enhanced capacity and updated information so that we can keep abreast with the latest technological advances.
Can Smart Cities be the Next COVID WARRIORS?
The COVID-19 has had a devastating impact on cities all over the globe. As the infected cases increase and deaths surge governments and authorities are turning to innovative technologies like IoT, AI, 5G, and data analytics to respond.
The smart city infrastructure has become an important weapon in combating the pandemic. The smart cities have been are actively mobilising emergency services and other capabilities to maintain health and safety and ensuring availability of vital services. The use of advanced technologies enables cities to collaborate more effectively and efficiently. The smart city ecosystem operates on four capability layers – innovation, engagement, information, and technology.
The command and control centres (CCC) across 45 smart cities such as Vadodara, Bengaluru, Agra, Kakinada and Chandigarh, have transformed into war rooms to contain the spread of this pandemic. The government authorities have divided these cities into four zones — red, orange, yellow and green to deal with the pandemic.
The CCC, earlier used for monitoring various municipal functions like 24-hour water supply, property tax collection, traffic management, street lighting, bus movement and security, have now diversified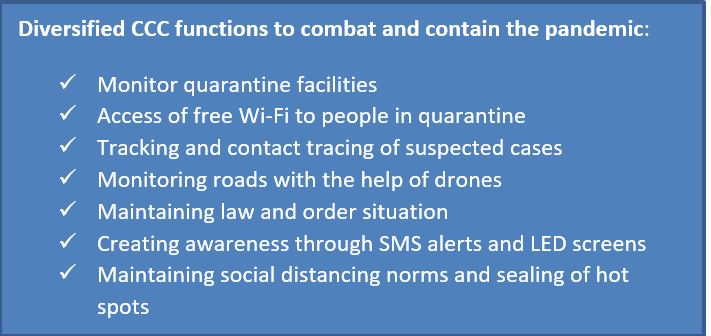 These cities have found smarter ways to manage law & order situation, food supplies, entertainment, medicine, education…almost everything!
Initiatives Being Taken by the Government Authorities
Let us see some of the initiatives being taken by the government authorities in these smart cities to combat the virus:
The Vadodara district administration has installed a helium balloon attached with two cameras for surveillance on lockdown violators. The balloon also has got an integrated public addressal system
Kalyan Dombivali Municipal Corporation has created a Facebook page for posting awareness videos with live chats from local experts
Agra administration has started E-Doctor Seva, a tele-video consultation facility, for locals through PPP mode. AI-based analytics is used for generating an alert to help the authorities maintain social distancing norms
Chandigarh administration has installed a comprehensive 'fight COVID station' that offers facilities like thermal screening, pedestal operated hand-wash and soap dispenser, mist spray of sodium hypochlorite solution and hand dryer facility
Drones are being used in Varanasi to sanitise infected areas
Successful early detection and management of the virus depends upon the technological backbone of these smart cities.
Definitely, as a nation, we are opting rational ways of tackling this pandemic. Our response to the situation is competent, and we are much hopeful and confident and have faith that whatever is being done will keep us safe and help us fight against the pandemic.
FAQs
What is WiFi?
Put simply, WiFi is a technology that uses radio waves to create a wireless network through which devices like mobile phones, computers, printers, etc., connect to the internet. A wireless router is needed to establish a WiFi hotspot that people in its vicinity may use to access internet services. You're sure to have encountered such a WiFi hotspot in houses, offices, restaurants, etc.
To get a little more technical, WiFi works by enabling a Wireless Local Area Network or WLAN that allows devices connected to it to exchange signals with the internet via a router. The frequencies of these signals are either 2.4 GHz or 5 GHz bandwidths. These frequencies are much higher than those transmitted to or by radios, mobile phones, and televisions since WiFi signals need to carry significantly higher amounts of data. The networking standards are variants of 802.11, of which there are several (802.11a, 802.11b, 801.11g, etc.).
What is Open RAN?
From a deployment standpoint, we have Non-Standalone Mode(NSA), Dynamic Spectrum Sharing(DSS), and Standalone Mode (SA). The initial deployments of 5G NR are based on NSA standards, meaning the existing 4G LTE network will operate on the control plane, and 5G NR will be introduced to the user plane.
This particular standard was introduced by 3GPP, keeping in mind the industry's push to faster 5G services rollout while utilizing the existing 4G LTE infrastructure currently in place. On the other hand, operators are also implementing Dynamic Spectrum Sharing (DSS) to accelerate the deployment cycle, which will reduce costs and improve spectrum utilization. In this standard, the same spectrum is shared between the 5G NR and 4G LTE, multiplexing over time per user demands. Lastly, we have the Standalone Mode (SA), which moves towards a complete 5G based network where both signaling and the information transfer are driven by a 5G cell.