I walked into the STL office in the spring of 2018 in my carefully selected high waisted split hem trousers, a striped jacquard top and a pair of salmon pink open toe heels. This attire has a special place in my wardrobe. It is placed bang in the front as a striking reminder of who I was then, and who I am now.
As we move forward, let me assure you that this story is not about how my office wardrobe and style have evolved. Although it's good to mention that it has gone from Classic Chic to Garçonne – a simple style from France, with classic shapes and clean cuts.
From 20 million to 20
Before I had joined STL, my 9 to 5 was always about numbers. As a Product and Category head in telecom, our teams used to be busy simulating pricing models for your mobile phone plans. We would slice and dice tens of millions of mobile users into hundreds of segments basis their voice and data usage, active days, money spent etc, and then design the most suited voice and data plans for them. So back then, if you saw 1GB data at Rs 199 as daylight robbery, it's probably my fault. I still think that work was very meaningful as it used to decide what amount of a youngster's pocket money (ex-mobile usage) will be spent on meaningful things like partying with friends or joining a bike club!!
As a Category head earlier and as a Research head later, I was used to meeting my audience (20 Million B2C customers) in excel sheets and SQL queries, bunched together in synchronous segments basis the commonality in their talking or browsing patterns. We wanted these 20 Million folks to talk or browse a little more than last month and increase their ARPU by 10 bucks every 3 months!!
Now going back to the day with high waisted split hem trousers, striped jacquard top and salmon pink open toe heels, all that changed – Now my audience was not 20 Million individuals but 20 odd Key accounts. I was to meet them with their faces, not mobile numbers, looking at me through their social media profiles. And the idea was to make STL a partner of choice for these 20 odd Key accounts to drive orders worth millions of dollars.
And yes, did I forget to mention – my playing field was now words, not numbers, as I was a part of the customer marketing team at STL as a content head. It was quite the pivot and almost 100% credit goes to STL and the marketing team members who were hiring me. I mean what were they thinking? I did not have the words content or storytelling on my CV.
What were they thinking?
I knew that communication was my (hidden) talent but what were they thinking? Well, now I know. They were thinking that getting people to do what they love is a great way to build a high performance culture. This was the starting of a kickass journey at STL, where I got to explore (almost) all facets of my professional potential and perform at my very best. Hence the phrase – Who I was then and who I am now.
But as we move forward… let me assure you that this is not a happily-ever-after story, where I found my calling at STL and smiled through these years. Although it's good to mention that 4 years down, I am thrilled to go to work everyday.
Comfort Zone? You are at the wrong address
When you are on this kind of a STLer journey, (using STLer because in my 15-year career, I found this phenomenon to be unique to STL), you will be pushed out of your comfort zone many many times. And pushing boundaries is challenging and uncomfortable and pull-your-hair-out irritating for everyone. So it was for me.
Early on in my stint, I started to work on the storytelling and branding of our Experience Centre in Gurgaon – Centre for Smarter Networks (CSN). Needless to say, this project was new, unfamiliar and massively tough. I had to literally understand the entire business of STL and the technology behind it – which narrows it down to building the entire internet. The word engineer was not there on my CV, but the words let's give it a shot were there in STL's glossary! So we started on this journey of meeting hundreds of people in the company, understanding the world of optical fibre, 5G networks, open source architecture and many such terms. I clearly remember one incident when I went to our optical fibre manufacturing unit and saw the chemical vapor deposition and several feet tall furnaces sintering the glass preform, I was so thrilled at discovering the world of chemistry that it took me back to a dialogue from Breaking Bad. For those who have seen the show, it goes like "Science ****". For those who haven't, I apologise.
It took many such visits and 200 pages worth of notes to craft a user journey across 8 fascinating zones with the most sophisticated engineering processes and networking technologies. When it came to visualization of the user journey, the fabrication and branding of the place, I was stumped. I remember once I told my CMO – Manish – that maybe I am not a visual storyteller. Did he take that? Of course not. He sat me down and taught me the art of visualization. I literally drew portraits of intricate servers sitting on the carpeted floor of the CSN and made scientific drawings of our patented fibre draw processes. Manish and Alok plus a bunch of my colleagues, were always there with me, thinking about one or the other problems to be solved. And problems, there were many. It took us 6 months to deliver this project and I (nearly) failed many times. But in the end, the CSN was launched with fanfare with a flagship investor event.
Over these (sometimes infuriating) 6 months, I discovered that although not an engineer, I have a certain flair for technology. I met this new version of me who can do geek to human translations, visual storytelling, program management, primary research, even new joinee knowledge sessions on technology. But let me tell you, after all this engineering jing bang, I still couldn't imagine myself in overalls! But I could imagine myself doing lots of never before things at STL. I got that kind of confidence, through the culture and working environment at STL and the marketing team.
Next-up I was working in an upcoming business unit of the company – the Network Services Business. Where we were trying to position ourselves as a technology-led game changer in the space of broadband rollouts. Again, a totally new domain, I immersed myself in the business as I built the content and campaigns over the next couple of years. It was a new marketing effort and I remember being kicked about building a new web presence and creating some 90 pieces of thought leadership content from scratch. When the content challenge was out of the way, my seniors encouraged me to look at the entire marketing strategy and drive account based marketing.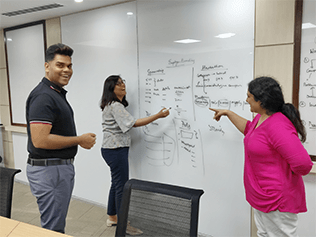 Here I got face to face with my "creator streak". I had never imagined myself as a creator. I had always thought of myself as more of a scaler. So basically, in my mind I was always the professional CEO of a mid or late stage start up, where I was building on the idea, mobilizing stable teams and looking at Y-o-Y growth. But now I could see myself as a founder or an early-stage leader who can not only navigate chaos, but create value in it. Apart from giving me the joy of creation, discovering this new side also expanded my choice of career avenues by at least 10x and opened my imagination to the wonders of power dressing!
Again 100% credit to the freedom of thought, autonomy, that my teams rubbed off on me. I realized that through this philosophy of trying new things, falling fast, learning like crazy , I had cultivated something that would help me forever – growth mindset.
In case you are wondering, if I have a halo on my head by now. Then let me assure you that the last part of this story will debunk that myth. Although it is good to mention that words like can-do, resilient, centered do feature in my (mental) bio.
Notes from the rollercoaster
Stuff that I had done and achieved till now was all good, new and exciting. Now the words 'settled in my job' were hanging in the air. But the (good) itch that STL had rubbed off on me – of doing something new, pushing boundaries and similar words, was still there. It was at this time that an opportunity opened up – the role of leading Corporate Communications for the company. The words Media, PR or Internal comms or Investor marketing were not there on my CV. But I wanted them to be. I knew it was a long shot, but so was becoming a creator or a geek to human translator or visualizing stuff. I honestly felt that I could do it. Again, Manish and Anjali (Our CHRO) surprised me by taking this punt on me. I am glad that they did and I am thankful that the senior leadership didn't tell them to play safe.
This started a rollercoaster journey of being a big-picture storyteller for the company. We have a very discerning set of audience now – customers, investors, media and our own employees. These audiences are found reading about STL in newspapers, magazines, presentations, emailers and social media. And they have their own agency, so we have to influence them, nudge them or even cajole them into reading and thinking about STL. Needless to say, we started with limited facilities and resources.
But as they say that the only way out is through it.
Over the next few months, we went through the chaos, uncertainty and challenge of building new relationships, being envious of the content and media coverage that other companies are getting, creating/ re-creating company narratives and working with our 20 odd fabulous spokespeople to speak as one STL. We – as in the comms team, were a small bunch of people with our own styles of writing, communication and working. It was a very interesting experience to see how each one of us converged towards the messaging tonality that we created along with Manish. At this point, I should tell you that this write-up is not indicative of STL's brand tonality!!
In India, our internal and external comms efforts had started to get some results. But our minds were on an airplane. We were constantly thinking about our global markets. How to set up Media and PR function internationally and build one global STLer experience for all our employees, these were recurrent themes in our standups, reviews and dinner tables. It was a total unknown. I remember calling my Comms friends, even pinging my connects at linkedin for some pro-bono consulting. From cold calling the journalists, to social listening and establishing contacts, to name-dropping Ankit (oops!!), we all have done some wacko things to build media relationships in global markets.
Now when I look at myself (figuratively), I see a version of myself that can get outside-in thinking into the business, and balance two opposing forces of immersive work and multi-tasking. As a communicator, I have evolved drastically. All thanks to Manish and the entire comms team, we can now weave context-based and mood-based communications. As a team player, I have learnt the value of appreciating different working styles and taking a cue from STL and the leaders that I have worked with, I try to not play safe and take punts on people and new initiatives!
Still on the road ride
In case you are wondering if there is a destination in this STLher journey, let me remind you that I am writing this from the rollercoaster. As I think about the world opening up and the return to in-person meetings, my closing thoughts border around how Garçonne can change to Street Chic – a pan global genre which is well styled but not overtly fussy.
In case you are wondering – if this is a women's month blog, then why doesn't it have the word woman in it? Well, let me answer that for you – that's how it is supposed to be!
But for the sake of posterity, let me say – Happy Women's month to all. Lets #breakthebias.