Key findings from the webinar "Road to 5G built on Fibre". The speaker of the webinar was Ankit Agarwal, Managing Director, Sterlite Technologies Ltd.
Summary
Never has the world felt so close to the future. With the power to connect the remotest corners of the world to each other, 5G brings with it exciting promises and never-like-before data demand. To fulfil its goal of creating a truly 'Connected World' characterised by low latency and high bandwidth networks, 5G seeks the ubiquitous support of 'deep fibre'. As global telecom operators prepare for a massive 5G rollout, enhancing the fibre infrastructure looks like the 'only' silver lining that can bring networks closer to our homes. This lays the foundation of networks of tomorrow,more centralised, virtualized and easily upgradable than ever before.
5G: Trailblazing the path to adoption of future technologies
AR, VR, MR
Driverless Cars
Cloud Office
Real-time Gaming
Connected Homes……..
It's 2022.
The above words are 'not' at all Greek or Latin.
Thanks to 5G, people worldwide are already living a life that sci-fi movie fanatics dreamt of a few years back. From smart watches, activity bands, virtual and augmented reality headsets to smart glasses and smart eyewear; 'connected' devices of all kinds are easily accessible now. As the world becomes more connected, we continue to create terabytes of data every day. From checking emails and sending replies and even our leisure browsing activities, every online move of approximately 5 billion active Internet users globally creates data in quantities larger than anyone can imagine.
Let us look at the modus operandi of data creation:
More Users → More Devices/User → More GBs per user
For 5G, the power to create a truly 'connected' world built on a foundation of intelligent networks, brings along the responsibility to shoulder a robust network infrastructure. To deliver its key performance indicators majorly – ultra low latency, high bandwidth, and a myriad of connected devices, 5G needs to deploy something popularly called 'deep fibre'.
Fibre: The be-all and end-all of everything 5G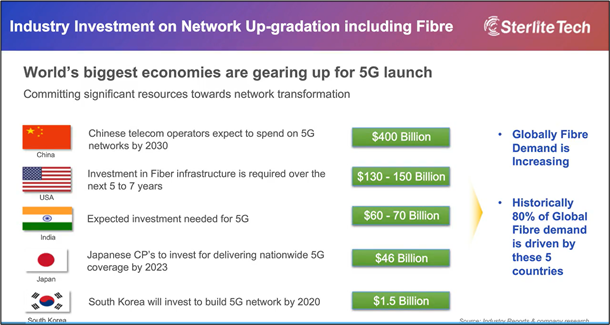 The world's economy is at a pivotal moment with 5G-enabled wireless connectivity fuelling economic growth. Countries such as South Korea, United States, Japan, and India have already taken giant strides towards 5G readiness. However, China leads the way having committed $400 billion to 5G networks by 2030. Historically, ~80% demand for fibre worldwide was driven by these five nations. As they say, "History is not was, it is". The 'Power of Five' continues to drive the global demand for fibre today as well.
With 'Big-3' subscription video-on-demand(SVOD) players (Netflix, Hulu & Amazon Prime Video) planning to invest ~$10 billion in original content in 2022, high-quality Internet is all they need to ensure connectivity to end-users. It simply means, fibre needs to be brought closer to the edge, closer to the end-user. This is not all. Even the largest telecom companies acknowledge that fibre will play a critical role in their massive 5G rollouts globally. Looking at the magnitude of increasing data consumption worldwide, nothing but fibre is the 'only' solution.
Is Fibre the 'lever' to sustain increasing data consumption?
In 2020, when covid-19 spread its tentacles, internet connectivity became the 'lifeblood' fuelling economic activities worldwide. With lockdowns imposed in the majority of countries globally and employees working from home, the data consumption of an average household grew manifold. This puts further pressure on the existing network infrastructure worldwide. Therefore, stronger fibre infrastructure became the need of the hour.
Interestingly, history repeats itself everywhere, even in the case of fibre networks. The historic correlation between data consumption and fibre demand continues to get stronger with every coming year. Even if we keep the estimates conservative, the expected global deployment of fibre infrastructure is likely to exceed 5000 Mfkm by 2026.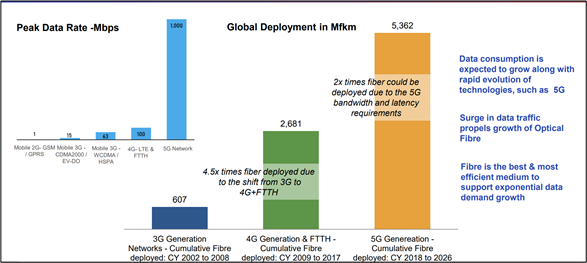 Bringing fibre to everything & everywhere
Fibre played a critical role in the successful rollout of all the generations before 5G. While 2G connected major cities, 3G brought people living in most cities, towns, and sub-urban areas closer to each other. With speeds as high as 100 Mbps and unmatched network reliability, 4G helped us indulge in activities like gaming and on-the-go video conferencing. 5G prepares to deliver great expectations of 1000 times bandwidth, less than a millisecond of latency, 100x the number of connected devices and 10 Gbps speed.
A game-changer in the truest sense, 5G is all set to bring fibre further closer to the sanctity of our homes. What will help 5G accomplish this task?
Small cells play cupid for 5G
In the future, a significant number of small cells will be required for a truly 5G environment. The 5G small cell model will bring the fibre backbone closer to the end users. This will help utilise higher frequency waves and improve customer experience in wireless access points. In the 5G world, every single small cell will have to be backhauled on fibre. The future of 5G indeed depends on the availability of a deep fibre backhaul.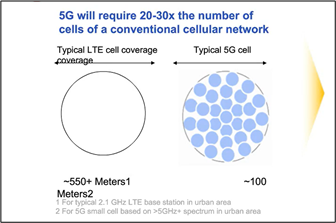 Imagining the networks of tomorrow
The world has just begun to understand how 5G is poised to change the network landscape. Alongside, arises the need to understand the evolution that shall take place in networks to drive such a big change. The future of networks clearly revolves around fibre. Soon, the world shall witness extensive fibre rollouts to accelerate 5G's network augmentation requirements.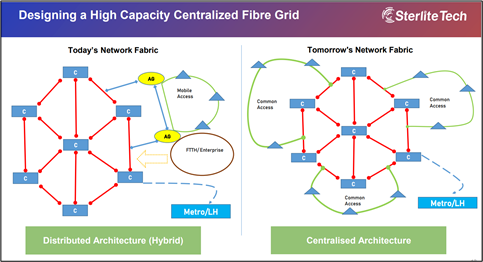 In the 5G era, the network will move to a 3-layered structure – fibre, server, and software. The network will be simple, open, and capable. Networks of tomorrow need to be future-ready to monitor multiple applications through a centralised architecture. They should be upgradable, centralised, and virtualized.
Upgradable – Networks need to have the capacity, bandwidth, storage, and processing ability to support unlimited potential.
Centralised – In the future, networks shall be expected to allow for software decisions to be centrally managed using software-defined networking.
Virtualized –Network servers should be capable of multiple layer functions such as routing, switching, storage and processing, but also provide for incredible amounts of flexibility.
Fibre deployment: Leave it to the experts
It is often said that 'some things are best left to the experts.' Clearly, the experts know their job in case of fibre deployment as well. By engaging with experts, CSPs can reap the benefits in the form of capex optimization, reduced opex and revenue uplift. This also lets them focus on their core competency. Experts can also work together with operators to plan and use their experience for most efficient routing. Moreover, flawless execution capabilities of the experts also reduce fibre replacement needs to the minimum.
The usefulness of experts can be best understood through an example. The average life of a fibre network in India is approximately 7-8 years while globally the life is around 20-25 years. Part of that is due to poor deployment, lack of proper training, faulty installation practices, and inappropriate maintenance. However, the same network could sustain for about 15-20 years if deployed correctly.
Conclusion
Unlocking the true potential of 5G is possible only with the support of an equally sound fibre infrastructure. In the future, the infrastructure required to sustain networks would be considerably different, significantly dense, and more virtual than that of networks built so far. Therefore, massive fibre rollout hinged on small cell models will be needed to let a truly 5G environment sink in.