Although the global broadband rate will grow to 540% between 2017 and 2024, the subscription growth is increasing at a slower pace, creating less revenue despite high demand. To mitigate this, you need to shift from a traditional Legacy PON method of providing broadband access to something more flexible and scalable on-demand. It is where open and disaggregated FTTx will bring radical changes that will close the gap between demand and revenue. The segregation of PON network elements into open software and hardware components under SDN (Software-Defined Networking) is the disaggregated and open architecture core. This blog will explain how broadband service providers can build a flexible network with open, standardised interfaces and disaggregated architecture.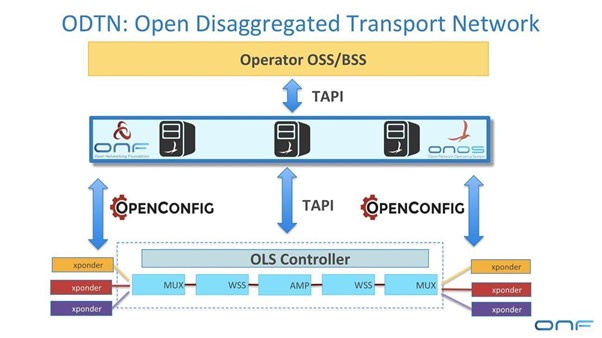 Why do you need broadband access transformation?
On the one hand, network operators are getting good news in broadband data demand which must indicate high revenue. On the other hand, unfortunately, this is where the bad news breaks in. The revenue trends are not matching the broadband demand based on Normalised Global FBB ARPU, Fixed BB Revenue, and Global Capex 2019-2024 forecast. This competitive pressure of increased traffic but low subscription rate has pushed the network operators to look for developing a flexible technology that can adapt to emerging cloud and 5G-related applications. This approach will solve three burning issues.
Increase top-line revenue
Meet the demand for bandwidth growth
Protect network infrastructure
Open and disaggregated FTTx is identified as the best possible solution to solve the above issues and create further opportunities for revenue growth. In addition, due to complexity and size, fiber access networks have emerged as focus areas that can help to bring down network costs and offer advanced services to business, residential and wholesale markets.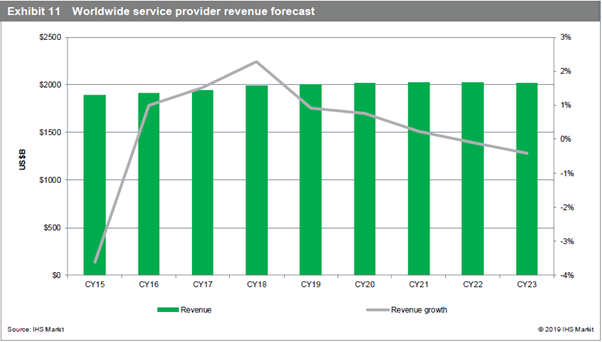 A brief note on open and disaggregated FTTx
Network Function Disaggregation (NFD) is the transformation of switching and routing equipment from proprietary, closed hardware & software sourced from a single owner towards totally disaggregated and open components assembled to form a complete switching and routing device. Open and disaggregated FTTx marks a departure from the traditional Legacy PON method into individually deployed functional components. One of the crucial elements of this open and disaggregated FTTx is a white box that requires open-source spec manufactured by contractors.
The adoption of open and disaggregated FTTx principles allows network operators to select the ideal combination of individual hardware and software configurations, thus eliminating vendor lock-in and anticompetitive support and sales practices. Subsequently, this will significantly reduce investment and operational expenditures. Although operator skill-sets must modify and match to this new approach along with the supplier or systems integrator, there are many advantages that include,
Reduced networking costs
No more vendor-proprietary lock-in
Provide more advanced services and monetisation opportunities
Enable faster innovation with a diversified ecosystem.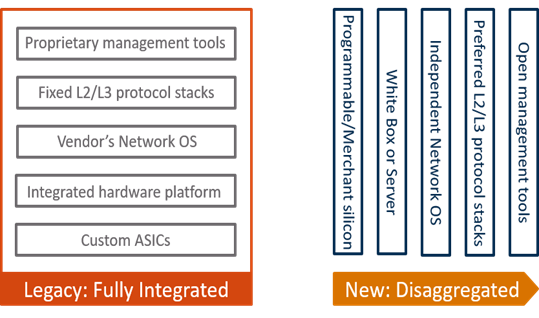 Industry Support for Open and Disaggregated FTTx
Some of the systems developed by major companies for supporting open and disaggregated FTTx are,
ONF
SDN-Enabled Broadband Access (SEBA) reference design
Virtual OLT Hardware Abstraction (VOLTHA)
O-RAN Alliance
Operator Defined Next Generation RAN Architecture & Interfaces
Broadband Forum
Open Broadband-Broadband Access Abstraction (OB-BBA)
Telecom Infra Project
Open Ran
Open Optical & Packet Transport
Industry trends and operator challenges for open and disaggregated FTTx
The trends and challenges go hand-in-hand for open and disaggregated FTTx. Some of the trends and challenges in this regard are:
Trends
The demand curve for broadband is growing faster than revenue and subscription growth.
Network operators are looking for innovative technology to replace proprietary technology to reduce costs and increase profits.
The value generated by cloud players, OTTs, and ecosystem players is immense, giving scope for bandwidth growth.
Challenges
Predicting the investment cost for fatter pipes and networking services for increasing broadband demand.
Developing the exemplary architecture and best ways for easy deployment.
Finding the best scenario for value creation with reduced Opex and Capex investment and deployment of the right architecture.
Open and disaggregated FTTx solution by STL
STL is a leading integrator of a digital network that offers end-to-end solutions for various clients. Currently, we are developing an efficient open and disaggregated FTTx model called Programmable FTTx or pFTTx.
A pFTTX can virtualise the last-mile network to allow flexible gigabit broadband. A pFTTx is an SDN-NFV (Software Defined Networking – Network Functions Virtualisation), micro-services oriented, cloud-based network solution that drastically boosts the network service provider's business model and increases revenue. The key offerings include,
pFTTx (SDN) Controller
Edge Orchestrator
White box OLT
White Box ONU/ONT
Non-Proprietary Protocols
vOLTHA
Benefits of pFTTx
Reduced time to market
Scalability
Lower TCO
Better network control
New revenue streams
Zero touch provisioning
pFTTx solution stack & cross layer interface specifications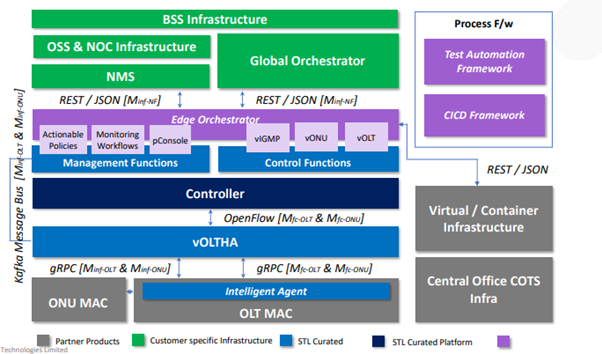 pFTTx: Deployment architecture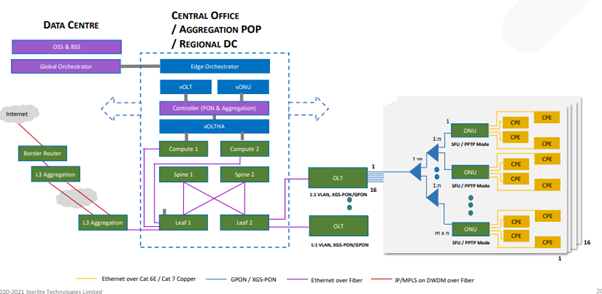 pFTTX Deployment: In alignment with ONF SEBA & BBF TR-384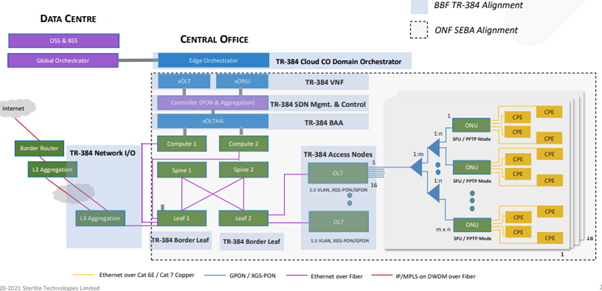 pFTTx deployment readiness
A trial run of SNL deployment and outcome is achieved as per below,
The system outage SSO reported in a year is only two events per year
The Customer Complaint Report Ratio (CCRR) is just 0.12
The mean time to restore service (MTRS) after a stoppage is 2.5 hours only
The Fixed Response Time for Priority 1 & 2 (FRT2) is 100%
The Fixed Response Time for Priority 3 (FRT3) is 85%
pFTTx deployment readiness (Customer Scenarios)
Open and disaggregated FTTx for the home segment can go up to 1 Gbps capacity
It can be offered to multi-vendor ONUs
Open and disaggregated hybrid PON can be provided to residence & enterprise together
Open and disaggregated FTTx can converge SD-WAN
FTTx Mantra – STL's end-to-end FTTx offering
The below process flow describes STL's approach to offering open and disaggregated FTTx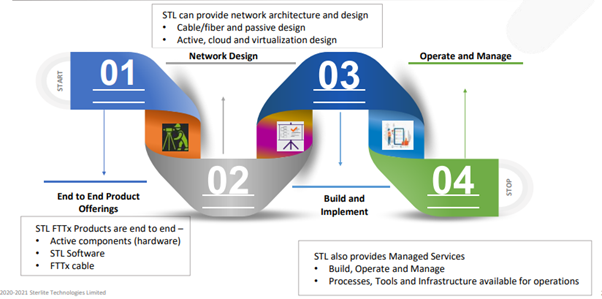 The Way Forward
Speeding the field trials and deployment to offer a complete end-to-end ecosystem
Assist network operators in migration from traditional legacy PON networks to open and disaggregated FTTx
Continuous monitoring and improvement of pFTTx technology for providing the best services to Edge Cloud, IoT, and 5G applications.
Conclusion
Deployment of open and disaggregated FTTx can help operators meet users' increasing bandwidth needs and reduce costs, thereby increasing revenue. It will improve the quality of broadband services and give operators a great chance to scale their network on the fly, which is very difficult with traditional PON networks operating currently. A new era of automated fiber access networking is on the horizon!