We discuss the following topics in this blog:
5G driving enterprise digitisation and IoT.
5G paving the way for a new era of monetization opportunities.
STL's Role in 5G Amplification
In addition to these topics, we shall also be answering the following FAQs:
What is WiFi?
What is 5G NR?
How is 5G Driving IoT and Large-Scale Digitisation?
Going forward, it is clear that the fate of IoT and enterprise digitisation is tied to the next-gen of connectivity – 5G. As cellular technology sees rampant deployment across the world, businesses are licking their lips at the potential revenue that new capabilities like high-speed connectivity, low latency and network slicing will bring to the table.
The Internet of Things (IoT), as such, will be a massive digital transformation driver in organisations. Why? With 5G's capabilities and support for current IoT technologies like NB-IoT and Cat-M1, it is disrupting data analytics, automation and mobility at organisations.
Moreover, 5G gives businesses and 5G telecom operators the ideal opportunity to scale up in the Industry 4.0 era and realise new revenue streams – either through new services, use cases, customers, or market expansion. This is also facilitated by more and more populations embracing 5G – a number that will swell to 580 million global 5G connections worldwide by the end of 2021.
So, how is the future-proof digital enterprise shaping up to capitalise on 5G development and IoT capabilities? And what can we expect the new 5G IoT revenue opportunities to be? We answer in this article.
Enterprise Digitisation with 5G and IoT: Towards Newer Business Models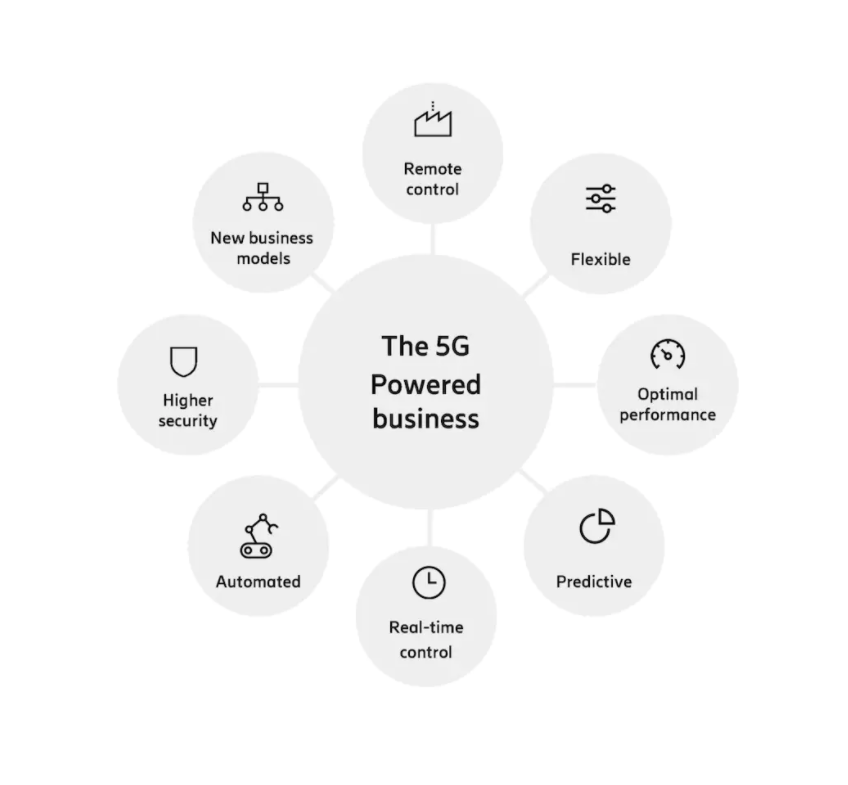 There is a very good reason why enterprises are embracing 5G development and IoT at such speed: to future-proof themselves. The advent of 5G has opened up avenues to create newer, futuristic business models and revenue streams. Let's look at some of the key drivers of this organisational paradigm shift made possible with 5G.
Digital transformation – 5G-induced seamless connectivity means enterprises can scale up their digital transformation and remain competitive. As smart products and services become more common, digital transformation will help enterprises meet the growing expectations of data-hungry, tech-savvy customers. Not being able to service these demands means losing out on significant revenue. As such, according to Gartner, 75% of OEMs will use their IoT products to sell new services or consumable offerings to customers by 2022.
Enhanced business performance – 5G and IoT mean better, smarter, cost-effective ways of doing work. This directly optimises performance, enhances productivity and weeds out any scope for inefficiency or on the floor.
Sustainability – Smart technology means honouring one's environmental responsibility with cleaner, more energy-efficient processes.
Automation and smart data – 5G and IoT mean a higher degree of automation in products and processes. On the other hand, gathering smart data is now possible – both inside the digital enterprise to improve efficiency, minimise downtime and enhance innovation. It also means sharper customer insights that help improve products and experiences at unprecedented speed.
Business flexibility – 5G and IoT empower businesses to scale up as efficiently as possible, while also being adaptable to emerging industry trends. Enhanced connectivity and digitalisation also mean that enterprises are in a better position to upgrade and service their smart products, and keep building on previous iterations with new offerings.
On the back of these transformative changes, enterprise IoT revenues are set to almost triple in the next 4 years to $906 billion.
Riding into the Future with 5G Revenue Opportunities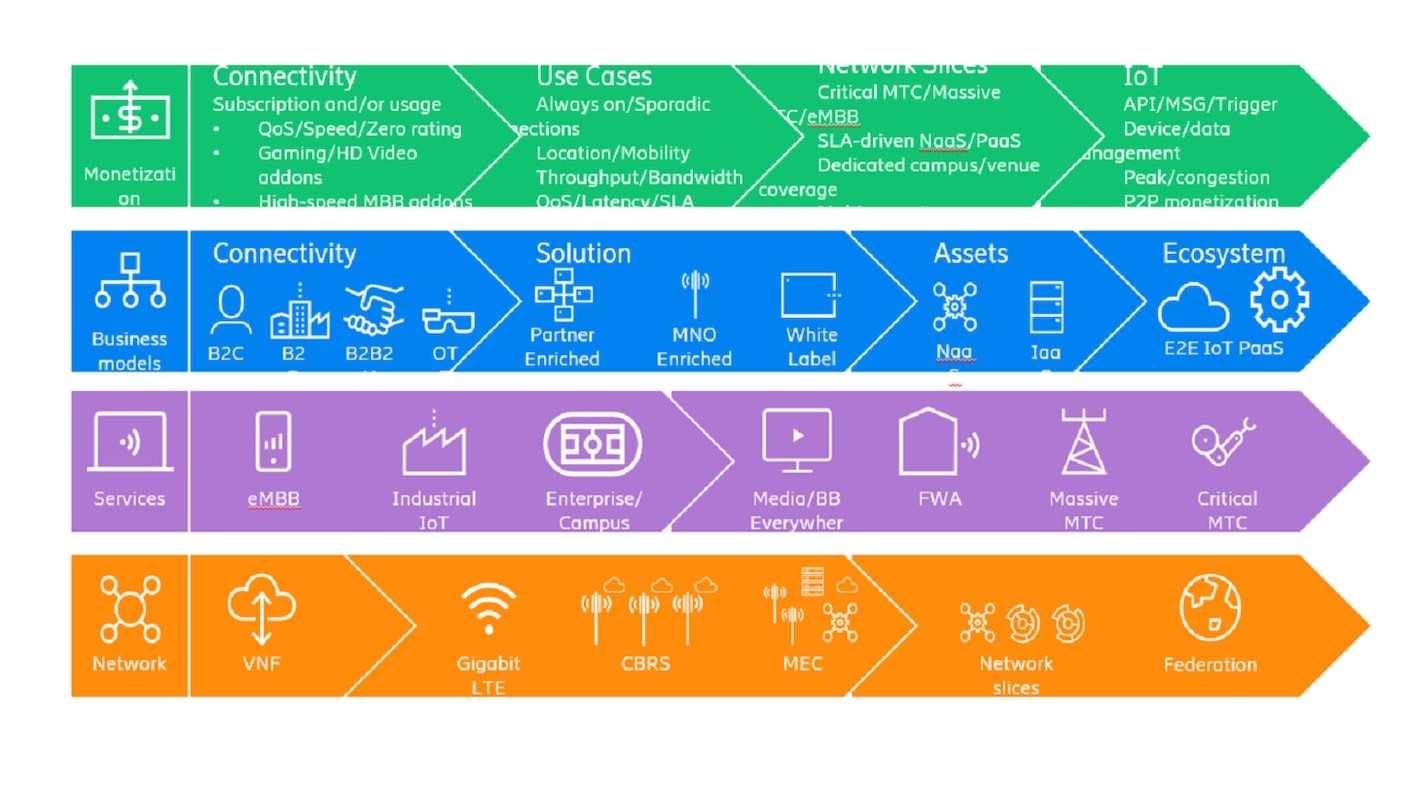 For enterprises and 5G telecom operators, it is not just the hyper-speed or low latency of 5G that is paving the way for a new era of monetisation opportunities. It is also about 5G implementation that is veering towards open, virtualised architecture. Thanks to this deployment that rests upon industry-grade servers with a software virtualisation layer on top, telcos can offer tailored services to enterprises as per their specific requirements.
Thus, enterprises can now enjoy the benefits of network slicing, enabling them to power individual IoT systems and new use cases using different, virtual networks with QoS guarantees, enhanced security, data traffic prioritisation, etc.
Another advantage of 5G in play is the proliferation of edge computing that is shifting exceptional processing power and analytics from the centralised cloud closer to the 'edge' of the network. This means that IoT devices and consumers that own them – including businesses – can do so much more, thanks to near-zero latency and lag, significantly higher bandwidth, and much more seamless connectivity.
All of these put together make a great case for multiple revenue opportunities in IoT and enterprise digitisation for operators, OEMs and other businesses. Let's take a look.
Next-gen industry applications – The partnership of enterprises and operators represents a great revenue opportunity that relies upon building solutions for next-gen industry use cases. These are mostly Industry 4.0 applications that represent the advent of IoT, AI, machine learning, edge computing, network slicing, automation, real-time machine-to-machine communication, etc. across industries. Think low latency and high bandwidth applications such as telemedicine, emergency drone response, smart manufacturing, real-time video streaming, AR, VR, and much more.
Next-gen consumer experiences – The telco-enterprise partnership can also monetise next-gen customer experiences made possible by 5G such as lag-free virtual gaming, authentic virtual reality, live streaming, smart homes, smart cars, etc. With smart gadgets and IoT becoming ubiquitous across households, enterprises and telcos have even more platforms and means to connect with the consumer digitally, and more data on their behaviour and preferences. This opens the door for personalised services, nudges and recommendations, enhanced API integration, smart customer support, and much more.
Smart cities – By 2023, CSPs and network vendors can earn up to $7.6 billion in new revenues thanks to smart city solutions. The key to unlocking this opportunity is to leverage 5G technology for mass digitalisation of public services. These include transport, surveillance, security, connected buildings, public WiFi, emergency services, etc. Operators can further earn revenues via reselling these services to enterprises on a priority basis.
Telco edge cloud models – To meet the demand of business-critical applications, a new form of cloud model can take shape to compete with massive public clouds: telco cloud. This will comprise small, interoperable, geographically separated clouds that offer higher availability and reliability than public clouds. These disaggregated clouds will respond to temporary application demands, thus enabling dynamic scaling of services only when needed. In such a case, operators can easily monetise unused network capacity on top of offering on-demand consumption models and subscriptions.
How is STL Contributing to 5G Amplification?
To enable telcos and enterprises to realise opportunities in 5G, STL is dedicated to finding solutions aligned with the new digital network architecture – virtual, converged, disaggregated, and close to the Edge. Consequently, STL has invested in end-to-end development of fully programmable, open and disaggregated Open RAN 5G-NR and Private LTE solutions.
These solutions deliver robust network performance through real-time intelligence and Edge Convergence Orchestration. As for the latest STL 5G news, we have developed multiple 5G-enabled wireless solutions like small cells, outdoor multi-band radio and Open RAN standards-compliant WiFi-6 solutions, AI-enabled RAN Intelligent Controller, Orchestration and VNF solutions.
Only a lack of imagination can stop business leaders in IoT and enterprise digitisation from leveraging 5G's communication leap for revenue generation. The key is to get aboard this bullet train of hyper-connectivity as soon as possible and think bigger. 5G is changing our world in profound ways, which is why there is a once-in-a-lifetime opportunity to augment operational excellence with IoT, connect with even more consumers, transform businesses and lives, and invent ingenious revenue streams.
FAQs
What is WiFi?
Put simply, WiFi is a technology that uses radio waves to create a wireless network through which devices like mobile phones, computers, printers, etc., connect to the internet. A wireless router is needed to establish a WiFi hotspot that people in its vicinity may use to access internet services. You're sure to have encountered such a WiFi hotspot in houses, offices, restaurants, etc.
To get a little more technical, WiFi works by enabling a Wireless Local Area Network or WLAN that allows devices connected to it to exchange signals with the internet via a router. The frequencies of these signals are either 2.4 GHz or 5 GHz bandwidths. These frequencies are much higher than those transmitted to or by radios, mobile phones, and televisions since WiFi signals need to carry significantly higher amounts of data. The networking standards are variants of 802.11, of which there are several (802.11a, 802.11b, 801.11g, etc.).
What is 5G NR?
5G typically refers to the fifth generation of wireless technology. NR, commonly known as New Radio, is a standard developed by the 3GPP Group (Release 15 being the first version introduced back in 2018) outlining the technology required to harness the newly-available millimeter-wave frequencies. The two frequency bands in which 5GNR operates are Frequency Range 1, i.e., Sub 6GHz band (410 MHz to 7125 MHz), and Frequency Range 2, i.e., millimeter-wave (24.25 to 52.6 GHz). Over 4G LTE, 5G NR provides better spectrum utilization, faster data rates, hardware efficiency, and improved signal processing.
From a deployment standpoint, we have Non-Standalone Mode(NSA), Dynamic Spectrum Sharing(DSS), and Standalone Mode (SA). The initial deployments of 5G NR are based on NSA standards, meaning the existing 4G LTE network will operate on the control plane, and 5G NR will be introduced to the user plane. This particular standard was introduced by 3GPP, keeping in mind the industry's push to faster 5G services rollout while utilizing the existing 4G LTE infrastructure currently in place. On the other hand, operators are also implementing Dynamic Spectrum Sharing (DSS) to accelerate the deployment cycle, reducing costs and improving spectrum utilization. In this standard, the same spectrum is shared between the 5G NR and 4G LTE, multiplexing over time per user demands. Lastly, we have the Standalone Mode (SA), which moves towards a complete 5G based network where both signaling and the information transfer are driven by a 5G cell.
In the future, 5G will enable new services, connect new industries and devices, empower new experiences, and much more, providing mission-critical services, enhanced mobile broadband, and various other things.
a) Enhanced mobile broadband (eMBB) Applications: High device connectivity, High mobile data rates, and Mobile AR & VR applications
b) Ultra-reliable, low-latency communications (uRLLC)Applications: Autonomous vehicles, Drones, Data monitoring, Smart mfg.
c) Massive machine-type communications (mMTC)Applications: Healthcare, Industry 4.0, Logistics, Environmental monitoring, Smart farming, Smart grids