We discuss the following topics in this blog:
Business drivers for E2E Orchestrator
Emerging Need for a Converged Network Architecture
STL's Orchestration Platform for a Converged Network
In addition to these topics, we shall also be answering the following FAQs:
What is WiFi?
What is Open RAN?
Evolving Telco Networks
Today the way we are looking at telecommunication networks are quite different from the way we have seen in past decades. Networks are evolving, becoming dynamic entities and more open every day. As these network transformations occur on a global scale, network operators need an integrated Orchestrator to gain greater control, cost efficiencies, visibility, automate key network functions, and deliver top-notch customer services and experiences.
Business Drivers for E2E Orchestrator:
The emergence of new use cases- eMBB, AR/VR, rise in the IoT enabled use cases such as Industry 4.0 applications, V2X, M2M, Online gaming, online content streaming has made operators to rethink their network architecture strategy. The new architecture requires storage, computation and analytics closer to the edge of the network to deliver these use cases and provide premium quality of experience (QoE) to the end consumer.
Additionally, a new network with a mix of 4G and 5G radio access and virtual & disaggregated deployment of CU-DU and core is expected to deliver significantly exceptional operational performance (e.g. dynamic spectrum sharing, load balancing, wide area optimization, etc.) as well as superior user experience (with KPI's near to fixed network offering full mobility and coverage).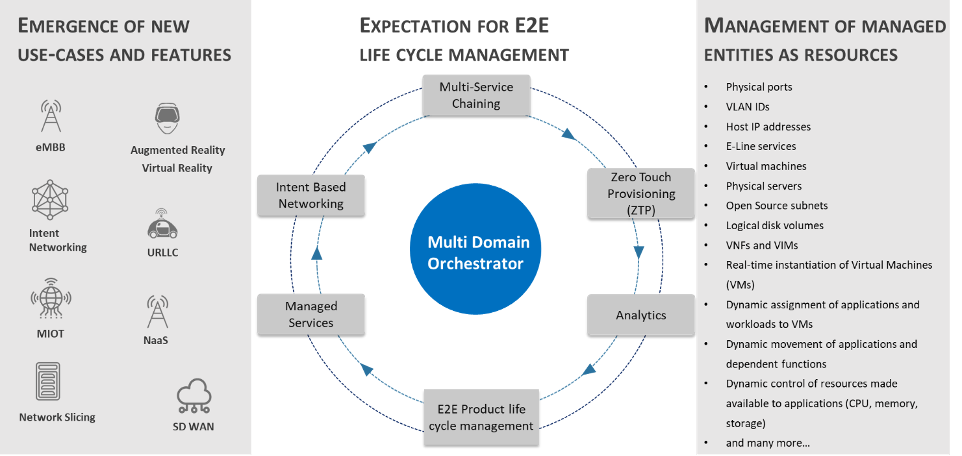 Why Such an Emerging Need for a Converged Network Architecture?
The new converged network architecture with a focus on E2E orchestration can bring processing capabilities closer to the user edge still keeping end to end control at the central layer can provide a better user experience. It refers to computing at the edge, centralized service design and policy management and AI/ML-based analytics & close loop automation can benefit the overall network ecosystem.
This new approach of networking is poised to benefit the operator in some or the other way as listed below.
Provide better QoE for rising mobile data traffic-mostly due to live video streaming
Control and manage the end-user SLA's regardless of changing network conditions  
Zero-touch provisioning for rising mobile and fixed broadband connections to realize a better time to market the services
Delivery of new use cases such as Network as a service (NaaS), Network Slicing, etc
Reduce CAPEX and operational expenditure by providing multi-domain and E2E life cycle management
Policy design and management for execution at the edge for achieving better SLA's
Real-time assurance visualizes, automates and optimizes the service and network quality across hybrid networks with closed-loop automation and analytics driven by AI-ML.
Manage and orchestrate the hybrid cloud infrastructure
STL's Orchestration Platform for a Converged Network
STL's orchestrator platform is envisaged as an application management system that provides building blocks that include microservices architecture, model-driven templates, and multi-domain design scope.
As shown below, STL's cloud-native architecture consists of Orchestrator at the centralized location for service orchestration, cloud infrastructure and service assurance management coupled with Edge Orchestrator, Open and disaggregated CU-DU architecture and RAN Intelligent controller (RIC) allows greater flexibility in delivering the quality of experience (QoE) for B2C and B2B customers.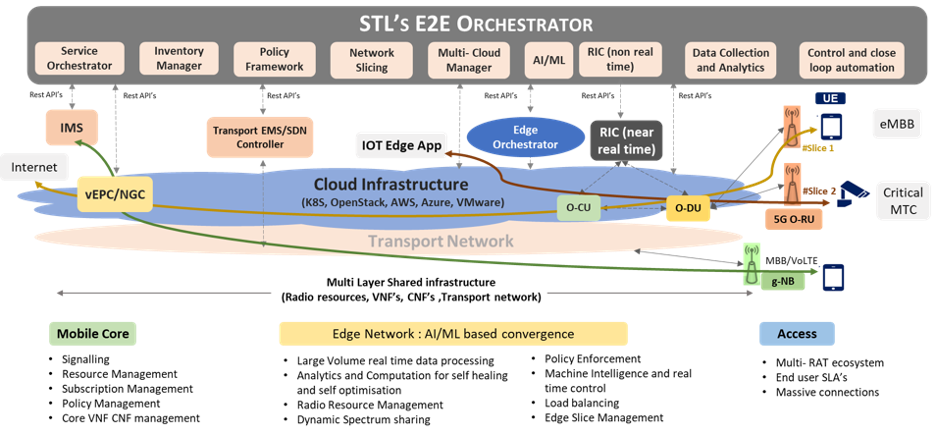 The micro-services based architecture of orchestrator is comprised of smaller, independent services that communicate with each other using language-agnostic Representational State Transfer Application Program Interfaces (REST APIs). Each micro-service performs a specific task, thus facilitating a modular approach to system building. The platform developed with kubernetes as the docker container orchestration provide autonomous, distributed application micro-services. These containers allow us to scale and deploy easily across the network, as well as control them with standard or custom configurations.
STL orchestrator at the central layer with network slicing, multi-domain life cycle management, cloud infrastructure management and close loop automation capabilities helps the service providers to addresses their challenges for zero-touch automation, centralized network management, and multi-layer discovery and visualization across multiple domains. STL Orchestrator open to integrate multi-vendor with open-APIs simplifies O&M by automatically optimizing network-wide service resources and policies based on multi-layer traffic information.
For more information on STL's 5G products and solutions please contact
Mr. Rajesh Mhatre –Product Manager-Wireless networks and Orchestrator
To be followed by….. "The key elements of 5G orchestration system"
FAQs
What is WiFi?
Put simply, WiFi is a technology that uses radio waves to create a wireless network through which devices like mobile phones, computers, printers, etc., connect to the internet. A wireless router is needed to establish a WiFi hotspot that people in its vicinity may use to access internet services. You're sure to have encountered such a WiFi hotspot in houses, offices, restaurants, etc.
To get a little more technical, WiFi works by enabling a Wireless Local Area Network or WLAN that allows devices connected to it to exchange signals with the internet via a router. The frequencies of these signals are either 2.4 GHz or 5 GHz bandwidths. These frequencies are much higher than those transmitted to or by radios, mobile phones, and televisions since WiFi signals need to carry significantly higher amounts of data. The networking standards are variants of 802.11, of which there are several (802.11a, 802.11b, 801.11g, etc.).

What is Open RAN?
From a deployment standpoint, we have Non-Standalone Mode(NSA), Dynamic Spectrum Sharing(DSS), and Standalone Mode (SA). The initial deployments of 5G NR are based on NSA standards, meaning the existing 4G LTE network will operate on the control plane, and 5G NR will be introduced to the user plane.
This particular standard was introduced by 3GPP, keeping in mind the industry's push to faster 5G services rollout while utilizing the existing 4G LTE infrastructure currently in place. On the other hand, operators are also implementing Dynamic Spectrum Sharing (DSS) to accelerate the deployment cycle, which will reduce costs and improve spectrum utilization. In this standard, the same spectrum is shared between the 5G NR and 4G LTE, multiplexing over time per user demands. Lastly, we have the Standalone Mode (SA), which moves towards a complete 5G based network where both signaling and the information transfer are driven by a 5G cell.