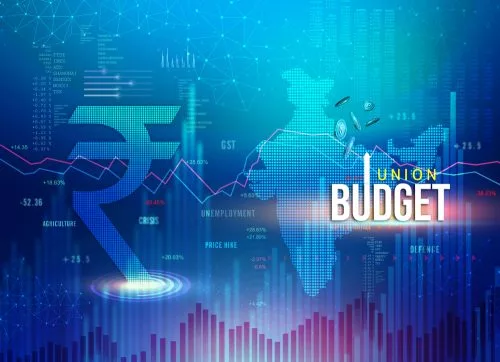 We discuss the following topics in this blog:
What is a dedicated defense ICT budget?
Reasons why India should NOW have a dedicated ICT budget.
Who should be the benchmark countries?
In addition to these topics, we shall also be answering the following FAQs:
What is digitalization in defense?
What is an LTE network?
Defense sector piques the interest of many and for good reasons! In our previous series, we have emphasized that digital transformation in defense is evolving and now the time is to leapfrog to the frontier of a digital defense.
In this series of three we bring forth the topic of policy impetus that can enable digital supremacy for our defense forces.
We start with importance of having a dedicated ICT budget for Defence like other major global Defence forces have, then we go on to talk about leveraging the strength of private players in Defence and finally we delve into the significance of Atmanirbharta in developing Defence ICT infrastructure.
Story 1:
Dedicated Defence ICT budget
Digital technology is playing an important role in increasing the pace of India's economic growth and creating opportunities for making our nation a just and equitable society. India is harnessing the potential of digital technologies for more and more inclusive development.
Despite all these developments, our nation constantly faces complex challenges and uncertainty in its strategic security environment.
Digital Defence – The global picture
The Defence forces all over the world are getting ahead of the digital curve and putting in place solutions like intelligent planning, digital twins, robotics, AR/VR, net-centric warfare, AI/ML led threat analysis that act as strategic enablers to manage this shift. Digital technologies like Autonomous Underwater Vehicles (AUV) and Autonomous Aerial Vehicle are being deployed in a various military applications across intelligence, surveillance, navigation and communication.
Majority of the advanced armed forces globally are already leveraging 'digital supremacy' for military operations and future warfare. Network-centricity has been central to the way these armed forces operate.
| | | |
| --- | --- | --- |
| Country | Technology Prowess | Enabling Network |
| Israel | Israeli Defence Force (IDF) has recently established Digital Transformation Administration unit to apply big data, AI/ML to improve battlefield performance and streamline the military's administration. The IDF is using Robot for Border Surveillance, which replaces human surveillance with technology solutions | Israeli Defence Force (IDF) has recently established Digital Transformation Administration unit to apply big data, AI/ML to improve battlefield performance and streamline the military's administration. The IDF is using Robot for Border Surveillance, which replaces human surveillance with technology solutions |
| United States | The U.S. DoD has signed the Joint Enterprise Defense Infrastructure (JEDI) contract with Microsoft to build the U.S. war cloud with an aim modernize the military's entire IT infrastructure | JEDI will transform the U.S. military's cloud computing systems to support warfighterson the tactical edge |
| United Kingdom | The UK Ministry of Defence (MOD) launched its new Defence Technology Framework and Defence Innovation Priorities. The framework sets out how the MOD intends to identify and focus efforts on technologies that offer the greatest potential to enhance capability across internal business functions and military operations | Defence Information Infrastructure (DII) is a secure military network owned by the UK's MOD including the Royal Navy, British Army and Royal Air Force as well as MOD civil servants |
India also, now, must develop digital defence capabilities and a technology-enabled military strategy. There is a pressing need to augment and fortify India's defence networks with digital imperatives outlined below:
Network modernization & tactical communications for building strategic deterrence, net-centricity and enhancing win-ability
Robust Data Centre ecosystem for intelligence gathering and sharing and paving the way for futuristic defence applications 
Intelligence and situational awareness for predictive and prescriptive decision-making, enabling next-gen military ISR (Intelligence, Surveillance and Reconnaissance), on-field and simulation training and wargaming, sensing & surveillance, coupled with analytics, and on-ground resource mobilisation for technology-led base and border management
Warfare strategies like Internet of Battle Things (IoBT), connected soldiers, command and control centres, autonomous technologies for UAVs, high-altitude pseudo satellites, etc.
Why We Need A Dedicated Defense ICT Budget for Defense Digitisation?
All said and done, these digital capabilities need a formidable Defence grade network to ride on and a significant investment to develop these capabilities. The Indian Army possesses weapons and equipment that are on the verge of getting obsolete and will need replacement.
The next step should be to acquire network-centric capabilities to optimise the Army's full potential in defensive and offensive operations. In addition, urgent steps should be taken to enhance the operational capabilities of aviation, engineers, signal communications, reconnaissance, surveillance, and target acquisition branches in order to improve the Army's overall combat potential.
India, with US$65.86 billion as the total defence budget, is the third biggest military spender in the world. Among the major components of the defence budget the Defence Services Estimates (DSE) constitutes 69%, defence pension 28% and MoD (Civil) 3%. Though Tri-forces' modernization budget increased by 11% in 2020-21 as compared to the last year, much of this has been dedicated for aircraft and aero-engines, heavy & medium vehicles, Rashtriya Rifles, and other military equipment.
Though it is important and strategic to be battlefield supreme, having digital supremacy is paramount from a strategic perspective.
Here are some reasons why India should NOW have a dedicated ICT budget:
The Impending Network
India, now, must develop digital Defence capabilities and a technology-enabled military strategy of which Joint-ness forms the key component. The first and foremost step towards being digitally supreme converging networks of tri-forces and fortify them with modern digital capabilities.
Varied Threatscape
The ever-evolving threatscape is making our borders vulnerable to various attacks in the form of infiltration, cross-border terrorism, and drug trafficking. There is a pressing need to 'intelligize' our borders and make them 'Smart' by using joint networks as a deterrent.
Envisioned State of Digital Supremacy
We have envisioned our Defence force embracing digitalisation not only for equipment evolution and battlefield strategies but also for incubating great military intelligence. Having a dedicated ICT budget is imperative for upgrading networks and adopting disruptive technologies critical for Defence force.
Who Should be the Benchmarks?
Many countries are able to form a formidable digital Defence force because they have a dedicated ICT budget for adding a 'Digital Edge' to their forces.
Let's look at the ICT spent of some of the major global defence forces: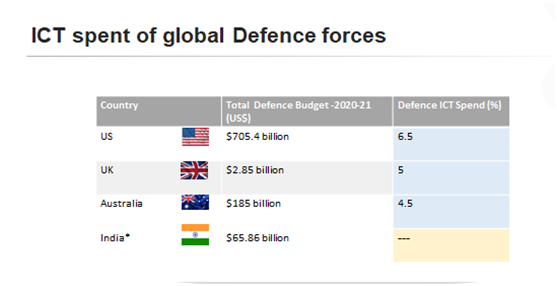 Though Indian Defence force has the third highest budget, but for network modernization and digitisation, it has been staggered, spends have happened more in an ad hoc manner.
The slow pace of the Indian defence ICT modernisation has led many adversaries seeking advantage of India's vulnerabilities, which in turn have had severe implications for India's national security in the past.
India needs a dedicated ICT budget but it needs some policy changes to make that happen. Will 2021 be that year when Indian will have a dedicated Defence ICT budget and it will strive to become supreme Defence power, at par with other major Defence forces of the world.
FAQs
What is digitalization in defense?
The term "digitalization of defence" encompasses a wide range of concepts. It entails maximising the use of modern data analytics and Artificial Intelligence as quickly as possible. It entails replacing out-of-date IT systems with more uniform design, standards, and procedures, as well as adapting and merging the old and new. It entails making timely, data-driven decisions. It also entails enhancing the pace and agility with which new digital solutions are introduced.
What is an LTE network?
LTE or commonly known as long-term evolution is a global open interoperable standard for wireless high-speed cellular data and is the technology behind today's 4G cellular networks. LTE provides high-speed mobile broadband data, telephone services like VoLTE ie Voice over LTE, Multimedia video support, public safety functions such as secure database access, computer-aided design, mapping, remote management systems, and non-mission critical push to talk service. This standard is developed by the 3rd Generation Partnership Project (3GPP).
An LTE network has four major components: Core Network (Often called the brain of the subsystem, it consists of gateways and servers that control access, quality of service, billing, and network policies), Radio Access Network (These are the cell sites/towers and consists of transceiver equipment eNodeB and antennas that provides wireless coverage to the device), backhaul network(It consists of fibre & microwave connections and it connects the radio access network to the core network), User Equipment (It consists of mobile devices, routers etc. and it helps connect directly to the radio access network).
Four major features of LTE are:
a) Exclusive Spectrum – Better spectrum allocation with the division between commercial and mission-critical services
b) High Speed – LTE networks are typically designed with three sectors on each site and each sector supports the same amount of data. Each sector usually supports 40Mbps of data.
c) Priority and Preemption – It allows the network operator to make sure that the most important traffic always gets allocated to the priority user even if the network gets busy.
d) Self Organising Networks (SON) – It allows the network to automatically self-heal itself during outages ie temporarily one cell site can compensate for the non-functional site avoiding a communication blackout. This allows the users in the sector to access the service but the throughput may vary because more users get added to the specific sector.