The decade of network creation is finally here!
As covid-19 took the world by a storm in 2020, countries worldwide resorted to lockdowns to contain the virus. While people were missing the joy of face-to-face interactions, digital connectivity truly emerged as the hero of covid times. In no time, millions across the world adapted to the new way of living and remote working. Realising that staying connected from home was not as difficult, the demand for fixed high-speed broadband services reached an all-time high. At this juncture, network creators shouldered the responsibility of providing for needs like e-learning, video conferencing, immersive entertainment etc. Correspondingly, 63 million new fixed fibre-to-the-x (FTTx) broadband subscribers were added in 2020 taking the count to 697.9 million globally.
Post pandemic, life got back to business as usual. However, the trend of using digital technologies continued in the new normal as well. The world started moving to a 'digital throughout' mindset. Covid-19 indeed acted as a catalyst to accelerate the shift to the new decade of network creation. Yes, 2020-30 is projected as the best decade for fibre demand till date. The global FTTx market, estimated at US$14.1 billion in 2020, is projected to reach US$29.7 billion by 2026.
Is our joy sorrow for network creators?
While we watch the latest movies on Netflix happily without thinking of anything before and after, network creators struggle to fulfil the expectations of billions like us. With 5G spreading like wildfire, the world is all set to experience the gigabit broadband age soon. Network creators must upgrade their infrastructure; accommodate scalability and agility while delivering high bandwidth and low latency. For a long time, network creators have been striving hard to build networks that meet the current demands of users and are also prepared for future innovations. However, massive disruption in the telecom industry has made network creators rethink their business models. Virtualization, openness, and disaggregation are about to change the shape of the network landscape in future. The use of proprietary platforms adds to the difficulties of network creators struggling to deliver enhanced user experience and better quality of service (QoS).
Why should network creators opt for pFTTx?
pFTTx helps network creators transform their legacy networks by combining open-source programmability and virtualisation. Adopting an open networking compliant approach is the perfect alternative to proprietary, vendor-locked fixed access solutions. By disaggregating the software and hardware layers, pFTTx allows network creators the flexibility to procure both independently from two different vendors. This also helps them get rid of single vendor lock-ins and thus promotes competition.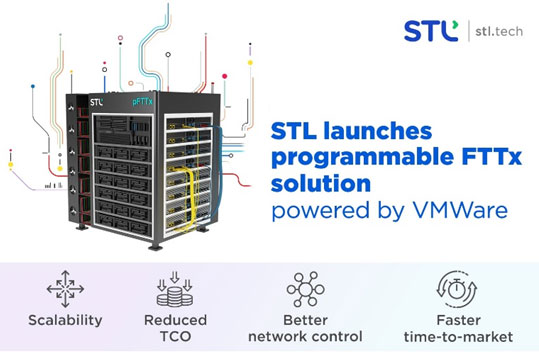 Integration with third-party applications enhances the overall network performance and QoS. Network creators can also optimise resource utilisation and scale the network according to subscriber demand. They are thus capable of providing an unmatched experience to their users despite high demands. The network can support next-generation connectivity technologies like the internet of things (IoT), edge networks and 5G. Being VMware certified, pFTTx is easily available through its cloud marketplace. The solution also complies with Broadband Forum and Open Networking Foundation standards. pFTTx can be deployed in the cloud, on-premises or on the servers adding further to the flexibility of service providers.
Connecting the dots With pFTTx, network creators can provide last-mile connectivity bringing fibre to the home, and connecting families and communities worldwide. The technology enables the launching of new technology services as and when required by the users. With 25+ years of experience in the optical fibre space, STL is accurately positioned to enable network creators with digital transformation solutions. STL's pFTTx is certainly a solution that helps network creators walk confidently on the path of digital transformation and economic growth.