The current capacity-driven marketplace models of Telcos/CSPs will become obsolete very soon. The groundbreaking trends like phantomisation, growth of OTT, and the emergence of new and improved marketplace models offer new perspectives for telcos or CSPs to develop market models that align with current and future enterprise market needs and use cases. In this blog, you shall get some answers to crucial questions like,
Evolution of marketplace models focusing on enterprise market needs
Considerations of the type of technology, process, and workforce in adopting these market models
How change management and execution are still crucial elements for hassle-free adoption of marketplace models in a telco or CSP (Customer Service Point) environment?
Enterprise market for telcos
Let's take an example of a market model set up followed by FMCG (fast-moving-consumer-goods) enterprise needs in the last decade or earlier to deliver their services to the end customer.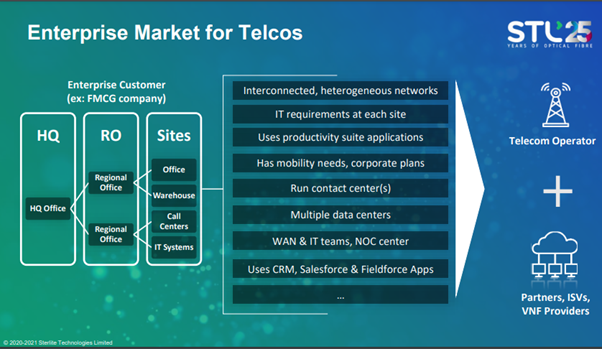 Until 2000 or earlier, particular enterprise needs drove the enterprise market. The FMCG companies would need interconnecting networks to run the operations through an HQ office, RO offices across the globe, call centers, warehouses, IT systems, etc. To deliver the services and reach the market goals, these FMCG companies had to team up with B2B service providers, telecom operators, ISVs, VNF providers, etc. This is what you call a connectivity-based approach. However, as per the current market trends post 2020, this method won't work anymore, and a fresh market model that is partnership-based is the way forward.
Telco enterprise business segment evolution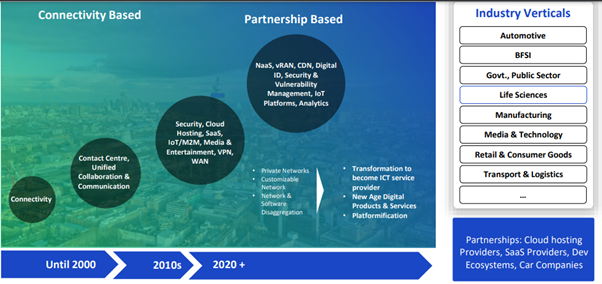 The enterprise has been evolving post-2000 and slowly transitioning from a connectivity-based approach to a partnership-based one. As per the Tele Management forum surveys, 46% of telcos or CSPs can generate only about 10% of revenue from B2B services today. However, in the medium- to long-term, 70% of these CSPs expect to generate more than 50% revenue from B2B services. This indicates that a partnership-based approach for running business operations involving CSPs has great potential to offer a better customer experience and also increase monetization opportunities.
Technology evolution bringing unparalleled control to business
The following technology innovations will act as catalysts to bring unparalleled control to telcos or CSPs. This evolution will enable new use cases for enterprises through partnerships.
Services

Network slicing, Connectivity-as-a-Service, and Network-as-a-Service
OTT services are offered as an overlay on the infrastructure
Software

Virtualised control & user plane (VNF, Containers, and VM)
Controllers, Orchestrators, Cloud-Native Elements
Underlay

COTS for hosting VNFs through E2E Connectivity
Network elements – physical or virtual routers, security, and switches,
Radio Access Network (RAN)

4G LTE, Wi-Fi 6, and LTE-M
5G Non-standalone and Stand-alone architecture
Multi-Access Edge

Apps moving closer to the user-enabled application centricity
Distributing 5G network functions enabling faster traffic and forwarding
Network Core

Network Disaggregation
Control & User plane Separation
Enabling new use cases for enterprises
vRAN as Service
SD WAN
Network Slice
Security as a Service
IoT as a service
Cloud Management as a service
Bare-Metal as a service
Fault Management
Performance Management
PCRF as a service
Through Partnerships
Applications
Infrastructure
Integration
API
Enterprise Market needs vary by segment
The enterprise market needs vary based on the size, type, and reach of the CSP. Some of the requirements include,
Large Enterprises: Here, the network is considered a service. Ex: WAN as a service, SD-WAN, IaaS, PaaS, and SaaS clouds as a service, etc.
Small and Medium Enterprises: Here, the enterprise is considered a service. Ex: Cloud apps, Collaboration tools as a service, Hosted PBX, etc.
Greenfield 4G/5G/IoT/ DSPs/ MVNO: Here, the private network is considered as a service. Ex: vRAN as a service, CI/CD as a service, etc.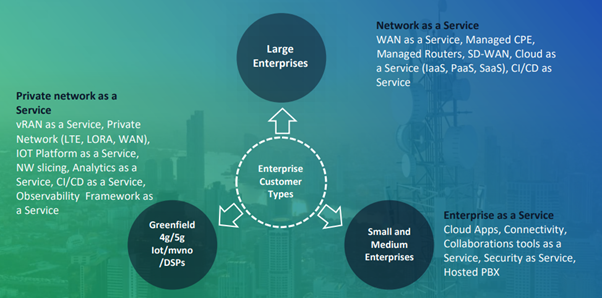 XaaS market model for telcos/CSPs
The following trends prove that X-as-a-Service is no longer just an option but a compulsory adaptation all telcos/CSPs must follow to increase their revenues and survive in the competitive market.
Demand for specialisation/verticalisation

Connectivity needs are getting more specialised. Ex: Smart grids, Connected grids, Industry 4.0, etc.

Everything as a service is proven

XaaS models offer faster time to market, scalability, and efficiency

Enterprise is expected to have a multifold growth

A US$400 billion growth is expected for XAAS by 2025*
Network as a service will increase to 40% by 2025*
Anything as a service will increase to 53% by 2025* (*:Data source as per Global Market Insights)

It is not an option anymore

If telcos or CSPs do not adopt the XaaS model, they run the risk of missing out on crucial opportunities
Challenges in setting up XaaS market model for telcos/CSPs
The main challenges in setting up a XaaS market Model for telcos/CSPs are,
Providing the right customer or partner experience

Onboarding & self-management for enterprise partners and customers
Diversity & complexity in the type of offerings & ordering process
People-dependent and offline processes with long-running orders.
Generating monetisation opportunities

Limited pricing, old business models, and existing legacy billing systems
Long delays in the payment settlement and transparency issues
Inefficient payment channels.
Building platforms for agility

Inflexibility in orchestration and modelling of software-driven disaggregated products & networks
Speed mismatch between IT and network. The IT layer is not designed for elasticity, isolation, and scale.
A marketplace driven platform
A well-thought-out marketplace model for telcos/CSPs will accelerate the entire business operations described below.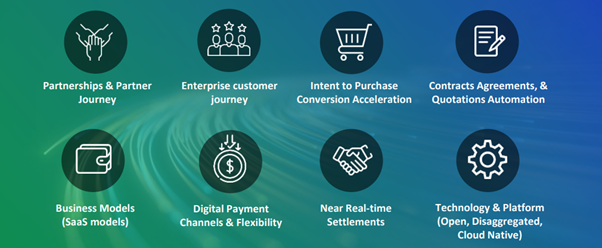 Why the marketplace?
As suggested below, a fully digitised marketplace platform will offer a host of benefits for both enterprise customers and partners.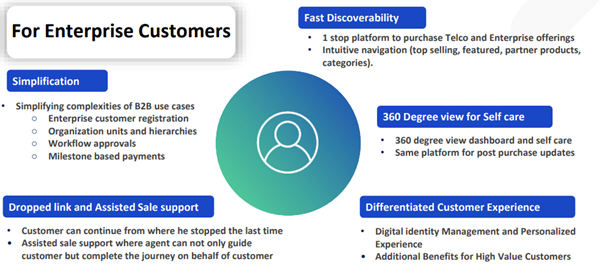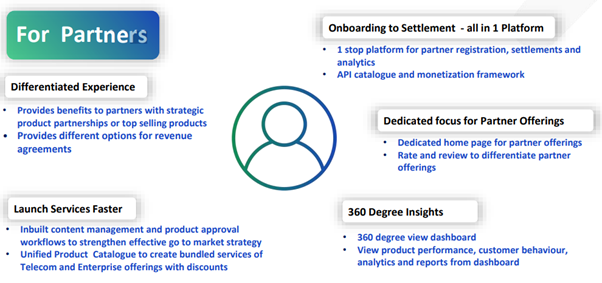 5 recommendations by STL for realising the full potential of a fully digitised marketplace platform
Here are the 5 recommendations proposed by STL for realising the full potential of a fully digitised marketplace platform,
Architecture for marketplace platform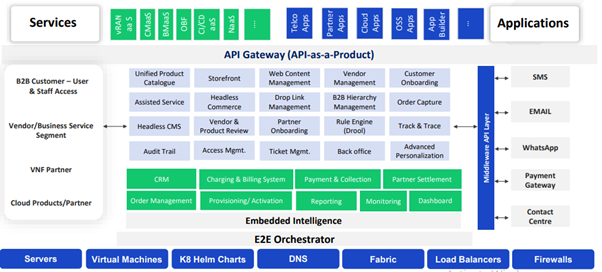 2. Use pricing innovation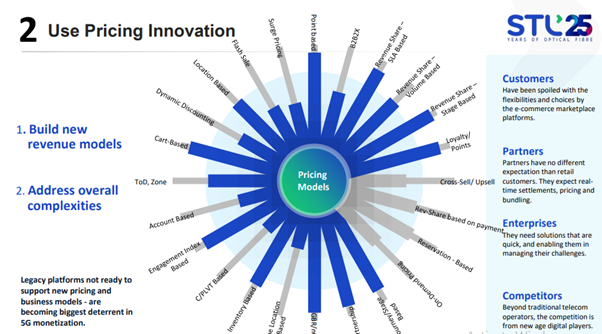 3. Start building partnerships

4. Digitise process using design thinking approach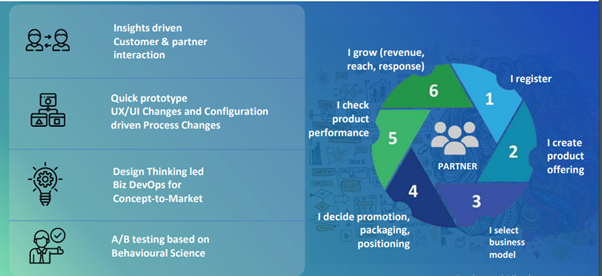 5. Focus on building skill set and mind-set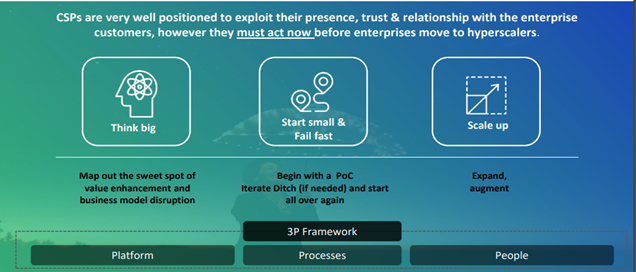 Conclusion
Time to make a choice
Suppose you wish to stay relevant and increase your monetisation opportunity, then it's time to choose a market model that is cost-effective and increases revenue at the same time. The graph below shows telcos/CSPs' focus vs. platform maturity.