More and more businesses are looking for ways to digitally change their IT infrastructure by introducing new systems, apps, and processes. Still, they must also decide how much control they want over these innovations. There are competing theories on the optimal approach when it comes to more labor and time-intensive procedures like electronic data interchange (EDI), business-to-business (B2B) exchange, application integration, and cloud computing.
However, some businesses manage day-to-day operations and make integration investments in-house. On the other hand, companies may decide that they can't handle it in-house and want to use a managed services model instead.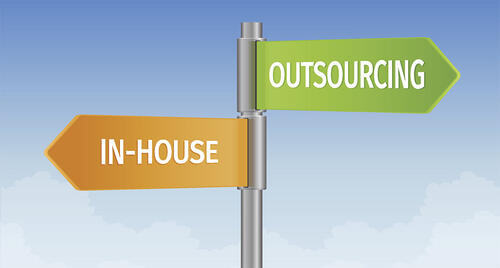 Is there a clear winner between in-house and managed services in the continuing debate? It might not always be a similar case every time. How you serve the many stakeholders in your business ecosystem—suppliers, vendors, partners, and end users—will rely on the strengths of your internal resources and the priorities of those you want to serve.

Here we will compare and contrast the benefits and drawbacks of doing integration in-house vs using managed services.

The In-house Approach
In-house integration is a viable option for businesses with the necessary resources and personnel, a strong requirement for command and control, and a strong preference for proximity to assistance and flexibility.

Talents and abilities
Some businesses may feel confident in their in-house capabilities to handle all integration aspects. Otherwise, they'll have to put money into employing new people or re-educating the ones they already have. However, it may be challenging to identify, recruit, and retain the development and operational talents necessary to master integration due to the increasing variety of communications protocols and data types to support. As a result, a business may decide to hire consultants to help with more intricate processes.

Control
By keeping integration in-house, you may better protect sensitive company information. As a result, you won't have to worry about the public cloud is unavailable, hacked, or experiencing other problems that could disrupt your business. In addition, this model often puts the responsibility for meeting service level agreements (SLAs) with clients and partners in the hands of your own staff, which is a giant leap of faith.

Cohesion and adaptability
Organizations can rely on internal resources anytime they are required, which is a major perk of an in-house approach. As a result, you can usually make necessary adjustments or fix problems quickly. However, companies should be wary of Managed Services Providers with a high volume of clients who may put them on hold and get to their requests when they can.
The expense of doing everything in-house is a significant drawback. Companies that handle their own integration are responsible for all expenses, upkeep, and support related to the necessary gear and software. A Managed services model might be an option for those who want to avoid these responsibilities.

Managed Integration Services
Many companies choose external integration services because they lack the in-house expertise to run the process, are too reliant on a small number of experts (one person knows all there is to know about the system), or are moving toward a more cloud-based strategy.

Various Capabilities
Every time a new trade partner must be onboarded or a service must be installed, a business may save time, money, and headaches by employing managed services for integration. You can relax knowing that your Managed Services provider has the knowledge to facilitate quick onboarding of trade partners, resolve any faults that may emerge, and proactively assess system health to guarantee uptime. Instead of using internal resources, a managed services model might outsource integration issues to professionals.

Resources
In some instances, your company may have the necessary integration skills, but those abilities may be limited to a single area. For example, it is not unusual for a small number of employees to have overseen enterprise integration throughout the years, making them the only experts on the integrations' construction and troubleshooting. That's not just a very inefficient system but also an incredibly unsafe one. What would happen if they left? With an outsourced IT approach, you'll always have access to the skills and knowledge you need to take advantage of any protocol or format, create and implement integrations, draw up maps, and guarantee ecosystem connection.

Best Partner in Need
End-to-end ecosystem integration, 24/7 monitoring and management, automatic warnings and notifications, scalability to accommodate peak needs, and the flexibility to expand with your organization are just some of how a reputable Managed Services provider can remove integration complexity. The greatest Managed Services provider, however, will function as more than just a supplier but rather as a reliable business partner who can adapt to the changing demands of your digital environment.

Moving to Clouds
In the process of updating to a cloud-based approach, many businesses have discovered that the managed services model is the most cost-effective option since it allows them to pay for the services they need. When companies adopt a shared services model, they save money on hiring new workers, paying them, and providing them with benefits. More than that, you won't have to worry about manually starting up servers anymore. In addition, you obtain the dependability you want and the additional integration know-how to engage in your ecosystem effectively since the uptime SLA is a major feature of most managed services contracts.

Finding the correct Managed Services provider to collaborate with and clearly communicate your business's requirements and objectives. You should also be familiar with the cloud services contract in its entirety so that you can anticipate and plan for any support difficulties or downtime that may affect your organization.

How to Decide on a Managed Services Provider
Before opting for managed services, it is important to carefully analyze the pros and cons of taking this approach. Think about the following in light of your available funds, your objectives, the scale of your business, and its information technology requirements.

Benefits of managed services
Managed Services Providers(MSPs) are specialized organizations with the end purpose of supporting your IT requirements. This is the primary benefit of managed services (which in turn generates additional advantages).
When you collaborate with a Managed Services provider (MSP), you can count on receiving a wide range of services from a team with a more extensive range of expertise and the guarantee of quality service, as detailed in the SLA.
To receive the services, all you need to do is pay the agreed-upon fee. They will handle everything else, including the cost of infrastructure upgrades (such as ticketing systems and remote monitoring and management software).
If the Managed Services provider's service doesn't satisfy your needs, you may easily switch to another one.
Contemplating Managed Services, There Are Some Downsides

With so many Managed Services Providers(MSPs) from which to choose, it may take more time than you anticipate to select the ideal one for your organization.
It is important to remember that there may be delays in responding to an emergency if necessary personnel are not immediately available.
To add to the list of reasons why an MSP may not be a good match for your business, consider the desire for in-house IT management.
Conclusion
Hiring managed services or building one's own in-house IT department might be challenging. These choices are not, however, exclusive of one another. While most IT departments would want to be more strategic, they typically struggle to rise above the routine tasks that keep them from doing so. These are necessary but time-consuming and labor-intensive activities that might hinder progress on other fronts, such as supporting strategic business initiatives and improving digital transformation as a whole.
Some multinational corporations have the resources to handle their whole technology program internally, but most businesses have trouble with some parts of it. By forming a strategic alliance with a Managed Services provider, your team will be free to concentrate on more essential goals. In contrast, the provider takes care of the day-to-day operations of your technology management program.