Commonly used in optical communication, aerial fiber optic cables are very common these days and can be seen hanging on the poles in your surroundings. Since aerial cables are exposed to harsh outdoor environments and extreme weather conditions, the material used to make them must be sturdy and durable. Aerial fiber cables are available in a variety of designs to suit different types of overhead applications. Today, we will learn more about aerial fiber optic cables and how they work.
What are the Mechanics of Aerial Fibre cables?

An aerial cable is an insulated cable that typically comprises all fibres that are required for a telecommunication line. This cable is suspended between utility poles or electricity pylons as it may even be lashed to a wire rope messenger strand with help of a small gauge wire. The strand is tensioned to a certain extent, ensuring that it withstands the weight of the cable and also any climatic hazard such as ice, snow, water, and wind. The main goal is to keep the cable as low stress as possible while also maintaining a drop in the messenger and cable to ensure safety.
What are the Types of Aerial Cables?

Based on their installation method, aerial cables are usually categorized under two types – self-supporting and catenary wire.
Self-supporting aerial cables, also known as all-dielectric self-supporting (ADSS) cables are bonded to insulated steel or all-dielectric messenger for support. Usually, ADSS cables are made up of heavier jackets and stronger metal. On the other hand, catenary wire aerial cables are the usual outdoor loose-tube cables that can be lashed to a messenger or another cable.
Based on the structures and materials of the aerial optical fiber cables, there are various other kinds of self-supporting aerial fiber cables available in the market. Some of the most commonly used ones are GYTC8S, GYXTC8S, GYXTC8Y, and more.
Aerial Fibre Optic Cables: Benefits
There are a number of benefits that can be availed through the aerial placement of fiber optic cables. Let us have a look at them:
Faster Connectivity
Aerial fiber optic cable installation is a lot easier and faster since putting up poles or even utilizing the ones that are already there is much quicker. Thus, rather than burying the cables through excavation methods, like underground trenching, underground jetting, and horizontal directional drilling; aerial installation can offer faster connectivity.
Cost-Effective
Other than being quick, aerial placement is also usually less expensive as compared to the underground placement of cables. This is the reason it is a preferred solution in rural and low-density areas, especially if there is a chance that an existing pole can be used. Moreover, there are minimal long-term maintenance costs involved when it comes to ADSS aerial fiber optic cable.
Lightweight
Aerial cables are quite lightweight and even have a small diameter with the optional surplus of a fully dielectric design. This makes them easy to manage and extremely portable, making installation a lot easier and convenient. The lightweight of the self-supporting cable makes it really rapid and economical to deploy them, which can go up to 4 to 5 km per day.
Weather-Resistance
Aerial cables are extremely reliable and sturdy. They are designed for a lifespan of 25-years and they can easily withstand harsh environmental conditions such as wind and ice loading, rainwater, and UV exposure.
The above-mentioned benefits make aerial cables a feasible option for both – cost and convenience.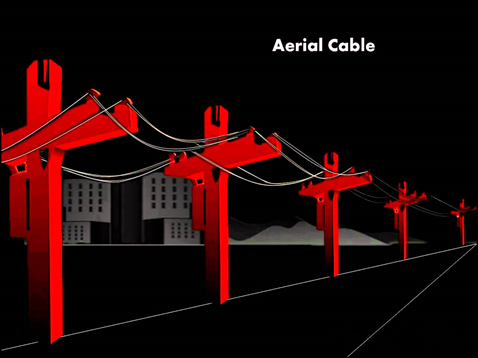 Aerial Fibre Deployment: Key Factors to Consider
While deploying Aerial Fiber optic cable, there are a bunch of factors that need to be considered. Here are some of the major things that should be kept in mind during fiber optic aerial cable installation:
Approach
One of the first things that need to be considered while installing aerial cables is the approach that should be followed. Since there are two distinct approaches to installation – cable-in-duct (with blown or pushable fiber) and a ruggedized pre-fibered aerial cable, it is important to pick the suitable tactic first.
Capital Expenditure
Another thing that should be considered, especially by small network providers is the capital expenditure for the deployment of aerial cables. This is because purchasing a landscaping plant and owning/renting equipment can be quite expensive for them.
Environment Challenges
Aerial cables are exposed to various environmental challenges and this is something that should be addressed during the installation process as well. Moreover, the fact that the cables tend to experience fiber strain during the installation process of up to 600 lbs of tension, makes it a lot more important to ensure that the procedure is done accurately.
FAQ:
How do you install aerial fiber optic cable?
There are typically two methods for aerial fiber optic cable installation – the moving reel method and the stationary reel method.
Whenever it is possible for a cable reel trailer or aerial lift truck to easily move along the pole line we go with the moving reel method. Thus, this is adapted when there are no obstructions preventing raising of the cable. This is a one-pass operation that does not require the use of cable blocks or pull lines which saves uptime.
When the cable is being laid over an existing lateral cable or there are any other obstructions, the stationary reel approach is used.In this method, the availability of types of vehicles and equipment also plays a major role.
How Reliable are Aerial Fibre cables?
Usually, buried fibre deployments are considered to be a more reliable option as they are not exposed to any weather damage and are buried below the freezing point in the ground.
However, aerial cables are usually made of heavy jackets and strong metal or aramid strength members which helps them withstand such environmental issues. Moreover, with better materials and emerging technology, better quality and high duty aerial fiber cables are available in the marketplace, making them a reliable option as well.
What type of cable is used for an aerial installation?
Aerial fibre optic cables are used for aerial installation. These types of cables are insulated and usually contain all fibres required for a telecommunication line. An aerial fibre optic cable is designed and used for outside plant (OSP) installation between poles as it is lashed to a wire rope messenger strand with a small gauge wire.
What is aerial insulation?
An insulated cable usually refers to a cable compromising all conductors that are necessary for an electrical distribution system (generally using aerial bundled cables) or a telecommunication line. These cables are suspended between utility poles or electricity pylons.
Can fiber optic cable be installed above ground?
Aerial cable installation above ground on poles or towers is possible and this also eliminates the need for underground digging. This is particularly beneficial when the ground is uneven, rocky, or both and digging can be quite tricky.
However, fiber optic cable is preferred to be buried deep in the ground in order to protect it from accidental damage which may lead to high repair costs.