Over the last few years, the growth in last-mile connectivity has been profound. The Key to it is the rampant proliferation of fiber optic networks, primarily the Fiber to the Home (FTTH) connection. It is a type of network architecture where the fiber network is deployed from a Point of Presence (PoP) to residential premises.
In such a typical FTTH network, the optical fibre line runs from an exchange to the PoP which is usually in the form of an FTTH cabinet. For the uninitiated, FTTH cabinetsare typically roadside boxes or cabinets that act as the distribution point (PoP) for local telephone network or fiber network directly to homes. FTTH cabinets, therefore, house and protect optical fibre links in an FTTH network. They shield the indoor fiber optic components from dust and harsh weather as well.
But are there different types of FTTH cabinets? Moreover, what are the applications of FTTH cabinets? Let us answer these questions and more in this blog.
Types of FTTH Cabinets
Fibre optic distribution cabinets are often customised to customer specifications and the location where they intend to be installed. This is what makes them utterly reliable for being used in a fiber connection architecture.
So, what are the various types of cabinets for FTTH? Well, an FTTH cabinet can be:
Cross-connection FTTH cabinet
A cross connection FTTH cabinet houses the fiber optic equipment suitable for interfacing between a telephone cable and an optical distribution cable. This door cabinet could either have single-sided front door or a single-sided left and right front door.
These types of cabinets can be mounted both in floor and aerial modes. Such a cross-connection FTTH cabinet integrates heat sealing, roll storage and distribution of the fibre. It ensures that there is a secure transition point from the PON (passive optical network) to the subscriber drop. This is applicable to both pre-configured pigtail and/or patch and splice applications.
The cabinet material used is often cold-rolled steel. Such a robust construction allows the FTTH cabinet to be dust proof, terminal corrosion preventing and safe against splashes of water. This fibre cabinet features modular construction for ease of maintenance. The rigidity of the fibre cabinet construction also prevents movement of the cabinet in the event of cross-connection wire termination.
Outdoor cabinet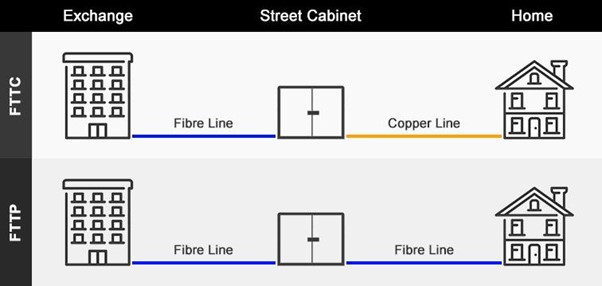 Outdoor cabinet or the regular FTTH street cabinet is an external enclosure with a shell, base and door made of non-metallic components. The cabinet shell is often made of polycarbonate while the metallic parts of the fibre cabinet are stainless steel.
Similar to the cross-connection FTTH cabinet, these telecom street cabinets are also sturdy in design, weatherproof, splash resistant and equipped with corrosion resistance to protect any terminals contained within.
Indoor cabinet
The indoor FTTH cabinet is also a type of fiber distribution cabinet or optical distribution cabinet that is installed in the building or residential premises of a customer. Such an FTTH cabinet also ensures cross-connection flexibility.
The indoor FTTH cabinet is wall-mounted and accommodates top or bottom feeding of cables. Smooth edges, corrosion resistance and impact resistance are some of the hallmarks of these popular telecom cabinets that enclose vital fiber optic equipment.
Network cabinet
A network cabinet is one of the types of cabinets for FTTH that is used to install and protect a rack or a server. It houses fiber equipment such as switches, routers, circuits, hubs, storage, etc. Additionally, it also has servers.
These kinds of cabinets are primarily used at data centres or at communication centres. A fibre network cabinet is specifically designed to keep the fiber networking equipment inside cool and highly ventilated.
Applications of FTTH cabinets
So, what are the applications of FTTH cabinets? Let us take a closer look.
First and foremost, a fibre optic cabinet finds application in protecting critical junctions just before the last mile fiber optic network. They are made of weather-proof, vandalism-proof material and security to provide a safe housing to telecom equipment, fibers, stacks, servers, etc.
FTTH cabinets can be used as Fiber Access Terminals (FAT). These are fiber distribution points that disseminate incoming cable to outgoing cables or blown fibres.
FTTH cabinets are used in Fiber Distribution HUBs (FDH) which are deployed in FTTH networks based on the Passive Optical Network (PON) architecture. While one could say that FATs and FDHs are alike, the latter also have a fibre optic splitter. FATs, but also incorporate fiber optic splitter.
FTTH cabinets are useful in CATV and CCTV applications as well as implementation of 5G networks.
FTTH cabinets are utilised in full fibre rollouts and rural broadband deployments as well.
Want to know More? Check out the FAQs below.
FAQs
What is FTTH technology?
FTTH stands for Fibre to the Home. It is, as evident by the name, a fiber optic access solution that enables residential deployment of fibre broadband. FTTH provides a direct fiber optic cable connection from a central point to the home or a building. It makes for a necessary upgrade over copper cable and DSL-led last mile connectivity thanks to its higher bandwidth and speed. FTTH architecture can be implemented either as Active or Passive. It is commonly deployed for Single Family Units (SFUs) with a small number of ports.
What equipment is needed for FTTH?
Any FTTH network has a whole host of equipment scattered across its three major components: the OLT (Optical Line Terminal), the ODN (Optical Distribution Network) and the ONT/ONU (Optical Network Terminal/Unit).
OLT – It consists of the terminal equipment that connects to the fiber backbone.
ODN – It connects the OLT and the ONT/ONU by providing an optical transmission channel. It can comprise of equipment like splitter, fibre optic cables, cabinet, FDH, FDP, pigtails, patch cord, adapters, etc,
ONU/ONT – It is the endpoint of a fiber network and is based on the Passive Optical Network architecture.
What is difference between FTTx and FTTH?
FTTx is an umbrella term for various kinds fiber infrastructure. It stands for Fiber to the X, where X can be Home, Premises, Node, Curb, etc. Thus, FTTH, FTTP, FTTN, FTTC, etc., all fall under FTTX wherein a fiber optic cable connects an Internet Service Provider directly to the relevant end point. FTTH, on the other hand, simply refers to Fiber to the Home where the fiber optic cable ends at the premises of a customer.
What type of fiber is used for FTTH?
The standard SM fibre, i.e., ITU G. 652 is typically used in an FTTH network. This kind of optical fibre cable is called a dispersion unshifted or non-dispersion shifted fiber.