It was a lazy Sunday afternoon. Arvind Sharma was sitting comfortably on a couch watching television in his flat located on the outskirts of Aurangabad. His 8-year-old son came running to him showing him a picture of superman. He asked Arvind "Dad, what are superheroes? Can I become a superhero? Do I need to be very strong and wear a long cape to be a superhero? This innocent question put a deep smile on Arvind's face and in a fraction of second all memories of the last 2 years flashed in his mind.
The year was 2020 and humanity was challenged like never before. The disruptive effects of the pandemic affected the daily routines of almost each and everyone across the globe.
It created new challenges for all, especially manufacturing companies, many of which were already struggling for many reasons. Companies across the country struggle to access supply chains. This limited their ability to continue smooth operations.
The pandemic impacted the majority of the projects which were either suspended or delayed due to scarce workforce and supply chain disruptions. Even post-pandemic, challenges remain related to staggered workforce, sliding timelines and cost overruns
While the COVID times were tremendously challenging, there have been remarkable stories of human ingenuity and creativity.
When Arvind was engrossed in these thoughts, his son asked the same question, this time in a noticeably higher pitch, "TELL ME, WHAT ARE SUPERHEROES"? To this Arvind said, today I will tell you a story of our vey own superheroes, a story of resilience and rigour, and yes they never wore any capes."
Not all superheroes wear capes
Arvind started telling his son the story of STL employees, who emerged as superheroes. Not to be mistaken, here Arvind was referring to all the plant heads and field engineers who, while keeping their personal life at the back of their priority list, exhibited great rigour and resilience during the tough COVID times. They brought two projects of national importance to the near completion stage – Mahanet, the state-led implementation of Bharatnet and Varun, the naval communication network project. Our field heroes demonstrated project delivery excellence even during the critical year of 2020-21.
Leveraging their technical expertise and STL's project delivery excellence, they helped reset the processes to govern timely delivery and ramped up the progress along all the projects. They adopted agile thinking methodology and innovation to pivot quickly and focus on proactive problem-solving.
During the year, there was a national lockdown and everything came to a halt including manufacturing units and supply chain operations. But even during the peak lockdown period, these people did not stop.
Despite manufacturing and supply chains being disrupted the world over, they maintained business continuity and enabled STL's manufacturing units to continue at total capacity.
Not only field engineers, even plant heads and human resource teams came forward to make this happen. They took several measures to ensure that manufacturing units kept running smoothly and the supply chain was not interrupted. This included:
Accommodation arrangement of ~400 employees within the plants with full safety features
Tie-ups with nearby hospitals and clinics for emergency situations
Maintaining health and hygiene within plants under COVID protocols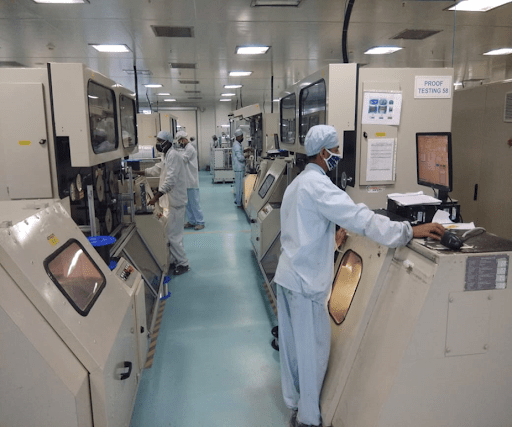 The wellbeing of employees continued to be of utmost priority. Several initiatives to support employees and their families during the pandemic were taken, viz. telemedicine consultation, Healthcare service at home, Covid testing, vaccination support, and Emotional/mental support. The employees were also assisted with hospital availability, isolation, oxygen concentrator/cylinder, injections, plasma, ambulance, etc.
Keeping the safety and wellbeing of all employees, with the help and continuous support of these heroes, STL was able to contribute to society and humanity as a whole:
STL contributed $75,000 to the Italy local government fund via the Italy plant; sent masks to Italy
STL provided PPE support to China; got sanitisers, disinfectants, wards & ventilator assemblies ready in just 5 days
STL's plants were not only converted into large quarantine facilities but were producing PPE gear
Our heroes brought Mahanet and Varun to closure
Using the LEAD 360o 2.0 approach, our field engineers used modern on-field technology, and state-of-the-art machinery, including robotics and AI and digital governance. They tracked the progress of the project while maintaining insights into the dependencies in a changing reality. This ensured speed of execution, efficient utilisation of resources and manpower, and high quality of project delivery even in such challenging times.
Under the state-led implementation of Bharatnet, our field heroes created robust internet connectivity for 8 districts, 60 Talukas, and 4000 Gram Panchayats (GPs), spread across 18,700kms in Maharashtra. The first-ever Bharatnet project to use MPLS technology is now 95% complete. Confronting several challenges like working in tough terrains with deep forests, tackling internal security issues, lack of geo survey data, and adverse weather conditions, the team ensured seamless project delivery in just 18 months. The entire operation was expedited by leveraging innovative and resilient technological solutions to mechanise the process reducing human intervention.
In Varun, a next-gen communication infrastructure, with an advanced security ecosystem, was built for one of the largest defence organisations. Mitigating several challenges like difficult terrains, and a fragmented data ecosystem, the team coordinated with more than 1k workforce across multiple layers to bring in efficiencies and brought the project to near completion. We accomplished end-to-end network modernisation with a converged MPLS infrastructure to enable a robust communication network for defence. The technology-led accelerated deployment became a game-changer in transforming billions of lives and enhancing national security.
Launched a new optical fibre manufacturing facility, even during tough times
Project Tiger at Waluj – In 2020, these heroes played an instrumental role in re-launching the optical fibre cable (OFC) manufacturing plant at Waluj in just 250 days. At a given point in time, there were 350+ workers staying inside the premise so there is no contact with people outside the premises. It was kind of a Bio Bubble created at the facility. The Project team constituted of Vijay Chimne, Jayvant Jadhav, Sunil Sonawane, Ranjit Nagarkoti, Satyam Shukla, Parag Gawande, Harvir Singh and our plant head GB Kardile, Chinmay Lenka, Snehashish Mohanty, Amol Gendale, Ravikiran Ambati, Pramod Kolte. They used new designing tools for layout and MEP designing which resulted in a lean flow for humans and material movement
This plant added 4.5 mn fkm to the STL's annual OFC capacity, which is now ~44 mn fkm. This is STL's 9th manufacturing plant in addition to 8 plants at various locations including China, Shendra, Waluj, Rakholi, Dadra, Italy, and Brazil. The plant is Industry 4.0 ready and will also support rainwater harvesting. Through this plant, STL is looking to serve its customers in Defence, telecom and the state government sector.
At the end, Arvind, said these heroes are a major part of India's digital growth journey in the past 2 years. His son, who was listening to the story with complete enthusiasm asked Arvind a question again. "Dad, are you not a hero?" Arvind smiled again and showed a picture to his son where he was standing with other field engineers in the tough terrains of Vidarbha, deploying fibre cable as part of Project Mahanet.
This was the story of Arvind Sharma, one of our field engineers, who played a major part in bringing Project Mahanet to a closer in two tough years of the pandemic.
We are proud of our heroes and expect them to show the same spirit and maintain this growth momentum to continue in FY23