Telecom industry is at the forefront of leading the transformation the world is witnessing. With the evolving technologies and surging demand for data, solution providers will be addressing the needs of expanding broadband infrastructure and as well as business enablement requirements. The telecom focused companies may need to offer capabilities which straddle across all the layers of telecom network. The ability to integrate all the offerings is a key differentiator for the leaders. The leader that can enable service providers to roll out their services faster in the market and monetize services- Right from site analysis to rollout, identifying infrastructure and deploying software platforms needed for enabling services across large networks. The
CSPs
are demanding for a single provider who can design, build and manage the end-to-end telecom networks. Eventually, Communication Service Providers (
CSPs
) will opt to partner with integrated solution providers who can provide single point solution. The key requirement for any new deployment of telecom service providers have to majorly invest in three different parts, like fibre network, physical network infrastructure, and OSS/BSS software platforms.
Major components of Telecom Network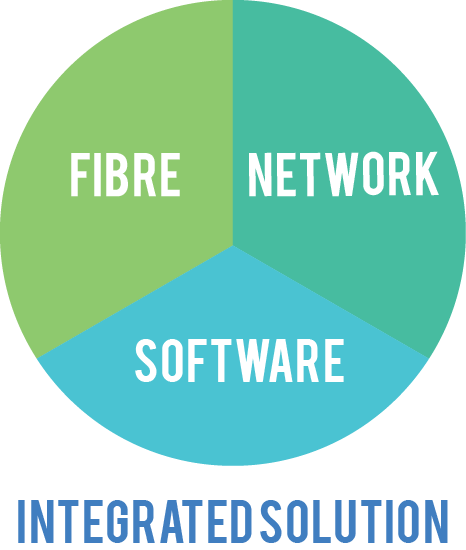 Whether it is Voice, Video, Data Networks, IoT, M2M or Smart City services, Turn Key Solution Providers with large solution portfolio of physical and software platforms are the missing part of the current telecom infrastructure ecosystem. The value addition of Turnkey Solution Providers (TSPs) is to combine years of telecom practice with customer engagement experience and deliver innovative solutions for the
CSPs
. In the current cut throat razor this margins,
CSPs
would love to allocate the least amount of resources on management and maintenance.
Expectations from TurnKey Network & Solution Providers Globally:
Network planning & designing
As part of the Network planning and designing TSPs offer end-to-end planning and designing. Network Planning & Designing Services adds value by designing the most economical network with the highest Quality of Service to support current and future services, technologies and capacity requirements.
Network Deployment
Communication service providers are looking forward to turnkey network deployment services including site analysis, infrastructure deployment, BTS activities, site engineering, site documentation, site management, site audit and site acceptance services. It is will help
CSPs
in keeping pace with the technological advances and at the same time focus on business strategy and service roadmap.
Network O&M
TSPs are expected to provide the full set of operations and maintenance capabilities including all major aspects of incident management, risk management, problem management, scheduled tasks, configuration management, change requests, preventive and proactive maintenance activities, service support management, streamlined fault handling and progressive product upgrade procedures. Delivered as a part of comprehensive business transformation solutions, it requires in-depth knowledge of communications business and operational challenges as well as expertise in product development and systems integration.
System & Network Integration
End-to-End Turnkey Delivery services include the core areas of implementation, program governance, compliance, and deployment. It includes business objective analysis, business case, multi-vendor management, integration services, migration & upgradations, and multi-year program roadmap development, required training and demonstration, and solution operations & maintenance. Strong experience enables TSPs to successfully deliver end-to-end projects of all sizes on time and on budget.
Software Management Platform
OSS/BSS products and solutions are now geared up for the digital world. Digital transformation solutions enable
CSPs
to monetize their networks such as ADSL Broadband, FTTH, Cable, Wi-Fi, 3G, 4G/LTE with end-to-end pre-integrated platform, which has modular flexibility, high scalability, and seamless interoperability. From
Cable MSO
,
LTE/4G
, Real-time Data Analytics, Cloud Ready Solutions, IoT/M2M, MVNO, Voice over Wi-Fi Voice over LTE, Wi-Fi offload to Enterprise Wi-Fi. In conclusion, TSPs should have capable and scalable solutions to cater the needs of the global communication providers. Along with product development, integration & installation, validation & testing, the forecast & analysis of the future requirements is also expected from the TSPs. Integrated solution providers may not be new, but they are the need of the hour.