Technology is evolving at a consistent and rapid pace. Technology specialists are incorporating cutting-edge practices to boost the efficiency of company processes. But, with the consistent evolution of technologies, coping with new processes might be complex and time-consuming. As a company expands and grows, its IT requirements also evolve. A managed service provider, or MSP, can support this growth and help meet the evolving requirements of an enterprise.
MSPs can proactively manage the IT systems of a company while preventing security issues and downtime. Managed services open doors for companies to explore specific capabilities and skills and allow them to rapidly scale their infrastructure up and down based on their distinctive requirements. In 2021, the global managed services market was valued at 161.37 billion USD, and this number is expected to exceed 300 billion USD by 2027. MSPs with the appropriate expertise and technological proficiency comprehend the current needs of businesses and assist them in bridging gaps and mitigating risks.
What are managed services?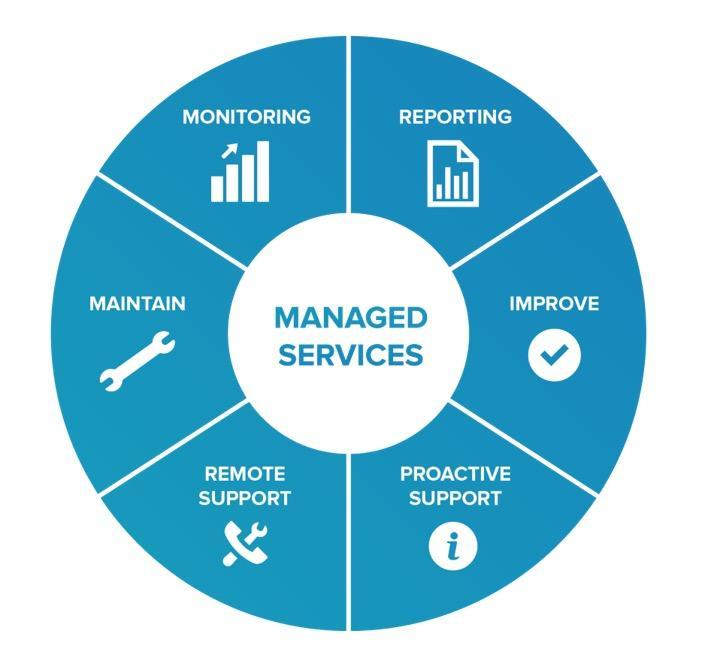 Figure 1: Attributes of Managed Services
Image Source- essjaycopier.com

Managed services imply outsourcing the day-to-day management functions (in some cases) and responsibilities as a strategic method for cutting expenses and improving operations. MSPs can deliver a dynamic range of services via regular and ongoing support and active administration, including IT security, infrastructure, network, cloud, and more. MSPs usually deliver their native services in conjunction with other service providers. Pure-play MSPs put emphasis on a single vendor or technology, which are generally their own core offerings.
The term "MSP" was traditionally just applied to device-centric types of infrastructure services but has expanded to include almost any type of continuous, regular management, support, and maintenance. Avail­ing assistance from MSPs can significantly lighten the load for overstretched IT departments, reduce expenses by shifting capital to operational expenditures, and make an IT team more agile.
Types of managed services
Managed services can be of various kinds, including IT system management, monitoring, and maintenance of equipment, network monitoring, cloud infrastructure, network security, and management of servers, etc. In addition, certain companies offer more specific services, such as Fibre services as well as managed NOC and SOC services.
Managed services are generally structured in different areas:
The Managed Information Service (MIS) segment of the managed services market includes
Business Process Outsourcing (BPO) – BPO involves outsourcing business operations to focus on core activities.
Business Support Systems (BSS) – Business support systems enable support providers to introduce new services and gain customer insights.
Project & Portfolio Management – Project & portfolio management prioritizes business projects, aligns them with organizational goals, and analyzes potential returns.
And other services such as data analysis, knowledge management, data processing, data storage, API, and information security.
The right MSPs can provide you with all the support and products you need to maintain the integrity of the IT infrastructure of a business. They can be considered an addition to an enterprise's IT department while providing the resilience and expertise required to cater to business needs.
Advantages of managed services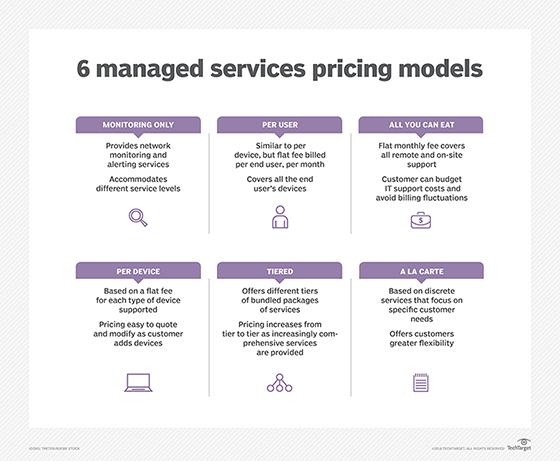 Figure 2: Benefits of Hiring Managed Service Providers (MSPs)
Image Source: techtarget.com

Reduced costs: As a business starts from scratch, up-front costs of hiring and training a team while paying for services and other equipment simultaneously can be financially overwhelming. Hence, hiring MSPs makes a lot of sense for startups. Even established businesses can lower their expenditure by availing managed services. The expenses involved in maintaining an in-house IT team are quite high. Therefore, many IT teams are overworked and understaffed today, which prevents them from meeting deadlines and completing critical tasks on time. MSPs absorb the costs of IT training so that entrepreneurs wouldn't have to worry about IT experts jumping ship.
As one doesn't need to put IT employees on the payroll after hiring MSPs, they can save a good sum of money in the long run. With this type of business model, companies don't have to spend money on constantly changing technology and can get solutions that add value by outsourcing IT tasks.
Predictable expenses: Managed services provide businesses with predictable costs through the automation of systems and processes by the MSPs. By utilizing a range of tools and technologies, MSPs are able to automate routine tasks, reduce the risk of human error and provide services more efficiently. Adherence to service level agreements (SLAs) further contributes to predictability, as it defines the level of service that will be provided and ensures that any issues are addressed in a timely manner.
Scalability: Scaling company networks necessitates a significant quantity of personnel, coordination, new technology, and new tools, all of which come at a high cost. MSPs allow businesses to accommodate new requests, expand or upgrade systems whenever needed without hiring employees or investing in resources, as well as scale down if certain resources are no longer needed. With their assistance, businesses can stay flexible and carry out swift changes that an in-house team cannot respond to efficiently. The added layer of management and monitoring provided by MSPs provides businesses with enhanced visibility of their resourcing trends and growth patterns.
Reduced downtime: Downtime commonly occurs due to equipment problems; computers can malfunction, servers may fail, and electrical disruptions can also occur. Unintentional human error also accounts for a considerable chunk of downtime, and there is not much a business can do to avoid it. Having robust safeguards in place is imperative to reduce such risks. However, reducing the risks of downtime is a multi-faceted activity that an in-house team might not have the experience or bandwidth to tackle competently. MSPs can lower downtime-related expenses by preventing them from happening in the first place. They aid companies in adopting proactive strategies for managing important systems instead of reactive ones.
Gain access to experts and the latest technologies: Businesses should continuously improve customer experience to stay ahead of the competition. Investing in new pieces of technology is the key to achieving this goal. However, the existing team of an enterprise might not be familiar with new and updated technologies, leading to issues like software not working as it should, struggling to gain team buy-in, an inability to use the software, etc. Such problems, however, shall not arise while working with MSPs. They have experts for varied verticals, each with years of experience under their belt. These experts would have the knowledge and expertise needed to advise enterprises on improving business processes rather than fixing the current ones. Good MSPs are in tune with industry trends and know how to leverage the latest technologies for their clients.
Which IT services should be managed?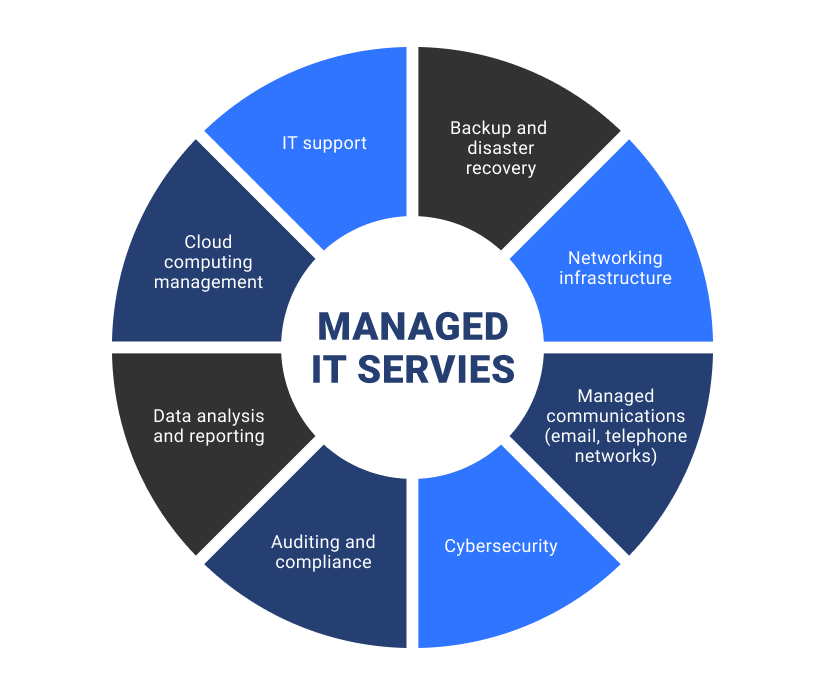 Figure 3: Services offered by MSPs
Image Source: msp360.com

Some of the IT services that need supervision and management by MSPs include:
Network & System Monitoring: Network and system monitoring can be remotely taken up by MSPs for organizations to direct their focus on reducing losses and improving performance. MSPs will take a closer look at all technical aspects of the network and system, to make sure it functions optimally to meet performance targets.
System Design & Upgrades: MSPs will work closely with the organization to understand the business objectives and will fulfill them. They will help your business stay updated with industry trends and technological changes, to stay ahead of the competition in the market.
Cybersecurity Management: Cybersecurity is one of the major roles of MSPs to protect your business from potential threats. They do it by offering periodic software patching, system maintenance, and other security management solutions.
Reporting & Analytics: MSPs with their managed services will offer periodic data analytics and reporting, for you to evaluate the overall network performance, alongside other KPIs. It is to determine any potential bottleneck in the organizational workflow, and fix it before expensive repercussions occur.
Disaster Recovery & Backup: Data is quite critical for the businesses of the modern era. Therefore, managed services include maintaining the safety and integrity of business data. They take ideal care of keeping backups at all times, for easy recovery in case of any disaster infiltration.
Auditing & Compliance: MSPs are proficient with compliance regulations, and help organizations meet the standards. Thus, it reduces the risk associated with client data, documentation, payment data, and other critical information.
There are certain companies that may want to innovate and choose to hand off mundane services to MSPs to free up staff time. Others might outsource the strategic part of their function and keep traditional services in-house. Ideally, an enterprise should consider outsourcing services that do not differentiate it from the competition. But much of it depends on the industry in which the business operates. A company based in a heavily regulated sector might be inclined to keep full-time in-house technicians to build up a sophisticated cyber-security capability instead of outsourcing the function to an MSP.
Before selecting a managed service type, one needs to properly consider the technology already used by a business. They must compile a list of programs, equipment, and functions. It will also be a smart idea to gather information on who is currently managing the varied parts of the IT infrastructure of a business. Analyzing the infrastructure inventory and identifying improvement areas will help businesses determine which managed services they should seek. For instance, if their cloud infrastructure has frequent errors or is too slow, it will be better to obtain managed cloud infrastructure services.
Read more about managed services here.
FAQs
1. What are managed services and how does it add value to businesses?
Managed services with respect to IT operations are tasks handled by third-party providers for the seamless execution of core business operations. The purpose of it is to offload some of the general tasks for the organization, which will help the business by
Improving the quality of service
Reducing overhead costs
Free up the internal team members to work on core business aspects.
2. What are the segments of the managed services market based on solution?
Managed Data Centre
Managed Network
Managed Mobility
Managed Infrastructure
Managed Backup and Recovery
Managed Communication
Managed Information
Managed Security
3. What are the benefits of hiring an MSP?
Some of the practical benefits that an organization can avail of by hiring a managed service provider (MSP) for their IT operations are
Exceptional cost saving, and easy budgeting
Accessibility to expert suggestions
Quick support solutions and faster response time
Pre-set IT infrastructure for enabling quality services
Drives better focus for the business growth.