"A daughter is the happy memories of the past, the joyful moments of the present, and the hope and promise of the future."

Every mother dreams of sharing her values, stories, and strength with her daughter. I am one of the lucky ones who got to share much more with my little girl when she chose to become part of the STL family.
I started working at STL in 1995, and the following year, I gave birth to my daughter, Devi. Since the day she was born, Devi has been my best friend and my greatest blessing.

Being a working mom is never easy, but somehow this incredible young girl lent me her support every step of the way. Her levels of empathy and support made it possible to ease the mom's guilt that comes with missing numerous PTA meetings, open houses, and school performances. "My mom works on Saturdays, just like you do," she would proudly tell her teachers. My Devi made it possible for me to do my work the best I could.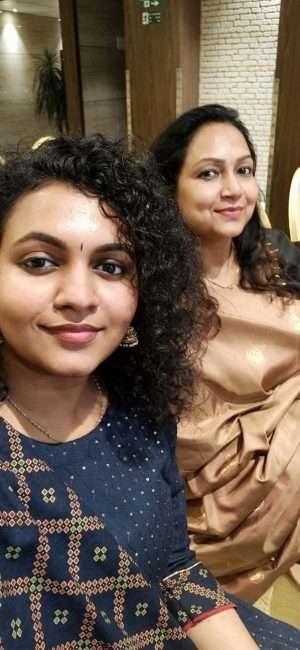 They say, "Behind every successful woman is a man." I say behind every successful woman is a strong and supportive daughter. The morning rush, the school projects, the heartache of growing up, the stress of exams, the peer pressure—there are so many moments when a daughter needs her mother. Devi and her calm countenance made it a cakewalk for me. As she grew up, my daughter became my own personal stylist. She would pick out the apparel I would wear to all the special occasions at work, and my friend would know because her taste is elegant and refined and also very different from what I would usually pick out for myself.

She has never heard of me advising her to learn to cook, but one day, to my amusement, when our house-help didn't show up, she cleaned the entire kitchen and made supper with the help of our neighbour since she knew I would be too weary to do any of those things on my own. This is just one example of how kind she has always been.
Some of the best times we spent together would be when I would pack her school lunch, and she would pack mine to bring to work. Banter, fun, small quips—and we'd both be ready to face the day ahead.
Then came the incredible day when Devi completed her internship and decided to make STL her workplace too. My joy knew no bounds.

As an adult, Devi continues to support me in more ways than I could have hoped for. Our little shared ritual of packing each other's lunchboxes extends to having our lunch together, enjoying both the meal and the company. Devi has always been my support system, from helping pick out my work outfits to listening to stories from work, celebrating my achievements, and egging me on to learn and deliver more. I wouldn't have made it this far if not for her.
Every daughter carries on her mother's legacy. I am also reminded each day that a daughter brings with her a bounty of blessings. She is the treasure we look for all through our lives.

This year I feel grateful for being able to share my story on Daughters' Day. My message to all the daughters in the STL Family is this – "You are strong, resilient, and incredible. Being a woman is not easy because there are several roles that you need to play. Remember that you are doing an amazing job. I am proud of you all."

Happy Daughters' Day.