In continuation with our previous Blog
CSPs Revenue Sharing Model for Digital Partner Settlement
, we had identified three types of revenue sharing models i.e. Fixed Rate, Revenue Sharing and Hybrid. Let us explore all the three models in detail.
A) Fixed-rate
B2B2C Model:
Operator is able to prioritize the delivery of certain services in case of network congestion. OTT vendors can strike a deal with the operator for prioritization of their services. Also, they can have deals for Preferred Bandwidth (QoS), Latency, and Bundled Connectivity etc.

Netflix, an on-demand Internet Streaming Media Provider, and Verizon, a US based leading LTE telecommunications and broadband company, have struck a similar deal. Netflix pays Verizon to provide additional bandwidth to its users for higher data rates.
Partner Specific Plans:
Operator's ability to provide customized pricing solutions specifically designed for Partner services. Reliance Communication launched an Unlimited Facebook plan at a very minimal price point. Facebook can expand its users in India and Reliance can leverage on Facebook's popularity to expand its own subscriber base.
B) Revenue-sharing
Content Partners:
Telco's can partner with any Digital Distribution Platforms e.g. Google Play Store and Content Providers like Amazon. When the subscriber downloads any content from Play Store, the revenue is shared between both the parties.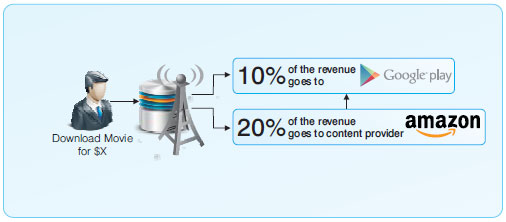 Progressive Revenue Sharing
a > Based on Subscriptions:
Operators generate revenue based on the subscriptions enrolled using their network services. Below is a classic case where twitter for the acquisition of first 200 subscribers will pay Rs. 1 per subscriber to the Telco and subsequently the amount is reduced to Rs. 0.75.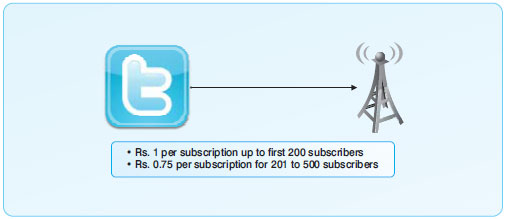 b > Based on Data Usage:
Operators charge social media OTT vendors for the amount of data that subscribers upload/download on their network while accessing the OTT Vendor's app. Here Telco can charge Facebook Rs. 0.5 for the first 500 MB of upload/download and subsequently the amount is reduced to Rs. 0.3 for 500 MB to 1 GB.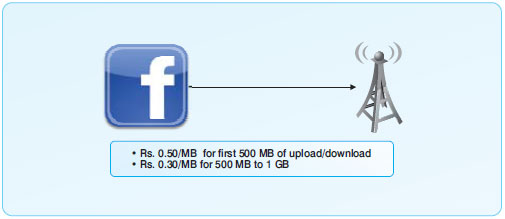 c. Pay-per-click/View
– Content Partner pays to the operator based on the number of click/views made by Telco subscribers.
C. Hybrid
Talk Time Partnerships:
Facebook has launched a Talk-Time Program in India which gives Rs. 50 in calling credits to users who sign up for Facebook on their mobile devices. They also get Rs. 50 extra for every additional user referred; who signs up on Facebook. Telecom operator benefits from additional data usage by these new subscribers.

No-one pays:
Facebook & DTAC Thailand (Telenor), have entered into an agreement where no party pays and still both the players have a win-win situation. Facebook gets access to huge subscriber base and the Telco benefits from additional data usage.
MVNO Partnership:
Under this agreement MNO shares its network infrastructure i.e. towers, OSS/BSS + Tiered based revenue sharing based on the number of subscribers.
Recurring:
It is system and other high cost infrastructure with different service providers. Here MVNOs pay a fixed price for the infrastructure a charge for the services that is incurred repeatedly based on the definition (Monthly, Quarterly, Half Yearly, Yearly), and can be billed either in "Advance" or "Arrears" Looking at the complication on the number of partnerships, various types of revenue models and multiple number of transactions, it is quite evident that managing relation with all partners without an automated system is not achievable. This is where Sterlite Tech fits in, it offers an end-to-end, automated
partner management system
that not only bills and rates accurately, but also handles entire partner lifecycle requirements, from recruitment to settlement, helps form quick partnership agreements and reduces time to market with rapid introduction of new-generation content and superior reach through a partner network.