Current times witness an ever-increasing demand for more data or video transmission bandwidth. Everyone needs a faster connection speed. FTTP or fiber To The Premises applications have reinforced the importance of reliable and stable fiber optic terminations. Good quality fiber laying and termination systems help achieve minimal back reflection and low signal loss. They also feature resistance to moisture, impact, chemical exposure, and thermal cycling.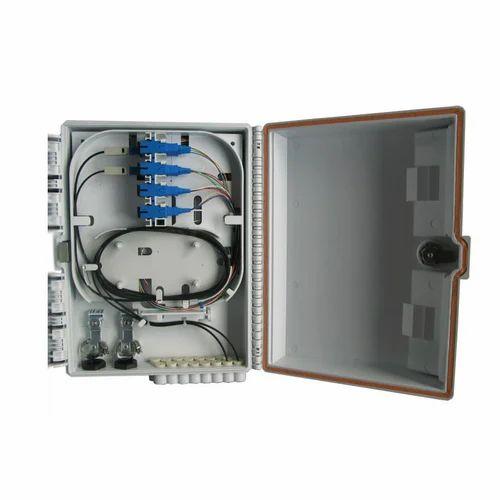 In this blog, we will discuss the two types of fiber optic cables and the role of a simple yet essential piece of equipment in the fiber laying procedure-the, the Fiber Termination Box, or FTB. We will also discuss how to install fiber termination boxes and maintain them.
Types of Fiber Optic Cables
Single Mode Fiber Optic Cable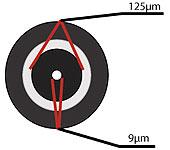 A single-mode fiber optic cable is a commonly used fiber optic cable used for long-distance transmission. This cable type has a small diameter core, allowing only a single light mode to pass through it. Single-mode fiber core diameters are generally 9 µm.

Hence, the number of light reflections that get created when light passes through it is less. This allows the light to travel further by reducing attenuation.
Telecom companies, educational institutions, and CATV companies use single-mode fiber optic cables for higher bandwidth long-distance transmission.
Multimode Fiber Optic Cable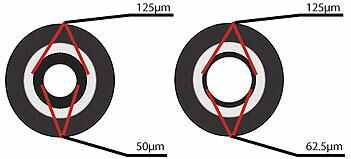 A multi-mode optical fiber cable is commonly used for short-distance transmission. This cable has a larger core diameter, allowing multiple light modes to pass through it. Multi-mode fiber core diameters are generally 50 µm or 62.5 µm.
Hence, the number of light reflections that get created when light passes through it is higher. This allows more data to pass through, although it is more prone to greater dispersion and attenuation rate.
These cables are typically used for data and audio-visual LAN applications over short distances. They are not suitable for long-distance data or signal transmission.
What is a Fiber Termination Box?
In network cabling, outdoor connections generally use fiber optic cables. When these optical fibers are installed or laid out, a Fiber Termination Box, or FTB, is used to distribute and protect the optical fiber links in FTTH networks.
The fiber termination box is an interface between the fiber cable from the line side and the pigtails to be passed to the fiber distribution frame. A fiber pigtail is a specific hardware connection used for cable termination.
Thus, a fiber termination box is used to terminate the optical fiber cables in the field and connect them to the pigtail by splicing. After an optical cable arrives at the user's end, it is fixed in the terminal box. Then, the optical cable core and pigtail are welded in the terminal box.
These boxes are similar to MDF in telephone exchanges. There are cassettes provided inside this box that keep the fibers safe after fusion splicing. Any extra fiber from the line side or the pigtails can also be stored in the termination box. It also acts as a point for bunching and rerouting optical fiber cables.
Types of Fibre Termination Boxes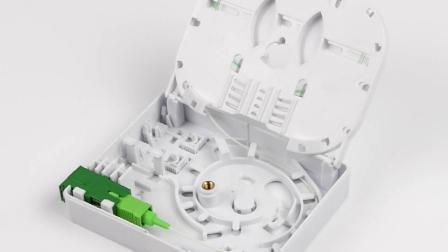 Optical fiber terminal boxes can be of many different types:
Based on Cable Connection Method
Straight-through Terminal Box: This terminal box has a single external hole for the receiving line.
Branched-type Terminal Box: This terminal box has several holes for the receiving line.
Based on the number of fibers fused
A terminal box can be divided into 2 in, 8 out, 4 in 24 out, 4 in 12 out, etc.
Based on the shell material
The terminal boxes can be plastic shell or metal shell optical fiber terminal boxes.
Based on the style
These boxes can be rack-drawer, wall-mounted, desktop-type, and other types.
Indoor Fiber Termination Box
The indoor fiber distribution terminal is a compact fiber box solution for installation requirements in small to mid-sized MDUs, multiple dwelling units, or multiple tenant units (MTU).
Outdoor Fiber Termination Box
Outdoor Fiber Distribution Terminals are used for installing fiber in small and medium-sized MDUs, or multi-dwelling units.
Fiber Termination Box Installation Procedure
Installation of the fiber termination box must be done under the supervision of a skilled technician or engineer. Here are the various stages in the installation of the FTB.
Mounting
The optical fiber termination box is mounted on the wall or on the 19 inches (483 mm) wide standard rack. The front panel should be easily accessible as the cable enters from the bottom.
Cable End Preparation
Any fiber cable's end has to be prepared before starting the cable entry in the optical fiber termination box. The cable end preparation procedure is available from the supplier. It is crucial to protect the bare fibers at this stage. This is because they get exposed after following the cable end preparation.
Cable Entry
Once the cable ends are prepared, a rubber diaphragm at the box's cable entry hole needs to be pierced. This is to be done before inserting the cable in the box, as this opening is blocked in new boxes.
Cable End Clamping
The fiber termination box has several plastic fiber guide posts mounted in it. The fiber in the sleeves or transport tube of the cable is routed through them. Through these guideposts, all the excess length of the cable is brought into the selected splice tray. Then, using a plastic clamping strap, it is clamped at the splice tray's entry point.
Splicing
The most important part of the installation process is splicing the optical fiber from the cable to the pigtails. A splicing machine is used for this purpose. It is kept close to the termination box on a table.
A stainless steel wire mechanism is released from its spring catch to open a particular splice tray. A splicing machine is used to splice the pigtail fibers so that the fiber ends come out of the cable. They are then pushed to fit into the fused splice.
The process is carried on for all the splices to be stored in splice trays. These splice trays are then placed in a stack inside the termination box. The stainless steel wire closing mechanism is then closed with the box.
Maintenance of Fiber Termination Box
The fiber termination box has appropriate safeguards against accidental operations. It can adequately safeguard against the entry of dust, insects, etc. The box should be grounded adequately before starting any cleaning.
Cleaning the box has to be an essential consideration. If cleaned properly, the connector ferrule may stay intact while connecting. This can result in high maintenance costs.
Maintenance of the box requires regular cleaning. A trained person needs to inspect the connector and other components of the fiber cables before starting cleaning.
One must be adequately grounded and ensure that the fiber optic connector ends do not touch surfaces, including fingers.
Generally, wet cleaning or alcohol should be avoided, as they may leave residue or cause damage to the components.
Conclusion
Fiber termination boxes play an indispensable role when laying a fiber communication network. These boxes are widely used to connect optical fibers and can handle large amounts of fiber optic cables at lower cost and higher flexibility.