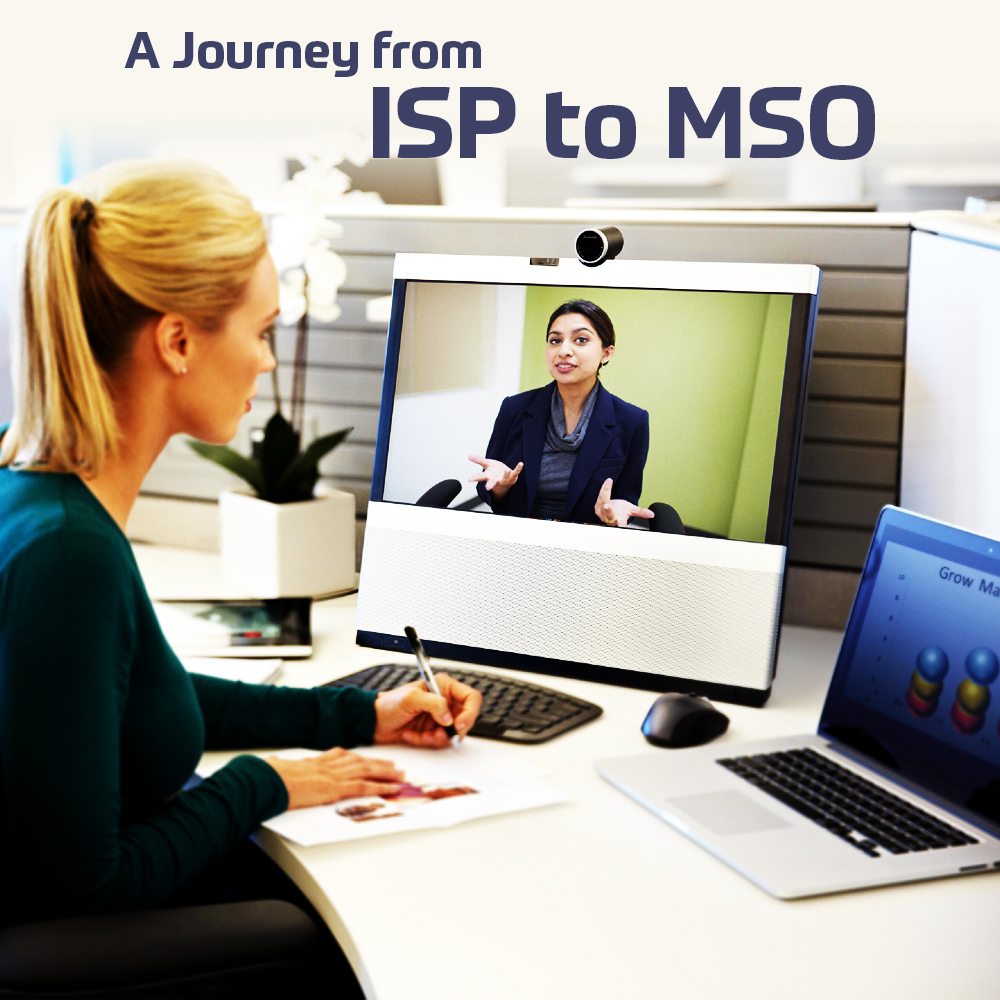 We discuss the following topics in this article:
What are the new demands ISPs face?
What are the benefits for ISPs if they become MSOs?
In addition to these topics, we also discuss the following FAQs:
What is a 5G NR?
What is WiFi?
What are the New Demands ISPs face?
There are over 3.42 billion internet users, and it is expected that data consumption will surpass the 1000 Exabyte's [EB] threshold. The data consumption is increasing at a staggering pace, but surprisingly Internet Service Providers' ARPU is not. Due to fierce competition from Telcos, MSOs, and OTT Players, users are spoilt for choice resulting in high customer churn and declining ARPU. In order to counter this, ISPs are under tremendous pressure to offer innovative services and ensure optimum utilization of resources to stay relevant. ISPs have already come a long way; they just need to take a step forward towards becoming a Multi Service Operator (MSO). The challenges are set to increase, but monetization opportunities will also multiply.
What are the Benefits an ISP Could Experience if they Become an MSO?
New innovative offerings: Explore areas to drive revenue growth by offering new attractive plans and services in the market such as Voice, Video, Data, WiFi/Hotspots, Broadband & Voice Combo Plans, A la Carte or Bundle packages, Content-wise packages like Sports, Movies, Action, Video on Demand (VoD), Digital Video Recorder (DVR), etc. Operators can also offer a digital TV viewing experience like direct-to-home and internet protocol TV (IPTV).
Over the Top (OTT): Partnering with OTT vendors is fast catching up and is likely to change the dynamics of digital media. MSOs, in partnership with OTT Vendors, can offer new feature-rich content and apps to its subscriber.
VoIP: Beyond high-speed Internet access, MSOs have migrated into another area of telecommunications: offering traditional voice services to consumers and business services to commercial users with Voice Over IP.
WiFi Hotspot Opportunity: Gone are the days when you need to connect the cable to access the internet. Today everything is going wireless. WiFi Hotspots are here to stay and will gain steam from initiatives such as Venue WiFi, Smart Cities, 5G, LTE WiFi Interworking, etc.
Optimum utilization of Network Resources: The existing fiber going into the consumer home can be utilized for offering Voice, Video, and Data, which ensures optimum utilization of network resources, reduce Capex, and gives MSOs massive operating leverage for quick deployment of services. To offer voice, video, and data services, India's next-generation MSOs will need to provide a whole host of new services to accommodate a wide variety in customer usage patterns and preferences. Such initiatives must be backed by technology, with Business Support Systems (BSS) at the forefront of vital back-office functions. That is where O/BSS vendors help your business sail smoothly from ISP to MSO.
Frequently Asked Questions
What is WiFi?
Put simply, WiFi is a technology that uses radio waves to create a wireless network through which devices like mobile phones, computers, printers, etc., connect to the internet. A wireless router is needed to establish a WiFi hotspot that people in its vicinity may use to access internet services. You're sure to have encountered such a WiFi hotspot in houses, offices, restaurants, etc.

To get a little more technical, WiFi works by enabling a Wireless Local Area Network or WLAN that allows devices connected to it to exchange signals with the internet via a router. The frequencies of these signals are either 2.4 GHz or 5 GHz bandwidths. These frequencies are much higher than those transmitted to or by radios, mobile phones, and televisions since WiFi signals need to carry significantly higher amounts of data. The networking standards are variants of 802.11, of which there are several (802.11a, 802.11b, 801.11g, etc.).

What is a 5G NR?
5G typically refers to the fifth generation of wireless technology. NR, commonly known as New Radio, is a standard developed by the 3GPP Group (Release 15 being the first version introduced back in 2018) outlining the technology required to harness the newly-available millimeter-wave frequencies. The two frequency bands in which 5GNR operates are Frequency Range 1, i.e., Sub 6GHz band (410 MHz to 7125 MHz), and Frequency Range 2, i.e., millimeter-wave (24.25 to 52.6 GHz). Over 4G LTE, 5G NR provides better spectrum utilization, faster data rates, hardware efficiency, and improved signal processing.
From a deployment standpoint, we have Non-Standalone Mode(NSA), Dynamic Spectrum Sharing(DSS), and Standalone Mode (SA). The initial deployments of 5G NR are based on NSA standards, meaning the existing 4G LTE network will operate on the control plane, and 5G NR will be introduced to the user plane. This particular standard was introduced by 3GPP, keeping in mind the industry's push to faster 5G services rollout while utilizing the existing 4G LTE infrastructure currently in place. On the other hand, operators are also implementing Dynamic Spectrum Sharing (DSS) to accelerate the deployment cycle, reducing costs and improving spectrum utilization. In this standard, the same spectrum is shared between the 5G NR and 4G LTE, multiplexing over time per user demands. Lastly, we have the Standalone Mode (SA), which moves towards a complete 5G based network where both signaling and the information transfer are driven by a 5G cell.
In the future, 5G will enable new services, connect new industries and devices, empower new experiences, and much more, providing mission-critical services, enhanced mobile broadband, and various other things.
a) Enhanced mobile broadband (eMBB) Applications: High device connectivity, High mobile data rates, and Mobile AR & VR applications
b) Ultra-reliable, low-latency communications (uRLLC)Applications: Autonomous vehicles, Drones, Data monitoring, Smart mfg.
c) Massive machine-type communications (mMTC)Applications: Healthcare, Industry 4.0, Logistics, Environmental monitoring, Smart farming, Smart grids