Investing in cybersecurity is the need of the hour as the cyber threat landscape evolves. But as cyber threats continue to become more complex, increasing your budget isn't enough. You need services that can keep up with the pace of changes in cybersecurity. In other words, you need a cyber defense strategy to safeguard your data and save you millions in losses. You have two choices: an in-house security operations center (SOC) or a Managed Security Services Provider (MSSP).
But building an in-house SOC from scratch is time-consuming. You will lose valuable time as a business trying to hire resources. After all, an immense skill gap in global cybersecurity makes it challenging to find an expert for your company. When it comes to cost, building the entire infrastructure to tackle the cyber threat and fortifying your systems is a massive undertaking. To avoid these challenges, you should consider an MSSP.
Large companies choose MSSP services for managing various data threats. But guess what? SMEs can benefit from them too. An MSSP helps you save on costs by allowing you to outsource the entire infrastructure and software tools. They can keep the costs down by sharing the resources with multiple clients. As a result, you get access to top-notch security without making a large investment.
It is no surprise that the demand for MSS is growing, and research suggests that the market will grow to almost $50 billion by 2027. Another reason for this growth is because SMEs are a booming market for MSS. Also, such clients can rely on outsourced individuals with a wide range of skills. In short, MSSPs help your company bridge the current skills gap in the market and help you keep costs down. If you are considering outsourcing your cybersecurity activities, read on to know more about its 5 benefits.
What is an MSSP?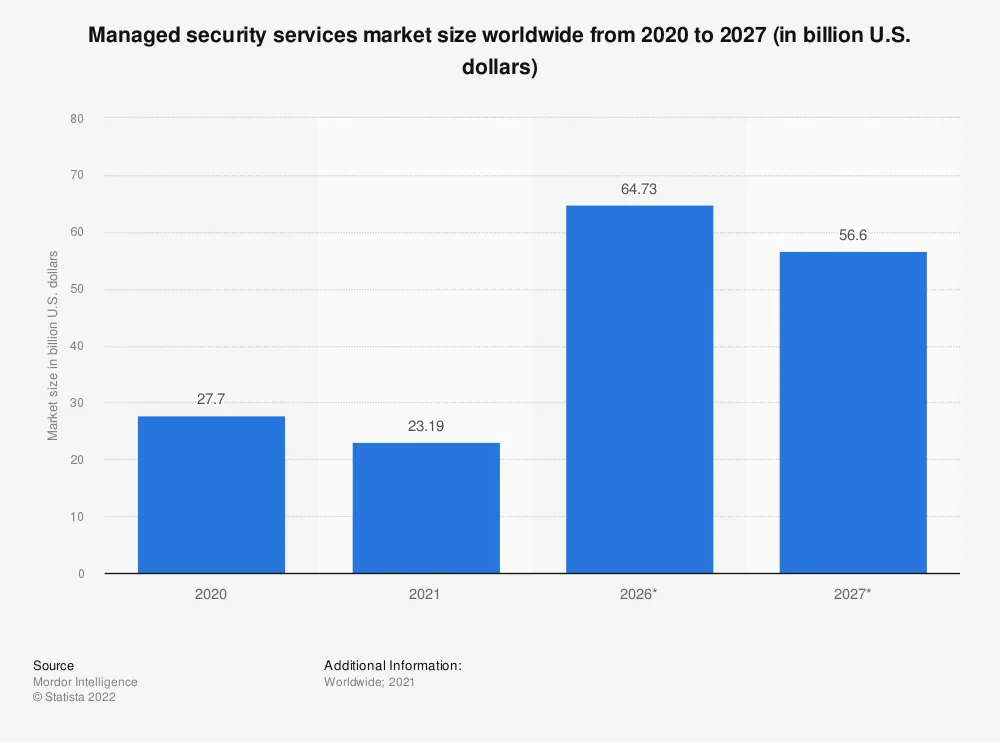 Image Credit : statista.com – Growth trend in MSSP market size
An MSSP sells security services to businesses. You receive a complete outsourced security solution along with a consultation. It protects businesses from imminent security threats, secures company data, and enlists security experts to respond to cyber-attacks.
Here are some of the major functions of an MSSP:
Monitoring
Management of intrusion detection systems and firewalls
Patch management and upgrades
Security assessments and security audits
Also, MSSPs can offer security recommendations and are always available on call. They can help develop policies that protect the company's infrastructure. With their 24/7 services, you can reduce the number of in-house personnel required for maintaining an "acceptable security posture."
Now, let us discuss the benefits of managed security services for your enterprise in detail.
Benefits of managed security services for your enterprise
As companies struggle to find the right security expertise and keep costs down, it is essential to partner with an MSSP. An MSSP is a cost-effective solution that allows you to tackle various cyber threats and grants you access to the best cybersecurity solutions. Here are some benefits of managed security services:
1. Access to expertise
The cybersecurity field is facing a substantial shortage of skilled professionals. This has resulted in organizations facing difficulties in attracting and retaining cybersecurity talent, particularly when seeking individuals with specialized skill sets.
Nearly three-quarters of cybersecurity professionals struggle with the shared responsibility model, a core cloud security concept. Lacking these specialized skill sets could lead to further security vulnerabilities.
One of the benefits of managed security services is that you get access to specialists with the knowledge and experience to safeguard your data and infrastructure. After all, they can hire and bring such people in any situation as these specialists are kept on an "as needed basis."
2. Rapid incident response
A rapid response can help you do damage control to your company infrastructure and prevent business losses. After all, the longer a threat stays, the more chances it has to steal sensitive information. The hacker can also launch a major ransomware attack, threatening your entire company's processes and proprietary data.
But incident response activities require professionals with specialized skill sets. For instance, an incident response team may need a digital forensics expert to determine the scope of the attack. But it is quite an expensive undertaking if you are trying to retain specialists such that they are readily available.
Working with a Managed Security Service Provider (MSSP) streamlines your response to potential data threats and cyber-attacks by providing you with a dedicated incident response team. MSSPs have the capacity to retain a large team of experts who can be called upon as needed. Additionally, MSSPs are exposed to a higher volume of cyber threats on a daily basis, which further justifies their need for a large staff of experts.
3. Increased security maturity
Deploying a comprehensive cybersecurity stack is time-consuming. Fortifying your company against the entire cyber threat landscape requires a lot of careful planning. As a result, investing time and cost in these security solutions is too cumbersome for SMEs. As a result, they lack the cybersecurity maturity they initially required.
Collaborating with a Managed Security Service Provider (MSSP) allows you to leverage its existing security infrastructure and investments. MSSPs carefully choose solutions to meet their client's needs and can quickly deploy these tools within days, using their pre-existing stack.
4. Lower ownership cost
Cyberdefense is expensive but essential. Costs can run really high quickly because of all the cybersecurity solutions and licenses needed for any business. An array of specific solutions designed to protect against specific threats can lead to high costs. Not to mention, all the cybersecurity professionals you need to hire to maintain the software only add to the expense.
With an MSSP, the cost of the solution can get distributed over a large client base. By distributing costs across its customers, an MSSP can offer a high level of security protection. So, all the software and infrastructure setting can be done at a fraction of the cost of building it in-house.
5. Compliance support
Due to the growing complexity of regulations, organizations struggle to maintain compliance. For example, data protection regulations such as GDPR and CCPA and existing laws like HIPAA and PCI DSS create a challenging environment. A Managed Security Service Provider (MSSP) can assist organizations by collecting data and producing reports demonstrating compliance during audits or in the aftermath of an incident.
Conclusion
As the skills gap increases in the cybersecurity industry, MSSPs will continue to be in demand. After all, the effort and cost required to train and retain cybersecurity personnel can be too much for SMEs. As a result, MSSP proves to be useful because they offer a wide range of services at a fraction of the cost. You get top-notch experts to help with your cybersecurity needs at a low cost. When it comes to infrastructure, MSSPs deal with all the bottlenecks of setting up new software and architecture. So, you can quickly secure your systems through rapidly deployed solutions. Also, they can keep infrastructure costs down because of spreading the cost across a large client base. So, you get access to state-of-the-art cybersecurity for a fraction of the cost of maintaining in-house.
FAQs
What is the difference between an MSP and MSSP?
A managed service provider (MSP) manages part of the business' operations for a fee. These operations could include cybersecurity, backup, recovery, customer services, etc. Whereas an MSSP deals specifically in outsourcing your cybersecurity activities.
How does a managed security service provider help a business?
It helps in many ways. An MSSP offers a low-cost alternative to hiring in-house cybersecurity personnel. Also, an MSSP can help you secure your systems in no time. Another benefit is that an MSSP can optimize response times in the event of a cyber-attack.
What are the functions of a managed security services provider?
Here are some of the major functions of an MSSP:
It protects businesses from security threats.
Offers software and services to company data safe.
Builds a network of security experts who can respond to attacks as they happen.
Provide cybersecurity monitoring and management.
Handle matters such as system changes, modifications, and upgrades.
Is demand for MSSPs rising?
Yes, it is. The market for MSSPs is forecasted to reach $46.4 billion by 2025.